In one of my recent articles, I wrote about Walgreens Boots Alliance (NASDAQ:WBA) and CVS Health (NYSE:CVS) as a dividend play for the future. What impressed me the most was the duopoly that these two companies have established in the market that will keep them on the top for a very long time.
From a dividend investing point of view, one of the most important factors you need to look into is the ability of a company to stay in business forever, practically. That's when I came up with the idea of looking for such companies that you can buy into and pretty much forget about until they show up in your bank statement, as it were.
In researching such companies, I noticed a trend: there is usually a duopoly or a 'triopoly' participating in this dividend play situation. Often, one of the companies will be a much older one that's been around for ages, and the other, a younger contender that sometimes performs even better than the veteran.
One such duopoly can be found in the home improvement business in America. One, a veteran of 70 years, and the other, a strapping young buck (well, sort of) of 38 years. Both of them could be twins as far as the fundamentals go, and this is definitely a duo that you want your money on for the long term.
Let's look at the fortunes of Lowe's (NYSE:LOW) and Home Depot (NYSE:HD), and see if this is what your portfolio craves!
Recession, No Recession
One of the first things I looked at was their sales and operating margins over several years.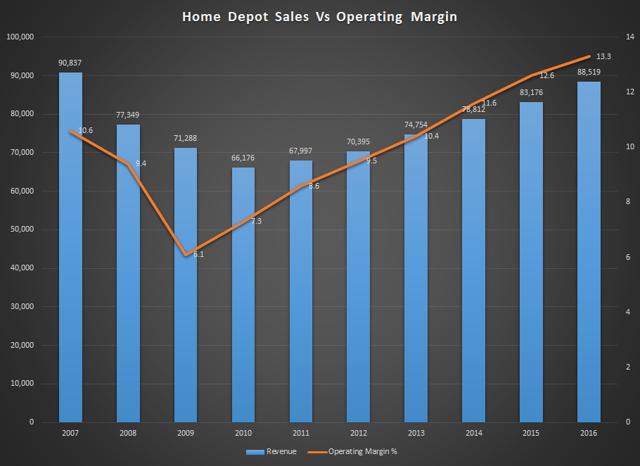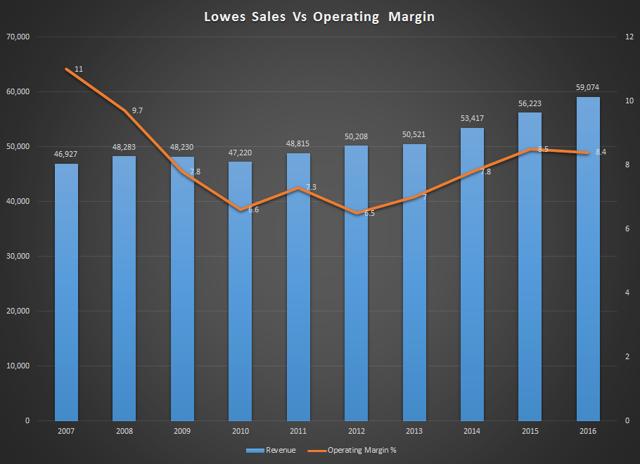 The best part about this is not that they had strong sales during the recession, but the fact that their margins stayed positive throughout. Consider the truth that the housing market was at the center of the recession and both Lowe's and Home Depot basically serve that market, and you'll see the resilience that these companies have shown in maintaining their margins.
That's the first thing that gives me the confidence that both of them can survive and come out relatively unscathed through practically any type of economic downturn.
Lowe's being the veteran, it has naturally shown weaker reflexes when it comes to recovering its operating margin. I honestly don't know why that is, but older companies are typically more complacent and slower to react to crises. I can show you several examples of this. It's possible they're more self-confident about their position. However, not wanting to make a blanket generalization (which I already have, I know), let's just say their reflexes may not be quick enough.
Home Depot on the other hand - though larger than Lowe's - exhibited an ability to quickly recover revenues as well as operating margins since the recession.
Both companies, however, have been showing healthy growth in sales as well as operating margins over the past five years.
Next, let's look at how their dividend fundamentals match up against each other.
The Dividend Story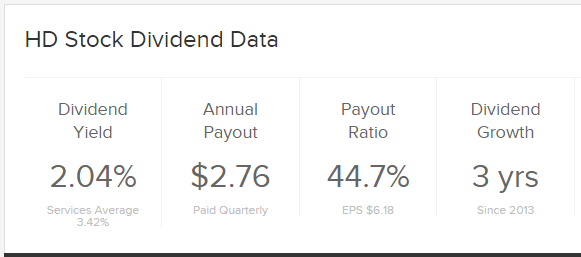 Source:Dividend.com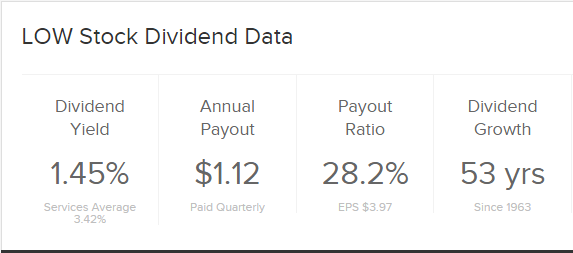 Source: Dividend.com
Straight away you can see that Home Depot is more eager to please its investors. From the yield perspective, HD definitely looks attractive with a +2% yield. As for payout ratio, a range of 35-45% is fairly conservative so there's plenty of room to grow dividends over the next several years.
Lowe's has 1.45% yield and a payout ratio in the less than 35% range in the last ten years, so they too have plenty of room to keep increasing dividends into the next decade.
Capital Expenditure and Free Cash Flow
These are good indicators of dividend health, and in the case of LOW and HD, both have brought their Capex levels down to the $1 billion range. It's not often you see financially strong companies only spending about 2% of their revenues on Capex, but that's exactly what they've been doing. Of course, with the kind of revenue growth they show, not many people are going to find fault with their spend strategy.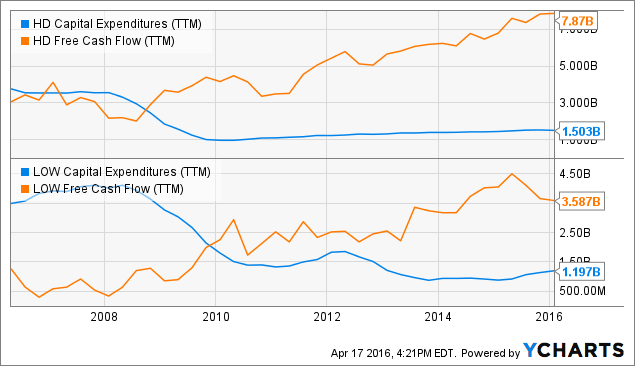 HD Capital Expenditures (TTM) data by YCharts
Free Cash Flow and FCF as a Percentage of Sales
Home Depot's free cash flow is nearly 8 billion dollars in 2016, while Lowe's is near the 3.5 billion dollar mark.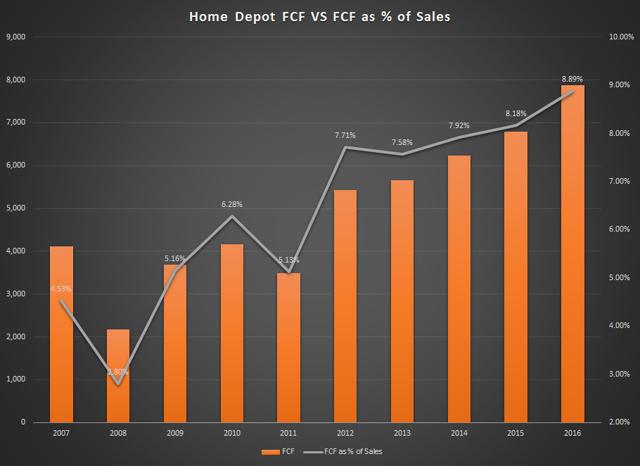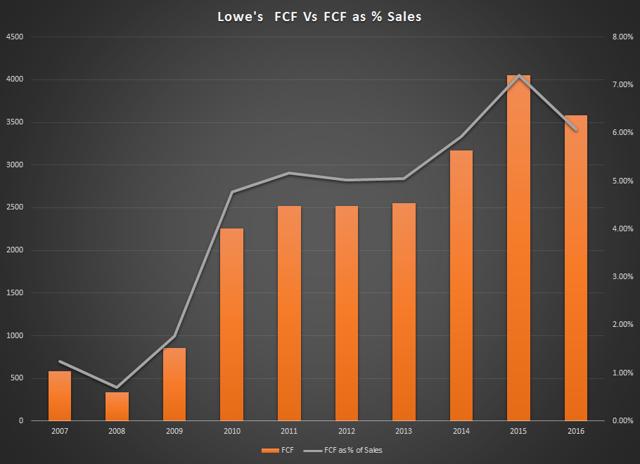 As you can see from the charts above, the cash flow was drained during the recession but it wasn't enough to plunge them into a net loss position. As they recovered, their free cash flow has been steadily on the rise. When you factor in the low-and-steady Capex requirement, both these companies look extremely attractive as dividend plays for the future.
One Other Thing - The Balance Sheet
At the end of the most recent quarter, Home Depot had nearly $21 billion in long-term debt against an (annual) operating income of $11.7 billion. Lowe's had nearly $11.5 billion in long-term debt against an (annual) operating income of $4.7 billion.
Considering the operating income that both companies generate, you can't really hold their debt loads against them. Both have solid balance sheets and generate enough cash flow to sustain them into the future.
Add to that their combined segment dominance and what you have is an ideal dividend duopoly that will serve you well in the long term.
Investor-speak: HD Over LOW?
Naturally, it might be tempting to invest in Home Depot and not in Lowe's because of the former's significant lead over the latter. However, I believe it's HD that keeps Lowe's toeing the line on every metric possible, and that's the ideal investment combination you're looking for as a dividend investor.
Income investors may favor one over the other, naturally, and that's a personal decision that has little to do with what my analysis points to.
But note this: both companies are relatively safe from the threat of e-commerce insurgence because of the product lines they carry. In other words, this is a niche segment that doesn't lend itself easily to online transactions.
Consider all the above when you invest, but be aware that both HD and LOW are here to stay for a long time - in business for sure but, hopefully, in your portfolio as well.
Thank you for reading my work. I would love you to follow me as I journey through the inner workings of companies that will form the future - the future that my eight-year-old son will inherit. Technology, Services, Consumer Goods, Retail, Logistics - and that's just in the last three months since I started writing on Seeking Alpha. Come, join me.
Disclosure: I/we have no positions in any stocks mentioned, and no plans to initiate any positions within the next 72 hours.
I wrote this article myself, and it expresses my own opinions. I am not receiving compensation for it (other than from Seeking Alpha). I have no business relationship with any company whose stock is mentioned in this article.