Bank of America (NYSE:BAC) reported earnings last week. Generally, results were good. Non-interest expenses were down, adjusted net interest income was up. Net charge-offs went down, book value was up. The fully-phased CET1 figure was acceptable. All-in EPS was $0.21 a share. However, market net interest adjustments and retirement incentive costs subtracted $0.12. After add-back, core EPS clocked in at a respectable $0.33 a share.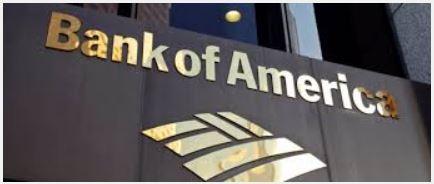 Meanwhile, stockholders have taken it on the chin. Since the beginning of the year, common shares have tumbled 17%.
Bank of America - Price and Volume January 2015 to Date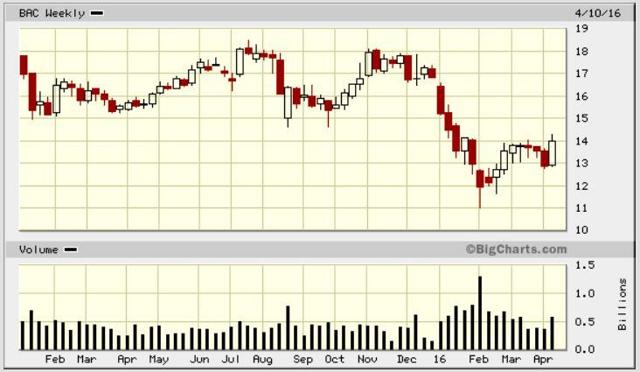 Courtesy of bigcharts.marketwatch.com
Now trading at $14 apiece, are the shares cheap or dear?
Standard Price-and-Earnings Analysis Doesn't Cut It
Using a typical P/E approach, one could compare the BAC current multiple with its historic average.
Currently, Bank of America sports an 11.5x trailing 12-month price-to-earnings ratio.
Unfortunately, post-financial crisis historic results have been "noisy." Please find below a 3-year Price and P/E chart. Running P/E is found on the bottom panel: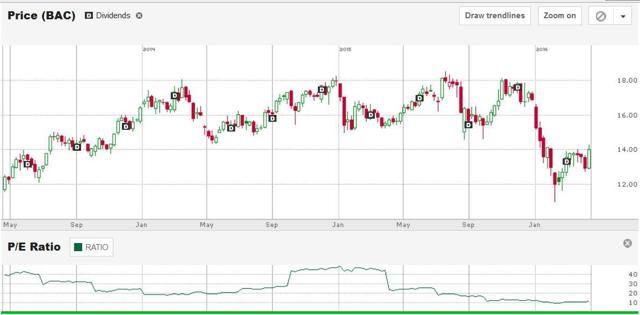 Courtesy of ameritrade.com
During the past 3 years, P/Es have ranged between 10x to over 40x.
Perhaps comparing Bank of America's longer-term price-to-earnings ratio with that of industry peers might be more useful. See the following table:

Courtesy of fidelity.com
On a ttm basis, BAC shares appear slightly undervalued. A 5-year average versus industry peers suggests the stock is meaningfully discounted. (10.8x BAC multiple versus 14.6x for bank peer average)
However, I contend this isn't the right way to look at it, not for BoA.
Bank Shares Are Best Valued By Return on Equity
Broadly, investors seek a risk-adjusted rate of return on their capital. The baseline is a risk-free investment typically considered to be a 10-year treasury note. Equity is not free. Therefore, the Cost of Equity is the return investors demand to compensate for the risk of owning stock. Investopedia explains the cost of equity concept in easy-to-understand language:
Common shareholders expect to obtain a certain return on their equity investment in a company. The equity holders' required rate of return is a cost from the company's perspective because if the company does not deliver this expected return, shareholders will simply sell their shares, causing the price to drop. The cost of equity is basically what it costs the company to maintain a share price that is theoretically satisfactory to investors.
For a given security, the CAPM (Capital Asset Price Model) attempts to determine the cost of equity. While I will not run through CAPM calculations here, banking stock investors generally consider return on equity greater than 10% acceptable because it's greater than a bank's Cost of Capital.
To the point: if a bank is generating returns greater than its 10% cost of capital, it is building value. If returns are less than 10%, management is destroying shareholder value.
For Bank of America, I could make a plausible CAPM case the cost of capital is a little higher than 10%. This is due to a 1.8x Beta. Beta is a measure of volatility, and BAC tends to be more volatile than the overall S&P 500.
However, for purposes of this article, let's just stick with the general 10% bank Cost of Equity benchmark.
Often, traditional Return-on-Equity (RoE) figures provide a decent starting point. I propose we refine the process. Since Bank of America carries significant balance sheet goodwill, let's utilize return on TANGIBLE common equity (RoTCE).
Here's the punchline for Bank of America:

Some pieces are starting to fall into place.
When compared with full-year 2015 results, TBV per share rose in 1Q 2016. BoA management was quick to tout this.
However, returns have not only failed to meet our 10% cost of capital hurdle rate, it actually FELL considerably in the first quarter versus 2015. The bank has been destroying shareholder value. However, to be fair, 1Q 2016 saw the business take some extraordinary hits to Net Income (the numerator of the RoTCE ratio). In turn, these hits dampened the RoTCE calculation.
See the detail beneath the first bullet point from the 1Q 2016 earnings presentation slide deck: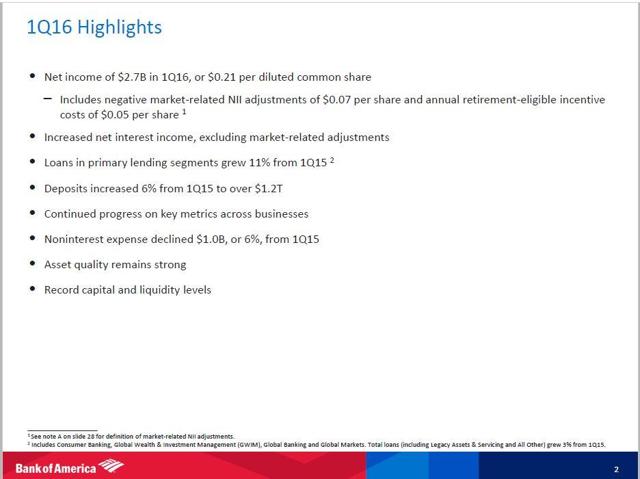 Unfortunately for investors, even if we add back the Net Interest Income and retirement eligible cost "ya buts," RoTCE is upped to only 8.5%. This still remains below the 10% hurdle rate... and continues to be a step backwards from the full-year 2015 results.
So what does this mean?
Well, if we accept investors require a minimum 10% return on equity to cover banks' cost of equity, it means banks earning 10% RoTCE should see its stock trade at ~1.0x Tangible Book Value. Lower RoTCE returns should generate roughly proportionally lower multipliers. Conversely, higher returns should correlate with share prices higher than TBV.
Therefore, at year-end 2015, BAC stock had a Fair Value estimate ~$14.20. We obtain this figure by multiplying $15.62 TBV per share by RoTCE as a function of a 10% benchmark, or 0.91x. In December 2015, the stock traded up to $17 a share. This was well above fair value. I submit this was in anticipation of the bank finally cracking the 10% cost of equity hurdle rate due in part to optimism of the Fed tightening interest rates.
Bank of America expects to be a particular beneficiary of higher interest rates and spreads.
After 1Q 2016 results, the same FVE calculation yields ~$13.70 per share (annualized basis). This assumes we give Bank of America "the benefit of the doubt," and add back in the "ya buts" to Net Income. This bumps up Net Income, or the numerator of the RoTCE ratio.
At the time of this writing, BAC shares settled at $14. Indeed, the stock price fell from December 2015 levels because RoTCE fell. Improved tangible book value per share helped offset an even bigger hit.
Based upon comparison of Bank of America's return on tangible book value versus its ~10% cost of capital, the shares are NOT undervalued. The stock trades in line with the Fair Value Estimate.
Indeed, until Bank of America management figures out a way to improve returns sustainably, I contend the stock is unlikely to trade above tangible book value per share.
As a matter of fact, Wall Street Analyst Mike Mayo had an exchange with Bank of America management on precisely this matter. Here's an excerpt from last week's earnings conference call:
Mike Mayo, CLSA Analyst

Hi, my short question is when will the return on equity go into the double-digit range? Look, you have a good franchise and balance sheet. You're showing growth in loans, deposits, online banking, other areas. And you're showing lower, better expenses, branches, headcount, risk but it's not adding up. I mean your stock is 15% below tangible book value and this was yet one more quarter of mid-single-digit ROEs and worse than peer efficiency....

Paul Donofrio, CFO Bank of America

Well, hi, Mike. Thank you. So I guess I would start by again - just so everybody understands the facts - we - if you adjust for FAS 91 and FAS 123 [the aforementioned "ya buts"], our return on tangible common equity would be roughly 8.5%. And again, as I said before, we've made a lot of progress in LAS. And if you give us any credit for the progress for the progress we think we're going to make in the future, we're going to be able to take that 8.5% even further.

We've made, I think - so the key is we've got to continue to make progress on expenses and, again, I think we've demonstrated that we can do that.
Good spiel, Paul, but no cigar. Bank of America investors remain in a "show me, don't tell me" mood. BoA stock will rise sustainably when RoTCE rises.
The "good news" involving the balance sheet, expenses, loans, deposits, etc. are nice, but being discounted. The buck stops where return on tangible equity meets the risk-adjusted minimum hurdle rate.
What About The Other Major Banks?
If we apply the same valuation methodology to the other 3 mega U.S.-based banks, how do the results stack up?
A TBV/RoTCE table and price chart follow for Wells Fargo & Co. (NYSE:WFC), JPMorgan Chase & Co. (NYSE:JPM), and Citigroup Inc. (NYSE:C).
Wells Fargo & Co.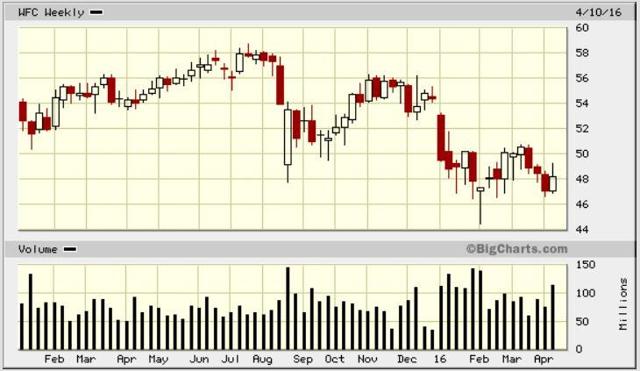 I believe WFC is best-of-breed. The bank is very well run in all respects. The institution generates superior return on equity consistently.
In 2015, the RoTCE was 16%; a reasonable Fair Value Estimate was determined by multiplying year-end Tangible Book Value per share by 1.6x.
The resultant FVE was $46. In December, WFC stock hovered around $55 a share.
After 1Q 2016 earnings were released, TBV improved, but RoTCE eased to 15%. A revised FVE is $44.
Last week, the stock settled at $48 per share.
JPMorgan Chase & Co.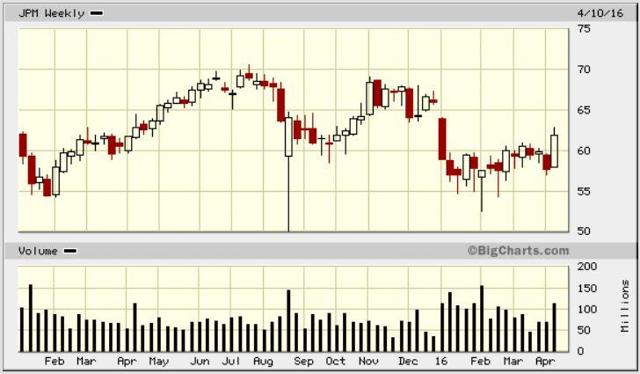 JPMorgan is another well run banking firm. Management has steered the business to generate excess returns on cost of capital routinely.
A YE 2015 Fair Value Estimate was $63. The December stock price was ~$67.
Similar to Wells Fargo, 1Q 2016 saw JPMorgan's tangible book value rise, but RoTCE slipped. The net result saw the FVE dip to $59 a share.
The stock was last bid at $62.
Citigroup Inc.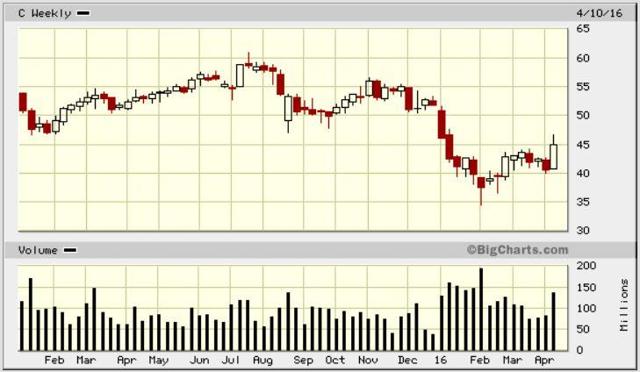 Citigroup has a common theme with Bank of America: a management team struggling to right a troubled, complex financial institution. Citi investors have endured sub-cost of capital return on equity.
At year-end 2015, the Fair Value Estimate was $58, though the bank nearly attained 10% return on tangible equity. Shares reached ~$55 in December.
Despite first quarter 2016 tangible book value per share rising 3.3%, the RoTCE tumbled. An updated FVE eased to $48.
The stock closed last week at $45.
Summary And Conclusion
When analyzed through a return on tangible equity valuation prism, Bank of America common stock trades at approximately Fair Value. I believe such a valuation methodology is most appropriate for BAC. Indeed, this process tends to work well for most bank stocks.
Generally, investors require banks to provide a minimum 10% return on tangible book value. The 10% marker represents most banks' approximate cost of capital.
At the end of 1Q 2016, the expected fair value of BAC shares was $13.70. Last week, the stock changed hands at $14.
Despite howls of "undervaluation" by some observers, I suggest the shares are NOT currently discounted.
What To Watch Going Forward
BAC investors may not expect common stock prices to consistently trade to Tangible Book Value per share until RoTCE improves considerably and sustainably. This does not conflict with the concept stock prices tend to over and undershoot fair value routinely.
Management may improve RoTCE ratio by:
working the numerator (Net Income) through continued expense reduction, revenue growth while maintaining margins or a combo thereof,
working the denominator (Tangible Common Equity) by reducing LAS and other weak / underperforming assets.
Different Banks, Same Process
Applying a similar valuation process for mega-cap peers Wells Fargo, JPMorgan Chase, and Citigroup yields likewise predictable results.
Wells Fargo and JPMorgan management has demonstrated their ability to consistently generate returns above investors' general minimum expectations. Consequently, these stocks trade at prices slightly above corresponding Fair Value Estimates.
On the other hand, Citigroup has failed to meet its 10% cost of equity hurdle. Currently, Citi shares track a bit below Fair Value.
Closing Remarks
I remain constructive on Bank of America stock. My view is bank management is working towards generating RoTCE above the bank's cost of capital. Many legacy assets are like towing a pickup truck bumper behind a bass boat: hard to get a good ride. Nevertheless, I do not consider the current state terminal.
Please do your own careful due diligence before making any investment decision. This article is not a recommendation to buy or sell any stock. Good luck with all your 2016 investments.
Disclosure: I am/we are long BAC, WFC.
I wrote this article myself, and it expresses my own opinions. I am not receiving compensation for it (other than from Seeking Alpha). I have no business relationship with any company whose stock is mentioned in this article.