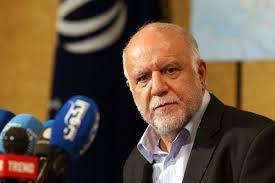 Iranian oil minister Zanganeh.
Iran decided to boycott the meeting in Doha, reiterating its opposition to freezing its production before it recovers to pre-sanction levels. "We have told some OPEC and non-OPEC members like Russia that they should accept the reality of Iran's return to the oil market. If Iran freezes its oil production at the February level, it means it cannot benefit from the lifting of sanctions," Oil Minister Bijan Namdar Zanganeh was quoted.
This left Saudi Arabia in its default position, as laid out by Crown Prince Mohammed bin Salman, that Saudi would not agree to a freeze without Iran and other countries' mutual agreement. Price Mohammed had discussed his National Transformation Program to diversify Saudi's income over time and acquire oil-related businesses, such as chemical companies and oil refineries.
He told Bloomberg that the plan will be launched April 25th. Perhaps his strategy is to acquire petroleum businesses in a low-priced market, and therefore he prefers lower crude prices at this time. The Aramco IPO would not happen until 2017 or 2018.
Oil producers have realized a nice gain over the past two months. "Headline risk" has spooked short-sellers, fueling a short-covering rally. The producers stand to lose many billions if prices plummet back to where they were before the talks began in February.
Gains
Without cutting back a barrel, "Freeze Talk" has netted the world's oil producers an extra $47 billion. Of course, that's just an estimate since we don't know what oil prices would have done otherwise.
I calculated the number by assuming the OPEC basket price would still be where it was ($25.21) on February 11th just prior to the market reaction on February 12th that OPEC was meeting with Russia over the weekend.
OPEC producers have netted an additional $15.5 billion. And the Former Soviet Union (NYSEARCA:FSU) producers have "earned" another $7 billion even though they nudged output up slightly.
| | | | |
| --- | --- | --- | --- |
| $ Billion | OPEC | FSU | World |
| Feb 12-Apr 13 | $15 | $7 | $47 |
| Apr 14- Dec 31 | $113 | $51 | $342 |
Risks
Using these same assumptions, OPEC stands to gain an additional $113 billion and the FSU another $51 billion if they can keep prices level ($38.91) rather than having them drop back to $25/b. Because the elements were not in place to announce a freeze, they will have to be creative to keep the "headline risk premium" going.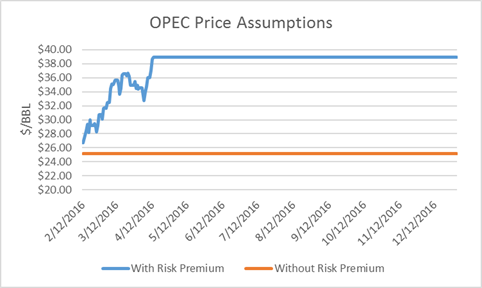 Conclusions
Although the deal did not happen, producers will do all they can to create "headline risk" to keep the risk premium in prices. It will remain dangerous to be short, but the upside potential is not very attractive either.
Disclosure: I/we have no positions in any stocks mentioned, and no plans to initiate any positions within the next 72 hours.
I wrote this article myself, and it expresses my own opinions. I am not receiving compensation for it (other than from Seeking Alpha). I have no business relationship with any company whose stock is mentioned in this article.