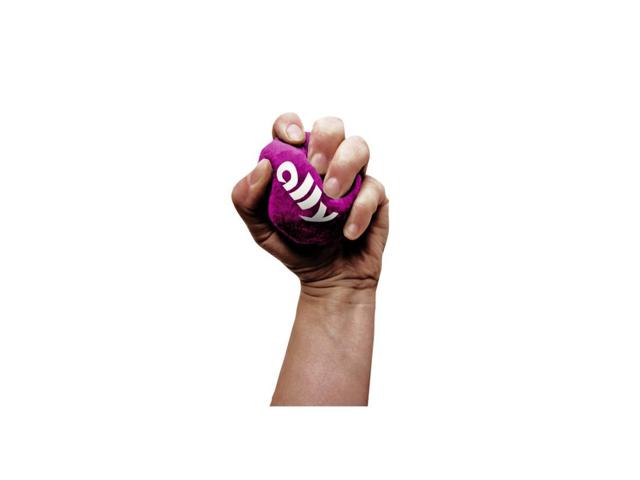 Ever wondered what a bank is worth? Any bank, from a small community thrift to a large money-center bank conducting business around the country such as Ally Financial (NYSE: ALLY)?
If your answer is a resounding yes, then you are in the right place. As we are breaking down the framework behind what it takes to estimate an approximate underlying value for a chartered lending institution.
Peer group comparison
While this oft-favored measure does not come without its share of flaws:
- Peer group selection is necessarily a subjective matter.
- It ignores over or undervaluation of the peer group as a whole.
Keeping this in mind The first step in making a peer group comparison is to find an appropriate peer group for the bank under evaluation - Ally in this case.
Ally's compensation committee believes the bank's primary competition consists of a diversified group including BB&T (NYSE: BBT), Capital One (NYSE: COF), Fifth Third (NASDAQ: FITB), KeyCorp (NYSE: KEY), and SunTrust (NYSE: STI) among others. This being determined for us, our second step is to compare the bank's core price/earnings ratio, price-to-book value and other measures to that of its immediate peers as below: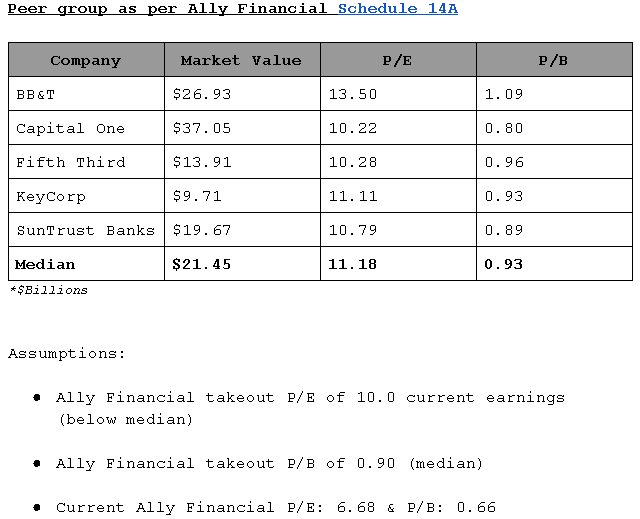 Source: Graham Theodor & Co. Research
The more difficult part now becomes ascertaining whether or not Ally should be valued at a discount or premium to this peer group based on the institution's relative attractiveness on multiple variables including deposit base, quality of assets, qualitative management considerations and so forth.
On this note, Ally sports an impressive median non-performing loan ratio of 0.58% as of December 31st, 2015 and a growing retail deposit base that is transforming it into a more traditional lender. Both decided positives.
The question of management performance is a much tougher one to answer in light of the lack of any kind of an imperial track record as chief executive on the part of the company's current head Jeffrey J. Brown, who was only appointed to the top spot in February of last year.
That said, Brown was previously the corporate treasurer for Bank of America (NYSE:BAC), where he had responsibility for the core treasury functions, including funding and managing interest rate risk. Experience, which could prove invaluable in navigating the way forward for Ally.
Takeout value
Looking at recent, similar size comparable transactions or "comps," the $1.8 billion BB&T (NYSE:BBT)/National Penn Bancshares (NASDAQ:NPBC) merger just completed on April 1st, immediately comes to mind, which bore a $13 per share cash component for a portion of National Penn shareholders - an 11.5% premium to National's outstanding price per share of $11.66 as late as March 25th.
Although the vast majority of post-2009 bank mergers and acquisitions have predominantly been for smaller banks with less than $500 million in assets, larger banks possessing more than $5 billion in total assets that are involved in deals, though fewer and further between are generally still seeing premiums of over 1.5x being paid on their tangible equity, assuming of course a decent return on assets, equity, and tangible equity of between 6-13% according to the Bank Advisory Group.
Given Ally's 0.84% and 8.69% return on assets and equity respectively and a visibly shaky history insofar as return on tangible equity goes, no premium to its $13.41 billion in tangible equity seems apt or even placing a large -25% discount would still engender $10.06 billion - an 18.5% premium to today's market value of $8.49 billion.
Liquidation value
Unlike the previous two approaches to valuation, which rely heavily on financial theory and probability, this technique is rooted firmly in current reality. Ideally, both theory and reality will converge and approximate one another supplying us with a consensus "ball park" valuation figure in the end.
Starting at the top of Ally's balance sheet with cash and equivalents and breaking down each component - securities, loan portfolio, other assets, receivables based upon both specific knowledge of the bank as well as accumulated personal experience.
This "worst-case scenario" outcome after applying appropriate discounts to Ally's other assets and investments in operating leases equates to $11.27 billion. Still a 30% plus premium to the bank's present market capitalization.
Regardless of whether one is investing for the short or long term, it is always prudent to utilize a combination of methods when attempting to reach an approximate value for any business, especially an intricate financial institution as we have done here with Ally by making use of a peer group comparison, which is more suited to short/mid-term situations (three years or less) given the fact that industries and sectors tend to be valued together as a group over such time frames. A takeout value more akin for mid/long-term commitments, and lastly the always intelligent-in-any-situation liquidation value.
Disclosure: I/we have no positions in any stocks mentioned, and no plans to initiate any positions within the next 72 hours.
I wrote this article myself, and it expresses my own opinions. I am not receiving compensation for it (other than from Seeking Alpha). I have no business relationship with any company whose stock is mentioned in this article.