Being popular with millennials is one of the most important things for a retailer these days, as far as we are concerned. The collective spending power of this demographic is staggering and by winning them over, you're winning the battle for relevance in the fierce retail landscape. So it should come as great news for shareholders of Estée Lauder (NYSE:EL) to find that recent surveys have shown that millennials and younger demographics are loving the company and its products.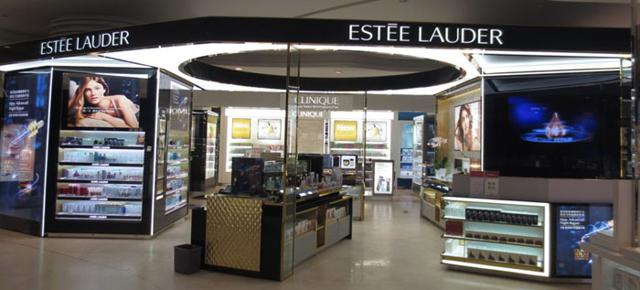 We have been long with Estée Lauder for a little while now and see the company as a great long-term investment, and this recent survey by Piper Jaffray goes some distance to backing up that view. The research firm surveyed thousands of teenagers and millennials and found that interest in the beauty category has continued to increase. Spending on beauty has captured 10.5% of spending, which was an increase from 8.5% five years ago and 7% ten years ago. The research firm went on to say that Estée Lauder brands have gained market share at an accelerating rate in the last two years.
Part of the success has been due to the way its brands refresh and innovate their fragrances. Gone are the days where consumers may settle for a classic fragrance for many, many years. These days they want continual newness, which bodes well for Estée Lauder.
We think it is vitally important that the company wins over teenagers and millennials to spur on future growth. Millennials have now overtaken the baby boomers as the largest demographic, and it won't be long before their collective spending power rivals that of the boomers. Currently this is estimated to be in the region of $200 billion, and their influence on older generations is hard to put a price on, but no doubt worth billions.
Another reason for its success with the younger generations could be thanks to its choice of brand ambassadors. By having Kendall Jenner as one, we feel it resonates well with teenagers and millennials alike. Her reach on social media is quite incredible with 54 million Instagram followers. Although, Calvin Klein (the man, not the brand) has criticised companies, including the eponymous company he sold 13 years ago, for hiring her based on her followers, we still feel it is likely to be a successful move. It makes the brand relevant with younger consumers in a very competitive retail environment.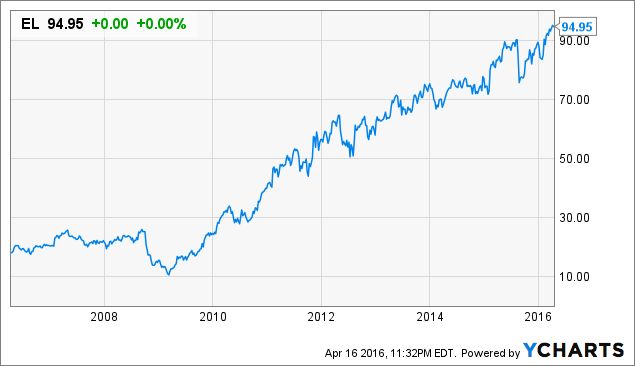 When the company reports its third-quarter earnings at the start of May, we are expecting to see some good results. This could be what it takes to send the share price through the $100 mark and set a new all-time high. There are a number of factors which we feel support this view. The growth in market share with the younger demographics will be key, but there are a number of other factors which could be equally as important.
We believe sustained rises in disposable income are helpful for the company, as it allows consumers the freedom to treat themselves to a new fragrance or makeup. The weaker US dollar could prove to be a boost to its international sales in the second half of the fiscal year. Being such a large multinational company, Estée Lauder has suffered from currency headwinds. The dollar's recent weakening should offer some relief.
Finally, China is a huge growth market for the company. As the table below shows, cosmetics sales in the country are growing at a solid rate.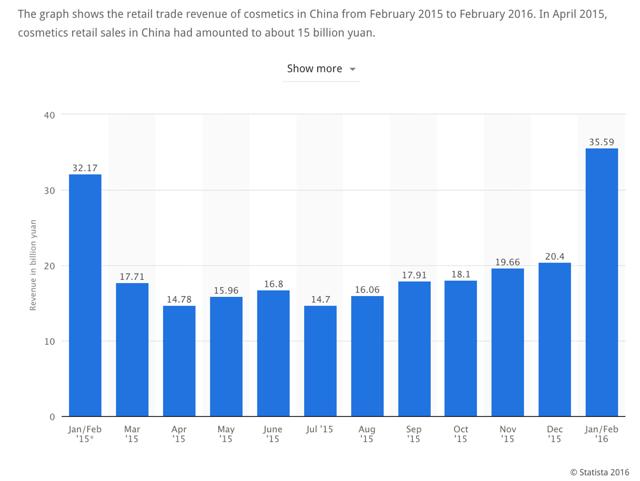 (Source: Statista)
Cosmetics sales grew 10.6% year over year in the combined January and February report. The two months get combined to smooth out Lunar New Year celebrations which can fall in either month. Having seen the immense demand firsthand in the region, we have little doubt there is a lot more growth to come from the region. Things may have been a touch slower than expected in the first-half results of this fiscal year, but we expect a vast improvement is on the way.
In our opinion this is a model company, being run extremely well by a top class management team. With $1.4 billion of cash on its books, high levels of free cash flow and a debt to equity ratio of 0.55, things look very healthy for Estée Lauder and its shareholders in the future.
The company's shares trade at 30.45 times earnings which is about fair in our view and in line with industry peers Procter & Gamble (NYSE:PG) and Church & Dwight Co (NYSE:CHD). We are sticking with our view that the company will deliver full-year earnings per share of $3.63. This also means our price target of $108.90 remains, which offers a great return for investors of just under 15%.
Winning the younger demographics will be the key to sustained growth in the decades ahead. We believe the future is bright, and look forward to holding the shares for the long term.
Disclosure: I am/we are long EL.
I wrote this article myself, and it expresses my own opinions. I am not receiving compensation for it (other than from Seeking Alpha). I have no business relationship with any company whose stock is mentioned in this article.