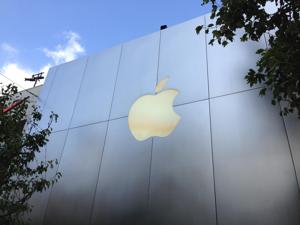 On a few basic valuation metrics, it is clear Apple (NASDAQ:AAPL) is attractive, which compelled fellow Seeking Alpha contributor Erik Bergseng to call the company a slam dunk (Apple Is Grossly Mispriced). I disagreed with Bergseng in Apple: Be Careful. However, Bergseng is not to be deterred and continues his love affair with Apple Is Grossly Mispriced (A Rebuttal).
If you want to buy Apple, that's fine. Just do it after seriously considering the bear arguments and not solely on the naive bull case. With that said, I'll clarify why Bergseng is wrong to dismiss my arguments point by point:
Yes, revenues are forecast to "decline" for FY 2016, if you consider -2.4% to be a "decline." I consider this -2.4% revenue "decline" to be revenue stagnation from a practical standpoint. If one considers this consensus "decline" relevant however you will also notice revenues are expected to grow 6.1% for the following year.
Lacking a theory why the market possibly misunderstands Apple to such an extent he considers it a slam dunk investment, I'd say it's a good time to carefully assess what the market implies. Why does the market assign Apple a P/E multiple of 12? Why do consensus estimates point to a decline with consensus estimates trending downward?
Similarly EPS is forecast to fall slightly next year, but jump to $10.08 the following year. So again, a "decline" in EPS is not necessarily the end of the world. Most investors have a time horizon that extends beyond a year.
An EPS decline isn't the end of the world, but it's hardly a good reason to suggest everyone go overweight Apple immediately, as Bergseng recommends.
I have also included free cash flow figures in the image above to address this point. Yes, free cash flow figures are expected to dip and stabilize at around the $58-$60bn mark for this year and the next. In other words, Apple is only forecast to generate a 9.2% free cash flow yield for the next two years, while the rest of the market currently sits at 5.5%.
Apple's sales and revenues are fragile. The company is racing (and lapping competitors lately) to constantly deliver products that are better than those of its competitors. I'm sure it can outspend any rival one-on-one but it's up against a cast of them. Unfortunately, with all of its products fairly vulnerable to disruption. In addition there are a couple of industries with fairly depressed cash flows where the market (probably accurately) expects a rebound sometime in the future. There is something to the "ecosystem" defense but I'll get to that later.
Apple on the other hand has shown stable and consistent margin growth beginning 2001 and has shown no signs of slowing down ever since.
Bergseng doesn't want to face the fact Apple's margins are a product of a small product portfolio produced at an unrivaled scale. You may not like the BlackBerry (BBRY) example but there are countless others - Nintendo (OTCPK:NTDOY), Dell, Sony (NYSE:SNE) Eastman Kodak (NYSE:KODK). Industry leaders with dominant market share tend to post reams of terrific numbers year after year. Until they inevitably lose their position. Next thing you know, its numbers are just average. In a business with short product cycles this can happen real fast.
In retrospect, it will be obvious what happened and commentators will come up with a narrative making it look all but inevitable. Today, it looks unimaginable. It's incredibly hard to predict what will cause it. Will the company broaden its product portfolio too much? Introduce too many choices? Will competitors introduce products that are so much better all but the loyalist will defect? Will capital be destroyed in a flurry of spending on visionary products, that instead fail? Read up on the history of dominating companies awash with cash and the latter is executed as routinely as doctors write out Synthroid prescriptions.
Second and most importantly, Apple has developed a sophisticated ecosystem compared to BlackBerry's non-existent ecosystem. The convenience the integration of multiple products delivers to consumers not only makes it harder for them to leave, but it creates multiple cross-platform revenue generating opportunities.
There is something to the argument Apple's ecosystem functions as a competitive advantage through customer captivity. Several of Apple's competitors - Amazon (NASDAQ:AMZN), Google (NASDAQ:GOOG) (NASDAQ:GOOGL) and Microsoft (NASDAQ:MSFT) - also exploit strong ecosystems of products. Their individual ecosystems are almost equally impressive, but as they allow more freedom to their users, they are ultimately more robust.
If only Apple's services business were larger. Through services, Apple can and should carve out a wide moat around itself. I don't think it's quite there yet as I discussed in a focus article about the Apple service business:
To help ensure a large market share for the iPhone, even in cycles when it brings out a relatively weak product, is to increase customer captivity through added services. Apple's management is acutely aware of this and because its service business is now starting to become meaningful, at the same time the device business is flagging, they took the opportunity to draw some attention to it at the earnings call.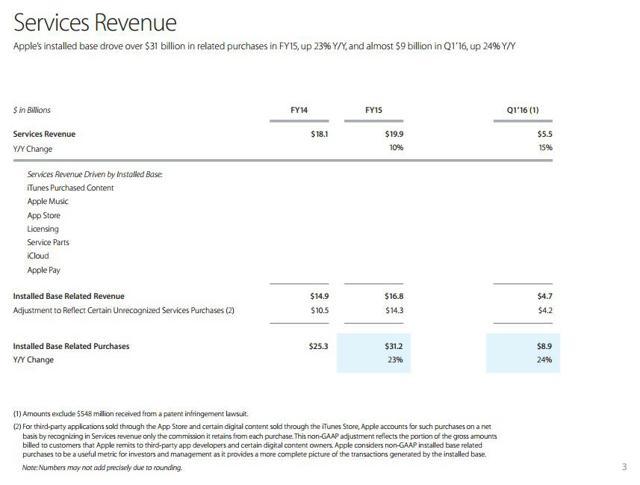 Source: Q1 2016 supplemental materials
Apple's services revenue is just not big enough, at this time, to protect its presently critical hardware business.
I think Apple has plenty of ideas what to do with their cash, but they have been constrained due to the tax inefficiency of repatriating cash from abroad. This is certainly one of the largest negatives to Apple I can think of. However, it could also result in one of the largest potential share price catalysts at some point in the future. Imagine for a moment what would happen to Apple's share price if it were to negotiate a more tax effective cash repatriation strategy with the U.S. Government. I would not invest in Apple on such a speculative basis, but it is worth keeping this possibility in mind.
If Apple truly had a lot of opportunities to invest at a high rate of RoIC, it would have borrowed against the overseas cash. Alternatively, some of those ideas should be able to be realized overseas. The repatriation tax limits the firm's options to return cash to shareholders but even if the Government allows for a tax holiday or something, I don't think such a one-time event would do much for the company's value on the long term. It would be a positive for shareholders but hardly a game changer.
Bonus chart: S&P 100 Constituents Free Cash Flow Yields (%) Vs. Net Cash as a % of Market Capitalization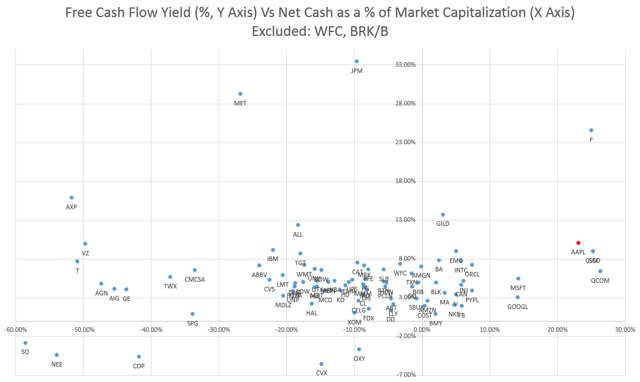 I have a beef with Bergseng's bonus chart (see above). Accompanied by the following explanation:
Essentially, this is a matter of return vs. leverage. It is easy to find stocks with a low P/E, but you will usually find they have a lot of debt relative to their market capitalization. Conversely, stocks with strong net cash positions can attract a P/E premium as they still have the ability to use their cash position and debt facilities to create growth. As you can see, Apple is to the right and above the vast majority of constituents on this chart - a combination of both larger returns and less leverage than the rest. Again, there are not many alternative investments as attractive as Apple considering its current P/E relative to the S&P 500.
When you take free cash flow and net cash to compare Apple against the S&P 100, it looks to me like you are cherry picking two metrics to make Apple look good. Everyone knows the company is a sick hoarder and currently generating terrific cash flows. The problem with value (above book) is that it's based on future cash flows. With Apple, that's the crux. Bergseng failed to come up with credible arguments why Apple's future cash flows are safe.
Let me reiterate, I do not hate Apple as an investment. I do want to caution against a naive bullish equation like Apple is awesome + Apple trades at a low P/E = Slam Dunk.
There are real risks with Apple's business model with lots of operating leverage embedded and short product cycles. The past ten golden years have coincided with its global expansion but now pretty much everyone who can afford an iPhone owns one…
Finally, its mountain of cash adds some stability to its stock price but there is the risk management will spend it in a foolish manner like a value destructive acquisition. In addition, the cash lowers the overall return of your investment dollar put in Apple. Bergseng ends his piece on the notion there are not many alternative investments as attractive as Apple considering its current P/E relative to the S&P 500 but let me shower you with choices: General Motors (NYSE:GM), Banco Santander SA (NYSE:SAN), Bayerische Motoren Werke (OTCPK:BYMOF), Mizuho Financial Group (NYSE:MFG), Prudential Financial (NYSE:PRU), Surgutneftegas (OTCPK:SGTPY), Electricite de France SA (OTCPK:ECIFF), HP Inc. (NYSE:HPQ), United Continental Holdings (NYSE:UAL), American Airlines Group (NYSE:AA), Fuji Heavy Industries (OTCPK:FUJHY), Anthem Group (NYSE:ANTM), Goldman Sachs Group (NYSE:GS), Tesoro Corp. (TSO) and AerCap Holdings NV (NYSE:AER). That's just a few of them, Morningstar's screener came up with 1199 stocks trading at a deeper discount to the S&P 500.
Don't fall in love too quickly.
Disclosure: I/we have no positions in any stocks mentioned, and no plans to initiate any positions within the next 72 hours.
I wrote this article myself, and it expresses my own opinions. I am not receiving compensation for it (other than from Seeking Alpha). I have no business relationship with any company whose stock is mentioned in this article.