It is only natural that certain stocks elicit more emotion from investors than others. Companies that are a presence in the day to day lives of people are particularly subject to this. Apple (NASDAQ:AAPL), Netflix (NASDAQ:NFLX), Amazon (NASDAQ:AMZN), and Microsoft (NASDAQ:MSFT) are just some of the companies that people get emotional about. On Seeking Alpha, we have seen statements along the lines of "I don't like iPhones, therefore Apple is a bad investment", or "I love Netflix's service, the stock is a fantastic buy." Emotion has little place in investing. Personally attacking critics of a stock you invest in because they bring up diverging viewpoints is the wrong way to approach investing.
One of the stocks that is most subject to such heated debate is Sirius XM (NASDAQ:SIRI). Bulls and bears of the stock battle it out on an almost daily basis. We have casually followed the stock for some time, but have never had a position in the stock. Full disclosure: We are long shares of Pandora (NYSE:P), but we do not see Pandora and Sirius XM as true competitors. They are 2 companies with 2 different business models and target audiences. For now, we see no reason why they cannot coexist in a way that is profitable to both companies.
Overview
Sirius XM is America's satellite radio company, and was created from the merger of Sirius and XM, which was announced on February 19, 2007. In early 2009, bankruptcy speculation swirled as the company was being crushed by its debts, the collapsing economy, and collapsing auto sales. The stock fell to as low as 11 cents before it bottomed.
At the height of this bankruptcy chatter, a savior stepped in. John Malone and his Liberty Media conglomerate (the convoluted structure of the Liberty family of companies should have its own article) acquired 41% of Sirius XM via convertible preferred stock, thus staving off bankruptcy. Ever since then, rumors of a takeover by Liberty have surrounded Sirius XM, which we will explore in further detail below. Since bottoming in February, Sirius XM stock has skyrocketed by nearly 1,600%, trouncing the S&P 500's 57% rise.


Given such a steep rise, it may be tempting to think the run in Sirius XM is done. But, it is important to keep things in perspective. Over the past 10 years, Sirius XM has lost nearly half of its value, due to both the economic crisis and the merger between Sirius and XM.


In this context, Sirius XM shares have ample room to rise. Whether or not they will, however, is the million dollar question. In order to determine where a company will go, it is important to see where it has been. Below, we provide an overview of Sirius XM's financials for the past several years.
Sirius XM Financials
| | | | | |
| --- | --- | --- | --- | --- |
| | 2008 | 2009 | 2010 | 2011 |
| Revenue | $1,663,992,000 | $2,472,638,000 | $2,816,992,000 | $3,014,524,000 |
| EBITDA | N/A* | N/A* | $626,288,000 | $731,018,000 |
| Net Income | -$5,313,288,000** | -$342,790,000 | $43,055,000 | $426,961,000 |
| Diluted GAAP EPS | -$2.45 | -$0.15 | $0.01 | $0.07 |
| Subscribers | 19,003,856 | 18,772,758 | 20,190,964 | 21,892,824 |
| ARPU | $10.56 | $10.73 | $11.73 | $11.58 |
| GAAP Subscriber Acquisition Cost | $74 | $63 | $59 | $55 |
| Churn | 1.8% | 2.0% | 1.9% | 1.9% |
| New Vehicle Customer Conversion Rate | 47.5% | 45.4% | 46% | 45% |
| Free Cash Flow | -$551,771,000 | $185,319,000 | $210,481,000 | $415,742,000 |
| Diluted Shares Outstanding | 2,169,489,000 | 3,585,864,000 | 6,391,071,000 | 6,500,822,000 |

*Sirius XM did not break down EBITDA for 2008 and 2009
** Net losses in 2008 include $4,766,190,000 in goodwill writedowns
The surge in shares outstanding is due to the conversion of Liberty's stake in Sirius XM from preferred shares to common shares. Sirius XM has turned itself around mightily since 2008. Churn is holding steady, and although the new vehicle customer conversion rate, a key metric, has fallen a bit since 2008, it has not fallen at large enough levels to be of concern. Year-to-year variations are inevitable, at least in the short-term. Free cash flow has rebounded, and ARPU is holding steady. But what we feel needs to be explored in greater detail here is the dramatic increase in shares outstanding, why it occurred, and what it means for Sirus XM going forward.
John Malone and Liberty Media
In every industry, there is always at least one CEO, one person, or one company that somehow manages to be at the center of almost every deal, and inject themselves into backdoor negotiations. In finance, it is Goldman Sachs (NYSE:GS), Lloyd Blankfein, and its alumni. In technology, it is Google (NASDAQ:GOOG) and its employees. And in media, it is John Malone and his Liberty family of companies.
Breaking down the corporate structure of the Liberty family of companies is something that is beyond the scope of this article, for analyzing the cross-holdings and equity structure that has been set up over the years would veer this article too far off course. For those interested in further details about Liberty Media, Wikipedia provides a good overview. In simple terms, John Malone controls Liberty Media, which invests in a broad range of media companies, and holds interests in Starz. Liberty Capital and Liberty Interactive hold other media and technology investments and they are tied back to John Malone and Liberty Media. There are several stocks and tracking stocks for the Liberty family of companies.
John Malone and the Liberty family of companies own 41% of Sirius XM, and this has caused a great deal of speculation as to what Liberty wants to do with the other 59% of Sirius XM. The constant deal making going on at Liberty, the ties between all the companies, and John Malone's holdings in Liberty cause a whole host of tax issues. Over the years, Liberty has used a variety of methods to avoid paying taxes, enshrining its place as one of the most ingenious users of tax loopholes (earning it a place alongside GE). Given that Liberty holds 41% of Sirius XM, Sirius investors are assuming that Liberty will buy out the remainder, or at least increase the stake, to gain control of what bulls think is a wonderful company. While that may be true, there is another consideration that investors must consider: Taxes.
Sirius XM, after bleeding money for so many years, is sitting on billions of net operating loss carryforwards. $7.8 billion to be precise. These carryforwards, when monetized, allow a company to defer paying income taxes for years. The monetization of these NOL's is what allowed AIG to post a huge $19.8 billion profit ($10.43 per share) in the fourth quarter of 2011, even when operating earnings were actually just 82 cents per share.
IRS rules restrict the usage of these NOL's for 3 years. From the Sirius XM 2011 10-K filing:
Section 382 of the Internal Revenue Code of 1986, as amended (the "Code"), contains rules that limit the ability of a company that undergoes an ownership change, which is generally any change in ownership of more than 50% of its stock over a three-year period, to utilize its net operating loss carryforwards and certain built-in losses recognized in years after the ownership change. These rules generally operate by focusing on ownership changes among stockholders owning directly or indirectly 5% or more of the stock of a company and any change in ownership arising from a new issuance of stock by the company.

If we undergo an ownership change for purposes of Section 382 as a result of future transactions involving our common stock, including purchases or sales of stock between 5% stockholders, our ability to use our net operating loss carryforwards and to recognize certain built-in losses would be subject to the limitations of Section 382. The limitation on our ability to utilize tax losses and credit carryforwards arising from an ownership change under Section 382 would depend upon the value of our equity at the time of any ownership change. Given our current market capitalization, any future ownership change will not negatively impact our ability to fully utilize our existing net operating losses within the carryforward period. If we were to experience a significant decrease in equity value it is possible that a portion of our tax losses and credit carryforwards could expire before we would be able to use them to offset future taxable income.
Those 3 years are up on March 6, 2012. Many Sirius XM investors are hoping that sometime around that day, Liberty and Sirius XM will issue press releases saying that a deal has been reached. Yet, as James Ratcliffe of Barclays stated in his research report on Sirius XM,
We believe Liberty has ample liquidity for this move and could increase its stake through forward purchase commitments, which wouldn't require an interim announcement that the stake has increased. While we don't expect a repeat of the Liberty/DirecTV transaction, in which Liberty holders got a 6-7% premium, we also don't expect a material discount.
What this means is that Liberty, should it choose to increase its stake in Sirius XM, is not required to make any sort of announcement about the increase. Nor does it have to notify the SEC. On top of that, it does not have to notify Sirius XM either. Therefore, if Liberty decides to take control of Sirius XM, Sirius XM might be the last to know.
Is a deal in the works? Perhaps. We fully believe that some sort of negotiations are taking place. But March 6 is not a magical date that will result in a huge payday for Sirius XM investors. However, the benefits of a deal are clear, and it certainly could happen. Liberty needs those net operating loss carryforwards to keep differing its income taxes. That is a factor that we think deserves to be mentioned, and we think that given Liberty's corporate structure, these tax benefits are just as attractive, perhaps more so, than the underlying business of Sirius XM.
Insider Selling
Following insider sales and buys often provides clues as to what management's feelings about a company's future are. Critics of companies with a history of insider selling, such as Salesforce (NYSE:CRM), use these insider sales to show that if management has no stake in the company, then the stock is not a buy.
Certainly, there is some truth to this argument. If the compensation of management is based solely on cash, there is little incentive to do better, as your compensation remains at X no matter how you perform. But, if you are compensated in stock, then you will have an incentive to manage the company in a better way, so that the stock, and your own wealth, rise. At least that's the theory.
Much has been made of the insider trading activity at Sirius XM. According to NASDAQ data, there have been no insider buys over the past 12 months, only selling. However, it is crucial to note that over that time frame, Sirius XM's stock price has steadily increased as well, from $1.6247 to $2.1634 as of the last sale. Insider selling is not necessarily a bad thing. While it is certainly important for management to hold a stake in their company, investors must remember that they are only human, and as such have a natural incentive to want money now, and not wait till stock options expire before cashing in.
After Liberty invested hundreds of millions to save Sirius XM from bankruptcy, Sirius XM replaced the options of many of its executives, now worthless due to the collapse in the company's share price, with new ones valued at 43 cents per share. Furthermore, CEO Mel Karmazin has announced that beginning in April 2012, he will be selling 60 million shares, in order to fund his philanthropic efforts. Given that he will still own around 68 million shares of Sirius XM, we do not see that sale, on its own, to be of much concern. The insider sales over the past year stand out for two reasons, however.
CFO David Frear's 1000 shares: According to NASDAQ data, CFO David Frear owns just 1,000 shares of Sirius XM, as of May 4, 2011. In July, he was granted options to buy 16 million shares of the company, and they expire in 10 years. They vest beginning on July 21 and in blocks of 4 million, with another block vesting each year until 2015. How you perceive a CFO holding so little direct stock in their company depends on your beliefs regarding insider trading. Certain companies, by their very nature, happen to be loose with stock options. Salesforce is a prime example of this. And Sirius XM, while certainly no Salesforce, has shown no hesitation in issuing stock options to its executives.
Is this the right time to sell? Many of the articles discussing Sirius XM have argued that these insider sales prove that Liberty is not swooping in to buyout the remaining shares of Sirius XM. On the surface, this argument makes sense. If Sirius XM executives know a buyout is coming, why cash in at these levels if the stock will soar when Liberty announces a deal? However, there is a crucial fact that is being ignored in such an argument. Given the structure of the original investment, Liberty does not have to inform Sirius XM, or anyone else of its investment until after it has been completed. Therefore, it is entirely possible that Sirius XM executives have no idea what Liberty's plans are. They could be selling not because they know a deal is not happening, but because they simply want to cash out.
The insider selling occurring at Sirius XM, in our opinion, is not as controversial as it seems. We think it is merely part of the normal course of business in a company that likes to issue stock options on a regular basis.
2012
Sirius XM should continue its recovery in 2012. Free cash flow is expected to grow to $700 million, allowing Sirius XM to heal its balance sheet and pay down debt. Guidance for EBITDA was raised to $875 million, and revenues should grow to around $3.3 billion, for growth of around 9.8% from 2011.
Sirius XM, at least for the present moment, is leveraged to the economy due to its dependence on auto sales for gaining subscribers. This is why Sirius XM breaks down metrics like new vehicle conversion rates, because they are an important metric for measuring the strength of this company. The price increase pushed through in January has had a limited impact on churn, according to executives. Churn is expected to rise a bit, to 2.1% from 1.9%, and unless it continues to rise beyond those levels, we see no meaningful concerns in that regard. And auto sales are forecast to be strong this year, assuming no material weakening of the economy in 2012. As such, net subscribers are expected to increase by 1.3 million in 2012 to yet another record (Sirius XM will have over 23 million subscribers if guidance holds up).
Another note of import is what Sirius XM plans to do with its streaming service in 2012. Streaming was, in the past, a limited domain for the company. However, in 2012, Sirius XM will boost its mobile streaming offerings, adding its popular talk shows and personalized music (think Pandora, minus the ads). We applaud the company for focusing on the mobile side of its service, as it will play a crucial role in the company's future. Furthermore, as the streaming service improves, it will become easier to convince subscribers to pay the extra $3 per month to access it, thus mitigating some of the effects of increased churn. (As a side note, it will take 18 months to roll out the 12% price increase to all of Sirius XM's prepaid subscribers).
However, there are some points of caution surrounding 2012. While Sirius XM did raise its EBITDA guidance to $875 million from $860 million, it decided to stick with its revenue forecast of $3.3 billion. Analysts had been modeling $3.36 billion. Sirius XM first released that revenue forecast in September, and the economy has improved since then. But, it is possible the reiterating of that guidance is due to expectations of an increase in churn. Given that we feel the 20 basis point bump in churn is not that much of an issue, the lack of a revenue boost is not a major concern. Overall, 2012 will be another year of recovery for Sirius XM, but it will also be a year when the company begins to transition from merely recovering to laying the groundwork for the next set of innovations designed to secure its long-term future, such as a renewed push into mobile streaming, as well as inroads into the used car market. Those plans, while still in early stages, look promising.
Balance Sheet & Valuation
Sirius XM is steadily working to repair its balance sheet from the effects of the financial crisis. Cash is growing, and the company is working to pay down its debt, which currently stands at nearly $2.7 billion. But, given the good free cash flow the company is expected to post in 2012, we see no issues with regards to debt.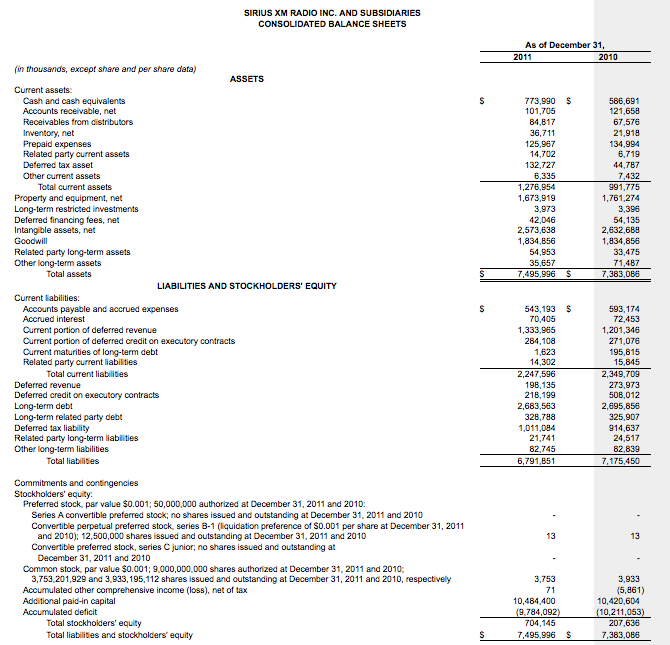 Two figures on the balance sheet need to be noted. The company has nearly $2 billion in goodwill, which makes up nearly 25% of its assets. And liabilities include over $1.5 billion in deferred revenue.
As for the valuation, Sirius XM sports a P/E ratio of nearly 33 times trailing earnings, and a forward P/E of around 33 as well. (As a side note, it is important to mention that various financial news outlets have various P/E figures, with this one coming from Charles Schwab.) While this may seem high on the surface, it is important to note that Sirius XM has a PEG ratio of just 0.4, suggesting that the company is, at these levels, undervalued. As with most financial metrics, valuation is a matter of interpretation. Sirius XM's valuation has something for both bulls and bears to sink their teeth into. Overall, however, we do not think that Sirius XM's valuation is stretched. There are plenty of other companies in the market that have proven that they can support valuations much higher than 33x earnings. And if Sirius XM continues its growth trajectory, and the economy continues its recovery, we do not think that the market will challenge the P/E ratio in a meaningful way.
Conclusions
Overall, we think the downside in Sirius XM is limited. We think the economy will continue its recovery in 2012, and assuming that Sirius XM can continue to execute, from both a financial and operational standpoint as it did in 2011, things should be just fine. The Reuters average price target currently stands at $2.63, representing upside of 17.94% from current levels. But, it is important to remember that the upside is not as well-defined as the most bullish investors believe. Investors in Sirius XM, and indeed the company itself, may not know that Liberty increased its stake to a majority one until after the fact. And this company must execute brilliantly to continue the run in its shares since 2009.
In articles regarding Sirius XM that we have come across here on Seeking Alpha, we have heard statements that Sirius XM will go bankrupt in 2012, and that it is the greatest company to invest in at the present moment. We think such emotions are unnecessary. Sirius XM is but one company in the market, with both positive and negative attributes. And while we think that the positives here outweigh the negatives, it is important to remember that at the end of the day this is just a company. The hyperbole and emotions we have seen surrounding Sirius XM here on Seeking Alpha are remarkable. Bearish investors are convinced this stock and the company face imminent collapse. And bullish investors have convinced themselves that a buyout from Liberty is imminent, yet that is far from certain. While we do think that in the long run, Sirius XM will trade at a higher price than where it is today, that upside will take time to materialize, and that it will not occur as rapidly as the bulls would like to believe. While we think that Sirius XM is more of a buy than a sell at this moment in time, we would like to remind readers that at the end of the day, Sirius XM is just a company. We hope that this outsider's perspective of Sirius XM has allowed readers to gleam some new insight into the company and the debate surrounding it.
Disclosure: I am long P, AAPL, CRM, NFLX, MSFT, GE, AMZN.
Additional disclosure: We are long shares of GE and MSFT via the SPDR Dow Jones Industrial Average ETF. We are long shares of CRM and AMZN via a mutual fund that assigns them a weighting of 2.69% and 0.99% respectively.