Bulls are as invigorated today, with the S&P 500 index (NYSEARCA:SPY) just beneath its previous rally high of 2,109, as bears were two months ago, when the S&P 500 index was flirting with 1800. One would think that there had been a sea change in the market fundamentals or a reversal in the economic vital signs that have been slowly deteriorating, but this is not the case. To the contrary, estimates for US economic growth for the first quarter have plunged from what were better than 2% to what is now closer to zero. The consensus earnings estimate for S&P 500 companies has fallen from what was a year-over-year decline of 6.0% for the first quarter and 0.7% for the second quarter to declines of 9.3% and 2.9%, respectively. Even the third-quarter estimate for earnings has fallen from an increase of 5.3% to 3.6%. Yet the fourth-quarter estimate remains virtually unchanged at a gain of 10.8%, which is necessary in order to preserve a projected increase in earnings for 2016, albeit just 2%.
One of the most important metrics in economic and financial market analysis is the rate of change. The rate of change in a number is far more important than the absolute number itself, regardless of whether that number is positive or negative. In most cases, the rate of change in the numbers I follow continue to deteriorate rather than improve. That is what fuels my skepticism about the sustainability of the current rally and the prediction that we are headed to new all-time highs.
What has changed over the past two months is that the Fed finally admitted that it would not raise interest rates in the near term. The intimation that it would was nothing more than a cheerleading effort, as are all of its activities at this point. The Fed continues to play this game with its forward guidance, hinting that another rate hike will be coming, because the US economy is going to strengthen, only to pull back when its economic forecast fails to come to fruition. Perhaps the Fed thinks that its continual vote of confidence in the economy will sway consumer and business sentiment, leading to economic activity, but the only group that it seems to be able to sway are investors.
Common sense would dictate that a rate increase would be a positive development, because it would signify a strengthening economy, but common sense was thrown out the window a long time ago. We still seem to live in this wacky world where financial markets would prefer to have the elixir of easy money rather than improving fundamentals, so another delay in the process of normalizing interest rates was celebrated by investors.
There is just too much idle liquidity around the world, with no real-world productive use for it. Therefore, it continues to flood into financial markets, irrespective of economic or market fundamentals, serving to inflate the value of paper assets. Perhaps this is why the companies in the S&P 500 that have beaten estimates for the first quarter so far have risen by an average of 2.3%, while even those that have disappointed have still risen 0.3%.
What we have seen over the past two months is a fundamental-less rally, i.e. there are no significant positive developments on the fundamental front to substantiate it. In fact, fundamentals have deteriorated further from what they were just two months ago.
The Bull Case
Bulls will say that bears had their day in the sun during the corrections of last August and this February, when the S&P 500 index declined by 12% and 13%, respectively. Those corrections served as adjustments in valuation that resolved the issues presented by the corporate earnings recession, which is now behind us. The story line today is that the rate of growth in revenues, earnings and US economy will improve moving forward, as the headwinds of a strong US dollar and declining energy prices fade.
I contend that corrections don't classify as adjustments in valuation when prices quickly rebound to where they were just before the correction, without any improvement in fundamentals to justify the rebound. To the contrary, the fundamentals have deteriorated further following both of the recovery rallies, leading to even higher valuations. The S&P 500 index is now valued at 16.8 times the consensus 12-month forward earnings estimate, which is well above its five-year average of 14.4 and ten-year average of 14.2.
It is more likely that what we have seen these past two months is just another lower top from the all-time high of 2,134, to the recovery high of 2,119 last November, to the most recent recovery high last week of 2,082. These are still a series of lower tops.
The negative influence that the energy sector has had on overall S&P 500 index results will clearly wane over the coming year, but this does not imply growth. Nor does it guarantee that revenues and earnings declines won't worsen in other more heavily weighted sectors. I also don't see any evidence that the US dollar is going to weaken substantially in the year ahead, turning what is now a very modest headwind into a tailwind. The bull case can't be substantiated on anything other than optimism, as opposed to realism.
The Bear Case
Despite the recent rally, I have not revised my outlook for the US economy, corporate earnings and revenues, or the S&P 500 index, none of which is dependent on financial market performance. I continue to stand by my downside price target of 1575, but I am cognizant of the fact that I could be proven wrong on two counts.
The first is that the economy regains strength and corporate earnings and revenues rebound, as the consensus on Wall Street contends, validating new highs in stock prices, despite valuations being excessive. They can stay excessive for long periods of time, as we have seen in the past. This is something that I am monitoring on a daily basis, looking to identify any improvements in the rates of change that may mark a turning point in the fundamentals.
The second is that irrespective of how accurate my outlook for the economy or corporate fundamentals may be, central banks are successful in increasing the value of financial assets by continuing to print money that has no purpose or demand in the real economy. This is what worries me the most, because it is probably the more likely of the two catalysts, should the S&P 500 index surpass its all-time high.
This has been the Fed's backup strategy for a long time. If it can't impact the real economy, it will inflate the paper economy in the hope that the new-found wealth trickles down to the masses. Unfortunately, it does not. It is a broken ideology that has spread like a virus throughout the developed world. It can be seen in the diverging paths of the S&P 500 index and the consensus 12-month forward earnings estimates, as shown below.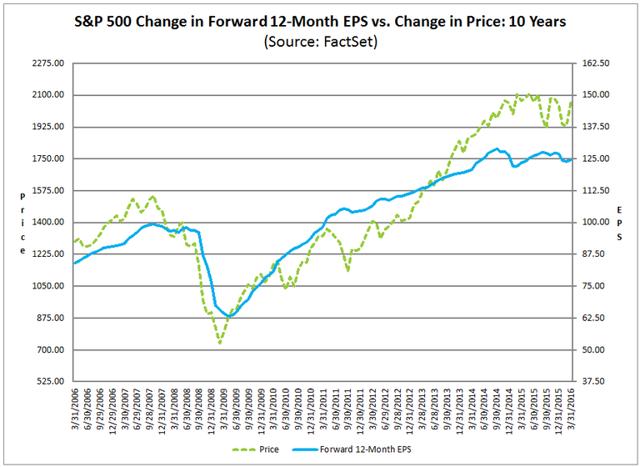 The stock market used to be a reliable leading indicator, meaning that the S&P 500 index would discount declines and increases in earnings by declining or increasing in advance of the change in estimates. Focusing on the chart above, notice that the price of the index (green-dotted line) moved up or down slightly in advance of changes in the 12-month forward earnings estimate (blue line). This can be seen most vividly in 2007 and 2009, which marked significant turning points. This relationship appears to have broken down approximately 15 months ago.
If earnings estimates (blue line) begin to rise, it will validate the advance in the S&P 500 index that has led it, and I will have to capitulate on my bearish outlook. The stock market will have once again proven itself to be a reliable leading indicator and the bull market will live on. I still believe that the $125 forward earnings estimate is ludicrous, and that estimates will decline as the blue line will begins rolling over. This means that the stock market should start to decline in advance of earnings estimates being lowered, but time will tell. I still think that the deterioration in the economic and market fundamentals will ultimately override the Fed's influence.
Disclosure: I/we have no positions in any stocks mentioned, and no plans to initiate any positions within the next 72 hours.
I wrote this article myself, and it expresses my own opinions. I am not receiving compensation for it (other than from Seeking Alpha). I have no business relationship with any company whose stock is mentioned in this article.
Additional disclosure: Lawrence Fuller is the Managing Director of Fuller Asset Management, a Registered Investment Adviser. This post is for informational purposes only. There are risks involved with investing including loss of principal. Lawrence Fuller makes no explicit or implicit guarantee with respect to performance or the outcome of any investment or projections made by him or Fuller Asset Management. There is no guarantee that the goals of the strategies discussed by will be met. Information or opinions expressed may change without notice, and should not be considered recommendations to buy or sell any particular security.