ConocoPhillips (NYSE:COP) stock has gained 32% over the last two months, due in part to the strength in WTI oil prices which climbed from less than $30 a barrel in mid-February to north of $40 at the end of last week, a gain of more than 33%. That strength was largely based on optimism that the world's major producers would agree on limiting oil flows. But the meeting held on Sunday in Qatar, which was supposed to bring 15 of the world's largest oil producers representing half of the world's crude production together, ended without any agreement.
As I highlighted in my previous article, a production freeze agreement wouldn't have any meaningful impact on oil supplies, but at least it would have shown that the leading oil producers are willing to work together to solve the supply situation. This could have marked a significant change from last year when the world's top two producers, OPEC's de facto leader Saudi Arabia and largest non-OPEC producer Russia, only talked about protecting their market share. An agreement could have even set $40 oil as the new psychological floor.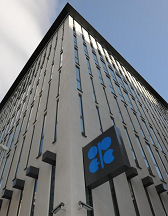 Image: OPEC.org
Most US shale drillers would still be burning cash if crude were to hover in the $40s, but not ConocoPhillips. In a recent presentation, ConocoPhillips said that it has successfully lowered its breakeven price from $60 to $45 a barrel within a few months. At this level, the company expects to generate enough cash flows to fully fund its capital spending for flat production and dividends. The drop in breakeven price came as the company trimmed its quarterly dividend from $0.74 to $0.25 per share, slashed capital budget from $10.1 billion last year to $6.4 billion for 2016 and increased focus on Eagle Ford and Bakken shale while moving away high-cost ventures (like deepwater exploration).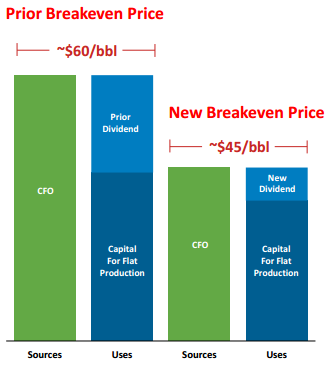 A pact from the OPEC and non-OPEC oil producing countries, therefore, could have worked out well for ConocoPhillips that has made remarkable progress of lowering breakeven cost to $40s. But the meeting received an early blow when the newly sanctions-free Iran, which has vowed to continue growing output to 4 million barrels a day, decided that it would not send its representative while Saudi Arabia, the only OPEC member besides Iran which can actually boost output, reiterated that it would only halt supplies if others agree to do the same. That effectively ruled out the possibility of any constructive pact on freezing output.
But the fact that the participants failed to agree even on a vague, loosely-worded deal, is a bad sign. This firmly establishes that Riyadh is not going to cap production and make it easier for Tehran to lift its market share. Meanwhile, Mohammed bin Salman, the Saudi deputy crown prince who is also the chairman of the supreme council of Saudi Aramco, has recently warned that the kingdom could ramp up production to 12.5 million barrels a day within six to nine months, whenever it wants, and 20 million barrels a day over the long run, from 10.2 million barrels a day in the first two months of this year. With this threat and Doha's disappointment, I believe the focus of the big oil producing nations will likely shift back to protecting the market share. And that can't be good for oil prices and, by extension, ConocoPhillips.
Crude prices have now dropped to below $40 a barrel, under ConocoPhillips's breakeven level. Moreover, the escalating war of words between Iran and Saudi Arabia is also not helping. Remember, ConocoPhillips's bottom-line is highly sensitive to oil price movements. The company is one of the few oil producers that can pump more than 1.5 million barrels of crude on a daily basis. But unlike the majors, such as Exxon Mobil (NYSE:XOM) and Chevron (NYSE:CVX), it does not have any refining assets. The refineries typically perform better during weak oil prices and provide crucial support to the bottom-line during the downturn. Moreover, ConocoPhillips does not practice hedging. As a result, according to the company's estimates, every dollar movement in Brent and WTI impacts its net income by $100-$120 million and $35-$45 million respectively.
For now, as oil's rally fizzles, ConocoPhillips's shares will likely come under pressure. The company is due to release its first quarter results on Thursday, April 28, and it is unlikely they will become a catalyst for any upside. That's because the first three months of this year were one of the toughest this industry has seen in a long while, with WTI crude briefly dropping to decade-lows of less than $29 a barrel in mid-January and again near mid-February. According to data from US Energy Information Administration, WTI crude spot price averaged just $31.68 in January, $30.32 in February and $37.55 in March - that's significantly lower than the average price of between $46.22 and $37.19 for the final three months of last year. The fourth quarter was already a difficult one for ConocoPhillips in which it posted an adjusted loss of $0.90 per share, significantly bigger than market's estimate of $0.65 per share. With further weakness in crude prices, the first quarter results will likely be even worse.
Fortunately, ConocoPhillips has $8 billion of liquidity and no significant near term maturities, which puts it in a good position to ride out the storm. In a sub-$40 a barrel oil price environment, it may have to accelerate its asset sale plan to meet any cash flow shortfall. Back in December, the company said that it would raise $2.3 billion from selling non-core asset in 2016 and an additional $1 billion to $2 billion in 2017. As we've seen recently with Marathon Oil (NYSE:MRO) whose stock popped more than 12% on April 12 when it announced a $950 million divestiture, the asset sales can act as a catalyst for upside, even more so for ConocoPhillips in the ongoing sub-$40 a barrel oil price environment in which it will likely witness a cash flow deficit.
Disclosure: I/we have no positions in any stocks mentioned, and no plans to initiate any positions within the next 72 hours.
I wrote this article myself, and it expresses my own opinions. I am not receiving compensation for it (other than from Seeking Alpha). I have no business relationship with any company whose stock is mentioned in this article.