When I was preparing for the holidays several months ago, I started thinking about which ETFs I wanted to put on my shopping list. One of the additions to my list was the Vanguard Utilities ETF (NYSEARCA:VPU). Perhaps the biggest mistake I made was being willing to wait until the middle of December or later before expecting to make the acquisition. I saw the potential for some panic in interest rates with the Federal Reserve hiking rates. Unfortunately, investors didn't sell off VPU. The lowest prices investors would get on VPU were coming in December just prior to the increase in rates.
Expense Ratio
The ETF is posting .10% for an expense ratio. That is fairly low and makes a very compelling case for using the ETF. On the other hand, the heavy allocations to individual companies also makes it easier for an investor to duplicate the portfolio allocation if they intend to hold the portfolio long enough to justify the trading expenses.
Largest Holdings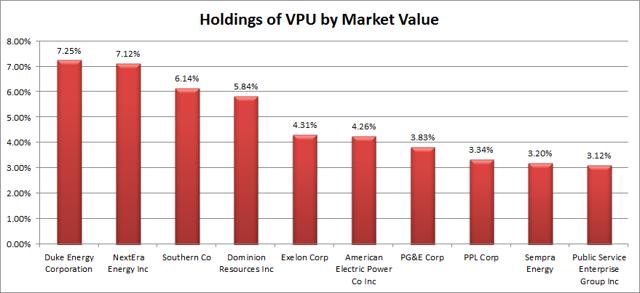 The utility sector is an area where I would love to have more time to dedicate to doing thorough research on each of the top companies and a few of the smaller ones. However, until that happens I think one of the best options is VPU. Some investors believe that the fund is already getting too expensive since the yield on utilities is falling and the growth rate on earnings is fairly weak.
How Expense is VPU?
The following chart provides some quick information for assessing the costs of buying into VPU on some fairly simple metrics.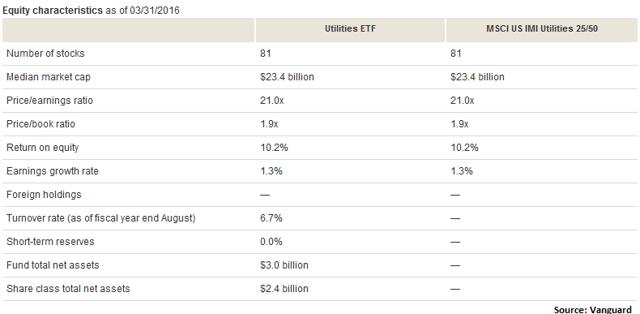 The P/E ratio of 21.0x isn't too bad compared to the ratios across the rest of the market. The S&P 500 has a P/E ratio that is slightly over 20 and I would expect the S&P 500 to have a dramatically harder time growing earnings because of the inclusion of oil companies that will have huge losses this year or at least declines in earnings relative to last year unless there is a dramatic rally in oil prices.
If the oil company debt turns into bankruptcies, it could also weigh on the financial sector. Investors may expect some benefit to the banks from an increase in the rate of interest paid by the Federal Reserve, but gains should be fairly slow. The Federal Reserve wouldn't want to risk inverting the yield curve due to the expectations for a recession when the yield curve inverts. The simple expectation for a recession could lead to significant declines in equity prices and bring on a recession by scaring consumers into delaying purchases.
Utilities Weak Earnings Growth Rate
The earnings growth rate of 1.3% is enough to leave investors fairly concerned. The dividend yield of 3.12% isn't too bad, but the weak earnings growth rate suggests a fairly weak dividend growth rate as well. Given that I would expect inflation to run at least 1.3% over the next few years, I have a hard time believing that the utilities will fail to grow earnings at a faster rate in the near future. I would expect the combination of growth in consumption due to population growth and household formation to combine with broader levels of inflation to grow sales and earnings at a slightly faster rate.
Combing it with VIG?
The Vanguard Dividend Appreciation ETF (NYSEARCA:VIG) is a favorite for investors that would like to see less risk in their portfolio and believe in buying into companies with a history of raising dividends. I believe VPU is a very natural complement to a portfolio that uses VIG as the core holding. VIG has only 2.6% of the total portfolio allocated to utilities, so it is an exposure investors need to find somewhere else if they want to have strong diversification within the portfolio.
I have a chart for the pricing figures for VIG as well: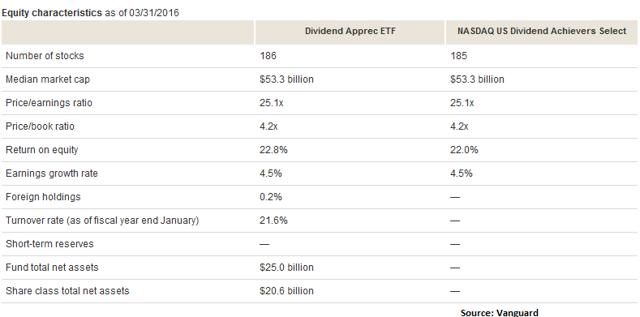 The earnings growth rate is substantially better than VPU, but the P/E ratio of 25.1x is quite high and should give investors some significant cause for concern. I've been a huge fan of VIG when I see the ETF on sale, but the rally we've seen over the last few months ended what was a very attractive opportunity.
Conclusion
I put VPU on my list as a potential acquisition for late December because I was hoping for a short sale to show up after the Federal Reserve raised rates. The rate increase came through and bond ETFs saw some selling pressure, but VPU remained quite solid. Since I wasn't willing to budget on requiring a sale to establish my position, I missed out a great rally that followed. Shares closed on April 15 th, 2016 at $106.26, which is a fairly huge increase compared to December 15 th, 2016 when shares closed at $91.45. The gain was amplified for shareholders by two dividends being paid out during that time. The S&P 500 is only up slightly over that period, so picking VPU to outperform SPY was a solid call.
Disclosure: I/we have no positions in any stocks mentioned, and no plans to initiate any positions within the next 72 hours.
I wrote this article myself, and it expresses my own opinions. I am not receiving compensation for it (other than from Seeking Alpha). I have no business relationship with any company whose stock is mentioned in this article.
Additional disclosure: Information in this article represents the opinion of the analyst. All statements are represented as opinions, rather than facts, and should not be construed as advice to buy or sell a security. This article is prepared solely for publication on Seeking Alpha and any reproduction of it on other sites is unauthorized. Ratings of "outperform" and "underperform" reflect the analyst's estimation of a divergence between the market value for a security and the price that would be appropriate given the potential for risks and returns relative to other securities. The analyst does not know your particular objectives for returns or constraints upon investing. All investors are encouraged to do their own research before making any investment decision. Information is regularly obtained from Yahoo Finance, Google Finance, and SEC Database. If Yahoo, Google, or the SEC database contained faulty or old information it could be incorporated into my analysis.