As an investor, I like the retail business. Retail is very important to me as I consider the willingness of consumers to shop, whether online or in store, an excellent variable to help me investigate if the economy is performing on par. To me Macy's (NYSE:M) is one of the most important retailers in the US. Unfortunately, retail sales in the US are not going anywhere.
Not too long ago, I did a fundamental comparison of iconic department stores and I concluded that it was easy to see why this mid-range chain of department stores was a favorite among investors. This in strict contrast to competitors such as Kohl's (NYSE:KSS), Dillard's (NYSE:DDS) and others. Now, as the stock has plunged and many Seeking Alpha articles later, it is time to revisit this once so beloved retail firm.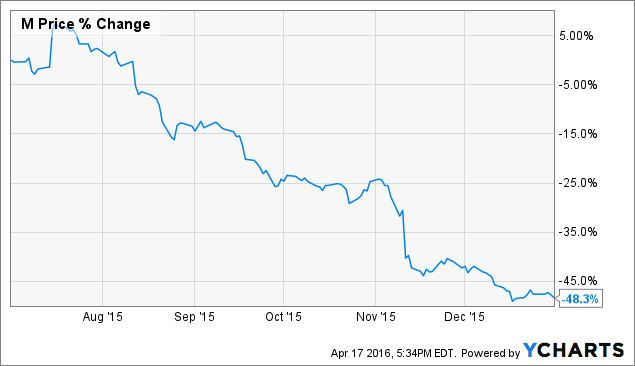 Macy's is not the only retailer I've followed in the retail space. For example, I've followed the turnaround story of J.C. Penney (NYSE:JCP) with much interest for the last few years which showed many fruitful investment opportunities.
This article will have a look at the fundamental drivers of Macy's before it crashed, and see if the situation has changed. The focus here is on drivers which could propel the stock, not drivers which could help the business. The difference is imperative to understand as not every fundamental driver propels the stock upwards. Yet, not everything that drives the stock upwards is a fundamental variable. The last articles on Seeking Alpha focused mostly on variables which could propel the business, I will try to look how they relate to share price performance.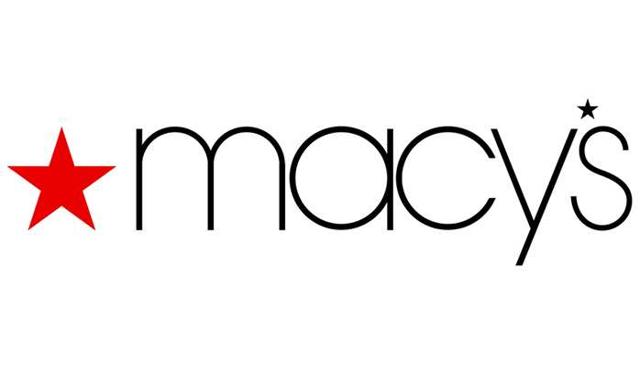 Macy's: much love, where did it go?
Macy's was an all-time favorite among investors and when looking at the chart underneath, it's not difficult to understand why this stock was loved: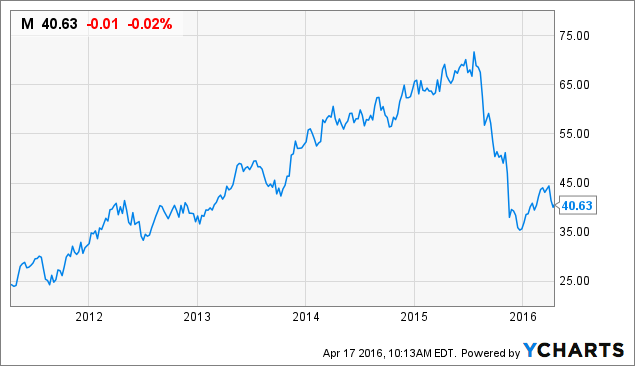 This train ride came to an end for reasons I will discuss in this article. Ever since this drop happened, an abundance of articles on Seeking Alpha discussing the investment thesis of Macy's appeared. The majority of them share a common story: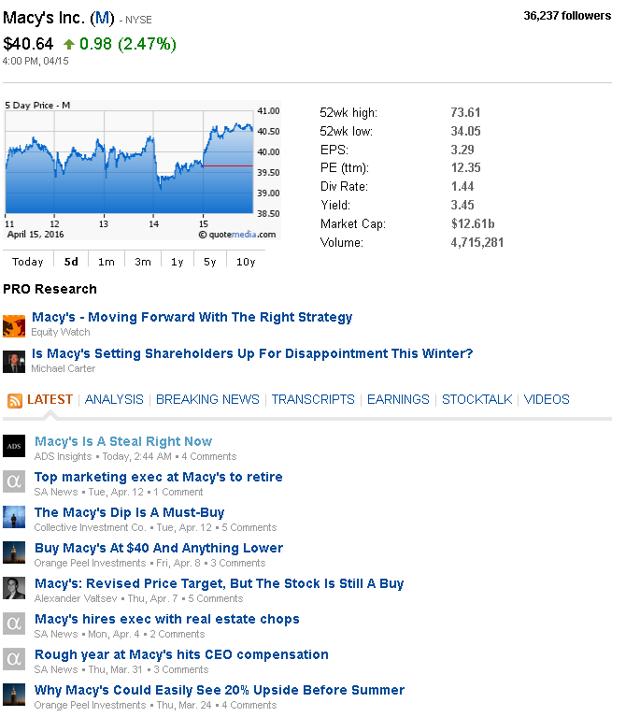 Between "Macy's is a steal right now" and "Why Macy's could easily see 20% upside before summer," it's clear that the latest articles have been quite positive surrounding the prospect of the firm. I've read through most of these articles and I clearly find there is much similarity in these stories: dividend is sustainable; the omni-channel has potential, a weak US dollar could help, Macy's backstage appeal, the simple fact Macy's dropped in value and much more.
Macy's: The main drivers in the past
After the crash in 2009, it was clear Macy's had quite a bit trust to rebuild.
The firm did a perfect job where they had a constant growth of revenue between 2009 and 2013. Yet, as shown underneath, revenue growth slowed while share price still increased. I believe the stock simply ran out of steam and it was a waiting game until the firm would come under significant pressure and drop: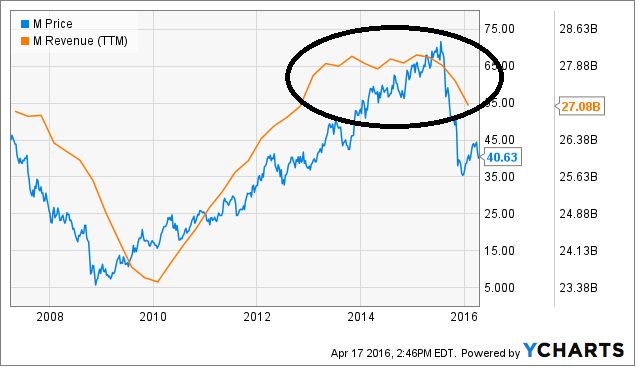 Has dividend had an impact?
ADS recently published an article on Macy's and mentioned as a potential positive drive: "Dividend is sustainable." I therefore believe it's worth having a look what kind of impact dividend has had on the share price over the last few years: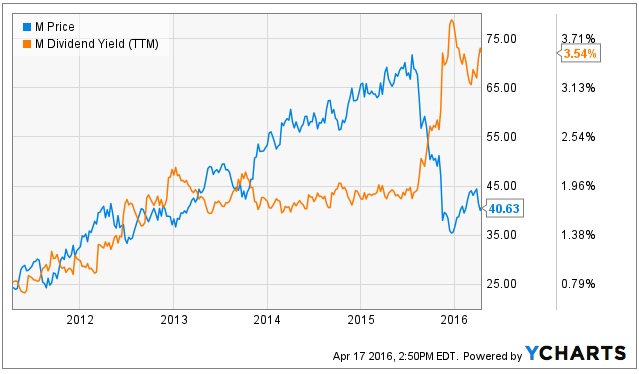 In line with revenue growth, the dividend remained stable since 2013 but was not strong enough to prevent the share price from collapsing. Based on this graph, it's hard to see that dividend sustainability had any impact on Macy's share price. Furthermore, it shows that in line with revenue growth halting around 2013, Macy's was simply unable to continue dividend growth as it has done before.
Did the US dollar have an impact?
As documented in the article by Collective Investments Co., one of the arguments given as a positive argument for Macy's is the weaker US dollar:

Nevertheless, when we look at the comparison between EUR/USD, there doesn't seem to be much impact on the share price: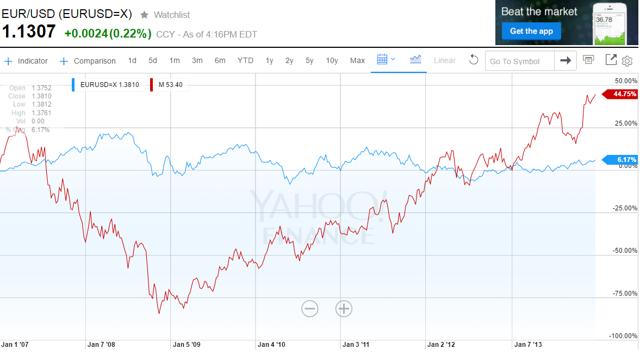 Even though there is an obvious impact economically, it's clear that there is no strong relationship between stock price and currency (also when looking at other currency pairs for example). It's difficult to do any sense of analysis of currency impacts on share price. The reason for this is because currency impact on revenue is already quite small. Let alone revenue impact on actual share price performance.
Macy's backstage appeal & the omni-channel
As written in the article on Macy's by ADS Insights: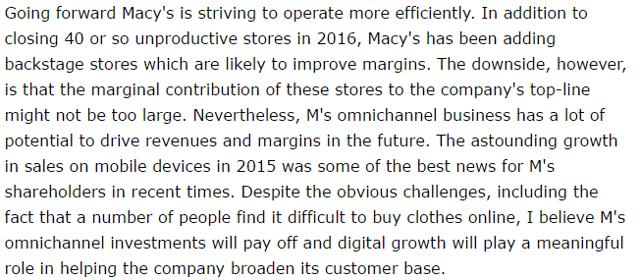 The two points discussed here are internal sales & restructuring profit margins. As an investor I've always believed margins are a key driver of share prices in the retail industry. When looking at the graph, it's easy to understand why: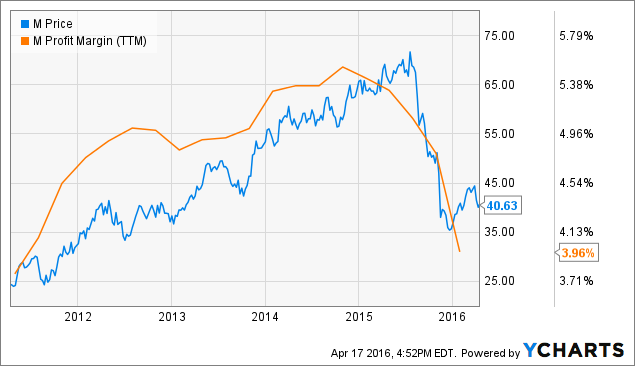 This is confirmed when looking at the last 2 years, as profitability and share price declined in a similar fashion: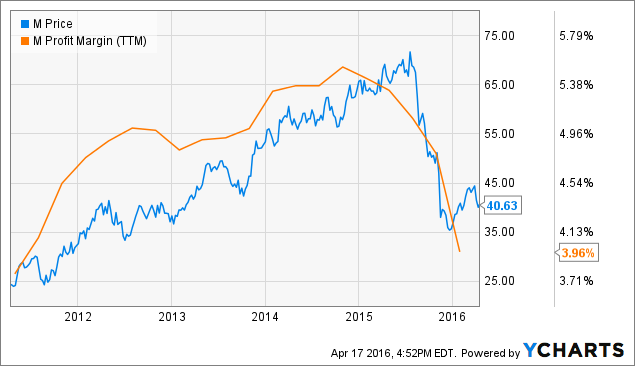 The second point would be internet sales. I do believe internet sales are a strong driver of growth for Macy's, but as growth within revenue overall. Internet sales of revenue growth is simply too small to offset the lower revenue due to in-house sales in Macy's stores.
Macy's and simple mathematics?
One should not forget the simple math behind the performance of a stock. Macy's increased 325% since 2010.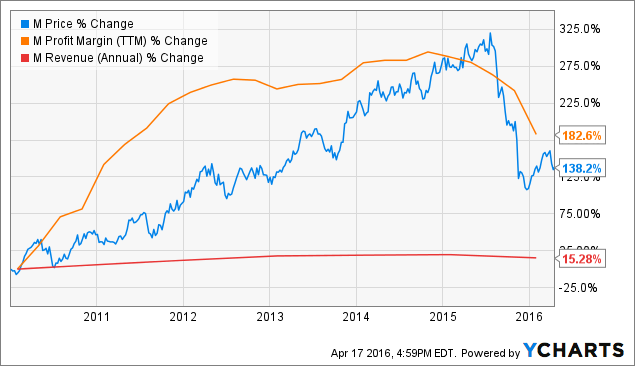 In the same time revenue and profit grew a factor 15% and 182%. This kind of growth is not sustainable. We don't live in a world where growth is infinite; we live in a finite world with finite growth.
Macy's fell among competitors…
What investors should not forget is that the picture is much wider than Macy's alone. Retail in the US is the problem as the economy has simply been facing multiple headwinds for extended periods of time. And as I noted in the first paragraph of this article, revenue in the US is simply disappointing.
Institutional investors, much larger than the individual investor, have lost faith in US retail as share prices have been bloating while actual business fundamentals could not keep pace. What happens is simply a retraction in share price among all retail stocks: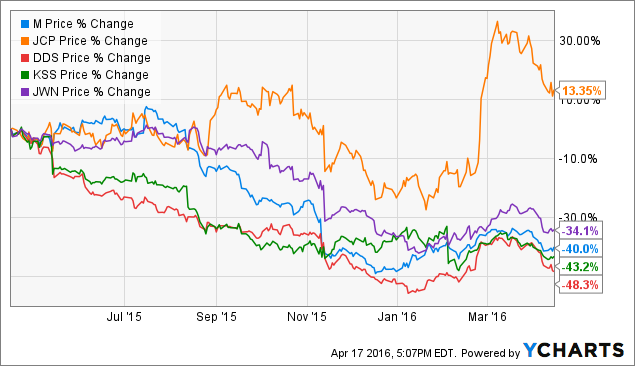 The difference here is J.C. Penney. The reason for this is because J.C. Penney has been battered for years by investors and their path to recovery started much earlier than other firms.
Conclusion
I see no reason why Macy's is much better priced than others in the retail sector, nor do I see it as a good investment right now based on its current fundamentals. This article very clearly depicts a different fundamental story than the last few articles on Seeking Alpha. The drivers such as profitability, US dollar, revenue are all indicators whether or not the business can stay afloat, and with that I believe Macy's is safe. Unfortunately, Macy's does not have much control over growing its revenue while cutting cost to diminish pressure on margins. Management definitely tries to improve the top and bottom line, but if customers don't have much more money to spend, revenue and eventually profits will decline.
What I believe happened is that investors globally realized that share price performance of retail stocks outpaced actual performance business wise. Looking at catalysts, what might propel Macy's back on track is simply economic improvement in the USA. And for that we have to look at the upcoming elections in the USA and the worldwide economy as a whole.
I believe based on the current information that Macy's isn't much of a buy at the moment and that retail-investors should look elsewhere.
Disclaimer: This article provides opinions and information, but does not contain recommendations or personal investment advice to any specific person for any particular purpose. Do your own research or obtain suitable personal advice. You are responsible for your own investment decisions. This information is not a recommendation or solicitation to buy or sell securities, nor am I a registered investment advisor.
Disclosure: I/we have no positions in any stocks mentioned, and no plans to initiate any positions within the next 72 hours.
I wrote this article myself, and it expresses my own opinions. I am not receiving compensation for it (other than from Seeking Alpha). I have no business relationship with any company whose stock is mentioned in this article.