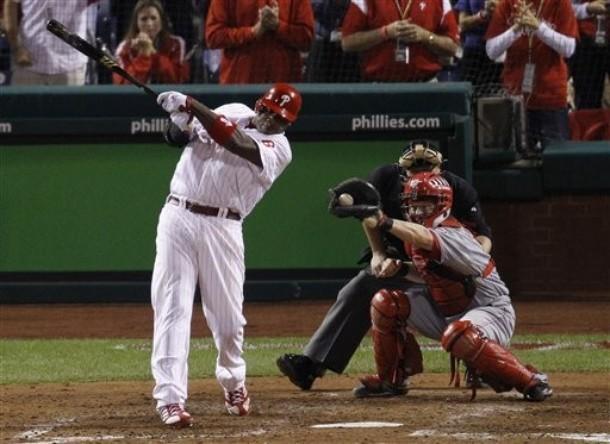 image source: mlb.nbcsports.com
Buying a biotech stock thinking that it will turn into a home run can cause more disappointments for investors than victories. This reminds me of baseball players that try to swing for the fences rather than strategically aiming to put the ball in play for a single or get on base or to advance the runners.
As a Phillies fan, I have suffered watching Ryan Howard try to swing for the fences at every at bat, rather than strategically putting the ball in place. The opposing teams know how predictable Howard is and so they shift to the right side of the field where he typically pulls the ball. I always wished that Howard learned how to hit the ball down the third base line when the shift was on.
Howard strikes out quite often at about 30% of his at-bats. I still love him as a 2008 World Champion and for what he accomplished especially during the 2006 - 2011 time- span with over 30 home runs and more than 100 RBIs in each of those seasons. However, I think that he could have more effectively lived up to his $25 million per year salary by learning to hit for singles or even bunting at strategic times.
Perhaps by doing so, Howard would have had more seasons with a batting average exceeding .300. He may have had more all-star appearances and contributed to more wins for the Phillies.
With stocks, investors can get caught up in the frenzy of trying to hit home runs with young biotech companies. The company's story can be intriguing. Young biotechs typically work diligently to treat debilitating diseases in an effort to improve and extend lives.
The problem with biotech stocks is the reality of the failure rate. When a baseball player with a .300 batting average steps up to the plate, his chance of failure (not getting a hit) is 70%. The prospect for biotech stocks is worse with an 85% to 95% failure rate for new drugs to reach approval.
With such a high failure rate, it can be difficult to hit a home run by picking the right biotech stock. Some companies that seem promising with a potential solution to treat a terrible disease may never get an approved drug on the market. Even if the company does get an FDA approval, it may take decades to do so and the stock may underperform or cause large losses in the meantime.
The good thing about biotech stocks is that the drugs that do get approved typically provide a new or enhanced treatment for a certain disease. The value in this for a small biotech company will usually create outsized gains for the stock due to the potential revenue that will be generated from the newly approved drug.
Since it is difficult to determine which biotech company will hit a home run among the many that are out there, it would be wise to consider investing in a biotech ETF. By doing so, investors are more diversified among many biotech companies, thus reducing the risk of investing in individual stocks with a high rate of failure for new drug approvals.
Another positive aspect of biotech ETFs is that they contain a combination of established companies with one or more FDA approved drug on the market along with other companies that could hit home runs.
If a few of these companies fail to achieve an FDA approval, it won't have a large impact for the investor. The reason for that is because the companies that do hit home runs and the more established companies will help boost the overall returns for the ETF. The overall gains from the winning biotech stocks lead the ETFs to outperform the S&P 500 over the long-term.
The following biotech ETFs all outperformed the S&P 500 over the past few years even in the face of the recent sharp sell-off in the biotech industry.
Biotech ETFs

PE [TTM]

Pro-Shares Ultra Nasdaq Biotechnology (NASDAQ:BIB)

17.5

iShares Nasdaq Biotechnology (NASDAQ:IBB)

18

First Trust NYSE Arca Biotech ETF

(NYSEARCA:FBT)

23

SPDR S&P Biotech ETF (NYSEARCA:XBI)

21
Data source: Yahoo! Finance
BIB looks intriguing because it has a lower valuation and it outperformed the others. BIB's valuation is about 8% below the S&P 500's trailing PE of 19. BIB is different from the other ETFs because the fund seeks to achieve daily results that are 2X the daily performance of the NASDAQ Biotechnology Index.
Keep in mind that BIB will have larger price swings than the standard biotech ETFs. That is the result of the fund using derivatives to boost daily returns. You can get a more detailed look at BIB from Peter Way's article: How Prices of ETF BIB are Seen By Market-Makers.
The result of BIB's outperformance speaks for itself as shown in the stock chart above.
So, instead of trying to swing for fences with individual biotech stocks, consider hitting some singles and doubles by using a biotech ETF like BIB as a strategy to minimize risk, while still outperforming the broader market. By doing so, the chances of winning are more likely to be in your favor.
Disclosure: I/we have no positions in any stocks mentioned, and no plans to initiate any positions within the next 72 hours.
I wrote this article myself, and it expresses my own opinions. I am not receiving compensation for it (other than from Seeking Alpha). I have no business relationship with any company whose stock is mentioned in this article.
Additional disclosure: If you like my analysis, please click on FOLLOW at the top of the article near my name. This will allow my articles to appear on your homepage as they are published.