Introduction
During times of economic crises, luxury brands usually suffer the most as it's the first thing consumers are cutting back on. But during good economic times, these companies usually perform very well, as the majority of the stuff they sell could best be described as "baked air". A customer pays for the brand name, and the operating costs associated with that are non-existing, indicating the operating margins will be higher than brands aiming to serve the mass-consumption market. I think Louis Vuitton Moët Hennessy ("LVMH" from here on) (OTCPK:LVMHF) (OTCPK:LVMUY) is one of the brands with the widest name recognition out there, so I wanted to find out how the company is performing.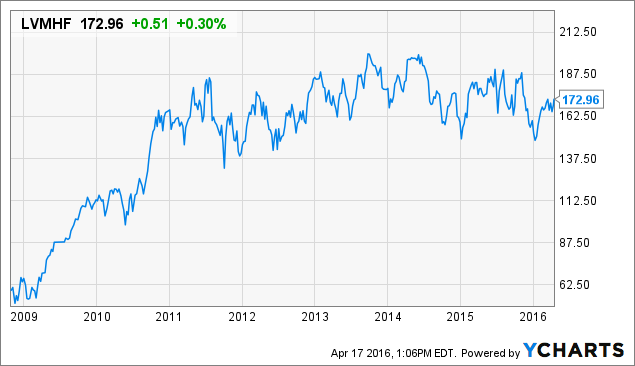 LVMHF data by YCharts
As this is a French company, you might want to trade in this $87B market cap company through the facilities of Euronext Paris, where it's listed with MC as its ticker symbol. The average daily dollar volume is approximately $150M.
A record revenue in 2015 bodes very well for the current financial year
And indeed, 2015 was a decent economic year in the world, and LVMH definitely also benefited from this. Its total revenue increased by approximately 16% to 35.6B EUR ($40B) and this was predominantly caused by the strong US dollar, as the organic revenue growth was just 6%. That's still really good, but it tells you how important the strong US dollar was for LVMH, as it boosted the revenue number (which is expressed in EUR) by 10%.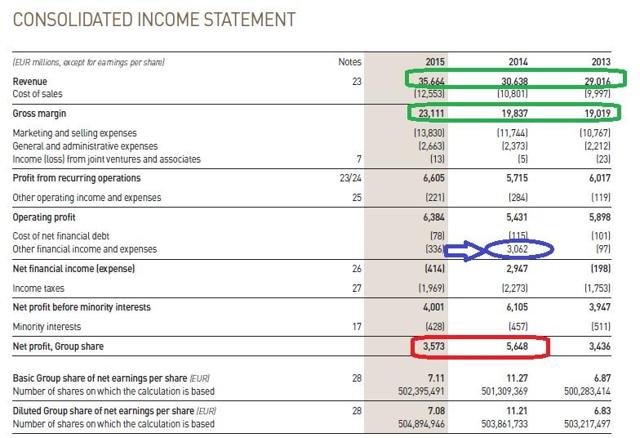 Source: Press release
As the COGS didn't increase at a faster rate than the revenue, the gross margin increased by a stunning 16.5% to 23.1B EUR ($26B) whilst the operating profit jumped by 17.5% to 6.4B EUR ($7.2B). The provision for income taxes fell by 10%, but the main reason why the company's net income was lower compared to the previous financial year was the fact LVMH was able to report a one-time 3.1B EUR ($3.48B) income from selling a stake in Hermes, another French luxury brand. So, if you were unaware of this, you might have been surprised to see the company's net income fall by 37% in FY 2015!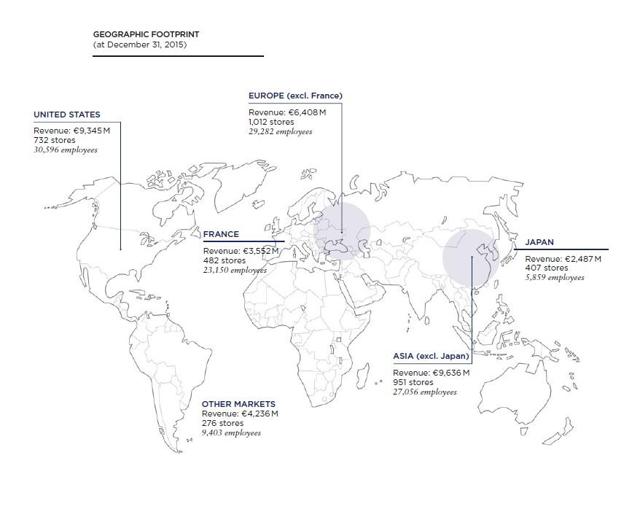 Source: Annual report
That being said, 2015 was a "normal" year in terms of operations, and the net profit of 3.57B EUR ($4B) or 7.11 EUR ($7.96) per share does give you a fair and honest representation of the "true" underlying situation. With a share price trading at 152 EUR ($170-ish), LVMH is trading at 21 times its net income. Pricey, but not unreasonable for a brand with an operating margin of almost 20%.
Moving over to the cash flow statements, you might need a cup of coffee as LVMH's filing doesn't look anything like the SEC filings. It's a little bit confusing, but I'll be your guide through these numbers!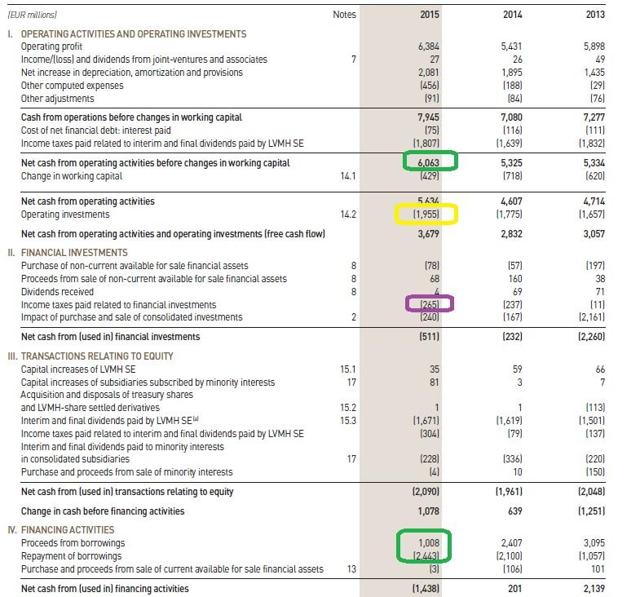 Source: Press release
The operating cash flow was 6.06B EUR ($6.81B) (excluding changes in the company's working capital position), but this does exclude a 265M EUR ($297M) tax payable on the income from its financial investments. As I would consider this to be an inherent part of the company's business, I would also like to deduct this specific tax payment from the operating income, just to remain quite cautious. This results in an adjusted operating cash flow of 5.8B EUR ($6.5B), and after deducting the 1.96B EUR ($2.2B) in capital expenditures, LVMH's adjusted free cash flow was 3.84B EUR ($4.3B). That's approximately 7.5% higher than the net income, indicating LVMH is pretty good at converting its accounting profit into real hard dollars.
Is LVMH worth its cash flow multiple?
This also indicates LVMH generated 7.5 EUR ($8.4) per share in free cash flow in 2015, resulting in a free cash flow yield of 5%. That's relatively low (as I generally like to see 6-7% for large-caps), but there are some details you just cannot ignore.
The brand name by itself already commands a premium. Yes, all luxury brands will suffer during an economic crisis, but LVMH's brand name is strong enough to lure customers back the moment the sentiment changes.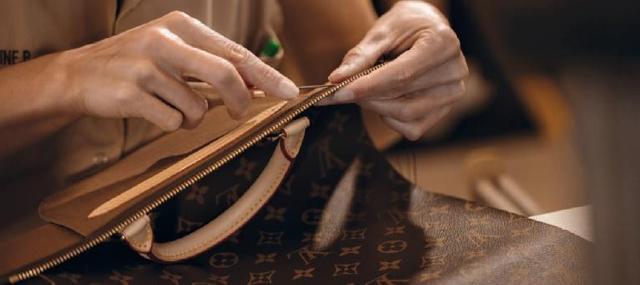 Source: Annual report
Additionally, with a net debt position of just 4.6B EUR ($5.15B), the balance sheet is pretty strong, and getting more robust by the year. The company repaid approximately $1.65B in debt in FY 2015, and combined with the higher EBITDA, LVMH's net debt/EBITDA ratio is now less than 0.5, and that's really good.
Before I wrote this article, I was waiting for one thing; LVMH's Q1 update, which was once again very positive. LVMH reported its revenue increased once again by 4% (of which 75% was organic growth, and that's really important). LVMH says the US market remains very strong whilst it also sees a positive trend in Japan.
Investment thesis
So, we have a luxury brand with a moderate debt position trading at 20 times its free cash flow. Even though I'm 100% aware LVMH's shareholders will see the share price (and the performance of the company) vary depending on the situation of the world economy, I do think the company is pretty interesting right now. In excess of $5B of net debt sounds quite high, but keep in mind that should the dividend be suspended, LVMH can repay its entire net debt within 18 months, so I'm not particularly worried about the debt.
My interest has been triggered, but I think I will try to get my hands on some shares by writing a put option. I'm particularly looking at a P140 expiring in September of this year, which has an option premium of in excess of 6 EUR. Should I get assigned to purchase the stock, I'd be able to buy it at a 5.5-5.7% free cash flow yield. And if I don't get assigned, I can just keep the option premium in my pocket for a 4% return in five months, which isn't bad at all.
Disclosure: I/we have no positions in any stocks mentioned, and no plans to initiate any positions within the next 72 hours.
I wrote this article myself, and it expresses my own opinions. I am not receiving compensation for it (other than from Seeking Alpha). I have no business relationship with any company whose stock is mentioned in this article.
Editor's Note: This article discusses one or more securities that do not trade on a major U.S. exchange. Please be aware of the risks associated with these stocks.