The market has impressively managed to claw back its way back from early losses in 2016. However, bargains are getting harder to find as this rally continues despite an anemic global economic backdrop. The S&P 500 has now reported three quarters in a row of negative year-over-year profit growth and the first quarter of 2016 should continue this trend as we are firmly in a "profit recession." The first quarter when all earnings reports are in should make it five straight for the S&P for negative year-over-year revenue figures.
The market is looking like it is destined to turn in another performance like 2015, plenty of volatility but with the majority of stocks down for the year when all is said and done. I think the way to position oneself in this environment is by keeping a majority of one's portfolio in value stocks that can still show growth in this challenging economic environment and pay large dividend yields. One of my favorite high-income stocks right now is profiled below.
Company Overview:
Chatham Lodging Trust (NYSE:CLDT) is a high yielding real estate investment trust that has been in my portfolio for a number of years. I first recommended the stock on Seeking Alpha in 2012 when it was trading around $10.00 a share. It has more than doubled since that time but it remains a core holding in my income portfolio, and is offering a very attractive long-term entry point as lodging REITS in general are down 25% to 35% from their 52-week highs.
As of September 30th, this REIT owned 38 hotels, with an aggregate of 5,675 rooms located in 15 states and the District of Columbia. The company also has 5 to 10% non-controlling ownership stakes in several joint ventures with just over 12,000 rooms. Chatham focuses on premium brand select service hotels, such as Residence Inn, Homewood Suites, Hyatt Place, Courtyard and Hampton Inn. By concentrating on upscale Extended Stay properties, Chatham can generate a 10-15% occupancy premium over regular extended stay establishments.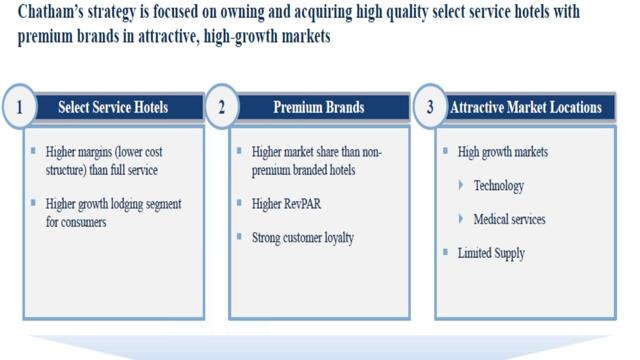 Source: Company Investment Presentation
This REIT has a market capitalization of approximately $800 million and an enterprise value, which includes debt of right around $1.4 billion. The stock currently trades for just north of $22.00 a share. The stock traded approximately 30% higher before the spike in the volatility in the high yield credit or "junk bond" market caused sentiment to go into extremely negative territory for myriad REITs late in 2015 and into early 2016.
Management:
One of the key reasons I have owned Chatham since it traded at just over $10.00 a share in 2012 is its management team. The CEO and some key members of his leadership team came over from Innskeepers Trust. They started running this small lodging concern in 1994 with seven hotels. They sold out in 2007 with almost 75 hotels and just before the financial crisis was entering its beginning - talk about good timing! The CEO owns more than $10 million of the common stock of Chatham.
During those 13 years, Innkeepers Trust delivered a total return including dividends to shareholders of 318% or just over 13% on average annually over that time span. This was a 50% better return than the average of the FTSE NAREIT Equity Lodging/Resorts Index. Chatham reminds me of legendary ESPN anchor Chris Berman's description of future Hall of Fame receiver Chris Carter during his playing days "All he does is catch touchdowns." With Chatham, it seems all they do is to grow and raise their dividend payouts. Since coming public in 2010, dividends have gone from 52.5 cents a share on an annual basis to $1.20 a share currently. This does not include special dividends like the 10 cent a share special dividend the company declared in January of this year.
Chatham moved from a quarterly payment schedule to a monthly one starting in 2013. In short, this management team knows how to buy, renovate, position and operate these types of hotels. They consistently pick up new properties with a 7.5% to 8% capitalization rate or "cap rate" in the industry parlance, which is much higher than their cost of capital. They then position them to provide a higher RevPAR (Revenue per available room) and occupancy levels than their peers.
Worries Overblown:
Many lodging REITs have lost 25% to 35% of their value over the past six months or so. Outside a tepid economy, which has impacted about every sector of the market, these entities are facing three key worries right now. The first was the spike in volatility in the high yield credit or "junk bond" market. This was being triggered by the collapse in energy prices. This has escalated concerns that small and mid-tier producers that raised so much debt to expand their drilling programs in 2012-2014 will not be able to pay back their loans as they come due with oil prices hovering around $40 a barrel, down more than 60% from where they were in the summer of 2014.
This is a legitimate concern. However, energy debt only makes up approximately 20% of the ~$1.3 trillion domestic high yield credit market. Nothing has changed about the ability of Chatham or any other concern in this space to pay back their liabilities. These concerns have started to lessen recently outside of the energy space. Moody's currently projects the default ratio will be the teens for the energy sector in 2016. Outside the energy sector, their view calls for just a 1.5% default rate.
With the Federal Reserve recently backing off its forecast to raise interest rates four times by a quarter point in 2016 due to an anemic global economy and actions by other major central banks, interest rates should stay lower for longer than the central bank forecast to begin the New Year. This will be good for high yielding sectors such as REITs. Chatham has a well-managed balance sheet with a staggered debt load with the average maturity being approximately eight years on average.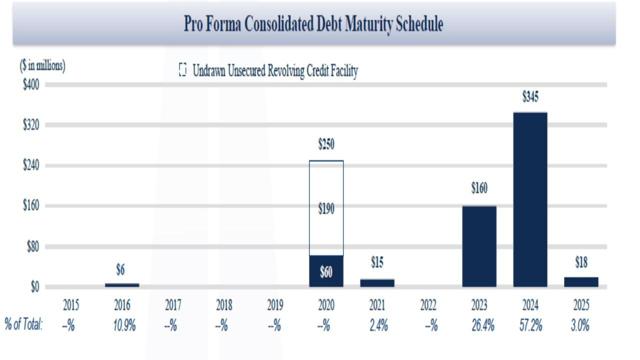 Source: Company Investor Presentation
The second major concern around this part of the REIT market is that the strong dollar will continue to slow travel from overseas. This is a legitimate worry if you are managing high-end hotels in major destination cities like New York. However, Chatham's properties tend to consist of Courtyards in Altoona, PA or Addison, TX as well as premium select hotels in major cities, not usually the choice for foreign travelers. Chatham neither owns nor operates a single hotel in New York City. Its property portfolio will not be impacted by whether Mr. Underhill from Kent and family are coming to America in 2016 or not to any significant extent.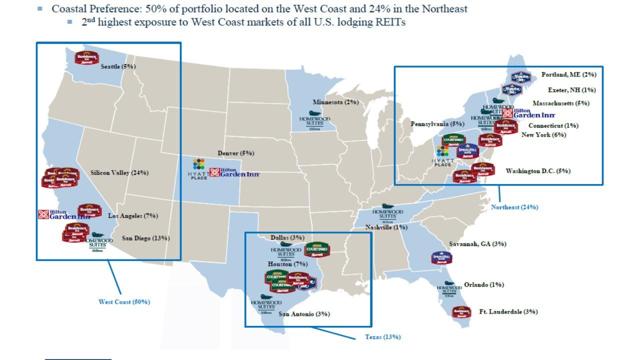 The final worry that I think is entirely overblown is the threat from Airbnb (AIRB). This concern shows up in comments every time I write an article on any lodging REIT on Seeking Alpha or Real Money Pro. Airbnb is a great idea but right now, it is a niche service. In addition, politicians are working hard to make its location pay "hotel tax" like any other lodging establishment, which would raise their prices and lower their appeal.
Again, most of the volume from this service will be in major destination cities. Even in those cities, it is a niche. I did an inquiry while writing this analysis of what was available in Manhattan on Airbnb for the last week of March before a recent trip to NYC where I travel often for business. My inquiry returned 18 available places in Manhattan and less than 40 in the five boroughs overall. Given Manhattan has over 80,000 hotel rooms, this hardly seems a threat to the hotel industry.
Valuation, Growth & Outlook:
Chatham posted FFO (Funds from Operations) of approximately $1.90 a share in FY2014 and $2.29 a share in the just concluded fiscal year. The company guided to $2.45 to $2.55 a share of FFO in FY2016 during its last conference call on an approximate 10% increase in overall revenues. The REIT also boosted its dividend payout another 10% a week after quarterly results were reported. This is not as fast a growth rate as previous years, but some of this previous growth was driven by significant acquisitions. This is a respectable growth pace as Chatham consolidates and optimizes its property portfolio.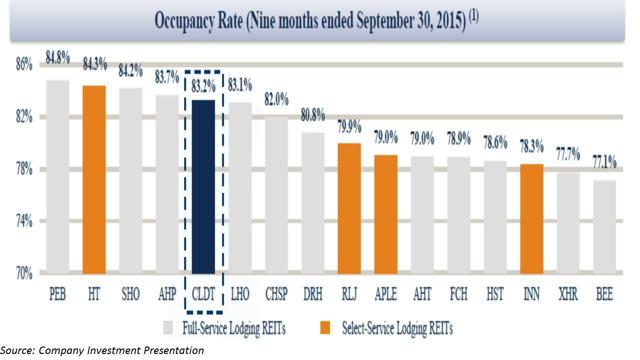 This means an investor is currently paying just over eight times forward FFO for an entity growing at a solid clip and yielding over 6.5%. This is too cheap especially given the low yield environment we live in these days. The company continues to outperform its peers across myriad critical metrics such as occupancy levels.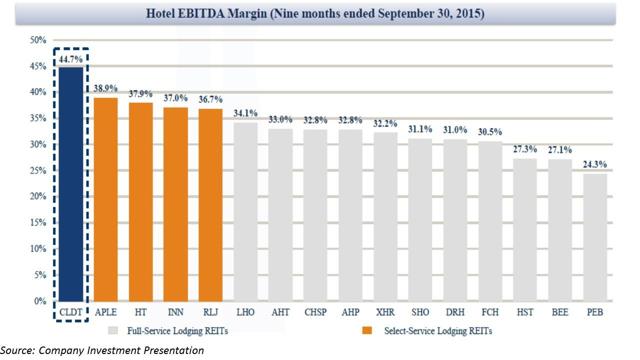 A more realistic and still conservative multiple would be 10 to 12 times forward FFO. At the midpoint of current FY2016 guidance, this gives us a price target range of $25.00 to $30.00 a share for CLDT. This is in line with current analyst price targets and the REIT consistently traded near the top end of that price target range before the recent breakdown in the REIT space.
FBR Capital reiterated its Buy rating and $26.00 a share price target on February 26th. As the high yield credit market continues to stabilize, I think Chatham will slowly claw its way back to previous levels. Until then, an investor can be patient and collect a fat monthly dividend check. Given I think the market will be flat again in 2016, Chatham should easily deliver a better return than the average equity this year.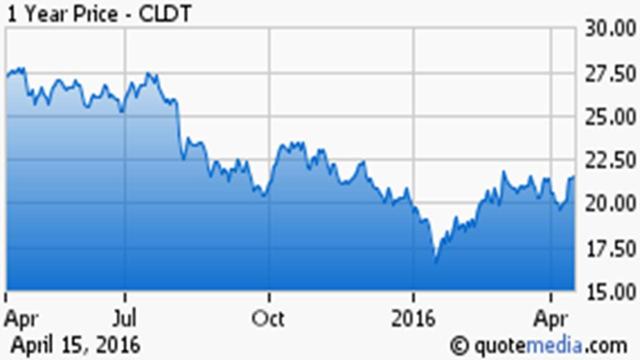 Disclosure: I am/we are long CLDT.
I wrote this article myself, and it expresses my own opinions. I am not receiving compensation for it (other than from Seeking Alpha). I have no business relationship with any company whose stock is mentioned in this article.