Earnings season got off to a "great start", as S&P 500 members JP Morgan, Alcoa, Wells Fargo, Delta Air, Regions Financial, and Citigroup all "surprised" with their earnings numbers. And in the wake of these positive earnings "surprises", the S&P 500 climbed another 1.62% during the week. Of course, Q1 earnings were heavily revised downward in January and February. But with a wink and a nod, this is how Wall Street plays the "earnings game". Lower the bar, beat softball analyst estimates, and everyone feels good about company earnings. Don't mind the fact that S&P 500 company earnings will continue to come in below Q4 2015 earning and down y/y relative t o Q1 2015. Forget that Alcoa warned of softening global demand for aluminum…surely it's just the sector that will be affected. Just overlook the earnings misses of Bank of America, PNC Financial, and BlackRock, let's just concentrate on those positive earnings "surprises". It's okay that bank profits were the result of huge cost cutting measures, off-setting a slump in trading and deal-making…profits are profits, right? And surely the additional $455 million set aside for non-performing energy loans by Citigroup and the $525 million set aside by Bank of American are overly pessimistic. Energy companies will soon be again selling their petroleum products above cost…the oil supply glut is only temporary since U.S. fracking won't last, OPEC members always agree on supply cuts, and the Chinese economy is set to begin booming again. And of course, bank CEO concerns about weakness in bank core profits due to low long-term rates should not be exaggerated… the Federal Reserve would surely never do anything to pull down long rates artificially for an extended period of time. In sum, the message from Wall Street is that company earnings remain strong and prospects are rosy. It's business as usual.
As companies beat analysts' earnings estimates, the "feel good" atmosphere among equity investors continues. Everyone now recognizes that the market turbulence of January/February is in the rear-view mirror and we can start focusing again on Dow 20,000. However, this belies our premise that U.S. equities, as represented by the S&P 500 (NYSEARCA:SPY), entered a trading range in late 2014 -- and still remain in the trading range. The index all-time high at 2130 in May 2015 marks the northern boundary. The correction lows around 1810 on Oct. 16, 2015 / Jan. 20, 2016 / Feb. 11, 2016 delimit the southern boundary. The chart below highlights the trading range on the S&P 500.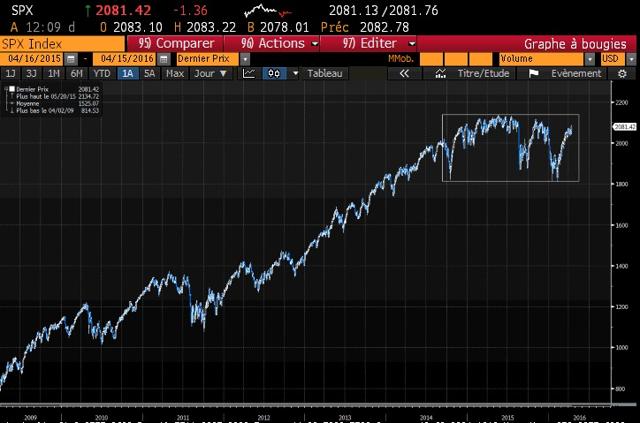 This premise should not receive much push-back from either Bulls or Bears, as the chart evidence is manifest. As an aside, within this trading range, one can currently perceive three lower highs and two lower lows - the definition of a downtrend. We discussed the market topping process recently in our article, Pro-Cyclical Monetary Policy and the Dormant Bear. Regardless of your longer-term market affiliation (Bull or Bear), there is one central question to debate today:
Is the S&P 500 ready to break out of a nearly 18-month trading range? That is, does either side finally have a strong enough argument (either from the perspective of Bulls or Bears) to declare an end to the status quo?
Unless proven otherwise, we should maintain the assumption that the U.S. markets will remain in the trading range. The earnings picture is in fact not rosy. Monetary policy status quo is priced in, and further easing (more QE or negative rates) would only occur if something seriously bad occurs. Of course, if an investor has "drunk the Kool-Aid" and believes that the Fed has levitated markets to a new level of permanent prosperity and that company earnings will "catch up" to valuations near the end of an economic expansion, he/she may argue that sentiment can continue getting more optimistic, sending the S&P 500 above the trading range. This is not our baseline scenario.
For those investors who accept our hypothesis of a continuing trading range, based on the fact that nothing has really changed since 2015 (do-nothing Fed policy essentially the same, lackluster earnings, sub-par economic growth), the most effective indicator for navigating a trading range is sentiment. We consider three charts below that compare measures of investor sentiment during the S&P 500's current 18-month trading range.
Our first sentiment proxy uses the Commitments of Traders Data (COT) on Non-Commercial Traders, or "Speculators" in S&P E-Mini futures contracts. The Commitments of Traders Data is published weekly by the CFTC. Speculators are typically wrong at market extremes, and this has been especially true over the past year. We calculated the net position (longs minus shorts) of speculators in the S&P 500 E-Mini contract and plotted the curve below.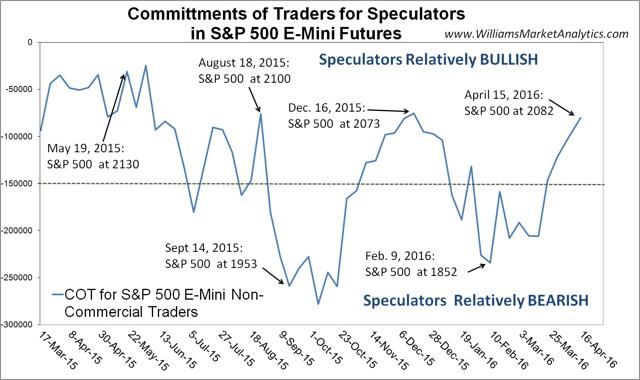 We then went back and labeled the relative extremes over the past year with the corresponding level of the S&P 500. Reflect on this chart, and then let's move on to our second sentiment measure.
Our next chart shows the ubiquitous American Association of Individual Investors (AAII) weekly sentiment poll. We calculated a bear/bull ratio then overlaid the S&P 500 price curve. Note how the relative bullish extremes (troughs on the green curve) match up nicely with spikes on the S&P 500 price (blue curve).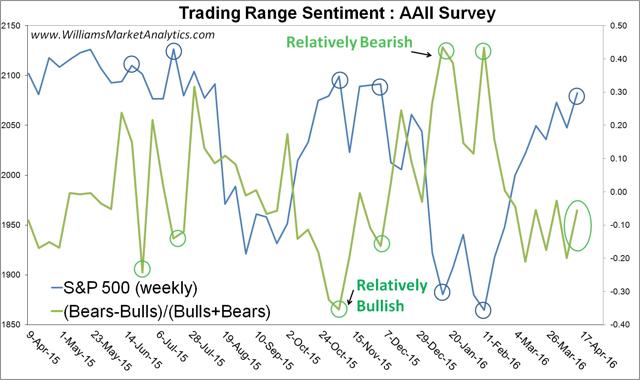 Again, the majority of investors collectively tend to give bad advice. Are we at a bullish sentiment extreme today? This is unclear. Are we closer to a bullish sentiment market top than a bearish sentiment market bottom? That would be a safe bet.
Our final sentiment measure is our own WMA Sentiment Indicator (below). The construction of the indicator is given here. We have drawn a red box around the sentiment indicator readings during our S&P 500 trading range. It is very interesting to see that negative sentiment in January 2016 bottomed at the same level as negative sentiment last fall. Today, our indicator has rebounded to the same level as…November 2015. Really a good time to get long the S&P 500, by this measure. Can sentiment move higher from here? Yes, but not, we would assert, on "known information" (unchanged central bank policy, falling earnings, sub-par growth) that an efficient market should now have fully priced in. Even in a market melt-up, there must be something new, something seductive to draw in the Greater Fools.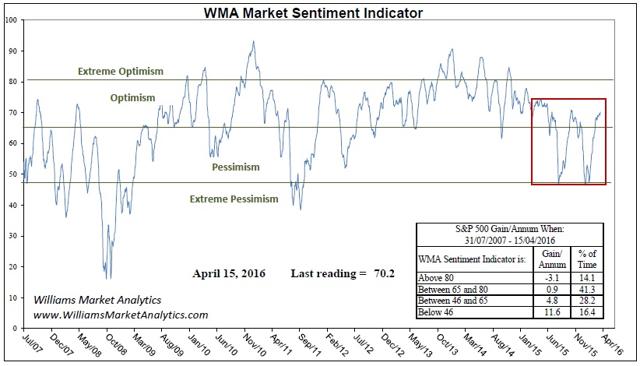 Resisting Emotional Markets
The charts above demonstrate that sentiment is one of the best indicators to work with in a trading range. When markets are seeking direction and the macro/policy/earnings outlook is foggy, investors who are buying aggressively are as equally blind as investors who are selling aggressively. The savvy investor waits until the majority of unknowing investors crowd into one side, and then does the opposite. As U.S. equity markets approach the top end of the trading range, many investors have, once again, become Believers: valuations seem to be less of a headwind to higher equity prices ; the disequilibria caused by extraordinary monetary policy, as well as risks posed by normalizing rates and shrinking central bank balance sheets, will resolve themselves gradually over time ; improving economic data should be emphasized while weak economic data should be brushed aside. Alas, in the final stage of a business cycle, investors will believe what makes them feel good about their investments.
As a final note, resisting emotions includes relying on objective market indicators. In this vain, we remind investors of our seasonality trend indicators, which we touched on in recent Commentaries (Triple Threat Earnings Season and in our March 11 Commentary). Avoid breaking down and adding to long equity positions today. To assume that equities will break out of the trading range to the upside and post new record highs -- as we go into the traditionally difficult summer months -- is frankly a low probability call.
Conclusion
Navigating within a trading range can be difficult. Each move in prices towards a boundary of the range "feels" like a move in the right direction. However feeling comfortable, while investing in today's environment, is a recipe for major portfolio losses.
Disclosure: I/we have no positions in any stocks mentioned, and no plans to initiate any positions within the next 72 hours.
I wrote this article myself, and it expresses my own opinions. I am not receiving compensation for it (other than from Seeking Alpha). I have no business relationship with any company whose stock is mentioned in this article.