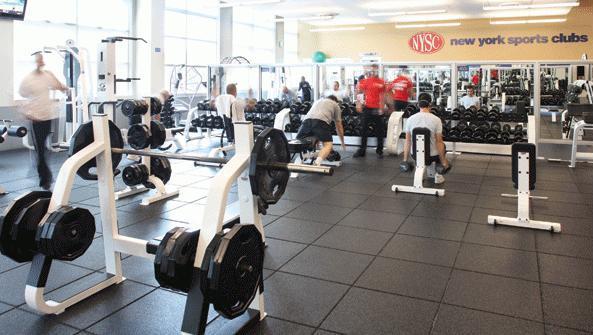 As Town Sports Struggled With Profitability and Intense Competition Shares Plummeted And We Initiated A Buy Recommendation in June 2015 At $3.08 Per Share
In June 2015, we recommended a long position in Town Sports' (NASDAQGM: CLUB) common stock at a price of $3.08 per share. This buy recommendation came after the stock had plummeted 52% over the prior month from a price of $6.46 per share as the company suffered deepening operating losses. The article can be found here. The conversion of Town Sports' clubs into "High Value Low Price" clubs negatively impacted the top-line and profitability significantly. Despite this development, we believed that the lower valuation provided an attractive entry point for long-term investors as management took corrective action and re-aligned the strategic direction of the company. In June, we said the following:
"Management's current misguided strategy of focusing on market share gains will undoubtedly drive down EBITDA, however if a more rational approach is taken by management there is tremendous upside…The New York Sports Club, Boston Sports Club, Philadelphia Sports Club, and Washington Sports Club are outstanding brands and widely recognized. With the right strategy that includes investments in advertising, facilities upgrades and the closing of underperforming clubs, there is no reason that Adjusted EBITDA could not return to $50 million to $75 million even with a lower membership base than prior years. If management was able to achieve this level of profitability, the stock is currently a bargain."
Shortly thereafter, the stock collapsed to a low of $0.92 per share in February 2016 and the market capitalization lost 70% of its value. Pessimism among investors and commentators grew by the day. One bear even predicted that Town Sports was headed for a bankruptcy filing and suggested that the common stock was worthless. The bear argument was based primarily on (1) a steep decline in revenue driven by a substantial loss of memberships in a highly competitive gym and fitness center market and (2) an assumption that the company would run out of cash by 2017.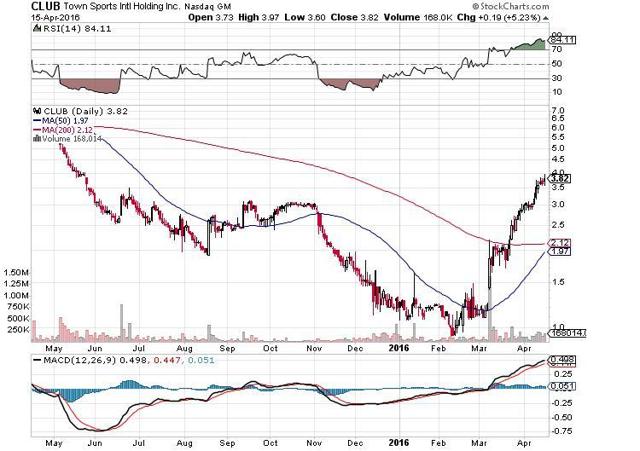 (Source: Stockcharts.com)
We, however, re-assessed our thesis and ultimately thought our reasoning was correct and held steadfast to our long recommendation in Town Sports even as many investors were in a state of panic and sold shares at distressed levels. Our thesis is based on annual growth in membership as a result of the more aggressive pricing strategy and continued efforts by management to right-size the cost structure and close unprofitable locations. Ultimately, we believe the track record of positive cash flow generation is a strong indication that Town Sports will continue to be able to meet interest payments and capital expenditures for the next several years. With the term loan facility maturing in 2020 and the revolving loan facility maturing in 2018, in our view, the company has sufficient financial flexibility to improve the operational performance of its clubs, meet its interest obligations and remain compliant with its financial covenants.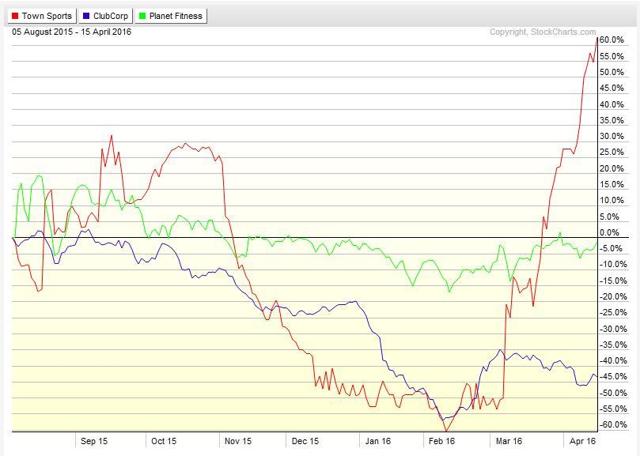 (Source: Stockcharts.com)
Our Long Thesis Remained Intact Through Downturn and Buy Recommendation Generated ~26% Annualized Return; Now is The Time To Take Profits
Through year-end 2015, the long thesis has remained intact. As of December 31, 2015, Town Sports generated the highest membership total in the company's history at 541,000 members. This represents an 11.7% year-over-year increase while total clubs open declined from 158 to 152. Monthly membership attrition also declined to 3.4% in the fourth quarter 2015, down 100 basis points from the prior quarter. For the full year 2015, Town Sports generated EBITDA of $75.3 million. It's clear that Town Sports ended the year with a strong performance and the stock price rebounded in response. However, what concerns us going forward is that this performance is not indicative of the normalized earning power of Town Sports' operating assets.

(Source: Town Sports 10-K filing, March 3, 2016)
The company recorded a gain on the sale of a building of $77.1 million in the fourth quarter related to the termination of a lease on East 86th Street in New York. This sale-leaseback transaction was originally accounted for as a financing transaction but was then treated as a sale upon the termination of the lease in the fourth quarter. This action resulted in a substantial one-time gain that boosted earnings. We believe normalized EBITDA is considerably lower than the $75.3 million reported in 2015 and is closer to $55 million - $65 million. In our view, the normalized EBITDA is based on the competitive dynamics in Town Sports' key markets and reflects the impact of recent new entrants into the fitness space that have gained market share such as, SoulCycle (PENDING: SOULC) and FlyWheel, as well as established players such as Planet Fitness (NYSE: PLNT). In 2013, Town Sports generated EBITDA of $91 million but we believe the best case scenario for the company is now $65 million. Town Sports now has 152 clubs compared to 162 clubs in 2013 and average revenue per member is now far less at $823 compared to $934 in 2013. As a result of more competitive pricing and a small base of clubs we believe there is a limit to the upside of EBITDA going forward.

(Source: Town Sports 10-K filing, March 3, 2016)
Current Valuation Suggests Upside Is Limited And The Risk-Reward Ratio For Shareholders Is Unattractive
With a market capitalization of $97.6 million, long-term debt of $329.5 million and cash on hand of $76.2 million, the current enterprise value of Town Sports is $350.9 million. Town Sports currently trades at an EV/normalized EBITDA of between 5.4X and 6.4X. For a company that does not have attractive growth prospects and will likely maintain its competitive position over time in a best case scenario, we believe the current valuation represents the full value for the company and we no longer believe there is a discount to fair value as there was in June of last year.
Therefore, at the current price of $3.82 per share, we do not believe the risk-reward ratio for equity investors warrants a long position at this time. We will therefore withhold any recommendation until management demonstrates consistency and effectiveness in its operational ability. In our view, shareholders should take this opportunity to realize a profit in their position. We are pleased that our buy recommendation produced a return 24% in just over ten months (or ~ 26% annualized) but we believe there are now more attractive opportunities within the fitness industry and we will be discussing these opportunities in the future.
Disclosure: I/we have no positions in any stocks mentioned, and no plans to initiate any positions within the next 72 hours.
I wrote this article myself, and it expresses my own opinions. I am not receiving compensation for it (other than from Seeking Alpha). I have no business relationship with any company whose stock is mentioned in this article.