Facebook (NASDAQ:FB) has served up incredible returns since its IPO in May of 2012. It's because of the visionary Mark Zuckerberg that Facebook has been able to expand and diversify so rapidly and F8 takes that vision a step further: a 10-year road map.
What's to be understood with this road map is that it is subject to change. The direction taken on a particular project identified by Facebook right now could be very different than the direction in a few years from now. Additionally, the road map does not include potential acquisition activity, even though acquisitions are some of the largest positive additions to Facebook's offering, like WhatsApp and Oculus. With Facebook now keen on "capturing the purest form of an idea or experience," the company's potential to connect and generate growth for shareholders is far greater.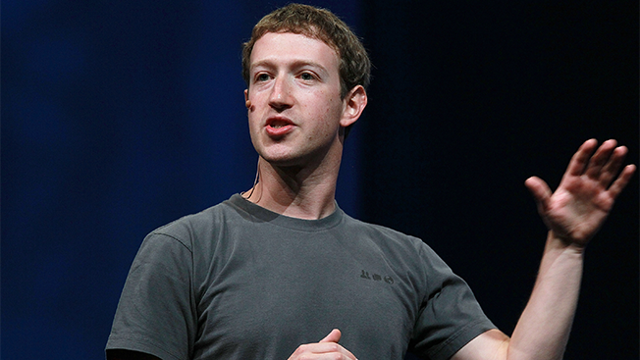 Source: Adweek
The Key Takeaways
The thirty-two minute video can be found on Mark Zuckerberg's Facebook page, here. I advise all shareholders, current and prospective, to watch this video because it was one of the most well-crafted speeches in the tech world I've heard since Steve Jobs' Stanford commencement address back in 2005.
Takeaway 1: VR, AR, and AI are the Future of Connectivity
By now, investors are familiar with the company's primary VR product, the Oculus Rift and before that, Gear VR. While the company will be releasing Touch, which provides more functionality within the Rift by having controllers in each hand, this is hardly the focus of takeaway.
Creating sound VR and AR offerings for users is on Facebook's 10-year road map. Unfortunately, the technology for AR isn't there, yet. What's reasonable for investors to expect from Facebook on this level, irrespective of financials, is multiple versions of the Rift over the next few years, with each one creating a more immersive VR experience. Additionally, one of the largest breakthroughs will be form factor, where the size of the end VR/AR product will be as simple as a pair of reading glasses and look far more natural than it is now. AR will allow individuals to completely alter the reality before them and open up new chains of interaction that have not yet been seen. While it'll be a race between Facebook and other AR-conscious companies to produce a refined product, there is going to be a long delay before this even becomes feasible.
In terms of AI, Facebook wants to use this underdeveloped tech to improve services. While it's already embedded in many different services right now, like diagnostic medicine, Facebook wants to completely expand its reach to areas that are not yet known. That kind of uncertainty can be daunting, but also profitable if executed correctly. I recognize this to be one of Facebook's strongest growth catalysts. For example, being able to expand a virtual picture in your hands and show it to a friend.
Takeaway 2: Family of Apps
Everything will be shared, or so Facebook envisions. By utilizing Facebook itself as a core ecosystem, the Company can expand to perfect their product offering, which includes Messenger, WhatsApp, and Instagram. You can see this flow below: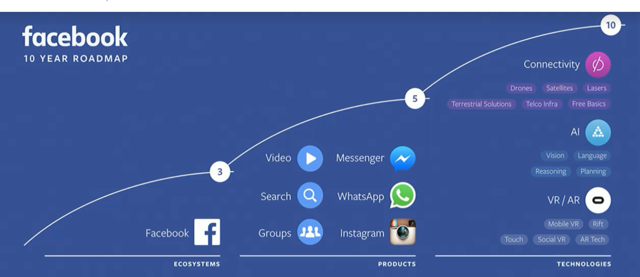 Source: Facebook
A more specific monetization timeline for WhatsApp and Messenger was not given, but we now know it's on the list of things to do within the next five years. Leveraging these users is going to be key to share price appreciation, especially with the large scaling that video is seeing. Zuckerberg noted that Facebook's benchmark to accept a project is whether or not they believe it can scale to 1 billion users. Consider that the company's minimum positive NPV.
In the mean time, these platforms will be perfected. For example, Zuckerberg unveiled that users can now contact services directly through a message and place orders for goods and services all through the Messenger platform. These so called Messenger "bots" will be key to unlocking faster transaction speed and more monthly average users. This beta platform also allows users to receive quick, personalized updates from their requested news source, all through text. As more e-commerce gets executed on Facebook and the company can start taking a percentage of these transactions off the top, then Facebook stands to maintain and even surpass the strong, previous revenue growth rates.

Source: MarketWatch
Takeaway 3: Facebook Is Creating New Markets
Zuckerberg made a key point: four billion people around the world don't have internet access due to lack of availability, lack of affordability, or lack of awareness. In order for Facebook to keep growing its top line and MAU amount across all platforms at such impressive growth rates, the Company needs to find new, massive pools of users.
Human life is a scarce resource but with four billion potential MAUs being untapped at the moment, Zuckerberg sees this as a huge opportunity. Developer growth in Africa is "booming" according to Zuckerberg and Facebook is taking its own steps to make sure this growth continues. The Company is launching an internet-delivery drone called Aquila and is experimenting with ground internet sources like Aries and Terragraph.
A past problem with developing country access to Facebook's platforms has been that it uses too much data. Facebook has now unveiled "lite" versions of its core platforms, along with Free Basics, both of which lower the data costs by up to 75% and allow users to connect in a meaningful way. While Free Basics hasn't expanded to a massive amount of users yet, it's already in 37 countries and has 25 million people online. These initiatives are going to allow Facebook to scale more rapidly than ever over the next decade.
Based on Facebook's notes to expand into these untapped markets, investors should expect meaningful appreciation not only in the MAU mobile statistic, as well as in the company's equity price. The average PT on the stock right now is $134, which represents about 22.9% appreciation from the current level. If Facebook can directly show their efforts affecting the MAU amount each quarter, while simultaneously boosting the top line, I'd say that PT is more than attainable inside of two earnings reports.
Disclosure: I am/we are long FB.
I wrote this article myself, and it expresses my own opinions. I am not receiving compensation for it (other than from Seeking Alpha). I have no business relationship with any company whose stock is mentioned in this article.