Overview
CSX (NASDAQ:CSX) like all Class I rail operators is facing strong headwinds from energy and industrial sectors. However, indications from 2015 and early 2016 have pointed to increasing volumes for air freight package and delivery, the trucking industry despite mixed performance between truckload and less-than-truckload or LTL; and for 3PL contract logistics service companies including ocean and freight forwarding.
FedEx Corporation's (NYSE:FDX) third quarter earnings announcement displayed that the LTL trucking segment may have a shot at positive growth during 2016, although at a possibly marginal level. But CSX's recent first quarter 2016 performance suggests that the rail industry is going to have a rough first quarter across the board; which may lead to lower expectations throughout the remainder of 2016.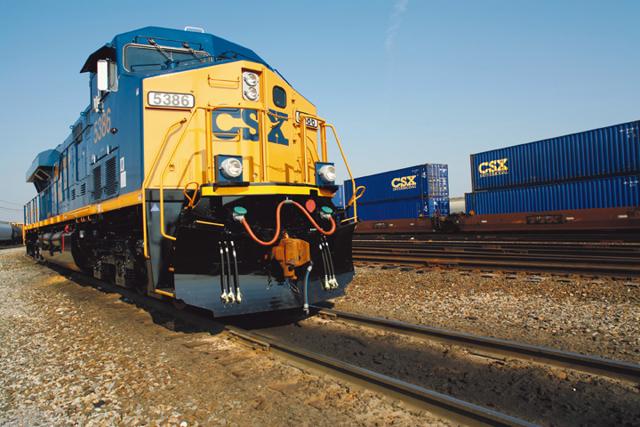 Everyone in the rail industry knows that the first quarter of 2015 was a quarter in which some railroads still experienced positive growth for carload and intermodal traffic when compared to 2014. So it has been expected that the first quarter would be the worst performing quarter during 2016.
But what we have learned from the first quarter through all Class I rail operator weekly traffic numbers, as well as CSX's results, is that coal's decline has increased, and intermodal has begun to soften broadly. Initially, intermodal was off to a very strong start through February, but March and early April have all but eliminated this start.
To the results, CSX had a tough first quarter as energy and industrial commodities led declines in the company's traffic which weighed on revenues leading to a 13.5 percent decline. Revenue per unit was moderately down for merchandise goods, but was down more substantially for both coal and intermodal segments. This reflects weaker pricing for these areas versus the other parts of the business.
The company's operating ratio worsened by 90 basis points and diluted EPS performance declined by 18 percent. CSX has tended to maintain a profit margin between 15 to 16 percent, but this approached 13.5 percent during the first quarter of 2016.
Despite this performance, CSX's carload and intermodal traffic numbers have outperformed Class I rail operator averages. However, Norfolk Southern (NYSE:NSC) has witnessed overall stronger performance through week 14 versus CSX, due to better merchandise goods and intermodal performance. Coal was not down as much either, but being down 25 percent through week 14 versus 31 percent is nothing to brag about.
It is worth noting the change in intermodal traffic demand through 2016, specifically the relationship of domestic versus international container traffic. CSX and Norfolk Southern have had an inverse competitive relationship over the past few years where CSX has been the leader for domestic and Norfolk Southern has been the leader for international from a growth perspective.
The blurring area for these two segments is the fact that many international containers are taken to warehouse and distribution areas with close proximity to major seaports, where they are reconsolidated into domestic containers for rail lines; an occurrence usually referred to as transloading. This makes it more important to correlate seaport twenty-foot equivalent unit, or TEU traffic to rail container growth.
CSX has witnessed a moderate growth improvement for its domestic container business with growth near 13 percent from 2015; this growth level was at 12 percent during the entire year of 2015. But declines in international containers has increased from 2015's negative 6 percent performance to negative 8.5 percent in the first quarter 2016.
Norfolk Southern has yet to report for the 2016 first quarter, but the company witnessed 6 percent growth for international containers and negative 2.5 percent growth for domestic during 2015, which was largely driven from the restructuring of the Triple Crown service.
But through week 14, Norfolk Southern's container traffic is up 6 percent, while CSX's is up only 3 percent. During 2015, Norfolk Southern's intermodal traffic was at 3.9 million (52 percent of total traffic) versus CSX's 2.8 million (43 percent of total traffic). We can expect to see a similar inverse relationship with Norfolk Southern's international segment leading the way.
CSX may have strong aspirations to grow in this area, but it will remain highly competitive. Investors should consider these dynamics as most Class I rail operators have witnessed depressed valuations based upon near-term uncertainty. Based on the nature of business cycles in the rail industry and over the long-term, CSX is still poised to return double-digit returns including both capital appreciation and dividend payout.
How CSX Stacks Up To Class I Rail Averages
Through week 14, total Class I rail operator performance was as follows; total traffic was down 7 percent, total carload traffic was down 12 percent and total intermodal traffic was down 0.4 percent. CSX total traffic was down 5 percent with total carload and intermodal traffic down 10 and up 2 percent respectively. Other Class I peers who performed better than CSX through week 14 included Norfolk Southern and Canadian Pacific Railway (NYSE:CP).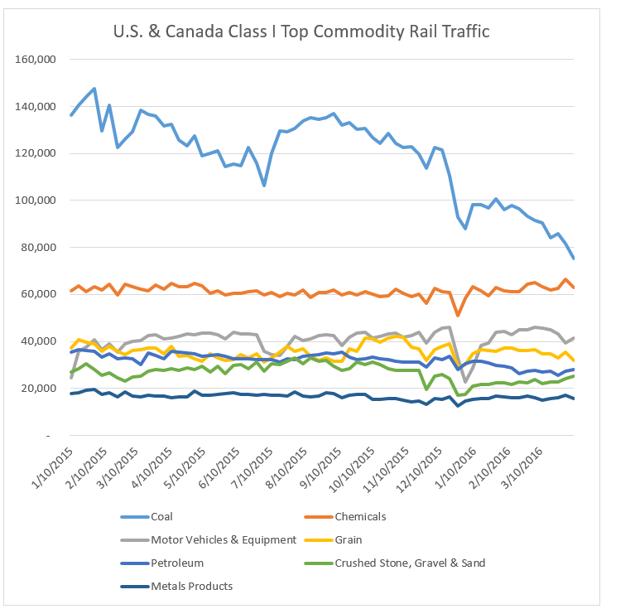 Source: Weekly rail traffic is from each company's website and personal database
The figure above clearly displays the significant impact that coal traffic has had on the rail industry. At the beginning of 2015, total Class I rail coal traffic was over 140,000 carloads. As of week 14, the number of carloads has declined to nearly 75,000. Coal carloads were down 32 percent year-to-date, or YTD. CSX has performed similarly here with its coal carloads down 31 percent to nearly 11,700 or about 16% of the Class I total.
Chemicals and motor vehicles and equipment carloads have witnessed mostly flat and strong growth respectively. The chemicals segment is a great example of how rails make money over time; stable traffic at nearly 62,000 carloads combined with pricing increases. As most everyone is aware, the motor vehicle segment has been on a tear as record automobile sales continued during 2016; over 41,000 carloads. However, some softening has occurred through mid-March and early April.
CSX has performed closely in-line with Class I rail averages with its chemicals carloads down nearly 0.5 percent (nearly 10,900 or 17.5 percent of the Class I total) and its motor vehicles and equipment carloads up 10 percent (nearly 9,300 or 23 percent of the Class I total). Grain carloads is a segment where Class I rail averages have outperformed CSX at nearly negative 5 percent during 2016 reflecting over 32,000 carloads. CSX was down nearly 7.5 percent YTD (nearly 2,900 or 9 percent of the Class I total).
This leaves petroleum, crushed stone, gravel and sand and metals products. Class I rail averages were down 16.5, 15.5 and 9 percent respectively representing over 28,000, 25,000 and 15,500 carloads. CSX has witnessed declines for petroleum and metals product carloads of 17 and 18 percent respectively. But CSX's stone, gravel and sand carloads were up 2 percent YTD. CSX carloads for petroleum, crushed stone, gravel and sand and metals products were nearly 2,800 (10 percent of Class I total), 4,600 (18 percent of Class I total) and 2,400 (15 percent of Class I total).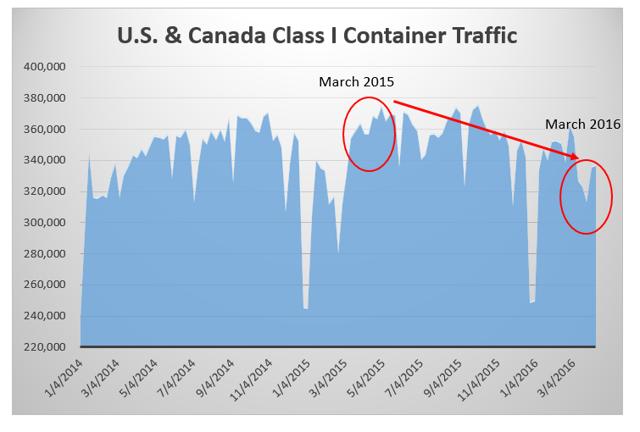 Source: Weekly rail traffic is from each company's website and personal database
Class I rail container traffic was up just over 2 percent through week 14 of 2016. However, traffic has declined substantially through the month of March as illustrated in the figure above to just over 335,000 containers in week 14; down from nearly 360,000 in 2015.
For CSX, container traffic was up nearly 3 percent through week 14 of 2016. Since seeing the company's first quarter results, we know that domestic containers were up over 12.5 percent, while international containers were down 8.5 percent. CSX's total containers were near 52,000 as of week 14; roughly 15.5 percent of the Class I total.
CSX And Norfolk Southern
For investors it is clear that CSX and Norfolk Southern are the leading rail operators on the East Coast. What is also clear is the fact that Norfolk Southern is a leader among the two for intermodal. CSX most recent weekly carload traffic was roughly 6 percent higher than Norfolk Southern, but Norfolk Southern's intermodal traffic was nearly 37 percent higher than CSX.
These percentages can easily change as energy and industrial sector cycles stabilize and/or adjust, but one thing to continue paying attention to is the intermodal segment. With merchandise commodities in flux, both CSX and Norfolk Southern's revenue per carload unit are around the $2,500 level. Despite much lower revenue per container of roughly $600 for intermodal, this area is where the widest traffic difference is between the two.
Both rail operators have operating ratios near the 70 percent level. CSX was making progress a couple of quarters during 2015 towards 66 percent, but the first quarter 2016 was back up over 73 percent. The inability to get operating ratios down to the mid to low 60s is what has left CSX and Norfolk Southern behind other Class Is including Canadian National Railway (NYSE:CNI), Canadian Pacific, BNSF (NYSE:BRK.B), Union Pacific (NYSE:UNP) and even Kansas City Southern (NYSE:KSU) near 65 percent.
This is a fundamental focus of rail business as the operating ratio translates directly to profitability and EBITDA, which translate across a multitude of financial measurements, including profit margins, return on assets and equity, or ROA and ROE, debt/EBITDA and EV/EBITDA, among others. This also explains why both CSX and Norfolk Southern have lagged other Class I rail peers from a valuation perspective.
So while both CSX and Norfolk Southern will continue to jockey for carload and intermodal traffic from shippers, investors should be paying close attention each company's operating ratio as it will be a core driver for current and future valuations.
Intermodal Focus
Intermodal is an area of which I track information weekly and monthly. This includes all major North America seaports on the West, East and Gulf Coasts as well as all weekly rail traffic for Class I rail operators.
The best way to get a sense of CSX's intermodal performance is to consider the company's quarterly disclosures since the 2016 first quarter has been published. The figure below provides both domestic and international performance.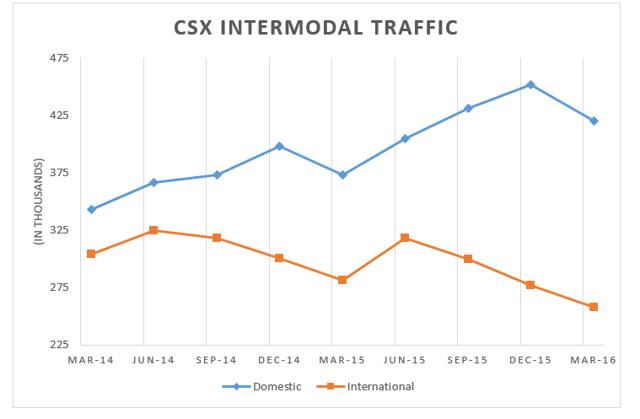 Source: Company filings and personal database
As stated earlier, for the first quarter 2016, CSX's domestic intermodal containers were up over 12.5 percent versus 2015, and international containers were down 8.5 percent. Investors should feel pretty good about the domestic performance because this includes trailer-to-rail in addition to 53' domestic containers which do not include a chassis.
We know that CSX's trailer-to-rail intermodal traffic was down nearly 21 percent as of week 14 in 2016. This means that despite this headwind, driven mostly from Norfolk Southern's Triple Crown service restructuring, that CSX was still able to witness substantial growth in its domestic container business.
For the international business, CSX management has continued its statements from last year regarding the declining traffic being a result of competitive losses. Recent statements expressed opinions that international was expected to be "neutral" for the year.
Norfolk Southern has not yet provided its 2016 first quarter report, but considering the same figure below gives us an illustrative sense of comparative scale.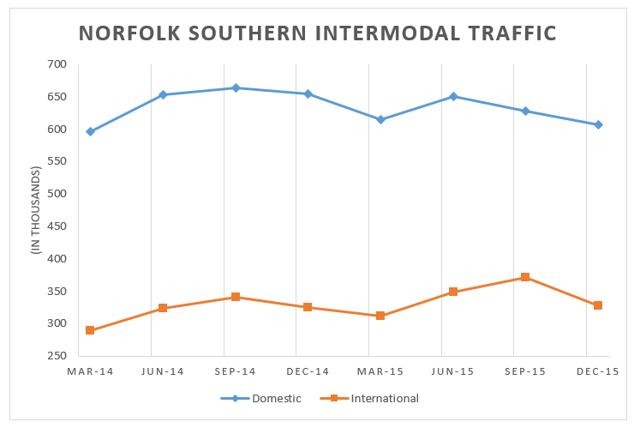 Source: Company filings and personal database
What CSX investors should like about this figure is the domestic container flat performance since March 2014. During this time period, Norfolk Southern's domestic container growth has been only 2 percent. During the same period, CSX witnessed growth of nearly 32 percent.
On the international side, Norfolk Southern has witnessed traffic growth of 13 percent since March 2014. This performance has allowed Norfolk Southern to surpass CSX, as during the same period CSX has witnessed growth of negative 9 percent.
CSX has definitely put the pressure on Norfolk Southern for domestic container business as the company may be approaching 500,000 units this year. The Triple Crown service restructuring has weighed heavily on Norfolk Southern as trailer-to-rail is down over 40 percent. Norfolk Southern's trailer-to-rail traffic prior to the restructuring was second only to BNSF, so this is a big hit.
We know that through week 14 of 2016 that Norfolk Southern has outperformed CSX. We will just need to wait and see regarding the domestic and international container splits. My hunch is that CSX has continued to outperform for domestic and that Norfolk Southern is still leading on the international front.
Valuation
As the CSX and Norfolk Southern section stated, I firmly believe that both of these companies are valued at lower multiples primarily because of their Class I rail operator lagging operating ratios. That being said, today's multiples definitely reflect some discomfort from analysts based on many uncertainties regarding the rail industry.
As of April 15, 2016, CSX stock price was $25.93/share. This places the company's P/E multiple at over 14 times 2016 earnings and over 13 times 2017 earnings estimates. Average analysts price targets have assigned CSX a P/E ratio of 15 times earnings.
Under the circumstances we find the rail industry in today, this is not an unacceptable level. In fact, it could be worse. Based on this level, I think investors can expect a P/E of 17 times earnings once the rail industry finds a bottom for energy and industrial sector impacts. I am not highly bullish on the rail industry to suggest that CSX will go much higher than this from a valuation perspective, because if CSX and Norfolk Southern are trading 17 times earnings, I am going to expect the Canadian rails and Union Pacific to be closer to 20 times earnings, again based on operating ratio efficiencies.
Regardless, the table below is organized with assumptions to provide further illustration for investors to consider regarding capital appreciation potential for CSX. Primary assumptions include average annual revenue growth of 3.5 percent after 2017, a static profit margin of 16 percent and annual share buybacks reflecting 3.5 percent of shares outstanding. The remaining line items are simply rudimentary calculations combined with P/E multiple assumptions. Revenue, net income and diluted shares are in millions.

Source: Company filings and personal database
In the near-term, I think that CSX is going to possibly stay near the 15 times earnings P/E multiple. This does still offer investors a 4 percent return from this level, and around a 9 percent return during 2017. Combining the dividend and accounting for only three dividend payouts during 2016, investors could expect an average annual total return of 9 percent through 2017.
The long-term capital appreciation scenarios for 15, 17 and 20 times earnings would lead to annual average returns of 6, 7.5 and 9 percent respectively. With the dividend currently near 3 percent investors could expect a near 10 percent or greater return per year in all three scenarios.
If investors are looking to be a little greedy, I would think that any price below the $25/share level would be a pretty good entry point for CSX. But investors need to understand and set expectations that CSX and Norfolk Southern will trade at a lower valuation multiple to other Class I peers due to their higher operating ratios. In the event operating ratios can be improved, this would serve as a catalyst to a higher multiple.
Investor Perspectives
Over the long-term, rail operators will continue to do business as usual which is taking advantage of economies of scale through a mostly fixed private capacity network, and increasing pricing in-line or above inflation levels. This strategy has worked very well for a long time.
I suspect that there will be some potential for CSX to position itself for further intermodal traffic demand over the long-term. This will relate to both domestic and international segments. I do not believe that the Panama Canal will have any material impact during 2016. Next year will be the first opportunity to see how trade lanes adjust. Investors should be paying attention to all three regions in North American seaports to get a sense of these changes.
CSX has aggressively grown its market share for domestic containers against Norfolk Southern, but despite this, the company has struggled on the international front. Norfolk Southern does have better on-dock rail access. CSX management has mentioned in the past that customer shifts have been out of their control hinting to shifts in seaport destination preferences. Either way, investors will want to pay close attention to the inverse performance between the company and Norfolk Southern's intermodal business.
I am not an energy expert, but I do not think that coal will cataclysmically disappear, nor will oil, or other major commodities. But alternatives to traditional energy sources and their increased capacity and demand will impact commodity pricing, coal and petroleum being key focal points. These are additional things that rail investors will need to consider in addition to valuation multiples for setting expectations for their investment strategies.
Disclosure: I am/we are long CNI.
I wrote this article myself, and it expresses my own opinions. I am not receiving compensation for it (other than from Seeking Alpha). I have no business relationship with any company whose stock is mentioned in this article.