The internet, smartphones, social media and ride-sharing are all examples of disruptive innovation. Virtual and Augmented Reality (VR/AR) is on the cusp of being added to this list, and you should be taking advantage of the opportunity. In the next handful of years as technology improves, costs come down and user adoption increases, VR/AR will sweep the world as the next major technological disruption.
Future Opportunities of VR/AR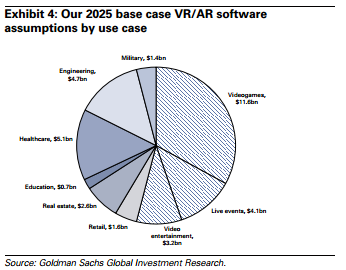 The applications for VR/AR are literally endless - from the obvious uses involving video gaming and electronic entertainment, to the not-so-obvious uses like retail, real estate and healthcare. In almost every industry imaginable, there will be some commercial or consumer use for VR/AR applications. Goldman Sachs Global Investment Research group composed an equity study, which estimated the VR/AR industry will generate a base-case of $80 billion in revenues by 2025. ($182 billion bull-case and $23 billion bear-case).
The R&D is certainly present and growing with names such as Oculus, Microsoft (NASDAQ:MSFT) HoloLens, HTC Vive, Google (NASDAQ:GOOG) (NASDAQ:GOOGL) Glasses and many others. Over the past couple of years, there have been over 225 venture capital investments in VR/AR raising over $3.5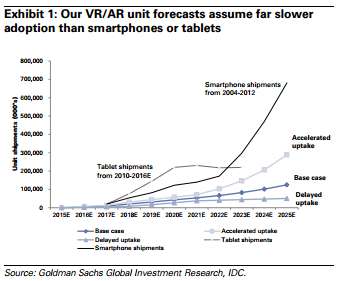 billion. In the past, the primary hold-back to user adoption has been the steep price points and clunky design. However, with time, these drawbacks will diminish - this will represent the turning point when VR/AR sales gain traction. The Goldman Sachs study compares VR/AR adoption to that of smartphones and tablets albeit more conservatively.
I picture a world where a simple pair of glasses entirely replaces a smartphone, a surgeon is able to practice a virtual surgery based on real images, or a group of students come together and interact with each other despite being hundreds of miles apart. This is the level of disruption I am talking about - truly life altering.
Potential Setbacks and Risks
While I believe the adoption of VR/AR is an eventual certainty, the lingering risk is that the time-horizon is unknown which could result in sub-par annualized returns. For this reason, I recommend investing in solid companies throughout the VR/AR supply-chain, rather than manufacturers or distributors of the VR/AR devices themselves. This serves to hedge against many of the direct risks associated with VR/AR adoption by exposing investors to the rest of the company's business - you still get VR/AR upside without all of the downside risk.
Another hurdle VR/AR must overcome is the large-scale development of compatible software within certain industries. The requirement for good software and content exposes a bit of a catch 22 - consumers do not want to purchase VR/AR hardware without a strong app and content library while software developers do not want to invest resources into content production without an established user base. Regardless, I think this issue will resolve itself once the technology becomes affordable. Initial adopters will create a demand for content which will snowball adoption to the masses.
One final inhibitor to VR/AR adoption are current hardware prices. For many interested users, spending hundreds of dollars for the unit and then hundreds more for necessary cameras, games or computing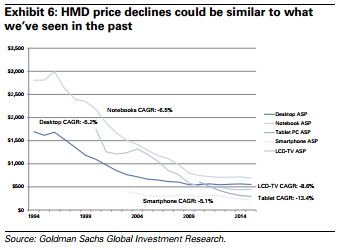 equipment is not feasible. However, I expect VR/AR prices to decline as the technology improves. Goldman Sachs estimates that this cost-trajectory will mimic the cost-curve of other similar technologies such as tablets and smartphones. At some point in the near future, these devices and associated hardware/software will be affordable enough for the everyday user.
A Few Recommended Plays
There are a number of ways to invest in a future where VR/AR is integrated into everyday lives. As I mentioned, I would recommend taking a position somewhere along the VR/AR supply chain, delivering upside potential while limiting downside risk.
The first investment I would recommend is Nvidia Corporation (NASDAQ:NVDA). Nvidia is a diverse semiconductor company specializing in graphics processing units while also manufacturing system on a chip units for the mobile computing and automotive markets. I outlined the bull case for Nvidia through a DCF and fundamental analysis a few weeks ago, and still emphasize their incredibly strong position once VR/AR comes online. In short, VR/AR devices require extremely intensive graphics performance - Nvidia has positioned itself as a leader in this market and will leverage current relationships to develop strong sales and partnerships moving forward.
Not only do VR/AR applications require extreme graphics but also put systems under intense processing loads. Another diversified investment I would recommend is with Intel (NASDAQ:INTC). Intel specializes in manufacturing processors with one centerpiece being the CORE series. Once again, Intel is a market leader in CPUs and will be an excellent way to capture exploding VR/AR sales. In fact, the Oculus Rift lists the NVIDIA GTX 970 graphics card and the Intel i5-4590 CPU under its required system specifications.
Another potential VR/AR play is with Micron Technology (NASDAQ:MU). Micron is a leader in memory and semiconductor technology and fits nicely into the VR/AR supply chain as a provider of memory and drive hardware for the next-gen units. As with the GPUs and CPUs required for VR/AR technology, topnotch memory and SSD devices will also be required. Micron certainly fits the bill here.
Since this piece is meant to be more of an introductory primer into the VR/AR space, I did not want to dive too deeply into the particular companies I recommended. However, I plan on dedicating entire future articles to some of these firms and how they are preparing for future VR/AR business. I see this as a pivotal and disruptive moment - those poised to capture the change will succeed while the rest will falter.
Conclusion
While there is still some level of uncertainty surrounding the VR/AR marketplace and its rate of adoption, I do believe that it will be entirely disruptive once it takes hold. I strongly recommend investing in a couple of companies which will leverage this disruptive technology while avoiding much of the downside risk in the event of delayed adoption.
Disclosure: I/we have no positions in any stocks mentioned, but may initiate a long position in NVDA over the next 72 hours.
I wrote this article myself, and it expresses my own opinions. I am not receiving compensation for it (other than from Seeking Alpha). I have no business relationship with any company whose stock is mentioned in this article.