Despite First Solar's (NASDAQ:FSLR) recent downturn, the company remains stronger than ever. First Solar did a great job of highlighting its strengths during its analyst day and is clearly emerging as a big winner amidst industry headwinds. Whereas many major solar companies like SunEdison (NYSE:SUNE) have experienced serious difficulties in the current solar environment, First Solar has thrived. First Solar's performance has been unparalleled over the past few quarters.
First Solar continues to progress at an extraordinary rate in nearly all aspects of its business. The company is innovating at an impressive rate and it achieved record-breaking costs as a result. While many are criticizing First Solar's more conservative growth approach, such an approach may be prudent in light of recent industry events. After all, the solar industry has just experienced one of the most devastating company collapses in SunEdison. In the current capital-constrained solar environment, First Solar's relatively conservative approach could turn out to be a positive. On the other hand, First Solar also risks losing market share in the increasingly competitive solar environment.
Impressive Technological Progress
First Solar has clearly shown that its cadmium telluride technology is more than competitive with the solar industry's standard silicon technology. In fact, First Solar's cadmium telluride research cells are starting to beat multicrystalline silicon research cells on the efficiency front. What's more, cadmium telluride technology is advancing at a faster rate than multicrystalline silicon technology. The company broke yet another cadmium telluride research cell record in February by achieving an efficiency of 22.1%.
First Solar's average fleet efficiency is improving at a similarly impressive rate. The company is improving its average fleet efficiency by 105 basis points per year, which is approximately four times faster than the improvements being made in multicrystalline silicon efficiencies. Given that the vast majority of First Solar's competitors are using multicrystalline silicon modules, this puts First Solar in a great competitive position.
While First Solar predicts that its average fleet efficiency will improve to 16.7% in 2016, it will not be surprising this figure hit closer to 17% given the company's history of underestimating its own performance. Not surprisingly, First Solar's modules have an energy density advantage of up to 11% compared to multicrystalline silicon models. Such efficiency gains have helped First Solar lower its module costs into the $.40 per watt range. In fact, First Solar now manufactures modules at lower costs than some of the most competitive Chinese solar manufacturers.
First Solar has advanced its cadmium telluride technology at an extremely fast pace over the past few years.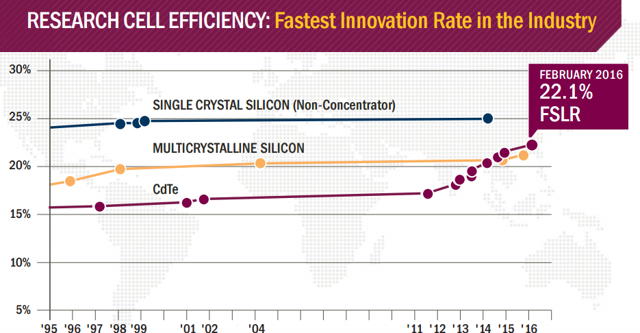 Source: First Solar
Strong Financials
First Solar boasts an unrivaled balance sheet in the solar industry. The majority of First Solar's major competitors have net debt positions in the hundreds of millions and even billions of dollars, which is something that has put a great deal of strain on these companies. On the other hand, First Solar has a net cash position of approximately $2 billion. In an industry riddled with debt, First Solar stands as the clear exception. Whereas First Solar has a net interest income of $16 million, companies like SunEdison have net interest expenses is the hundreds of millions of dollars.
Given SunEdison's recent collapse, which unsurprisingly stemmed from the company's massive debt expenses, First Solar's strong cash position looks more appealing than ever. First Solar's balance sheet should remain strong for the foreseeable future considering the company's growing profitability. At a time when major solar corporations are breaking down due to financial difficulties, First Solar is only growing stronger.
Relatively Slow Growth Path
Despite First Solar's outperformance and robust fundamentals, the company is still maintaining a relatively conservative growth path. First Solar expects to have a 3.1 GW manufacturing capacity opportunity in 2016, which represents an approximately 20% increase in manufacturing capacity from 2015. First Solar expects capacity growth to slow even further in 2017 with approximately 3.4 GW of potential capacity opportunity.
With global solar module demand projected to grow around 30% to 40% per annum over the next few years, First Solar could lose market share to more aggressive peers. While First Solar's series 6 plants are expected to give a notable boost in the company's manufacturing capacity further down the road, the company is still maintaining a highly conservative growth roadmap. Although First Solar could afford to expand faster, it should be noted that the company's more conservative approach has proven to be highly effective thus far.
Whereas many of First Solar's faster growing competitors have ended up collapsing under their own weight, First Solar has remained an industry stalwart. Should the solar industry continue to experience a high degree of volatility moving forward, First Solar's conservative growth approach should still prove to be superior. Given First Solar success in recent quarters, it is not surprising to see the company stick with its conservative strategy.
Conclusion
First Solar is extremely well positioned in the volatile solar industry. The company's continual efficiency breakthroughs, industry-leading costs and strong balance sheet should give it a notable edge moving forward. Despite First Solar's premier position in a high-growth industry, the company only has a forward P/E ratio of 17 at a market capitalization of $6.1 billion. While current industry events have caused investors to be rightful wary of the solar sector, First Solar still has a great deal of upside given its strong fundamentals.
Disclosure: I/we have no positions in any stocks mentioned, and no plans to initiate any positions within the next 72 hours.
I wrote this article myself, and it expresses my own opinions. I am not receiving compensation for it (other than from Seeking Alpha). I have no business relationship with any company whose stock is mentioned in this article.
Editor's Note: This article covers one or more stocks trading at less than $1 per share and/or with less than a $100 million market cap. Please be aware of the risks associated with these stocks.