Introduction
Linn Energy (LINE) (LNCO) has gone through tough times - that's clear to investors and spectators alike. The stock continues to be heavily influenced by oil's volatility, unsurprisingly, and has seen its stock price completely tank.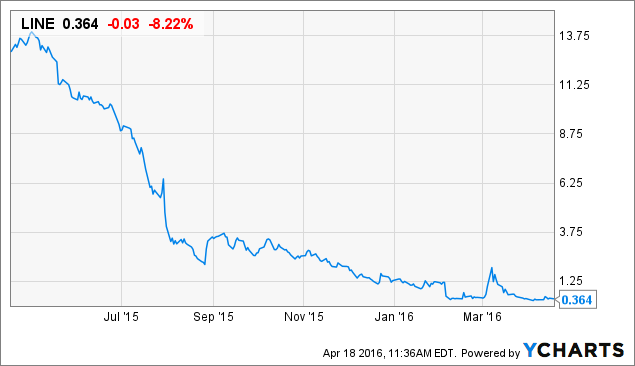 LINE data by YCharts
I was invested in this company at a certain point during the decline, but was able to get out before things really took a beating. Oil has been on a steady decline in recent history, and it only began rising again on lower production in the US (now under 9 million barrels per day), and the steady decline in capex seen in the decreased rig count.

This decline obviously makes sense, as companies lack the funds to continue investing in capital expenditures.
Linn Energy is a company many see as not solvent; one that will surely file for bankruptcy in the coming year. But I wouldn't be too quick to make that assumption.
Linn's Credit Situation
Yes, Linn has an ugly balance sheet. Its debt outstanding is quite significant, and without solid income from oil, it is rightfully seen as an extraordinarily risky security to invest your money in. But there is a bright spot with its credit situation. As Daniel Jones mentions in his Seeking Alpha article, Linn just managed to strike deals with both of its credit facility lenders. They are being given more lenient terms over the next month of expected interest payments, and still maintain their current borrowing base. Linn is astutely aware of its credit situation, and even with these payments due, it is expected to generate plenty of cash to handle the situation.
The Doha Situation
Yesterday, after much anticipation, OPEC failed to strike deals with other major oil producers. This is what Bloomberg had to say on Iran's part in the issue of oil production:
Iran, which has boosted output by 400,000 barrels a day this year following the end of international sanctions, stands to add at least another 300,000 a day as it reclaims market share lost during the embargo, the International Energy Agency estimates.
This sheds light on the disparity seen between OPEC and Iran. Iran is experiencing the strongest economy it has seen in years, due to the elimination of strict economic sanctions. What is even more concerning is that Saudi Arabia has now threatened to increase production by one million barrels a day, an effective 10% increase in production, if Iran continues to ignore their plea for a negotiation. The prince even threatened to double that figure come six months from now. So all this points to lower oil prices, and thus a weaker outlook for Linn. But there's good news too.
The Good News
A strike in Kuwait. That's surprisingly the best news any long-oil investor could have heard this morning. As of Sunday, a labor strike in Kuwait has had the country slash oil production estimates by 1.7 million barrels a day for the time being.
"If the potential loss of Kuwaiti crude supply is sustained long enough, that is roughly equivalent to current estimates for the global stockpile build in the second quarter," said Harry Tchilinguirian, head of commodity markets strategy at BNP Paribas SA (Yahoo Finance)
Also, in addition to the news from Kuwait, China will increase its oil imports to 8 million barrels per day, as opposed to its 6.7 million average last year. With China's output falling over 200,000 barrels per day due to limited capex by Petrobras (NYSE:PBR).
Conclusion
All in all, there are both positives and negatives in the oil market right now. Linn Energy has put in its due diligence to avoid bankruptcy for the time being, and with oil looking up at the end of the year, it may soon see profits again. Hold on for another hectic year.
Disclosure: I/we have no positions in any stocks mentioned, and no plans to initiate any positions within the next 72 hours.
I wrote this article myself, and it expresses my own opinions. I am not receiving compensation for it (other than from Seeking Alpha). I have no business relationship with any company whose stock is mentioned in this article.
Editor's Note: This article covers one or more stocks trading at less than $1 per share and/or with less than a $100 million market cap. Please be aware of the risks associated with these stocks.