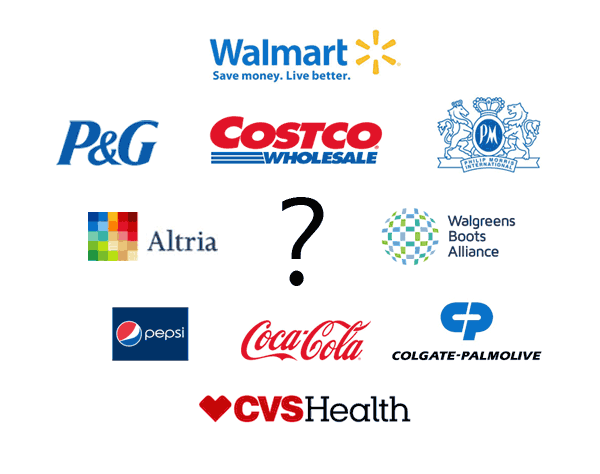 Source: Author
I will use the top 10 holdings of the Consumer Staples Select Sector SPDR ETF (NYSEARCA:XLP) for illustration. The ETF follows the performance of the Consumer Staples Select Sector Index. As of April 14, the ETF's top holdings are as follows:
| | | | | |
| --- | --- | --- | --- | --- |
| Company | *Price | *Yield | S&P Credit Rating | Weight |
| Procter & Gamble Co (NYSE:PG) | $82.3 | 3.25% | AA- | 11.6% |
| The Coca-Cola Co (NYSE:KO) | $46.1 | 3.04% | AA- | 9.5% |
| Philip Morris International, Inc. (NYSE:PM) | $100.1 | 4.07% | A | 8.2% |
| CVS Health Corp. (NYSE:CVS) | $102.2 | 1.66% | BBB+ | 6.1% |
| Altria Group, Inc. (NYSE:MO) | $61.7 | 3.66% | A- | 5.8% |
| Wal-Mart Stores, Inc. (NYSE:WMT) | $69.1 | 2.90% | AA | 5.8% |
| PepsiCo, Inc. (NYSE:PEP) | $103.7 | 2.71% | A | 4.6% |
| Walgreens Boots Alliance, Inc. (NASDAQ:WBA) | $81.4 | 1.77% | BBB | 4% |
| Costco Wholesale Corporation (NASDAQ:COST) | $153.2 | 1.18% | A+ | 3.7% |
| Colgate-Palmolive Company (NYSE:CL) | $71.3 | 2.19% | AA- | 3.5% |
*Prices and yields are as of April 15, 2016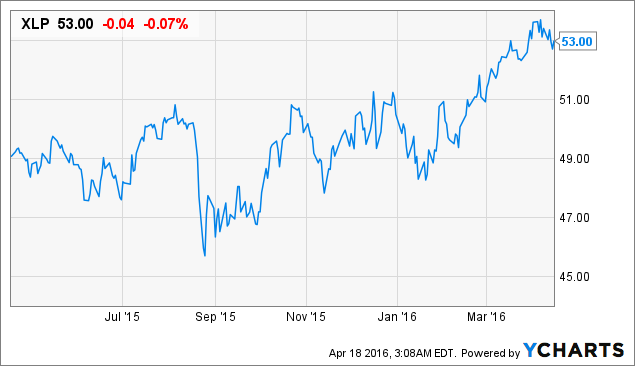 XLP data by YCharts
XLP is making new highs. And its top holdings are doing the same. The higher their prices go, the riskier it is to invest in them. However, some are less risky than others.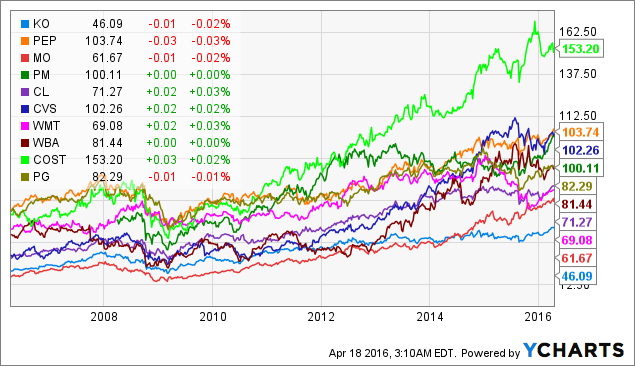 KO data by YCharts
Why the Consumer Staples companies keep making new highs
The 10-year bond rate is 1.75%, which is at a decade's low. Anyone looking for income would gravitate towards quality, high-yield dividend-growth stocks that are perceived to be safe investments.
The top iconic consumer staples companies are seemingly safe harbors to park one's savings, especially the ones with yields considerably higher than 1.75%, including P&G, Coca-Cola, Philip Morris, Altria, Wal-Mart, and Pepsi that offer yields of at least 2.7%.
Procter & Gamble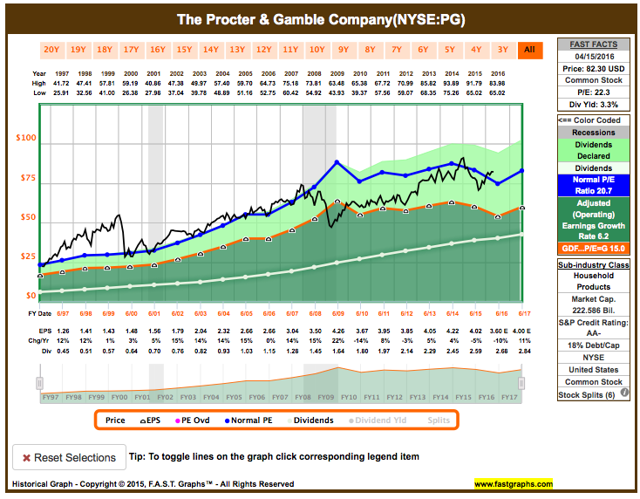 While P&G is going through a multi-year transformation and shaving off its non-core brands, its earnings per share (EPS) has fallen. It's only natural that its dividend growth had to slow down as well. Is P&G really worth trading at a multiple of 22.3?
Last year, it hiked its dividend by 3%. This year, the hike was less than 1%. It's only prudent for P&G to slow down its dividend growth because its annual payout of $2.678 per share is estimated to be about 74% of 2016's earnings.
In the medium term, P&G's earnings growth is estimated to be 8%. I suppose this is meant for after it offloads its non-core brands. After which P&G becomes leaner and will be able to focus on boosting the sales of its remaining core brands. So, maybe some patient shareholders are willing to hold on to it for its yield north of 3%.
Coca-Cola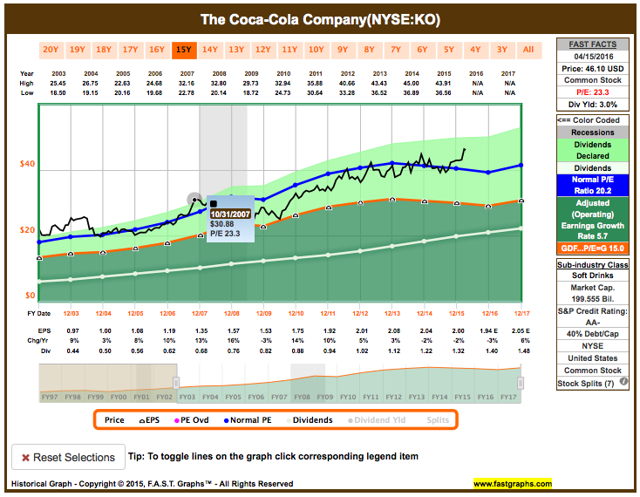 Coca-Cola is even more overvalued than P&G. Coca-Cola is trading at 23.3 times its earnings. Last time that happened, it was eight years ago in October 2007!
To make matters worse, Coca-Cola is expected to grow its earnings by less than 4% for the medium term. Last year, it hiked its dividend by 8.2%. This year, its hike was more than 6%.
If Coke's EPS continues to decline like it did in the previous two years, it really has no choice but to slow down its dividend growth as well. This is possible due to lower consumption of soft drinks in North America and other developed countries. This year, Coca-Cola's estimated payout ratio is about 72%. So, its dividend is still safe, but shareholders should be prepared for slower dividend growth going forward.
Philip Morris
Despite Philip Morris being overvalued compared to its historical normal multiple, its price continues to push higher.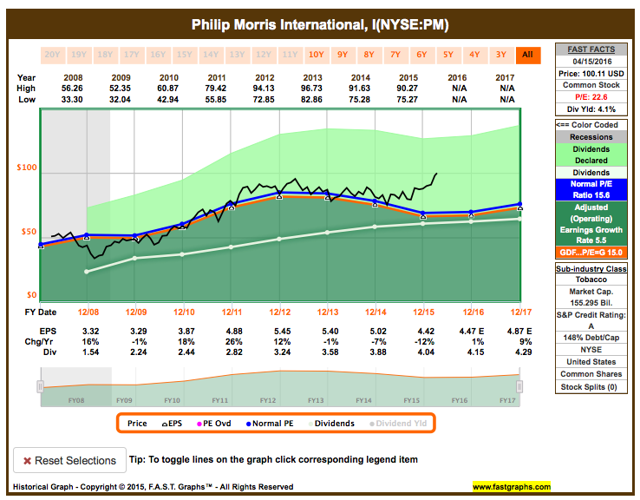 It trades at 22.6 times its earnings with estimated earnings growth of about 7.5% for the medium term. If you're looking for just a consumer staples stock, Philip Morris is trading at a similar multiple as Coca-Cola, but is expected to grow its earnings roughly 3.5% faster than the beverage company. Additionally, Philip Morris yields 4.1%, providing about 1% more income than Coca-Cola. Comparatively, PM is a better deal than Coca-Cola.
However, Philip Morris's estimated payout ratio for this year is about 91% which is unsettling. As a result, it only hiked its dividend by 2% last year.
Altria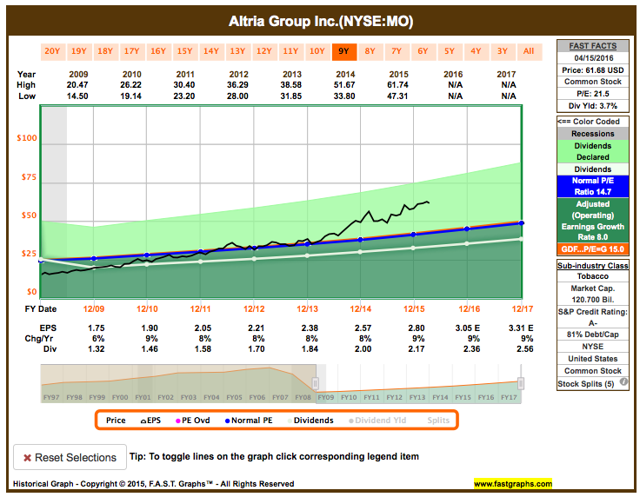 The argument for Altria's high valuation is similar to Philip Morris. Altria offers a yield of 3.7%, which is higher than Coca-Cola's 3% yield. Arguably, Altria is a better deal than Philip Morris and Coca-Cola for a consumer staples stock because the company only trades at 21.5 times its earnings with anticipated medium-term earnings growth of 8%.
Altria hiked its dividend by 8.7% last year. Its annual payout of $2.26 per share implies an estimated payout ratio of 74% for this year.
Wal-Mart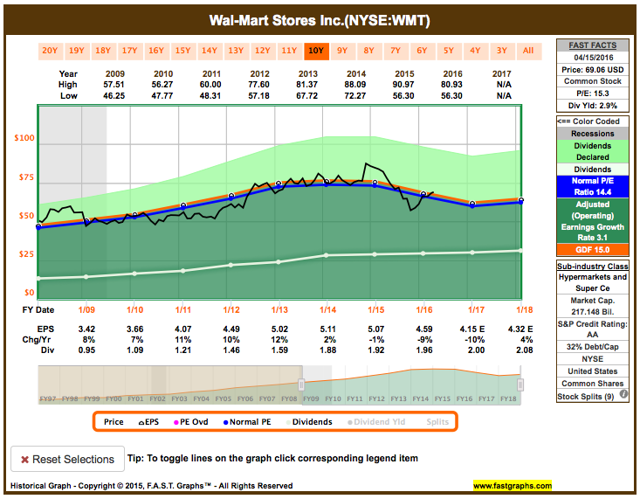 Wal-Mart is trading at a more reasonable valuation than the others discussed so far. However, the company's EPS could continue to fall this year and next, which would partly be due to competing with online stores which are less costly to run than Wal-Mart that has brick-and-mortar stores.
If earnings continue to fall, Wal-Mart would be overvalued at current levels. Wal-Mart has been prudent with its dividend growth since 2014, increasing its quarterly dividend per share by only a penny (a rate of about 2%) each year since then.
Pepsi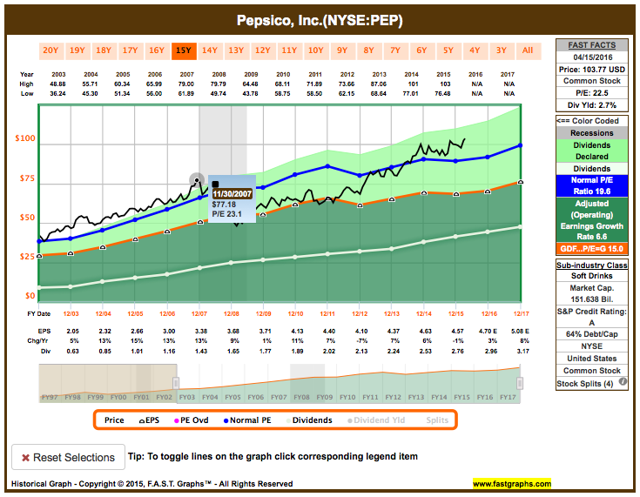 Like Coca-Cola, Pepsi is overvalued compared to the historical norm. Pepsi is a better deal than Coca-Cola today: PEP is trading at a slightly lower multiple, and consensus analyst estimates are for the company to grow its EPS by 7.5% for the medium term. The higher anticipated growth rate compared to Coca-Cola is probably due to Pepsi's snacks business that Coke lacks.
Last year, Pepsi hiked its dividend by 7.3%. Its annual payout of $2.81 per share equates to a payout ratio of about 60% based on its 2016 estimated EPS. That said, the company should be announcing its dividend hike soon, and it's reasonable to estimate a hike of 6-8% based on its payout ratio and earnings estimates.
What about the other top holdings with yields of less than 2.7%?
Some investors don't consider companies with yields less than a certain threshold which could very well be 2.7%.
That'd explain why companies such as CVS and Walgreens are trading at lower multiples than their high-yield peers in the consumer staples sector. Then again, Costco and Colgate are trading at lofty valuations.
No matter what, these four companies have higher earnings growth potential which may or may not materialize. This adds a layer of uncertainty on top of the certainty of a lower dividend yield to start with.
CVS
Retail pharmacy chains aren't going anywhere. With EPS expected to grow by 13% in the next two years, CVS's valuation isn't as bloated as most of the high yielders.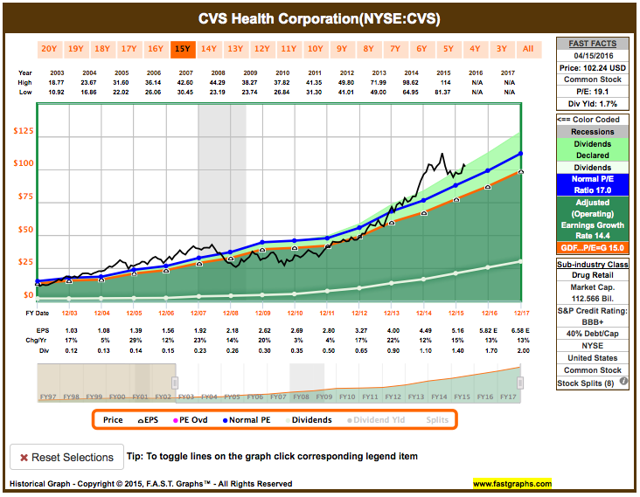 However, it only yields 1.7%. To compensate for its lower yield, CVS has been hiking its dividend at a double-digit rate. In fact, it hiked its dividend by 21% early this year, and it's only paying out about 30% of this year's estimated earnings. In the medium term, it's estimated that CVS will grow its EPS by about 13%.
Walgreens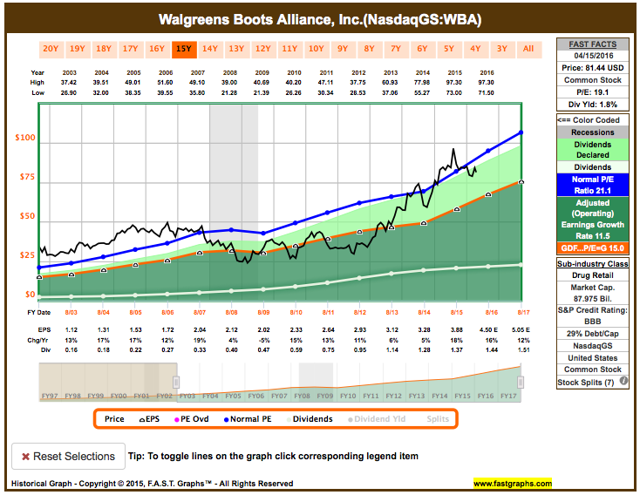 Similar to CVS, Walgreens has a network of retail pharmacies and trades at the same multiple as CVS. However, Walgreens offers a slightly higher yield of 1.8% and has a lower S&P credit rating of BBB.
Walgreens hiked its dividend last year by 6.7%. Its annual payout of $1.44 per share implies a payout ratio of 32% based on this year's consensus earnings estimate. In the medium term, it's estimated that Walgreens will grow its EPS by about 12%.
Between CVS and Walgreens, I think CVS is a better investment with a higher credit rating and a lower payout ratio.
Costco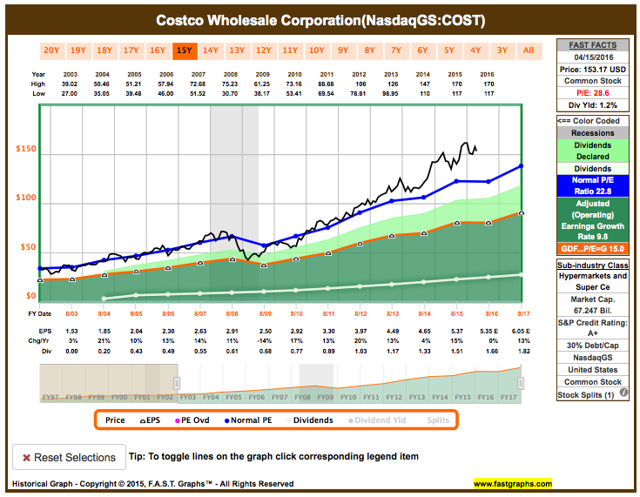 I'm surprised that Costco is trading at 28.6 times its earnings when its earnings growth estimate is 0% for this year, 13% for the next year, and 9% for the medium term. This is a quality company, but it's one I would avoid adding new money to because of its expensive multiple.
Colgate-Palmolive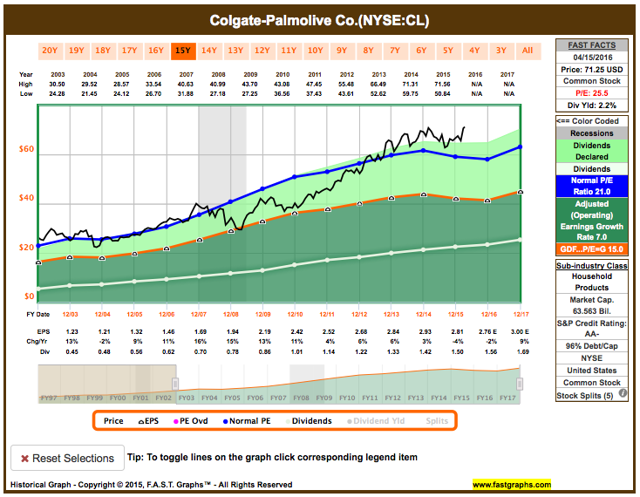 Colgate-Palmolive is also too expensive to invest in today. Arguably, it has been too expensive since 2014. Trading at 25.5 times its earnings today and paying a 2.2% yield, it's not a company I'd consider. The company just hiked its dividend by 2.6% this year. The new annual payout of $1.56 per share equates to a payout ratio of about 57%.
Conclusion
The consumer staples with high yields of 2.7% or higher are expensive in general. It's naturally prudent not to add new money to them unless you're an investor who wants income now and has no concern about multiples reverting to the mean, implying lower prices or prices going sideways.
Always look at the valuation and growth prospects of each company to make a decision. No matter how high quality a company is, if it's too expensive, investors won't get a satisfactory return from it. In general, I think it's best to avoid adding new money to consumer staples at the moment. However, there are selective companies that can be considered.
For high income, the tobacco companies, Philip Morris and Altria, are better choices than the likes of Coca-Cola and Pepsi. If you're looking for total returns, CVS although has a lower yield, is better valued and has higher growth potential than the others.
Share in the comments below!
What's your take on consumer staples right now? Are you adding, holding, or selling?
How do you manage your portfolio's risk around valuation?
If you like what you've just read, you can also follow me for free! Simply click on the "Follow" link at the top of the page to receive an email notification when I publish a new article.
I also run a premium service for my subscribers who get priority attention and gain access to my real-time buys and sales. Feel free to try the service for free for two weeks.
Disclaimer: This article consists of my opinions and is for educational purposes only. Please do your own research and due diligence and consult a financial advisor and or tax professional if necessary before making any investment decisions.
Disclosure: I am/we are long PG,PEP.
I wrote this article myself, and it expresses my own opinions. I am not receiving compensation for it (other than from Seeking Alpha). I have no business relationship with any company whose stock is mentioned in this article.