Netflix's (NASDAQ:NFLX) apparent success has attracted competition from tech giants and similar OTT (over the top) platforms. Subscriber growth has stagnated, and content has become more expensive to license and produce. Netflix's pioneering service has made content cheaper and more convenient for users. However, the structure of the home entertainment industry remains the same: content owners license their property to intermediaries that deliver it to viewers. Netflix's technology and content delivery platform is now being readily copied, putting Netflix in a weaker position relative to content creators. Netflix is no longer unique and it is hard to justify its current valuation in its current form.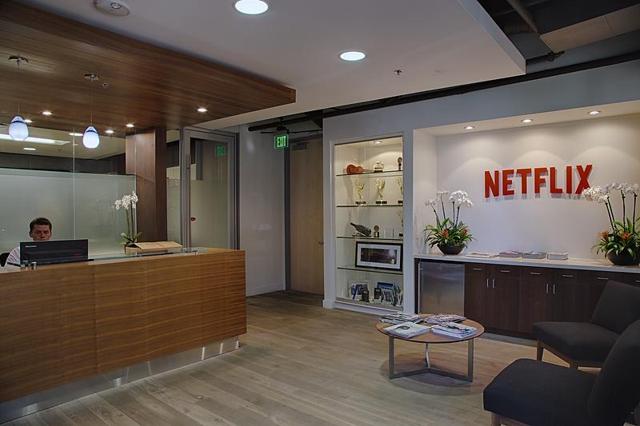 Source: Netflix
Competition for content
Netflix has announced it is going to spend $6bn in 2016 alone to beef up its content, split between producing and licensing shows and movies. Company data supporting that hours of viewership in 2015 increased in absolute terms is misleading. When adjusting for subscriber growth and investment in content, which were increased significantly, viewership per subscriber for a given number of shows actually fell in 2015, a proof that the company's return on investment in content is not paying off. The reasons for that are multifold.
Further, we had just finished watching season three of NFLX's leading original content show, House of Cards, which appeared to be scripted to compete with Ambien.

David Einhorn, Q2 2015 Letter to Investors
First, each Netflix original has not been and is not expected to be a slam dunk. While viewership shortfalls do not directly create additional costs, they will mandate additional production spending. Creating more originals in order to keep up with subscriber preferences would be a significant challenge to the company's content development and financing plan. It is worth noting that out of the 20 original series Netflix has aired as of 2015 year end, only one has exceeded the 20% viewership threshold (all episodes) and only seven more have managed to allure 10% of the viewers (chart below).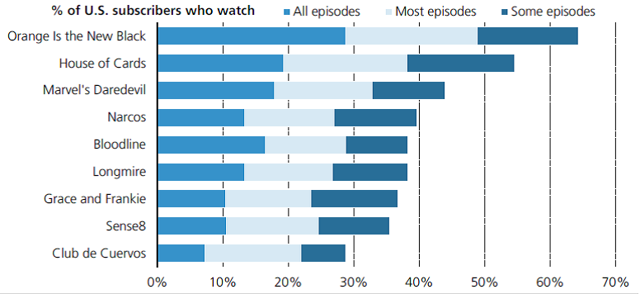 Source: UBS Evidence Lab, Nov '15 survey
While Netflix has been investing meaningful amounts to expand its originals library, it seems unable to impress its viewers by launching series with higher viewership than Orange Is the New Black and House of Cards, shows it launched in 2013 and which are now in their third and fourth seasons respectively.
Second, Netflix's main viewership strategy of limited, free content that relies on viewers binge-watching is not a sustainable growth strategy. Although it appears successful in the case of a handful of hit series, these cannot last for more than another 3-4 years, putting pressure on the company to create the next blockbuster. In addition, by giving the subscribers the option to select their watching windows, the company risks losing those that pay-per-month only to watch a specific season. In contrast, Amazon is on a stride to allure viewers through a broad offering of movies and shows. Through its Prime membership, members get access to select free content or have the option to pay-per-view for a vast library of non-Prime content. Other competitors such as HBO, Showtime and Starz own broad libraries of premium, proprietary content that can be leveraged through their OTT platforms at minimal cost.
Finally, licensing instead of creating content is not a better alternative either. As more players enter the internet TV market, competition for content becomes fiercer. The costlier element in Netflix's supply chain, content, is also the most vulnerable to pricing pressures. Owners of content, while restrained by multi-year contracts, have the negotiating power and will try to maximize their value through the highest bidder. Notably, in each geography that Netflix airs a show or a movie, it has to negotiate a separate license agreement, when it does not own the rights, making economies of scale harder to realize. For example, in January Netflix launched in 130 countries globally without offering House of Cards, its crown jewel, in many of them because it does not own the rights in every geography.
All of the above help explain why a staggering 70% of streaming revenues per year is spent on content. While one would expect that content cost has a fixed element (it takes a given amount to create or license it, and each incremental viewer does not warrant additional costs), the company's constrained content strategy has given it no other option but to spend aggressively on proprietary content creation.
Competition for subscribers
Internet TV's growth has led established media and tech players (networks, internet companies, cable providers) to consider it their natural space to expand to.
Netflix will not be able to compete with tech giants entering aggressively the streaming TV market and subsidizing their streaming platforms with piles of cash from their core businesses. Prime, started as a membership-based loyalty program for Amazon's (NASDAQ:AMZN) online retail business, has now surpassed Netflix in terms of content availability and subscriber engagement (charts below) and with its new, standalone streaming TV platform is expected to quickly catch up in terms of memberships.

Source: CIRP, Evercore ISI
Contrary to Netflix's newly established subscriber base, firms such as Google (NASDAQ:GOOG) (NASDAQ:GOOGL) and Apple (NASDAQ:AAPL) can leverage their vast customer bases and brand appeal in order to attract viewers to their video streaming and internet TV platforms. YouTube has recently entered paid streaming with YouTube Red. Apple is expanding its music library to video, leveraging its large iTunes and Apple TV customer base. Either through original content, licensing or user-created content, these deep-pocketed tech players are posing significant competitive risks to independent platforms like Netflix.
Netflix is supplementary, not competitive to cable and is not in a position to benefit from cord-cutting. Until recently, a cable subscription was required for access to premium network content, such as HBO, Showtime and Starz. On top of the cable cost, subscribers had to pay extra every month to gain access to these networks' premium content of original shows and new releases. In response, premium as well as mainstream networks have recently launched their own streaming platforms. While seemingly an opportunity for streaming TV in general, cord cutting mostly benefits above competitors in particular. In other words, people would cut the cord for standalone platforms with strong, recurring content offering such as CBS or HBO, but not for a show they can binge-watch during a weekend.
While not the main beneficiary of cord-cutting, Netflix is going to be the primary victim of traditional cable's fight against it. Cable's competitive price and bundle offerings, continuing consolidation and promotional efforts, and direct offering of its own OTT services (such as SlingTV) would all pose significant threats to Netflix's allure, making its product irrelevant to subscribers' needs.
Finally, international expansion, while presented as an obvious opportunity, is a means to an end that will eventually come at a significant cost. Since the company lacks competitive advantage in the core area of content, it is striving to create a competitive advantage in the face of global reach that could potentially help it negotiate with suppliers or utilize its proprietary content. That is proven by the company's rush to launch in multiple geographies. In many of the new markets, Netflix has failed to provide subtitle service, which in essence makes the product useless for parts of the population. Cultural differences have not been taken into account either when launching abroad. According to a recent survey by RBS, in Japan, a key international market, only 6% of the subscribers are not at all likely to cancel their subscription and "the comedy genre doesn't travel as well as action and drama".
Valuation driven by long-term contribution margin target
The recent announcement of price increases for new and existing subscribers supports the argument that the only viable path to realizing the promised 40% contribution margin by 2020 is through pricing.
The US contribution margin structure we have chosen is to grow content spending plus marketing slightly slower than we grow revenue, increasing our contribution margin to 40% by 2020. We think we can grow to 60-90 million members in the US, based upon our trajectory to date and the continued growth of Internet TV.

Netflix Investor Relations Long-term View, January 19, 2016
As discussed, the company's content utilization will not be able to contribute to margin improvement. Therefore, management is not pursuing domestic expansion as aggressively anymore. Instead of pursuing a costly expansion with diminishing returns, management prefers to harvest its existing base through a meaningful price increase. Given the low penetration of existing competitors, Netflix is able to milk its existing subscriber base to prove its ability to improve contribution margins before a price increase can have adverse effects to its revenue and profitability. Consequently, management sees price increases as the only viable strategy to realize the long-term target of 40% for contribution margin.
In sum, the company is cash-strapped, limited by a highly unscalable business model. Without the recent price increases its profitability would be at best anemic this year and the target of 40% in 2020 overly ambitious. Heavy spending for content and customer acquisition in the US, as well as variability of international operations constitute the price increases unavoidable.
Conclusion
Considering all factors discussed, we conclude that recent valuation levels are not taking into account specific business and market risks of an evolving, competitive industry. Wall Street research target prices assume undeterred subscriber growth and operating leverage at increasing ASP (average selling price) levels. However, as reality has shown, when competition steps in, all these factors will tend to deteriorate.
In a scenario where competition to attract and maintain subscribers intensifies, producing and licensing successful shows becomes more challenging, and economies of scale are harder to achieve, Netflix's stock price could face significant pressure.
Characterized as a "cult" stock, Netflix has yet to face the challenge of sustaining its hype.
Disclosure: I am/we are short NFLX.
I wrote this article myself, and it expresses my own opinions. I am not receiving compensation for it. I have no business relationship with any company whose stock is mentioned in this article.