Last year, I warned readers about an upcoming dividend cut that effectively happened, as Bonterra Energy (OTC:BNEFF) slashed its dividend by 33% to C$0.10 per month ($0075). I wasn't sure if this would be sufficient to keep the company cash flow neutral, and I said I would not be surprised to see another dividend cut if the oil and gas price doesn't recover. It's four months later, so let's see if I need to update my view on Bonterra now.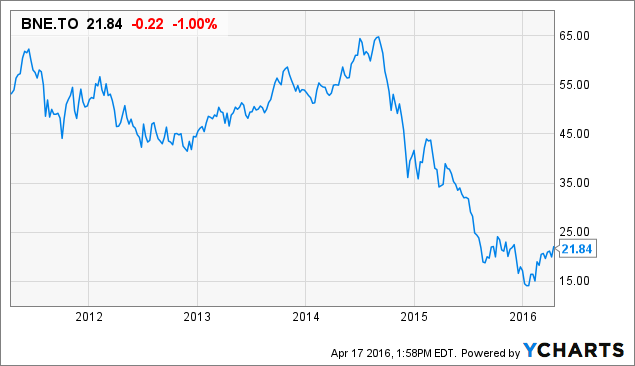 Even though Bonterra has a market capitalization of approximately $525M, it doesn't have an American listing just yet. So I would recommend you trade the company's shares through the facilities of the Toronto Stock Exchange, where Bonterra trades with BNE as its ticker symbol.
FY 2015 Production Results Were In Line With Expectations
Bonterra's average production rate in 2015 was approximately 12,650 barrels of oil-equivalent per day, a small 4% decrease compared to the previous financial year. Even though the oil production increased, the company's natural gas production decreased, causing the "fall" in the oil-equivalent production rate. That's nothing to worry about, and I'm not particularly sad the company doesn't have to sell more oil and gas at the current low prices.
So, the current production rate is totally fine with me. Due to the low decline rate of the company's assets (less than 20%), Bonterra's total capital expenditures in 2016 will remain limited to US$30M. That could be seen as the sustaining capex level needed to keep the production rate stable.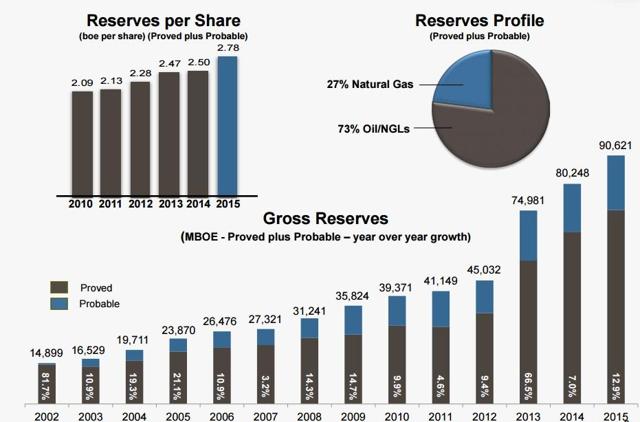 Source: Company presentation.
I won't bore you to death by discussing the company's income statement in detail, as it doesn't tell you much about a company's ability to pay for its additional exploration and development expenditures. But there's one thing I'd like to share, and that's the fact that Bonterra didn't think it was necessary to record an impairment charge on the value of its oil and gas assets. Indeed, neither in 2014 nor in 2015 did Bonterra record an impairment charge, and that's one of the main reasons why I combed through the company's reserve report (see below) to find out if this is warranted.
The impact of the lower oil and gas prices is most definitely noticeable in the company's cash flow statements, as the operating cash flow fell by more than 50% to C$108M ($81M). As the total capex remained limited to C$58M ($44M), Bonterra was actually free cash flow positive to the tune of C$50M ($37.5M). But it spent more than that amount on paying cash dividends rather than reducing its net debt, which came in at almost C$360M ($270M) at the end of last year.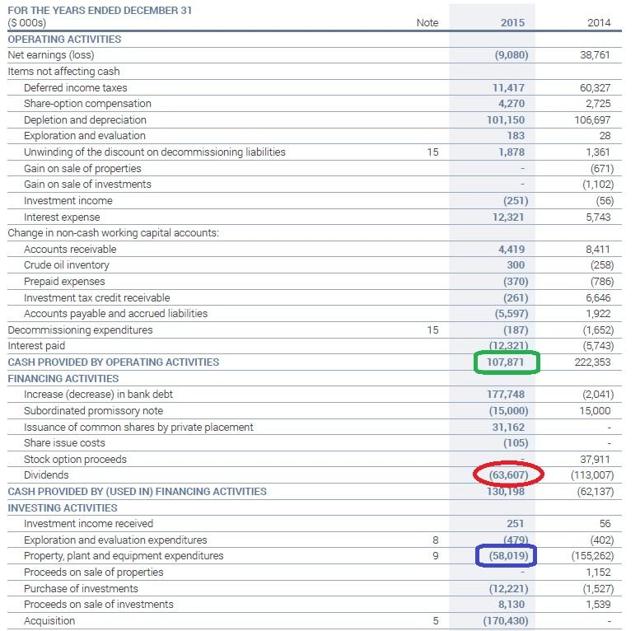 Source: Annual report.
That's something that bothers me, and it's the main reason why I really liked it when the dividend was cut to 10 cents per month. This would limit the total cash outflow to C$40M ($30M) (assuming all dividends are paid in cash). This could balance the budget (considering the total capex will be lower in the current financial year), but as long as the oil and gas prices don't recover, the company will have to spend its entire free cash flow on dividends.
How Should You Interpret the New Reserve Report?
As Bonterra has a net debt position of approximately C$360M (US$270M), I wanted to find out if its lenders would become nervous and require the company to prioritize reducing its net debt over paying a handsome dividend to its shareholders. According to the updated reserve report (which takes the situation as of the end of last year into consideration), the proved and probable reserves increased by 13% to almost 91 million barrels of oil-equivalent, of which three-fourths was backed by the proved reserves -- which is pretty good. Also, keep in mind the proved reserves increased by almost 8 million barrels, which indicates a replacement rate of almost 300%.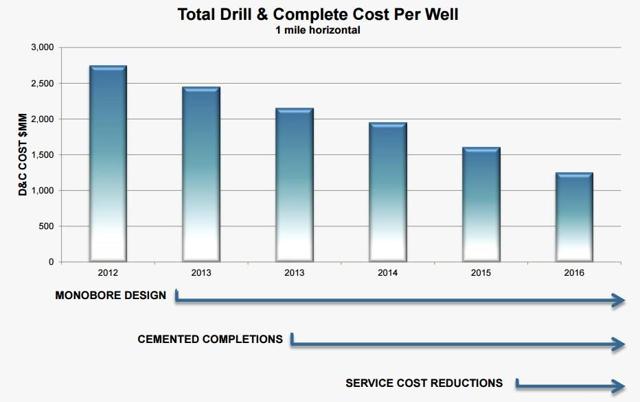 Source: Company presentation.
The reserve life is pretty good as well. The PDP (proved developed producing) reserve life is approximately eight years, based on the current production rate. That increases to 20 years if you also take the remainder of the proved and probable reserves into account.
The company's independent consultant has also completed its PV10 calculations, which take the expected future cash flows into consideration (on a pre-tax basis) based on a price deck using forecast prices. Unfortunately, these prices have not been disclosed. But given that Sproule (which completed the reserve report) enjoys an excellent reputation in the sector, I have no reason to be worried about the numbers it uses.

Source: Company presentation.
The PV10% of the PDP reserves is approximately C$714M ($537M), but taking all proved resources into account this increased to C$1.04B ($782M). After deducting the net debt, the PV10 attributable to the shareholders is approximately C$20.23/share ($15.21). That is just 7% below the current share price, indicating that Bonterra isn't very expensive right now.
Investment Thesis
Keep in mind that the C$20.23/share is based on just the proved reserves. Should you also take the probable reserves into account, the fair value per share would increase to almost C$30 ($22.5M). As the net debt is just one-fourth of the PV10 of the P+P reserves, I'm not worried at all about a bank pulling the plug in the near future.
Whether or not the dividend is sustainable is something different, and I would actually prefer the company reduce its dividend payout rate in favor of reducing its net debt. This will cause a positive snowball effect, considering the total interest expenses in FY 2015 were in excess of US$10M. Bonterra should and will survive. I wish there were some options available, as I wouldn't mind writing a few put options on this company, but no such luck.
Disclosure: I/we have no positions in any stocks mentioned, but may initiate a long position in BNEFF over the next 72 hours.
I wrote this article myself, and it expresses my own opinions. I am not receiving compensation for it (other than from Seeking Alpha). I have no business relationship with any company whose stock is mentioned in this article.