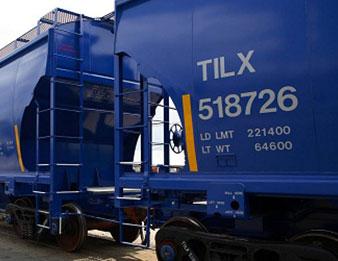 Trinity Industries (NYSE:TRN) is set to report Q1 earnings on April 21st. Analysts expect revenue of $1.34 billion and earnings of $0.70 per share. The revenue estimate implies a 13% decline Q/Q. Investors should focus on the following key items:
Will Leasing Finally Slow?
Q4 segment revenue was up 4% sequentially, versus a 7% increase in Q3. Segment revenue from the Rail Group and Leasing were up; every other major segment experienced declines.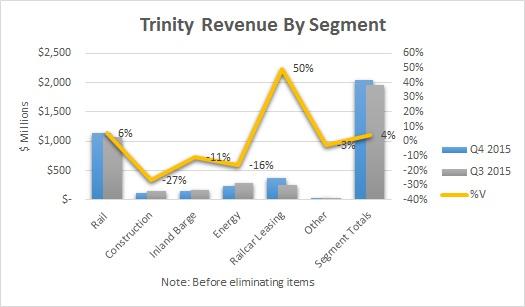 Source: Shock Exchange
In its press release for its Q4 2015 results, Trinity's management stated its "2016 outlook reflects the weakening in the industrial economy" that began impacting its business last summer. It is also placing a priority on cost containment efforts. Rail shipments increased from 8,820 in Q3 to 8,835, while Rail Group segment revenue (56% of total segment revenue) increased 6% to $1.1 billion. That said, the increase in railcar leasing has been a boon to the company. Leasing allows firms to continue to transport products without the upfront capital requirement of buying a railcar outright. Segment revenue from railcar leasing was up 50% Q/Q to $373 million.
If Q1 2016 revenue is expected to decline, it begs the question, "Does railcar leasing slow this quarter?" Leasing revenue could fall due to lower volume, lower lease rates or both. This is important as leasing generates the highest operating profit margins. Operating profit margin company-wide was 25% while the margin for leasing was 50%. The higher mix revenue towards leasing enabled Trinity to record operating profit despite low revenue growth. If leasing revenue declines in Q1, investors should brace themselves for a sharp fall in operating profit as well.
The Backlog Will Fall
New orders fell from 3,655 in Q4 to 2,455 this quarter and shipments have also outpaced new orders. The Rail Group had a backlog of $5.4 billion at year-end with 48,885 railcars. That's down from $6.25 billion at Q3, representing 55,265 railcars. The company has a few years' of revenue in its backlog. Shipments may have peaked in Q4 which means Rail Group revenue could fall going forward. Railcar orders for the entire industry fell 76% from 37,431 in Q4 2014 to 9,169 in Q4 2015.
Some view rail traffic as an indicator of another recession. Less goods being shipped cross country implies industrial activity in decline. Cumulative year-to-date U.S. rail traffic for the week ending April 9th was down 7%. Unless rail traffic picks up then industry orders will likely remain low, and Trinity's revenue could tick down each quarter.
TRN trades at 3.6x run-rate EBITDA (Q4 EBITDA annualized) of $1.5 billion. However, once revenue and EBITDA fall, TRN's EBITDA multiple could exceed the lower end of my 5x-7x range for cyclical businesses. Sell TRN into earnings.
Disclosure: I/we have no positions in any stocks mentioned, and no plans to initiate any positions within the next 72 hours.
I wrote this article myself, and it expresses my own opinions. I am not receiving compensation for it. I have no business relationship with any company whose stock is mentioned in this article.