"Smart Grid" has been become a buzzword for politicians, economist and corporate CEOs. "Smart Grid" harkens to mind another buzzword: "Infrastructure". Indeed, the two buzzwords go together. A "Smart Grid" is, in fact, a component of a nation's infrastructure. However, the phrase "Smart Grid" refers to far more than a talking point. Above all, it should alert the individual investor to pause and question just what exactly is a "Smart Grid."
The US Department of Energy gives a good overview of the Smart Grid on a special website, SmartGrid.Gov. In a nut shell, electric power isn't just supplied, like tap water. Instead, a smart electrical distribution grid incorporates data sharing and analytics between the user, devices, components and the power company. To be a little more precise, power distribution is monitored, analyzed and adjusted according to very specific demands and the available supplies . On one side, customers can customize energy usage, creating cost savings. On the other, utilities are able to respond precisely, creating very efficient distribution.
One of the more important attributes of a Smart Grid is the elimination of massive blackouts. Power outages are often initiated when one particular substation or even a single component of a 'dumb' power grid fails. This in turn overstresses other substations on the same grid, causing further failures and shutdowns cascade through the system.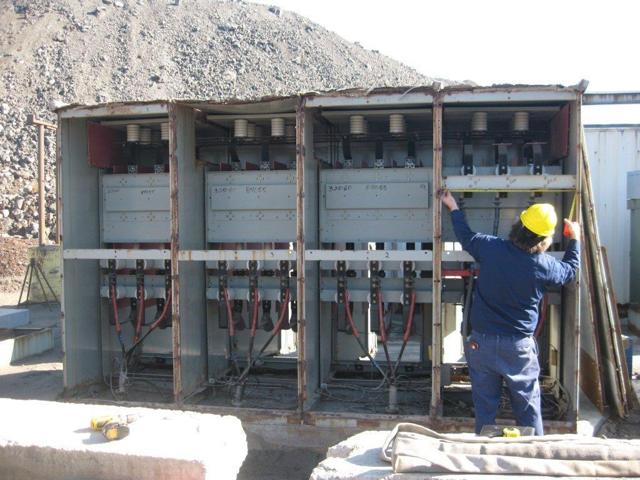 There's a very long and infamous history of power outages. For instance, in January of 2015 80% of Pakistan lost electric power, initiating by a single technical fault at one substation. In March of the same year 90% of Turkey went dark when power supplied from Iran shut off causing a cascade of failures. The outage started in the two border regions which had originally lost power and cascaded throughout the system. In October of 2012, Hurricane Sandy knocked out power for over 8 million customers, in some cases for weeks, when seawater flooded shoreline substations damaging sensitive hardware and creating a cascade of shutdowns. In each of these cases, the failures cause by the a mere handful of failed substations took down a much, much wider region. A real time, data sharing Smart Grid would be able to react fast enough to isolate faults and reroute power to prevent these damaging and costly widespread outages. A smart grid does exactly what the ground-fault-protection outlets in your home does: as soon it senses an overload, it shuts the outlet off saving the homeowner from injury and extensive, costly repairs to the home.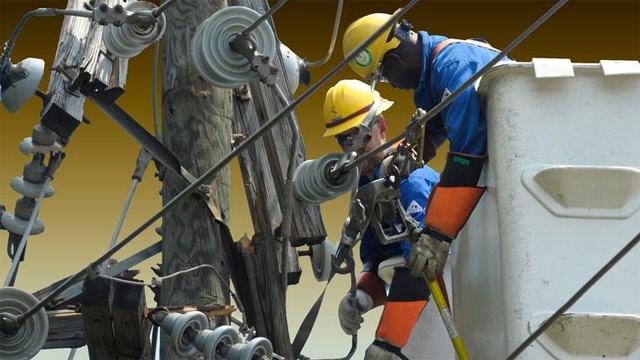 Another Smart feature gives individual customers monitoring capabilities and control over their own individual power usage. Associated smart components, like smart meters, allow customers to manage their usage and costs in real time. Smart appliances, like thermostats, automatically 'sense and remember' HVAC requirements and create a customized schedule for the home. Further, the homeowner may adjust those parameters as needed from anywhere with a mobile device. Many devices are already in widespread use as demonstrated on popular home improvement programs such as "This Old House."
There's a lot more to a Smart grid, too much to mention here, however there is one more important bit of information to know about a "Smart Grid"? If you wish to invest in a Smart Grid buildout, First Trust Portfolios offers a way to connect your portfolio through its NASDAQ® Clean Edge Smart Grid Infrastructure Index ETF (NASDAQ:GRID). As the name suggests, the fund tracks the index of the very same name. According to NASDAQ Indexes:
...the NASDAQ OMX® Clean Edge® Smart Grid Infrastructure Index (QGRD) is designed to act as a transparent and liquid benchmark for the smart grid and electric infrastructure sector. The Index includes companies that are primarily engaged and involved in electric grid; electric meters, devices, and networks; energy storage and management; and enabling software used by the smart grid and electric infrastructure sector...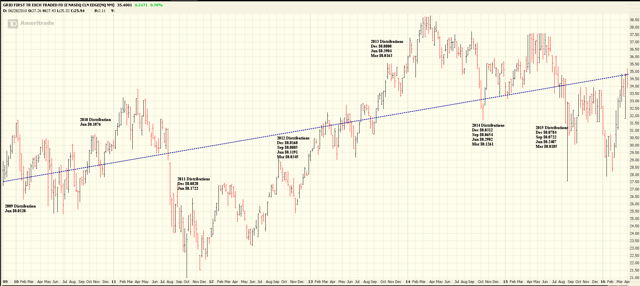 The fund has had a respectable, if somewhat volatile, performance since its November 2009 inception, but the overall trend is up. Its trailing 12 month distribution yield is 1.13% compared with the index 1.88% dividend yield. Without fees and expenses, the fund has a 1.26% (SEC) yield. Currently, the fees are capped at 0.70% which is rather high when compared with the industry average 0.44%, however, if the fees and expenses were not capped, the fund would yield a mere 0.79%. The fee waivers do make a difference. Total net assets amount to $10,228,619 covered by 300,002 shares outstanding. The market liquidity is reasonably good for a specialized fund; over 3000 shares daily and a 30 day average daily volume of over 9500 shares. All sufficient for establishing an entry position. The ETF share P/E is 19.16, below the S&P 500, trades at about 2 times book, 12.5 times cash flow and 0.7 times sales. Lastly, the shares are currently trading at a 0.28% premium to NAV.
| | | | | | | |
| --- | --- | --- | --- | --- | --- | --- |
| Returns | 3 Months | Year to Date | 1 Year | 3 Year | 5 Year | 11/16/2009 |
| Market Price | 6.53% | 6.53% | -1.93% | 3.99% | 0.95% | 3.35% |
| Net Asset Value (NAV) | 6.26% | 6.26% | -2.23% | 3.81% | 0.88% | 3.30% |
| NASDAQ Clean Edge® Green Energy Index | 6.14% | 6.14% | -1.45% | 4.67% | 1.73% | 4.18% |
Data from First Trust
As one might expect for this sector, the fund is heavily weighted towards Industrials. This is followed by Technology, then Utilities, Energy and one Consumer goods related company.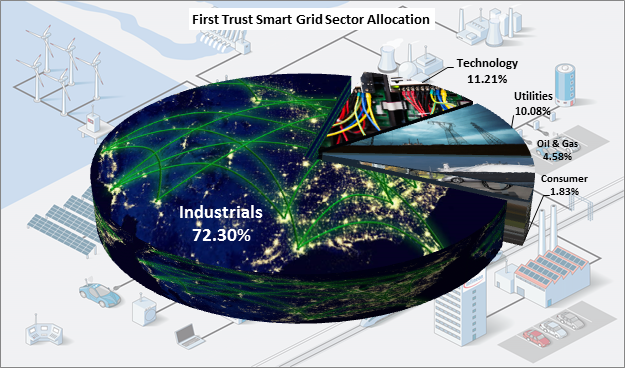 Data from First Trust
It's worth noting here that the tried and true, established industry sector definitions seem to fall short when it comes to describing companies servicing a new and developing industry, in this case the Smart Grid. The very largest portion of the fund's 36 holdings are global, top-o-the line industrials which have smart grid technology or related smart grid services as part of their many other products and services. In other words they produce applicable Smart Grid products or services as part of their usual global business. So in order to get a better grasp of how smart the fund is, it seems like a good idea to take a brief look at each holding.
Data from Reuters and YaHoo! Finance
As might be expected for an infrastructure fund of any type, there are to be found the usual suspects such as General Electric, Honeywell and Schneider Electric among other notable large caps. However, the fund's largest holdings are Quanta Services and ABB. Quanta, an international company, specializes in both Oil & Gas infrastructure as well as Power Distribution. Quanta provides construction and service for complete electric distribution networks. In other words, they build the physical Grid, smart or otherwise and seems to be a particularly good choice to have in an electrical infrastructure fund. Second is the globally respected Switzerland based ABB, a leader in industrial technology applications for all types of infrastructure. ABB goes 'all-in' when it comes to state-of-the-art technologies by dedicating $1.5 billion for R&D in seven corporate research centers with 8500 employees in R&D, alone. In particular, ABB is
... focused on addressing key areas such as the integration of renewable energies, growing network complexity, grid automation, and microgrids...
Other companies in this top weighted sector occupy a critical niches in smart grid infrastructure, such as Control4 Corp, specializing in smart home automation systems, EnerNOC specializing in energy intelligence software and Itron Inc. specializing in infrastructure data analytics. The greater than 1% weighted industrial holdings is the core of this fund and each is well suited to benefit from a smart grid buildout.
Data from Reuters and YaHoo! Finance
There are six industrial holdings of less than 1%. They include companies such as EnerSys a global leader in battery technology and AZZ which specializes in structural welding and related metal structural solutions; a critical detail required for power infrastructure construction.
Data from Reuters and YaHoo! Finance
Again, it's difficult to categorize some companies by formulaic sector definitions. For example, Advanced Energy Industries manufactures advanced power control components and instrumentation. True, their products are 'high tech', but their business is industrial. However, the important point is AEIS fits right in with smart grid technologies. On the other hand, OPower Inc. is more of a smart-grid-pure-play. The company provides data analytic software solutions for energy management.
Data from Reuters and YaHoo! Finance
The fund holds only two Utilities, Red Electrica and National Grid and both seem to be somewhat ordinary power Utilities. It should be noted that Red Eléctrica Corporación is a public-private power distributer, reorganized in 2008 and whose main area of operation is in Spain. The company does extend into the international market but does so only by investments in energy infrastructure.
Data from Reuters and YaHoo! Finance
SMA Solar Technology is just that, a German based, international company specializing in photovoltaic system technology. What is key to the fund's theme is their intelligent SMA technology which turns ordinary homes into smart energy homes incorporating solar energy. The company also designs and constructs industrial applications and utility scale PV facilities. Similarly Enphase Energy provides solar solutions for home and business. So, ignore the fact that they are categorized as "Oil & Gas" holdings. The important point is that they are state-of-the-art, clean, green and 'grid smart'.
Data from Reuters and YaHoo! Finance
There's only one Smart Grid related consumer company, namely, Panasonic. Indeed, checking with the Panasonic website, they do provide smart home technology. However, Panasonic tests its smart home technologies in a very unique and interesting way. Panasonic is a participant in the Fujisawa Sustainable Smart Town project:
... The Fujisawa Sustainable Smart Town (Fujisawa SST) we are developing in Fujisawa City, Kanagawa Prefecture is a joint project between the private and public sectors, which involves, partner companies promoting advanced initiatives, and Fujisawa City itself. The main feature of this project is that we will build an actual smart town with 1,000 households...
Panasonic is one of many participants of this project, applying its state-of-the-art, next generation components.
To sum up, the fund is very well diversified over the spectrum of Smart Grid or closely related companies, from the large cap diversified global industrials down to the smaller specialized smart grid software and component makers. As noted, the fund has done rather well without government infrastructure projects. This is an important point, for it seems that electrical utilities and municipalities are 'upgrading smart' when the need arises. Homeowners are upgrading smart as well when the equipment and software becomes affordable and practical. The point is that there's no need to wait for some big announcement of a massive project. That's not to say that it won't happen, just that it's uncertain. As it stands now, instead of one big massive project, smart technology is replacing aging infrastructure as needed. That is to say that regional utilities, local governments, industry, individual business and home owners are upgrading smart when the opportunity as the needs arise and the cost is manageable.
The fund has diversified risk though its large caps plus the potential for capital appreciation through its smaller holdings and in general the potential for increased distributions particularly if governments underwrite larger scaled projects.
Disclosure: I/we have no positions in any stocks mentioned, and no plans to initiate any positions within the next 72 hours.
I wrote this article myself, and it expresses my own opinions. I am not receiving compensation for it (other than from Seeking Alpha). I have no business relationship with any company whose stock is mentioned in this article.
Additional disclosure: CFDs, spread-betting and FX can result in losses exceeding your initial deposit. They are not suitable for everyone, so please ensure you understand the risks. Seek independent financial advice if necessary. Nothing in this article should be considered a personal recommendation. It does not account for your personal circumstances or appetite for risk.
Editor's Note: This article discusses one or more securities that do not trade on a major U.S. exchange. Please be aware of the risks associated with these stocks.