Introduction
There has been wide skepticism about Alibaba's (NYSE:BABA) spending spree and the necessity of it. Most of the company's investments are in the e-commerce space that complements its existing business, but it has also done some very unorthodox investments for an e-commerce company.
Alibaba's main business is to provide the best e-commerce platform for small and big businesses worldwide. Additionally for supplying the platform, Alibaba handles the payments and backs up your personal and business data to the cloud. At the moment, a clear majority of its revenue is generated in China, around 90%. Ever since the IPO in 2014, the company has really pushed to diversify its business. But is it necessary with 407 million active buyers, e-commerce GMV and revenue growing at 20% to 35% rate and the government's vision for consumer-driven economy? BABA has acquired and invested heavily in different businesses without a clear goal how these companies could benefit Alibaba. I compiled some of its latest investments since the IPO that exceed $100M.
Alibaba's major acquisitions and investments since IPO
| | | | |
| --- | --- | --- | --- |
| Date | Company | Price | Main business |
| 4/2016 | Lazada Group | $1B | E-commerce |
| 2/2016 | Magic Leap | $827M | Entertainment, AR-startup |
| 12/2015 | Lyft | $1B | Transportation |
| 12/2015 | South China Morning Post | $262M | News services |
| 10/2015 | 58 Daojia | $300M | Service provider, O2O |
| 10/2015 | Youku Tudou | $3.5B | Entertainment, Online video |
| 8/2015 | Suning | $4.63B | E-commerce |
| 8/2015 | Whaley Technology | $313M | Internet TV, Equipment |
| 8/2015 | Snapdeal | $500M | E-commerce, India |
| 7/2015 | Singapore Post | $206.85M | Logistics, mail, e-commerce |
| 7/2015 | Didi Kuaidi | $2B | Transportation |
| 6/2015 | SoftBank Robotics | $236M | Robotics related products and services |
| 6/2015 | Shanghai Media Group | $193.6M | Media |
| 5/2015 | Lyft | $150M | Transportation |
| 4/2015 | Youku Software | $134M | Ticket Booking service |
| 3/2015 | Beijing Enlight Media Co. | $383M | Media |
| 3/2015 | Snapchat | $200M | Social media |
| 2/2015 | Meizu | $590M | Consumer electronics |
| 1/2015 | Didi Kuaidi | $600M | Transportation |
| 1/2015 | Kabam | $120M | Gaming Company |
| 9/2014 | Shiji Information Systems | $434M | Hotel IT-service |
Most of the investments in the past 16 months. Excluding deals with undisclosed amount and under $100M.
Source: Alibaba IR
The world's largest retail economy measured by the annual gross merchandise volume (GMV) has clearly been on a serious spending spree over the last 16 months, latest announced April the 12th. Obviously anything related to logistics, e-commerce, IT or payments is going to be useful, but can these other companies contribute in a positive matter for Alibaba's financials or are they just targets for excess cash? I like China's push to the consumer-driven economy, and I expect great results going forward for Alibaba. I target my skepticism to Alibaba's media company acquisitions where there is currently only one bright spot.
Investments to media companies
Youku Tudou (NYSE:YOKU) is the leading Internet media company in China, people call it the China's version of YouTube. The deal closed last November and rewarded shareholders with a high premium. Youku Tudou is growing rapidly, but also reporting record losses. Alibaba will most likely help with the monetization process. Overall, one of the best acquisition outside the e-commerce space so far. If the development to the Internet-based media consumption continues, this acquisition will most likely benefit Alibaba. Medium- and long-term earnings potential and currently the bright spot of Alibaba's spending spree in media.
Magic Leap is a mystery startup funded by Google (NASDAQ:GOOG) (NASDAQ:GOOGL), Qualcomm (NASDAQ:QCOM), Warner Brothers (NYSE:TWX), Wall Street financial giants and now Alibaba. So far the only thing we know for sure is that it is developing some sort of augmented reality device. No public data on financials. Unknown earnings potential at the moment.
South China Morning Post is a traditional news company and clearly a strange add to the e-commerce giant. People were skeptical and feared that there would be censorship. Jack Ma answered with a letter to readers about his vision and promised editorial freedom. After this acquisition, Jack Ma joins Jeff Bezos as an "owner" of both an e-commerce company and a traditional newspaper company. First look at the financials shows that it's still managing to stay profitable. There might be some small financial gains in the near term, but the industry is facing the sunset.
Shanghai Media Group investment is a push to gain access to China's growing financial information services, Alibaba invested 194 Million into SMG. The objective was to help small businesses in accessing financial data and use it to improve their business. The media group operates in TV and radio broadcasting. No public data on financials. I expect the investment will have little or no earnings potential since the main target is to provide information.
Snapchat is one of the fastest growing social media platforms in the world. Each day, the platform registers more than 8 billion video views, and there's over 100 million users, making Snapchat potentially great place for advertisement. Like any other startup, Snapchat is burning cash in vast amounts. Current valuation is still around $16 billion although unchanged from a year ago. It's unlikely that the monetization works in the near term.
Alibaba's growth prospects
Alibaba became the world's largest retail economy at the end of March 2016 surpassing Wal-Mart (NYSE:WMT). Alibaba's growth has been impressive over the past decade. The key growth driver is the consumers' shift from traditional brick-and-mortar stores to online where you can buy at anytime, anywhere you are and more broader selection of goods and services. The big difference when comparing Alibaba to other e-commerce companies is the massive addressable market and the potential of Chinese consumers. The middle class is growing at a speed unprecedented in history and it has huge demand for products and services. The other great source of revenue from GMV is the Ant Financial Services platform, which IPO is planned to be in the near future. From these payment services, Alibaba Group receives 1/3.
Underneath, there are some of Alibaba's key figures and calculations for future growth between 15% and 25%. 2016 EPS includes the first nine months that have already been reported and the average EPS from earlier Q1-Q2 reports added to it. From 2017 to 2020, figures are calculated using percentages.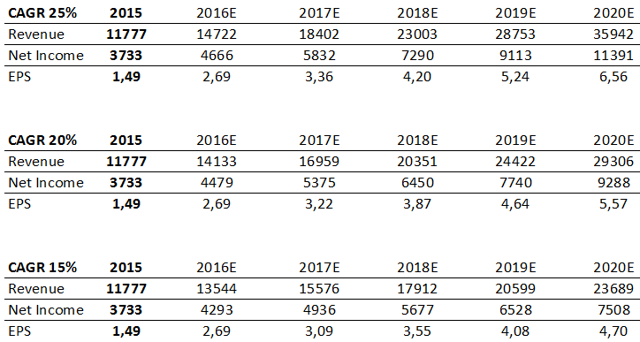 All numbers in millions of $ expect per share items. Calculated RMB/USD = 0.154369.
Conclusions
There has and will be increasing competition for market share. But the increasing demand outweighs the potential headwinds from competitors. I expect Alibaba's top-line CAGR for the next five years to be between 20% and 25% and bottom line around 15-20%. The new consumer-driven economy will be a major tailwind going forward. Alibaba is clearly priced under any big western e-commerce company, since it has stigma from China. The board acknowledged this and announced a share repurchase program in September 2015. It used 3/4 of the money during the sell-off in the fall.
Alibaba's stock is quite volatile no doubt, but when the fundamentals get stronger and the stock gets cheaper, the market really doesn't know how to price this giant correctly. Investors who have a medium-to-long term horizon will see a major return to their investments.
Disclosure: I am/we are long BABA.
I wrote this article myself, and it expresses my own opinions. I am not receiving compensation for it (other than from Seeking Alpha). I have no business relationship with any company whose stock is mentioned in this article.