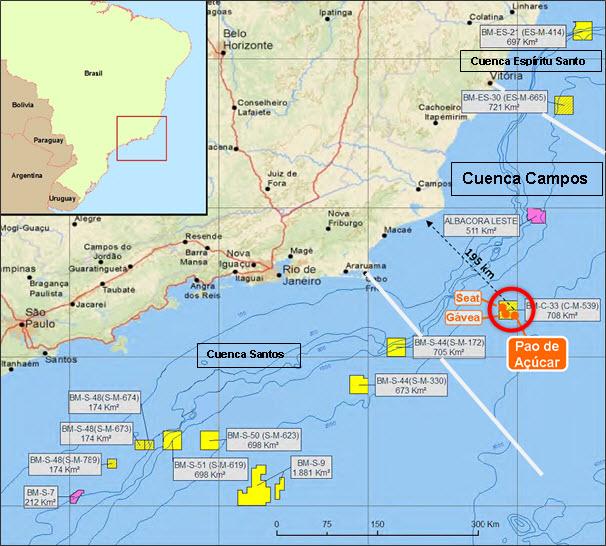 Source: Repsol Sinopec. Gavea A1 well in the ultra-deep pre-salt Block BM-C-33 in the Campos basin, offshore Brazil.
This article is an update of my previous article on Ocean Rig UDW (NASDAQ:ORIG), published on April 13, 2016.
ORIG is a new offshore drilling company providing oilfield services for offshore oil and gas exploration, development and production drilling.
Today, April 18, 2016, Statoil (NYSE:STO) reported the following:
Repsol Sinopec, with partners Statoil and Petrobras, has completed the Gavea A1 well in the ultra-deep pre-salt Block BM-C-33 in the Campos basin, offshore Brazil. The well encountered a hydrocarbon column of 175 m in a good-quality reservoir of silicified carbonates of the Macabu formation.

The well reached a total depth ("TD") of 6,230 m and was tested successfully, producing around 16 MMscf of gas and 4,000 bopd on a 32/64 in. choke, Statoil said in a statement. This is the fourth appraisal well in the license, which comprises the Seat, Gavea and Pão de Açucar (PdA) discoveries. In 2013-2015, the consortium drilled and tested the Seat-2, PdA-A1 and PdA-A2 appraisal wells. With Gavea A1, the consortium has finalized the appraisal activities in BM-C-33 and will now evaluate the sub-surface data and assess lean and cost-effective development concepts.

Repsol Sinopec Brasil (35%) is operator of BM-C-33. Statoil (35%) and Petrobras (30%) are partners. Statoil is to take over operatorship of the license, a transition which is expected to take place in the third quarter.
In my preceding article, I was referring to Statoil with the following news:
On April 12, 2016, Upstreamonline published the following:

By Fabio Palmigiani, 12 April 2016 16:21 GMT

Norwegian oil giant Statoil has unveiled plans to charter a rig to carry out exploration work in the Espirito Santo basin off Brazil, sending a message to drilling contractors that it may launch a tender soon.

Norwegian state player expected to spud two wells each on four blocks off Brazil with four-year charter of Ocean Rig ... Indications Norway's Statoilhas made discovery with first well in 2016 drilling .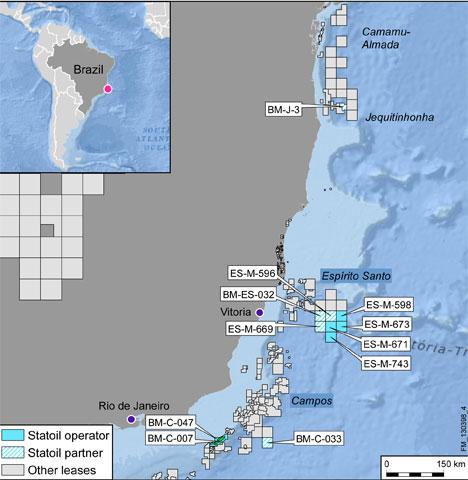 Assumption:
The news today is quite helpful to better figure out the entire situation, and try to envision what may happen to the Ocean Rig Mylos?
Repsol Sinopec contracted the UDW Ocean Rig Mylos until the 3Q'16. We know now that Statoil, who owns 35% of the Block BM-C-33, will take-over the operatorship from Repsol Sinopec in 3Q'16. However, the last well Gavea A1, is the consortium final appraisal activities in BM-C-33.
Now, the question is what Repsol Sinopec will do with the Ocean Rig Mylos from now until 3Q'16?
It is possible that the Ocean Rig Mylos will be terminated earlier for convenience, until it will be able to offer its services to Statoil with a termination fee representing probably 85% or more of the actual day-rate?
However, because we know that Statoil is now ready to develop its Esperito Santos four blocks (8 wells in a 4-year contract charter) the ES-M- 598, 671, 673, 743 (see map above) at approximately 320 kilometers North. It is highly likely, in my opinion, that Ocean Rig and Statoil will agree to a "blend & extend" starting around May or June 2016 until June-September 2020.
Reminder: Statoil owns 6 six licences in Espirito Santo. Statoil is the operator for four and partner in two of the license. (5/15/13)
The new dayrate will be obviously much lower than what has been decided with Repsol Sinopec. The Ocean Rig Mylos rolls off its contract with Repsol around August-September 2016, with an actual dayrate of $651.31K/d per the ORIG 20F-filing.
The OR Mylos is a 7th generation UDW Drillship (2013). ORIG has now some extra-leverage it can use to secure the new tender, and a last successful well, which is surely helping even more.
My guess will be a dayrate probably around $440k/d, with a standby day-rate (~$150k/d) from May to August-September, while the Drillship gets ready to start the new contract in the Esperito Santos blocks.
Disclosure: I/we have no positions in any stocks mentioned, but may initiate a long position in ORIG over the next 72 hours.
I wrote this article myself, and it expresses my own opinions. I am not receiving compensation for it (other than from Seeking Alpha). I have no business relationship with any company whose stock is mentioned in this article.
Additional disclosure: I trade regularly ORIG