After rig counts dropped by some two-thirds off their highs in the US, one might think that no shale drillers would actually still be growing production. In fact, most E&Ps are either decreasing production or keeping it flat. But there's one E&P that has decided to keep growing its shale production, even at these prices; Pioneer Natural Resources (NYSE:PXD).
In 2016, Pioneer expects to grow production by 10%, with 12 rigs at work in the Permian Basin. Why is Pioneer still growing production? The obvious answer is, because it can, and because it is still profitable to do so.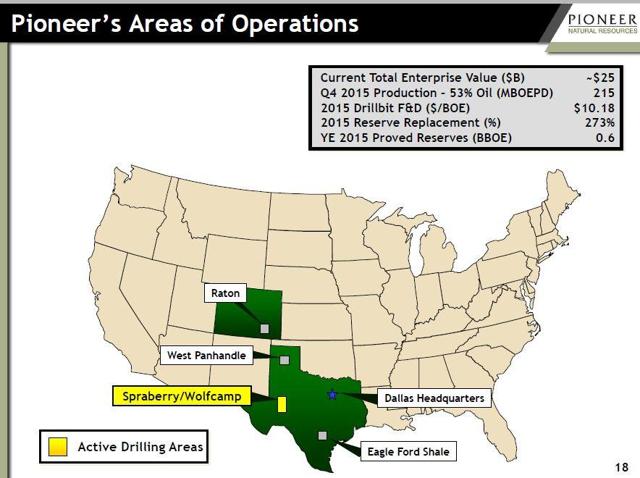 Courtesy of Pioneer Natural Resources Investor Relations.
Pioneer has always been focused on the Permian Basin. With the discovery and subsequent development of the shale plays within the Permian, it became increasingly clear that the core of the Permian shale play, namely the Delaware Basin, was arguably the most economical shale play in North America, all things considered.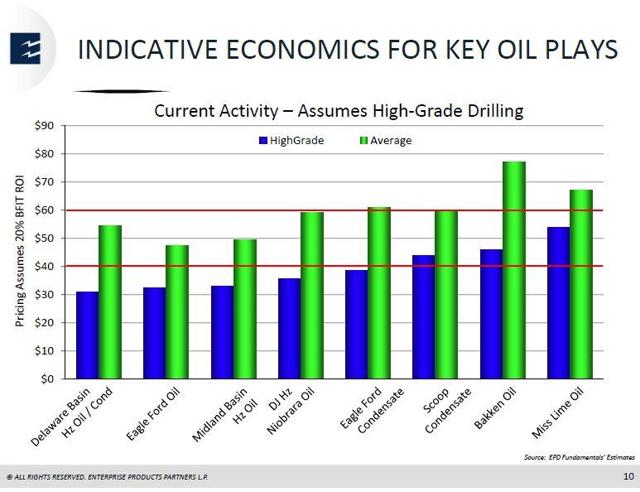 Courtesy of Enterprise Products Partners Investor Relations.
Pioneer has a huge 'core' position in the Wolfcamp and Spraberry shales, and so Pioneer is able to drill economically when most others cannot. Having a fairly clean balance sheet while others are hamstrung by debt and cannot afford to continue drilling gives Pioneer a significant competitive advantage. Although Pioneer's pace of growth has slowed, the company is still on the paradigm of drilling profitably to grow operating cash flow.
Still going
Pioneer has more-or-less shut down its Eagle Ford drilling operations, going from six rigs there to zero. Pioneer has also reduced its Permian rig count from 14 to 12.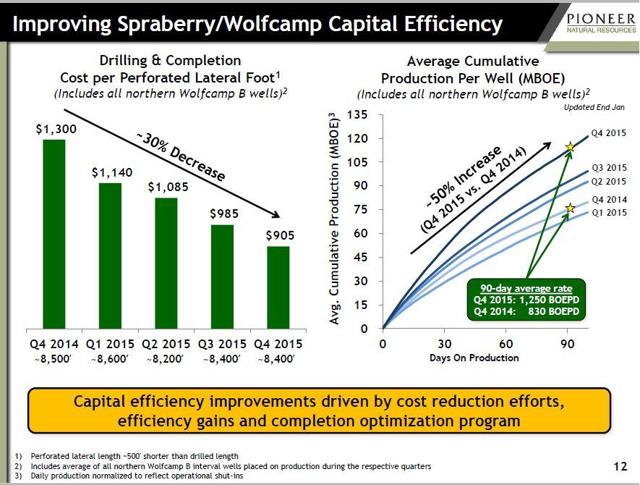 Courtesy of Pioneer Natural Resources.
Like most E&Ps worth their salt, Pioneer has reduced its drilling costs and has increased production per well. This has made Pioneer's Permian operations more profitable and more productive, despite the drop in rig count. This includes a 30% decrease in drilling costs and a 50% increase in initial 90-day average production. I think much of the cost decline comes from a decline in servicing costs. That may change when (or 'if') oil prices go back up, but if other E&Ps are any indication, then some of these savings will be permanent.
Cash flow
Pioneer's management prides itself on having 'little to no' debt. That's not exactly true, because Pioneer has over $3.2 billion in debt, but relative to similar companies, Pioneer is comparably unlevered. There's also $1.4 billion in net cash.
What's more important is cash flow. Ideally, Pioneer should operate within cash flow in this environment, not least because of how iffy debt markets are. However, since Pioneer nets a respectable return in the Permian, the company continues to modestly overspend cash flow.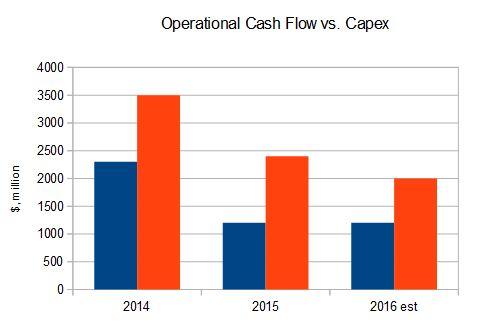 Data by Morningstar.
If OCF remains the same as it did last year, then Pioneer will outspend itself by $800 million in 2016. Management already said it would plug that gap by a combination of higher production, cash on hand, and its $500 million sale of its Eagle Ford midstream asset. That aught to do it. In fact, cash and asset sales could tide Pioneer over through 2017; not forever, but for quite a long time.
There's also another $455 million coming due in 2017. Even with that maturity, Pioneer should end 2016 with about $600 million in cash and continued production momentum. That assumes Pioneer pays off 100% of the maturing loan. In other words, Pioneer should get through this year and, at worst, things might look a little tentative if prices do not recover by 2017.
Is Pioneer a buy?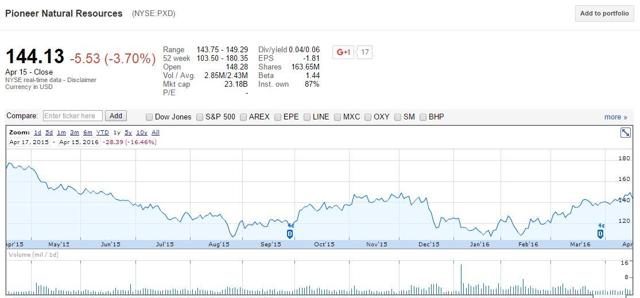 Courtesy of Google Finance
Pioneer has dropped modestly since 2015, relative to its peers. Valuing E&Ps can be difficult due to the cyclicality of the businesses: Companies in the bottom part of their cycle might look "expensive" because earnings are low. Such is the case, I believe, with Pioneer. Shares currently trade at over 18 times enterprise value/EBITDA. However, it trades at less than 9 times EV to 2014 EBITDA. With that in mind, Pioneer could be fairly cheap.
Even still, I typically do not like recommending E&Ps at this time. Crude oil prices could be coming right back down, as many people who didn't expect much from the OPEC meeting in Doha ended up being right. I believe it's best to stay on the sidelines with Pioneer; there will be plenty of time before crude oil reaches a level where Pioneer does well.
Disclosure: I/we have no positions in any stocks mentioned, and no plans to initiate any positions within the next 72 hours.
I wrote this article myself, and it expresses my own opinions. I am not receiving compensation for it (other than from Seeking Alpha). I have no business relationship with any company whose stock is mentioned in this article.