Amazon (NASDAQ:AMZN) launched a standalone, monthly subscription option for its Prime Video service. Priced exactly a dollar less than Netflix's (NFLX) HD offering, this move is clearly intended to directly pit the two services against one another, with Prime Video being the cheaper option. While Netflix clearly dominates the domestic SVoD space, we believe a de-bundled Prime Video service will skyrocket the platform's US household penetration. We also believe the move suggests Amazon is prepping Prime Video for significant expansion. Moreover, we believe Amazon will use a standalone Prime Video service to cross-sell Prime subscriptions.
First, it should be noted that Netflix is currently dominating the SVoD space domestically. Research from Parks Associates finds that Netflix has now captured 52% of the US broadband household market, while Prime Video's penetration in that market is only 24%. More glaringly, only 9% of the Netflix sub base has canceled their subscription, while the churn rate at Prime Video is 19%.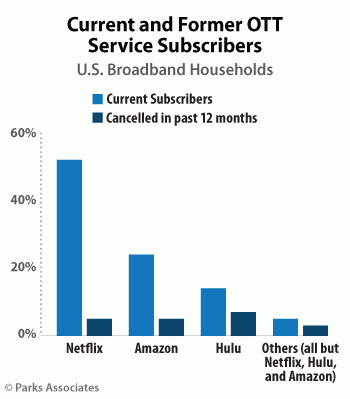 This research is corroborated by Nielsen data, which shows that 44% of US households have access to Netflix while only 19% of US households have access to Prime Video. Netflix's Y/Y growth (+8%) also exceeded Prime Video's growth (+6%).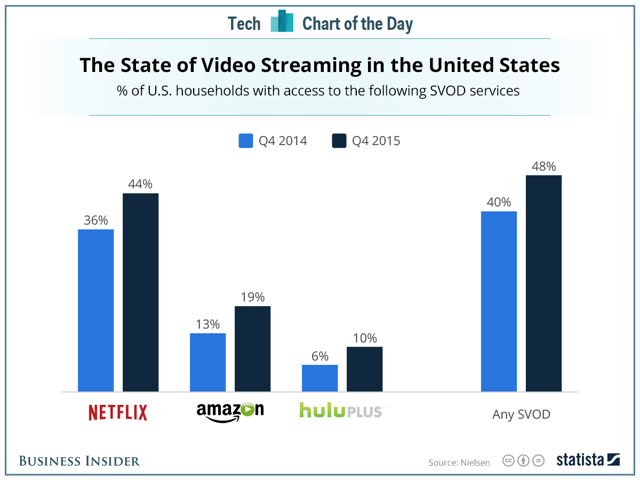 The difference between the two services becomes more stark when looking at a younger audience. According to Piper Jaffray's semi-annual teen survey, 64% of teens currently rent movies through Netflix, while only 4% use Prime Video. A similar dichotomy existed when the teens were surveyed about which SVoD service they would use the most over the next five years, with Netflix significantly outpacing Prime Video.
Some of this dramatic difference can be explained by the fact that Prime Video was bundled into the $99 composite Prime package. Prime Video as a standalone option priced a dollar less than Netflix will surely increase domestic competition. With more and more consumers intending to cut the cord and gravitate towards OTT options, Amazon's move to break-out Prime Video is a timely one that will surely increase the platform's US household penetration.
Netflix is currently the clear leader in the SVoD space in the United States and the company is only widening its moat through increased original content, but the market is still young and growing. We would not find it surprising if Prime Video's household penetration rate bolstered to around 40-50% over the next several quarters, putting it on par with Netflix. While Netflix may have more original content, Amazon has a larger content library (17,000 standard and HD offerings on Amazon vs. 10,000 on Netflix). Consumers are literally getting more for less with Prime Video's new $8.99 offering.
Mark Mahaney of RBC Capital Markets views Prime Video's break-off as a "significant negative" for Netflix. While we do not share this viewpoint because we believe the SVoD customer pool is only growing with cord-cutting accelerating, we do understand his reasoning and believe it actually supports our point that Prime Video will significantly increase its US household penetration. He says:
only Amazon's Video offering has access to 4K Ultra HD content at a sub-$10 price point, as Netflix only has Ultra HD content at its Premium subscription level (costing $11.99/month). Furthermore, we'd note that Amazon's Video service offers the ability for users to download content to their tablets/smartphones for offline watching, something that Netflix currently does not have.
We are also bullish that this offering allows for Amazon to expand Prime Video's international presence. Amazon is currently only available in the United States, Austria, Japan, Germany, and the United Kingdom. Netflix, meanwhile, just launched in 130 new countries. While Netflix has done a tremendous job of marketing and launching its SVoD service in international markets, Prime Video has been largely held back from international expansion because it was bundled with Amazon Prime. Now, Prime Video is a stand-alone service at an attractive price point. We believe Amazon will take this stand-alone service and aggressively launch it in new markets.
Most importantly, the pricing structure of the Prime Video and Prime monthly breakouts suggests to us that Amazon will use its video service to entice users to join Amazon Prime. Prime Video will cost $8.99 per month. At a price-point below Netflix's HD offering, we believe this will attract significant interest. For only $2 more per month, though, subs will get access to free shipping, Prime prices, music, and more. It certainly feels like a natural progression to pay only $2 more per month to experiment with all of the Prime offerings. In essence, we believe Amazon will use Prime Video to cross-sell other services, in particular a Prime subscription. This is important because Prime subs spend on average 2x as much as non-Prime subs on Amazon.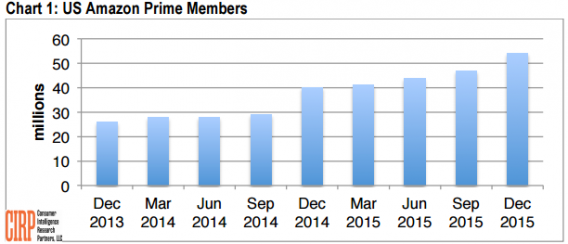 Overall, we remain long Amazon. We are bullish on this news of a breakout Prime Video offering. In the near term, we believe it will skyrocket Prime Video's US household penetration. In the long term, we believe it strategically leverages Prime Video in international markets and will stimulate Prime sub growth. While we do not believe it is bad news for Netflix because the OTT market is growing rapidly, we do think it puts the two on more of an equal playing field.
Disclosure: I am/we are long AMZN.
I wrote this article myself, and it expresses my own opinions. I am not receiving compensation for it (other than from Seeking Alpha). I have no business relationship with any company whose stock is mentioned in this article.