Introduction
Despite the recent partial recovery in the entire healthcare space, including the biotechs, there are still many deals to be found.
For dividend investors that means finding larger biotech or healthcare companies that pay decent yields, do not face an overwhelming onslaught of patent expirations, and have a deep pipeline along with cash in the bank to buy growth if their pipeline does not materialize.
Like a perfectly ripe fruit at the supermarket, let's take a look at some of my favorite names that meet all those criteria and see what we can pick out that is juicy and ready to eat.
Thoughts about biotechs as suitable income investments
Generally, the primary goal of dividend or income investors is to obtain an amount of income from their portfolio that is above what they can get from CDs or treasury bonds without taking on excessive and unnecessary risk.
While investing in biotechs, even these large ones with a respectable history, may seem counterintuitive to that central goal, I believe they have a place in the conservative dividend investor portfolio.
The role biotechs play is to continue to ensure that your income grows above the rate of inflation, hopefully by a nice margin. While their prices and dividend payouts are much more volatile than other stocks, their unique ability to obtain high returns on capital by investing in their pipelines is unmatched.
In a world where deflation is nipping at the heels of central bankers and consumer staples companies are struggling to grow sales, the ability of the four companies below to create demand virtually out of nowhere with their innovation is reason enough to invest.
Many are worried that any drug price legislation in the US will take some of this pricing power away, but I believe that concern is overblown given that new drugs will likely retain their marketability and the government seems to be most upset about drastic, unwarranted increases in older drugs.
1. Grifols (NASDAQ:GRFS)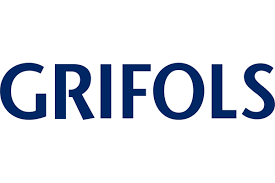 I know, I know, SA does not care for international stocks. But I ask you to bear with me as we explore this interesting company. Rest assured the USA love will continue below.
Grifols is a worldwide leader in all things plasma. It takes your delicious plasma, offers you some meager beer money, and then turns it into life-saving medications and therapies of all sorts.
Plasma demand worldwide has been on a tear for many years, driven largely by the ability of companies like Grifols to turn the stuff into something useful.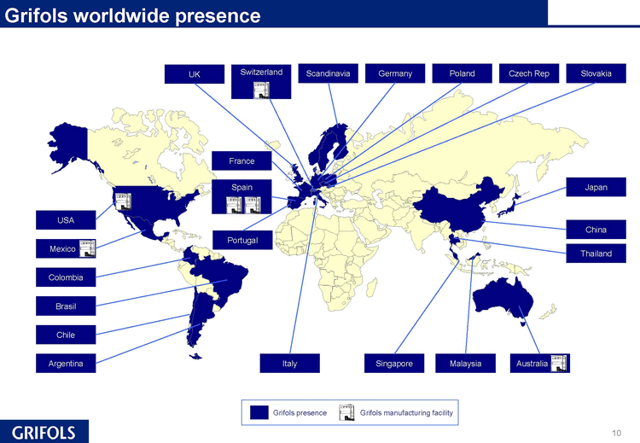 Based in Spain, this company typically pays out dividends twice a year. Since 2013, it has increased its dividend from $.13 to over $.19 per share. If those dividend numbers don't get your heart racing, maybe the company's recent results will.
In the most recent quarter, the company grew revenues 17.3% to just under 4 billion euros. EBITDA rose 11.0% to 1.1 billion euros and net profit rose 13.2% to 532.1 million euros.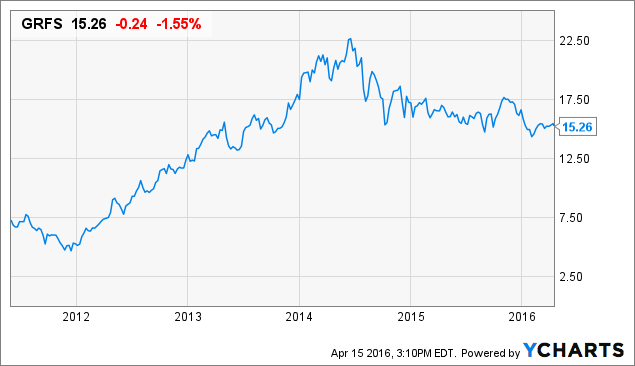 GRFS data by YCharts
Not bad for a company you have never even heard of, huh? Now, as I mentioned, since the company is headquartered in Spain and did not decide to list on a US exchange directly, there is some nitty-gritty details to mention. You can purchase shares through a variety of tickers, but the one you want is GRFS. That is the primary ADR with the most liquidity and activity.
An ADR is essentially a program that allows US investors to invest in foreign companies. Most ADR shares are the equivalent of one share of the company, but sometimes they may be a fraction like 1/4 or 1/2. More information on the Grifols ADR here.
In the case of Grifols, Deutsche Bank (NYSE:DB) runs the program and handles all the work of getting you the dividend, converting it to US dollars, sending it to your broker, etc.
All you have to do after you initial "click" is sit back and wait for the plasma profits to roll in.
2. AbbVie (NYSE:ABBV)
Once the malignant offspring of the Abbott Laboratories (NYSE:ABT) breakup, AbbVie is now a high-yield dividend machine. Its yield is above average, but so is its payout ratio. The low valuation is a warning sign that the market thinks it will not grow very fast, so let's take a look!
Like a lot of successful biotech companies, AbbVie has a few products that make up a good chunk of its revenue, and the outlook, sales, patent expiration dates, and attempts to expand the uses for these products are top of the mind for analysts and investors in said companies.
For AbbVie, the first beast in question is Humira. Marketed and sold in over 60 countries, Humira is a treatment for a variety of autoimmune diseases like arthritis, Crohn's disease, ulcerative colitis, Hidradenitis Suppurativa (whatever that is), and others. You have probably seen the commercials for it at one point. Was that the one with the old people in the bathtub overlooking a cliff...?
Anyway, Humira accounts for a whopping 61% of AbbVie's revenue. While sales have been doing well, you can see the rest of its existing portfolio is nothing to write home about.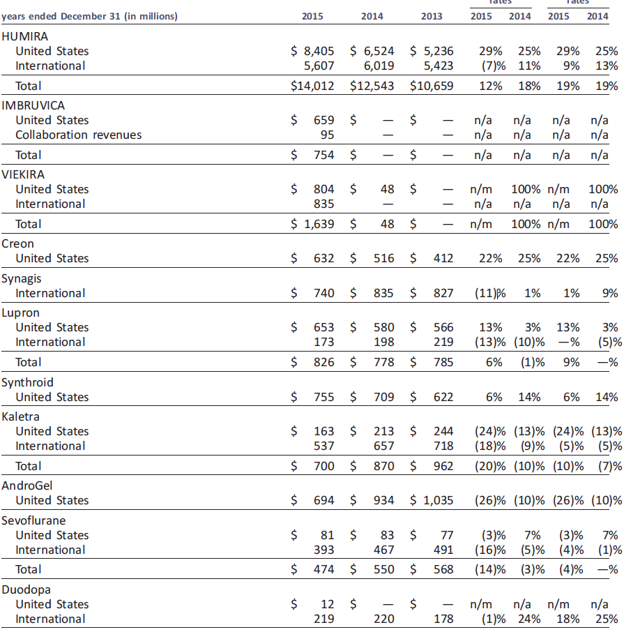 The future of AbbVie is in Imbruvica and Viekira which just started selling in 2015 and will be even more important when Humira starts to knock up against patent expiration and increased competition in future years.
Financials

The first thing you may notice about the above chart is the debt jump from 2014 to 2015. Holy cow, batman. As part of its 20.8 billion acquisition of Pharmacyclics, AbbVie issued $16.7 billion in notes which is the reason for that big jump.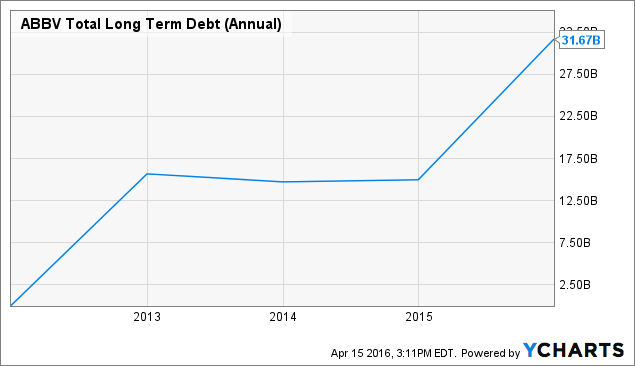 ABBV Total Long Term Debt (Annual) data by YCharts
In layman's terms, the company financed a big part of the acquisition with debt. What does that mean for you, the average investor?
It means if you invest in AbbVie, that the acquisition better pays off or your equity is up a creek. Pharmacyclics was purchased for its vast stable of cancer drugs, primarily the Imbruvica I mentioned above. Keep an eye on sales of this one for a key to AbbVie's future dividend growth prospects.
As it stands, AbbVie pays a 3.85% yield with a 72.84% payout ratio. It trades at 11.9 times this year's earnings estimates.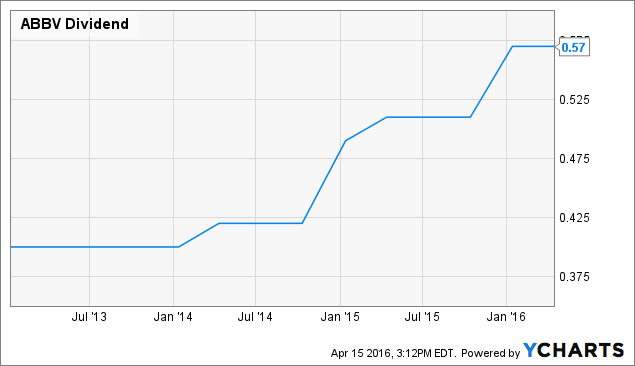 ABBV Dividend data by YCharts
There is still a little bit of room to increase that dividend, but because of the company's increased debt load now, sustained dividend growth has to be preceded by some blockbuster successes of new drugs from Pharmacyclics or its own pipeline.
I will take my yield and wait out the results, thank you very much.
3. AstraZeneca (NYSE:AZN)
Bon voyage, America, and back we go across the pond, this time to Britain, land of the Brexit and crumpets.
AstraZeneca may be familiar to you because it was the first inversion bride left at the altar by Pfizer (NYSE:PFE) back in 2014. It has been doing mediocre since then. 2015 results were decent, with a tiny 1% increase in revenue, EPS up a few percent, but with a depressing forecast. The company forecasted a low- to mid-single-digit decline in revenue and EPS for 2016.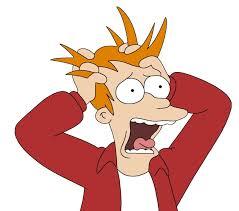 The main culprit? Loss of Crestor exclusivity in the US in May 2016.
Crestor is that big daddy cholesterol drug that has been doing well for AstraZeneca for some time now. Most cholesterol drugs are big deals, especially in the US, as around 31.7% of us struggle with it in some way, according to the CDC.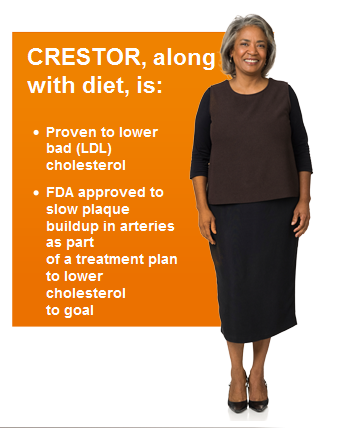 Other headwinds include a 3% sales drop in Symbicort. All is not lost though as the company has its head squarely on its shoulders and dedicated $5.6 billion smackaroos to R&D in 2015, one of the highest amounts in the industry.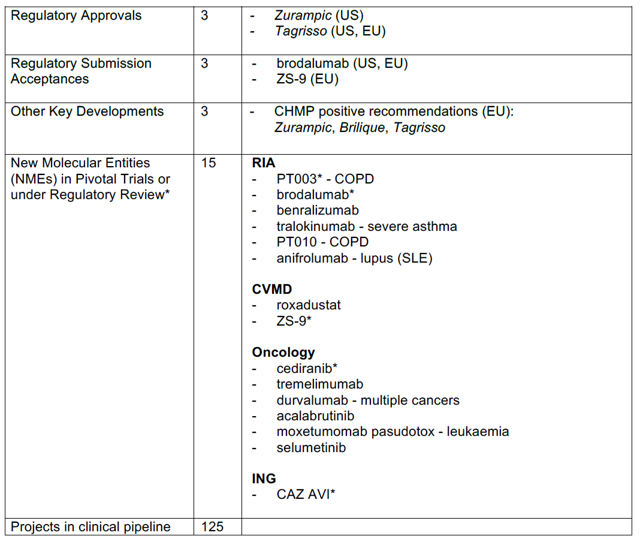 It has a gigantic pipeline of 125 things cooking and some recent successes in the latest quarter can be seen in the chart above. It also continues to acquire promising companies like ZS Pharma (NASDAQ:ZSPH) and Acerta.
The stock trades at 12 times next year's earnings estimates, well below most of its peers. The dividend is a concern partly because the company is essentially paying out slightly more than it earns at this point. Even looking at cash flow rather than earnings, the company is paying out $100 million more than its cash from operations minus tax and interest.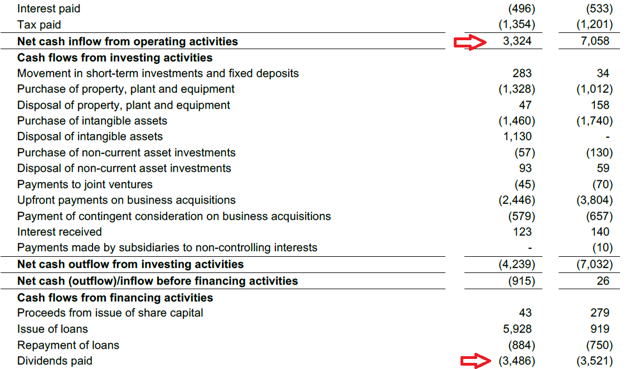 AZN data by YCharts
This lack of prospective growth mostly explains the low price and 4.72% yield. I would recommend AstraZeneca as a way to balance out small speculative biotechs and other fast growing healthcare plays that don't yet pay large or any dividends, but keep in mind that the dividend may be stuck in neutral for a few years.
4. Amgen (NASDAQ:AMGN)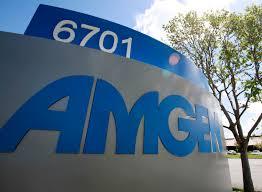 Last but not least is Amgen, another biotech which has two products that make up 50% or more of its revenues. A great problem to have, because these products have usually made the company and its shareholders filthy rich, but a problem nonetheless.
Amgen has some exciting developments in its pipeline, the foremost of which is a drug designed to treat LDL, the bad cholesterol. This drug, Repatha, has a huge potential upside because of the large market for cholesterol treatments in the US and to a lesser degree abroad. The CDC estimates that 73.5 million adults in the US struggle to control their cholesterol.
Action is expected by the FDA with regards to a decision to approve the drug or not by July of 2016.
Other pipeline prospects include Parsabiv, a treatment for adult patients with chronic kidney disease who are on hemodialysis. Parsabiv was submitted to the FDA in November of 2015 and to the European Medicines Agency (EMA) in September of 2015.
In total, Amgen's pipeline includes 31 separate drugs with 12 phase 3 trials underway or complete, eight phase 2s, and six biosimilars under development.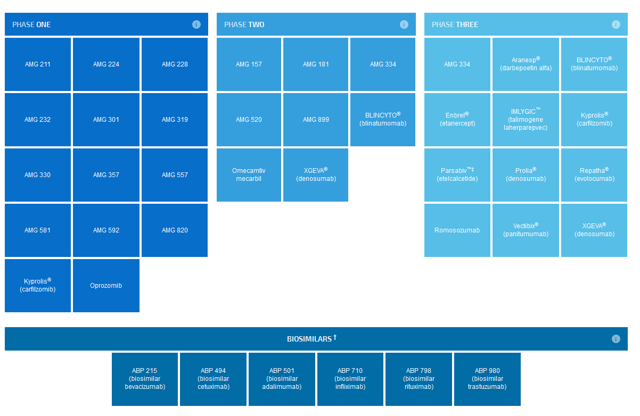 Amgen is a relative newcomer to this whole reward-your-shareholders-with-cold-hard-cash game, having just started paying dividends in 2011.
In that short amount of time, though, the dividend has jumped from $.28 to $1.00. And it did not dish out all the cash either, as the payout ratio is still at ~47%. Like many others on this list, the company faces its own stampede of oncoming patent cliffs, but I like Amgen in part because it has 15 phase 3 trials underway. Phase 3 trials are where the rubber meets the road and are often one of the final steps before approval.
Amgen trades at 17.45 times last year's earnings and 13 times this year's earnings estimates.
I expect the dividend growth to slow from the lightning fast 26% increase we got last year, but any positive pipeline news could cause some multiple expansion if the politicians quiet down. That, combined with a Q4 2016 dividend raise announcement, could make for some quick and safe gains for investors.
Amgen is everything to love in a biotech. Strong cash flow due to existing products, big cash hoard, a manageable amount of debt, and many "shots on goal", as Bret Jensen likes to call it, in its pipeline.
Conclusion
After the recent miniature bear market in all things healthcare, there are many great companies of significant stature to be found at reasonable prices.
The four outlined above have strong existing cash flow, pay decent or above-average yields, and have well-funded pipelines combined with experienced marketing and sales teams that can help propel any newly approved drugs to their full potential and replace the companies' drugs with expiring patents.
I encourage investors to pick out a few of these amazing stocks they like and hold on tight through any political "gerrymandering" (awesome word) that might come their way in the next few months.
You shall be rewarded handsomely for your patience.
Disclosure: I am/we are long AMGN, AZN, GRFS, ABBV.
I wrote this article myself, and it expresses my own opinions. I am not receiving compensation for it (other than from Seeking Alpha). I have no business relationship with any company whose stock is mentioned in this article.