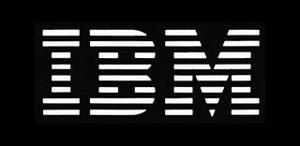 After the bell on Monday, IBM (NYSE:IBM) reported its first-quarter results. While the company beat on both the top and bottom line, shares pulled back a couple of dollars in the after-hours session. In my opinion, the decline was due to an overextended stock, one that had gotten too far ahead of results.
In the past couple of months, the Federal Reserve's softer stance on interest rate hikes led to the US dollar weakening against a number of key currencies. With IBM's results over the past few years being hurt by a stronger dollar, investors bid up shares thinking that results would improve in the short term. As seen in the chart below, the rally was quite stunning.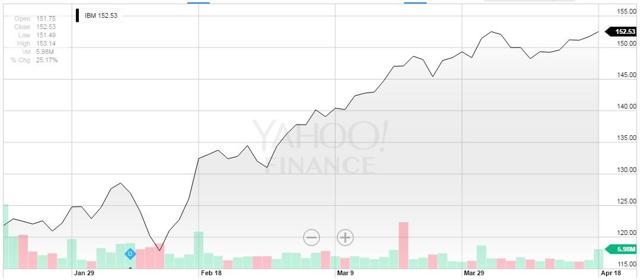 At Monday's close, IBM's shares were up 30.5% from their yearly low. In my opinion, that meant investors were looking for a lot from the Q1 earnings report, more so than we actually got. While the company beat handily on its top and bottom line, we didn't get a tremendous improvement in the yearly forecast. Despite beating analyst estimates by 26 cents on the bottom line, the management only maintained the EPS forecast for at least $13.50 for this year. Additionally, free cash flow guidance was for the higher end of the previously announced raise.
With such a large move in the stock, I believe investors were banking on the company raising its EPS forecast and perhaps its free cash flow forecast, neither of which happened. Even though the company beat revenue expectations, IBM still announced a year-over-year decline, even after currencies, and that includes a weaker dollar. Revenues would have likely been closer to $18 billion had the dollar been flat in recent months.
Additionally, the large rally in shares meant new buyers were getting a much lower dividend yield currently. IBM was yielding about 4.7% at its 52-week low (assuming a raise to $1.40 per quarter shortly), but the rally has essentially eliminated 100 basis points of that. With a much lower dividend yield, are investors going to overpay for a stock that is seeing revenue and earnings declines? Don't forget that four out of the five major business segments, including the top three revenue generators, saw sizable gross margin declines over the prior-year period.
When I look at the market today, investors aren't willing to pay that much for names that aren't growing, a category that IBM certainly fits in. Even with a decent dividend and buyback, this is probably a stock that is likely only worth 10-11 times EPS until we see overall revenue and earnings growth. With the management holding the $13.50 floor steady, even thinking about $14 in a bull case for EPS gives you a fair value range of $135 to $154. IBM's shares at the high end of that range entering earnings, so without a full forecast raise, a small pullback leaves this stock right where it needs to be.
Disclosure: I/we have no positions in any stocks mentioned, and no plans to initiate any positions within the next 72 hours.
I wrote this article myself, and it expresses my own opinions. I am not receiving compensation for it (other than from Seeking Alpha). I have no business relationship with any company whose stock is mentioned in this article.
Additional disclosure: Investors are always reminded that before making any investment, you should do your own proper due diligence on any name directly or indirectly mentioned in this article. Investors should also consider seeking advice from a broker or financial adviser before making any investment decisions. Any material in this article should be considered general information, and not relied on as a formal investment recommendation.