Google (GOOG, GOOGL) showed up in a big way at the media industry's annual NAB conference. Today, the web giant announced:
A partnership with CAD/CAM software giant Autodesk (NASDAQ:ADSK), a big Amazon Web Services (NASDAQ:AMZN) client, to create a cloud-optimized version of ADSK's popular Maya 3D animation, modeling, and rendering software for Google's ZYNC Render visual effects rendering service. Since Maya can simultaneously run on both an artist's workstation and Google's cloud infrastructure, GOOG promises major performance gains for massively parallel rendering jobs. It also claims up to a 10x increase in file upload efficiency relative to a non-optimized version of Maya.

A deal with Pixar - the Disney (NYSE:DIS) unit isn't just an animation studio, but also a software/technology provider for animation pros - to have Pixar's RenderMan rendering technology supported by ZYNC Render.

A partnership with light-field camera developer Lytro - it just released a 755MP, 40K-resolution camera for film pros that consumes up to 400GB of data per second - to enable post-production services for video captured with Lytro's cameras.
Google also announced an expansion of its Cloud Vision API, which uses AI/machine learning to classify images, extract text, and detect objects/faces - the underlying technology enables Google Photos' image-analysis features.

Source: Google
And the company took its content delivery network, known as Cloud CDN, into beta. CDN giant Akamai (NASDAQ:AKAM) is among the companies whose offerings Cloud CDN, which should benefit from Google's large fiber network, will be competing with. As is Amazon, which offers AWS clients its CloudFront CDN service. Akamai's massive global network of CDN servers still acts as differentiator for apps in which low latency is a priority (for example, e-commerce transactions), but Google could deliver a cheap and effective solution for cloud clients looking to outsource media content delivery.
Interestingly, Autodesk CEO Carl Bass suggests the huge bandwidth needs of the Maya cloud service were a reason Autodesk went with Google instead of Amazon. "The best thing about Amazon is the ability to spin up servers quickly. When you get into production, where you have hundreds of thousands of servers running, I think the requirements change pretty dramatically." The head of a cloud management software firm recently argued Google's huge fiber infrastructure delivers bandwidth cost savings relative to rival platforms.
A major cloud expansion effort
The NAB announcements follow news Spotify (Private:MUSIC) is migrating its infrastructure to the Google Cloud Platform, and a report Apple (NASDAQ:AAPL), which has used a mixture of AWS, Microsoft (NASDAQ:MSFT) Azure, and its own data center infrastructure to deliver cloud services, is now using Google and has "significantly reduced its reliance" on AWS. Other Google clients include Snapchat (CHAT), Best Buy (NYSE:BBY), and Sony (NYSE:SNE).
Meanwhile, Google has plans to open 12 data centers over the next 12-18 months, is significantly upping its cloud-related sales and marketing spend, and is reportedly eying cloud software/services firms such as Shopify (NYSE:SHOP), Xactly (NYSE:XTLY), and Callidus (NASDAQ:CALD), with plans to move their apps to Google's infrastructure. New cloud chief Diane Greene, whose time at VMware (NYSE:VMW) gave her plenty of experience selling to enterprises, has apparently been given a large budget to take on Amazon/Microsoft and cement Google as a top-tier cloud infrastructure ("IaaS") and app platform ("PaaS") provider.
Google vs. the competition
Amazon still has a much larger customer base, a service offering list that runs into the hundreds, and a large marketplace of supported third-party software. MSFT, meanwhile, has differentiated Azure by providing tight integration with on-premise Microsoft server software and more broadly pushing a hybrid cloud strategy to enterprises that want to keep some cloud workloads on their own infrastructures.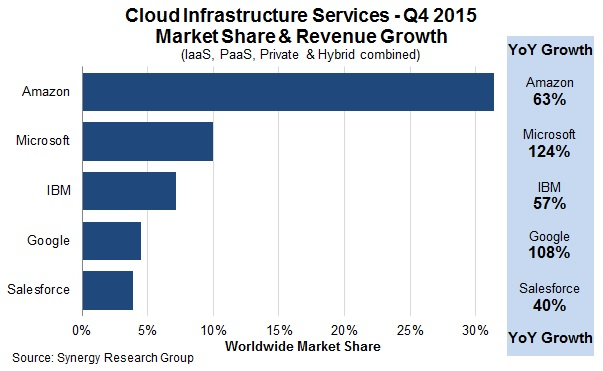 But (with the help of its historical infrastructure strengths), Google has won high marks for its cloud performance and pricing, which are often considered best-in-class. And - as SA contributor BayesianLearner recently pointed out while highlighting Google's TensorFlow machine learning software library - GOOG has also been able to stand out by creating a slew of advanced tools and services that appeal to developers. With today's announcements, the company is set to do the same for content creators.
There are still many billions of dollars worth of on-premise IT workloads due to move to the cloud over the next several years, as well as a large opportunity to support major cloud service providers (such as Spotify) for whom performance and scalability are big deals. In spite of a relatively slow start, Google is now looking well positioned to take advantage of the opportunity.
Disclosure: I/we have no positions in any stocks mentioned, and no plans to initiate any positions within the next 72 hours.
I wrote this article myself, and it expresses my own opinions. I am not receiving compensation for it. I have no business relationship with any company whose stock is mentioned in this article.