Many investors allocated into gold as a potential stock market and currency hedge, pointing to global money printing and expanding sovereign debt loads as a reason to maintain personal reserves. Another option such gold-bugs may consider is to invest in gold miners, including several large-cap producing miners that presently provide a dividend.
Over the last several years, gold appreciated to a considerably greater degree than the majority of gold miners, largely due to broad expectations that gold could not sustain its prior price and will not maintain the present price-range. If gold prices do not fall, the significant disconnect between gold and the miners could eventually narrow.
If gold prices continue to increase, the miners should ultimately benefit and catch-up. Additionally, since miners are presently priced with the belief that gold prices should decline, miners could soon begin to increase in price-- even if gold stays at its present range for a prolonged period.
Below are seven large-cap gold miners traded in the United States: Barrick Gold (NYSE:ABX), Goldcorp. (NYSE:GG), Newmont (NYSE:NEM), Kinross (NYSE:KGC), AngloGold Ashanti (NYSE:AU), Yamana Gold (NYSE:AUY) and Agnico-Eagle Mines (NYSE:AEM). I have provided their present yields, as well as their 1-week, YTD and 3-month equity performance rates. I have also provided the performance rates for the gold via the Gold ETF (NYSEARCA:GLD).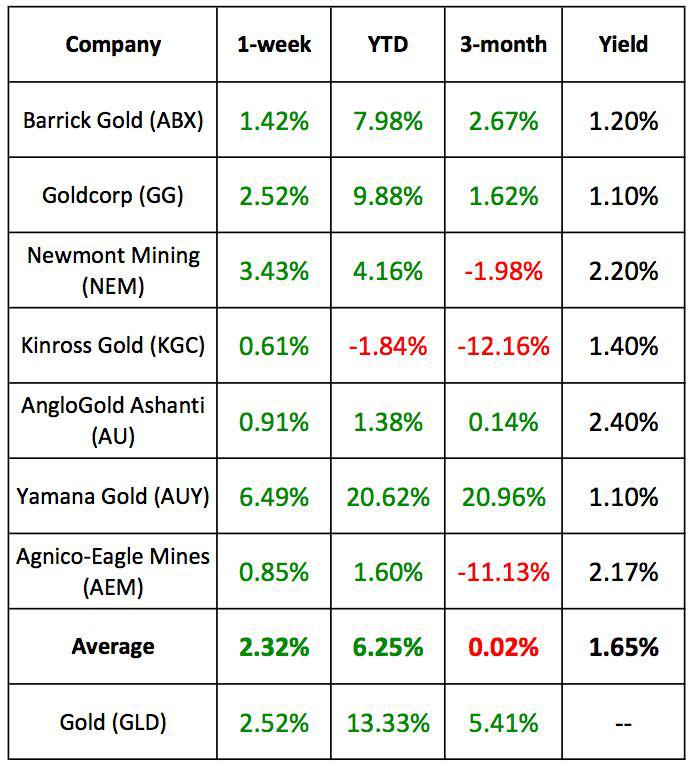 And below is a recent performance chart for the Gold ETF: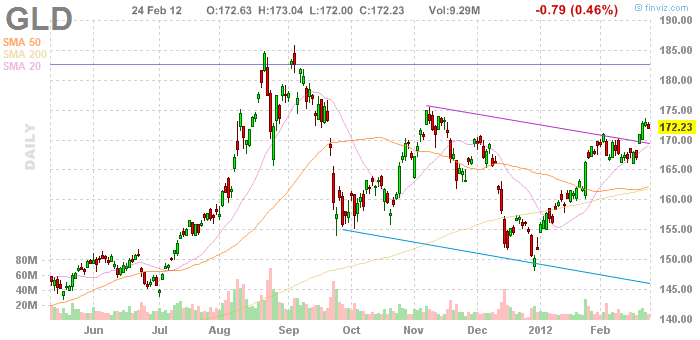 Over all the above-shown time periods, gold has outperformed the average of these miners. Thus far into 2012, gold is up 13.33 percent, while the miners have appreciated an average of 6.25 percent. Moreover, over the last three months the miners are down 0.02 percent, while gold is up 5.41 percent.
Mining companies may suffer risks that a commodity investment will not, such as geographical and political risks, mine productivity problems, bad weather, management negligence and fraud. Such issues regularly present themselves, which accounts for a significant portion of the average miner's underperformance.
Nonetheless, any further strength in gold should bode well for the profit margins of the gold miners. Still, the opposite can be said if gold depreciates or if oil were to spike, unduly increasing the mining production and distribution costs of certain lower margin miners, or if some other industry risk were to occur.
Another difference between the miners and gold itself is that these large miners do provide a dividend that beats most savings accounts, but below many large and established dividend paying equities. The above-listed gold miners all yield at least one percent. Gold does not provide a yield, and also often requires investors to pay storage costs and/or management fees.
Disclosure: I have no positions in any stocks mentioned, and no plans to initiate any positions within the next 72 hours.
Disclaimer: This article is intended to be informative and should not be construed as personalized advice, as it does not take into account your specific situation or objectives.