Mining outlook
Randgold Resources Limited (NASDAQ:GOLD) has an 80% controlling interest in Mali, in the Loulo mine. The Loulo mine is currently mining from one large open pit, several smaller satellite pits and two underground mines.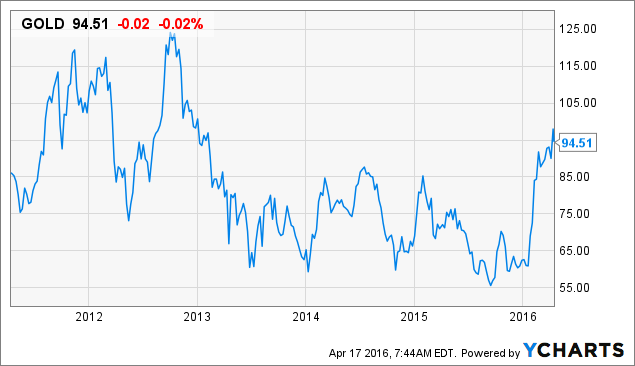 Randgold also has an 80% controlling interest in the Gounkoto mine in Mali, owns 50% of Morila Limited, which in turn owns 80% of Morila SA, the owner of the Morila mine in Mali. GOLD owns an effective 89% controlling interest in the Tongon mine located in the neighboring country of Cote d'Ivoire and an 83.25% controlling interest in the Massawa project in Senegal. In 2009, acquired a 45% interest in the Kibali mine, which is located in the DRC.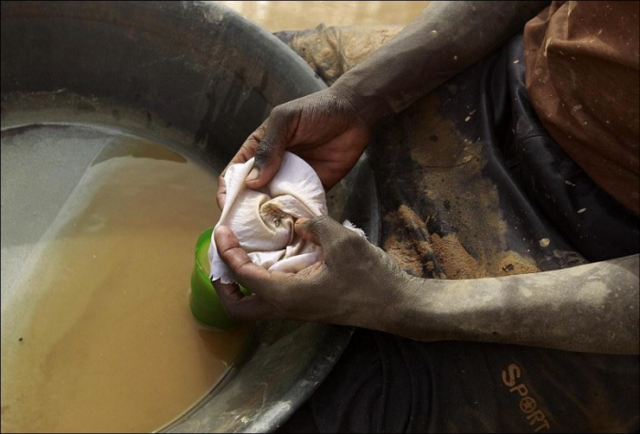 Gold production totaled 1,134,941 ounces in 2014 at a total cash cost of $698 an ounce, versus 920,248 ounces in 2014 at a total cash cost of $715 an ounce. The 23% rise in output for 2014 mostly reflected increased production from the Kibali mine, and to a lesser extent increased production from Loulo.
Production at Morila totaled 44,109 ounces (at a cash cost of $1,143) in 2014 versus 56,729 ounces ($763) in 2013. Closure of the Morila operation was originally scheduled for 2013, but processing of the marginal ore and mineralized waste should extend its life to 2017.
Randgold brought the Loulo mine into production in November 2005. In 2006, its first full year of operation, Loulo produced 241,575 ounces. Loulo's production rose to 376,490 ounces ($713) in 2014 from 312,748 ounces ($776) in 2013. GOLD anticipates that mining at Loulo will continue through 2028.
In 2011, in its first year of operation, the Gounkoto mine achieved production of 137,775 ounces. Production was 254,634 ounces ($613) in 2014 versus 274,802 ounces ($622) in 2013. GOLD anticipates the Gounkoto mine to continue operations through 2025. GOLD achieved first gold production at Tongon in 2010. Production at the Tongon mine decreased to 227,103 ounces ($872) in 2014 from 236,279 ounces ($828) in 2013. The Tongon mine has a remaining mine life of seven years (to 2021). First gold production at the Kibali mine was recorded in the third quarter of 2013. Production at the Kibali mine increased to 236,606 ounces ($573) in 2014 from 39,690 ounces ($464) in 2013.
The Kibali mine is being developed in two phases.
Phase 1, which includes the open pit operation and processing plant, the mine infrastructure and the first of three hydropower stations was completed in December 2014.
Phase 2 comprises the underground mine development and two additional hydropower stations. The mine is expected to operate through 2031.
Randgold seeks to achieve a high return on equity through the mining of gold. The company targets gold deposits that have the potential to contain gold reserves of 2 million ounces or more. Gold mining is a highly capital-intensive business requiring large sums to explore for deposits and construct mines once deposits have been discovered. Since the early part of this century, mining costs have increased dramatically due to rapidly rising costs for energy and building materials.
Risks in gold mining are numerous, and long-term survival and profitability require deep pockets. Global gold production is dominated by a relatively small number of large producers, such as AngloGold Ashanti (NYSE:AU), Barrick Gold (NYSE:ABX), Gold Fields, Freeport-McMoRan Copper & Gold (NYSE:FCX), Harmony Gold (NYSE:HMY), Newmont Mining (NYSE:NEM) and Rio Tinto (NYSE:RIO). The industry is also comprised of a small number of exploration companies and small to mid-sized gold producers. Absent the discovery of a large deposit, few of the exploration and small to mid-sized companies become major producers, due to the lack of financing.
I think that production will remain stagnant for the next several years, as old mines are depleted and are not being replaced to the extent needed to significantly increase output. From 2009 through 2014, sales increased at a compound annual growth rate of 20.1%, while earnings per ADS rose at a CAGR of 27.7% and dividends per share increased at a CAGR of 28.7%. Capital expenditures totaled $179 million in 2014, $303 million in 2013, $272 million in 2012 and $352 million in 2011. GOLD expects capital spending in 2015 to be less than 2014.
Global picture
Fundamental outlook for the gold sub-industry for the next year is neutral. I think that gold has priced in a number of significant headwinds, including continued strength in the U.S. dollar, lower oil prices, and the FED raising rates.
According to S&P Capital IQ, there is significant physical demand growth, driven by China and India, providing a floor for the precious metal. In 2014, the average gold spot prices posted a consecutive annual decline for the first time since 1998, as the average price of gold fell 10.2% in 2014 to $1,266 per once, following a 16% decline in 2013.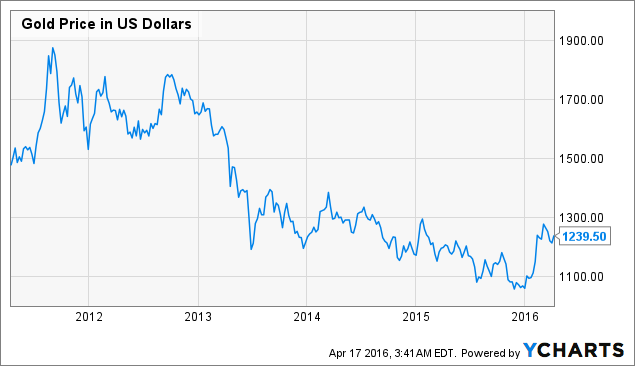 The decline continued in 2015 with an average price of $1,159 per ounce, an 8.4% decline. As of April 15 2016, the average spot price for gold was $1,239 per ounce, 6.9% higher than the 2015 average.
We can see consumer demand increasing significantly and, more importantly, investor demand increasing due to higher market volatility and increasing geopolitical risk.
However, there are a number of offsetting factors for gold, mostly: a strong U.S. dollar, limited inflationary fears. The relative strength of the U.S. economy will limit any gold price appreciation from geopolitical uncertainty.
With the Fed expected to continue raising interest rates in 2016, gold is less attractive relative to interest-bearing securities. The expectation of low inflation is also bearish for gold.
Another fact - India has relaxed its import restrictions and we can expect a substantial increase in consumer demand in both India and China.
I believe that gold will once again gain some appeal as a safe-haven investment driven by greater market volatility and enhanced geopolitical risk. As of April 15, 2016, the S&P Gold Index appreciated 51.9%, vs. a 0.4% increase in the S&P 1500 Composite Index.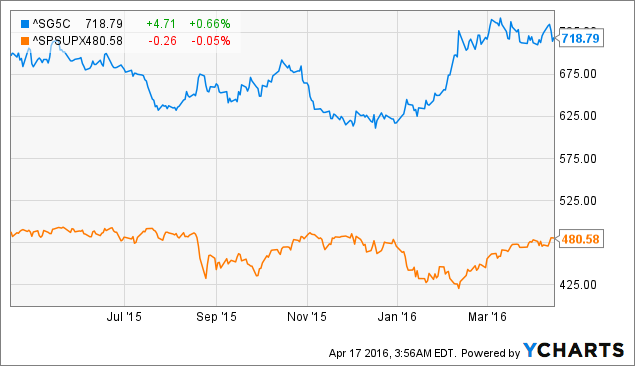 In 2015, the S&P Gold Index declined 15.8% vs. a 1.0% decline for the S&P 1500 Composite Index and an 11.9% decline for the S&P 500 Materials Index.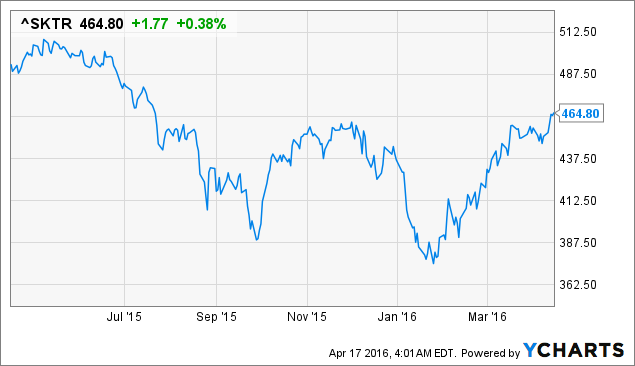 The five-year compound annual growth rate for the S&P Gold index is -11.9%, versus 9.0% CAGR for the S&P 1500, and 3.0% CAGR in the S&P 500 Materials Index.
Fundamental factors
In 2015 and 2014, revenues declined 8% and 4.5%, respectively, due to lower average gold prices. 2015 benefited from strong production growth, but was more than offset by a decline in avg. gold price versus 2014. I expect modest production growth in 2016 and 2017, combined with small improvements in the average gold price.
EBIT totaled $265 million in 2015, $357 million in 2014 and $355 million in 2013, with corresponding EBIT margins of 26.5%, 32.9% and 31.2%, respectively.
EBIT margins can contract to about 24.5% in 2016, due to higher depreciation expense, and then expand to about 29% in 2017.
GOLD has zero debt on its balance sheet, and operates at one of the lowest cost structures among gold miners.
Risks in Randgold price include changes in mine equipment availability, higher energy and other input costs, lower gold prices and less favorable economic conditions.
Due to fundamentals of the company and macro situation in the gold market, I expect the decline in GOLD stock value.
Disclosure: I/we have no positions in any stocks mentioned, and no plans to initiate any positions within the next 72 hours.
I wrote this article myself, and it expresses my own opinions. I am not receiving compensation for it (other than from Seeking Alpha). I have no business relationship with any company whose stock is mentioned in this article.