This past week, Shudeep Chandrasekhar wrote an interesting piece on Procter & Gamble's (NYSE:PG) need to acquire to grow its dividend... and really grow in general. While the acquisition of new brands is the opposite of the current strategy of PG shedding under-producing entities, shrinking to grow only works for so long and generally focuses more on cost-cutting, which can only expand profits for so long. It leads investors to wonder how organic growth can be achieved by selling off brands and simply becoming leaner. Without new products that provide more than enhanced gimmicks (i.e., a razor with 9 blades that swivel and plays your favorite wake up jam while you shave... please sense my sarcasm here), PG should probably begin considering some efficient additions to its core assets. So, while I won't argue Shudeep is wrong on this assertion, he gave much too broad a brush with the solution of:

It is a hand-wave solution, like "we will stop ISIS by putting more boots on the ground and using heavier weapons." While logical, there is no specific direction or note of what these promising brands might be. It also leaves open the door for PG to shop for products and brands similar to those it is disposing itself of, such as Duracell, or buying back into pet food - areas it should avoid, as its performance has demonstrated. PG needs a sounder goal and strategy for any acquisition, and it should coincide with economist and Nobel Prize winner George Stigler's theory of complements and substitutes.
Support the complements, fight the substitutes... and if you can't beat 'em, join 'em!
In Stigler's 1971 economic article titled The Theory of Economic Regulation, he notes that entities, i.e., corporations and labor unions, will work to maximize regulation that preserve market share and hinder competitors. Much of this regulation comes down to substitutes versus complements - they work to deter products and services that can substitute for their own, while enhancing the abilities of complementary products and groups.
For example, J.M. Smucker (NYSE:SJM) makes peanut butter and jelly. SJM will work to help the makers of bread/crackers, while trying to deter competitors that make almond butter and honey. In similar fashion, big beer makers will push for bills to limit the ability of a craft brewer to enter the market, thus preserving market share and limiting competitors. And if that does not work - as it often does not in the long term, with every small entity having a seat at the political table to refute regulations - they will acquire competitors to regain lost market share - as AB InBev (NYSE:BUD) has done over the past several years.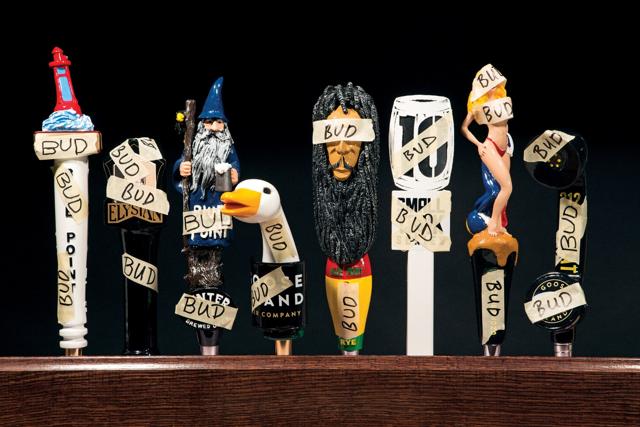 Image Courtesy Bloomberg News
Today, like big beer, PG needs to look at the niches in which it lags and consider filling them with products that can be, or have already, served as substitutes and complements to its current product line. In other words, don't mind the gap - fill it with something that enhances current product lines and attracts/re-attracts customers. Furthermore, acquisitions should aim for products in segments with strong demand that will move PG's needle. And what would fill both of these voids is an area the company lacks in - the cliché of going green.
Big Picture - Seventh Generation
Before going further, PG has to be careful with regard to anti-trust laws with any major acquisition. Stigler's theory proves that each competitor, no matter the size, will have a seat at the political table and likely challenge a sizeable purchase by PG to push for government intervention. But if the company wants to move the need, size matters - it needs to "go big" - and one company to consider is Seventh Generation, for several reasons.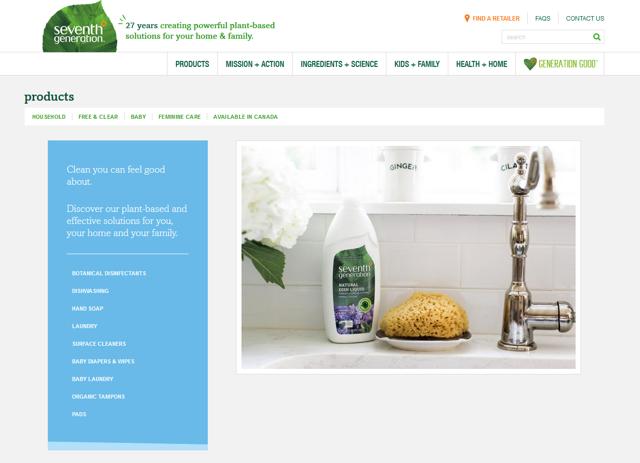 Image Courtesy Seventh Generation Website
Seventh Generation is a company that basically makes everything PG makes in household goods outside of toilet paper and paper towels... only without dyes, chemicals, fragrances, and other ingredients that creates a perception of corporate consciousness. Think of it as a cross between Colgate-Palmolive (NYSE:CL) and Clorox (NYSE:CLX), with a view that its products must help preserve our way of life and health for the next seven generations. PG and Seventh Generation are no strangers to each other - they have sparred off in contests regarding the validity of Seventh Generation's claims of being green, and Seventh Generation has wasted no time in pointing out how PG's products lack the wisdom to see the need to be more green. It goes without saying there is a bit of bad blood between the two, but that is something that can often be overlooked when both sides can benefit economically.
What does Seventh Generation bring to PG? First, a product line that PG lacks and would allow the company to re-engage with either lost or disinterested customers. Second, products that are already developed and proven that would require minimal R&D costs to modify or improve. And lastly, products that can be produced and marketed on a global basis - Seventh Generation has little outreach past North America, and PG can use this as a way to grow significantly.
What does PG bring to Seventh Generation? First, a distribution chain that can decrease logistical costs for the company and increase its output efficiency, thus increasing margins. This distribution chain would also enable a more global spread of Seventh Generation products. Second, more shelf space - it is no longer a competitor that needs to be shoved to the bottom shelf in stores. Now, it can sit proudly next to PG's Pampers, Tide, Dawn, and Tampax products. And lastly, the marketing capabilities of PG, which can further enhance Seventh Generation's sales both domestically and internationally.
But not all is good from this potential action - Seventh Generation's enduring growth in market share over more than a decade is likely to not come at a cheap price. PG will have to pay, and is likely one reason an acquisition has yet to be made. And while buying Seventh Generation 5-10 years ago likely looked foolish (with this far-fetched "green will catch on" theory), it is going to almost certainly only grow more expensive as time passes. Now might be a good time for PG to consider this move, but only if it can hurdle over the anti-trust obstacles it will likely face for such an acquisition.
Little Picture - Charlie's Soap and Andy-Pandy Diapers
As Seventh Generation's purchase may be a bridge too far, PG could still look for smaller brands that could add to its line. One is Charlie's Soap, a very popular green soap with great reviews on Amazon, with many reviews noting that it, "makes clothes smell like clothes, as they should." The company also makes addition products that would complement PG's line, and again, bring in customers that may have declined to give PG their business based upon its current product line.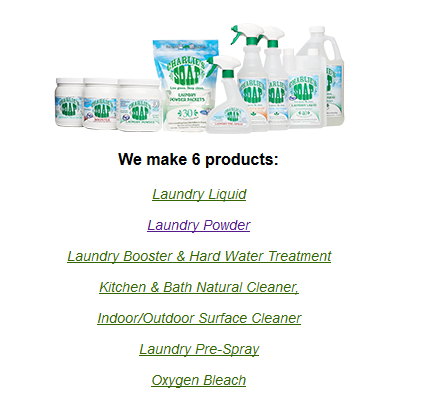 Benefits for Charlie's Soap would be similar to those for Seventh Generation - better distribution and presentation of its products, more efficient production, and expanded markets. Meanwhile, PG gains a new product to put on the shelves and market.
And if Charlie's Soap is even too large, then PG could go even smaller - Andy Pandy Diapers. As a new father of four-month old twin boys, I tried about a dozen different brands when they were newborns (we went through about 16-20 diapers a day, so it was easy to try one brand and move to the next). PG and Kimberly Clark (NYSE:KMB) brands had fragrances that were a bit sickly, and synthetic absorption materials seemed a bit to "mushy" to both my wife and me. Then, we tried these diapers and have been using them ever since. They are exceptionally soft, absorb very well, fit nicely, and last with little to no odor for 8-12 hours.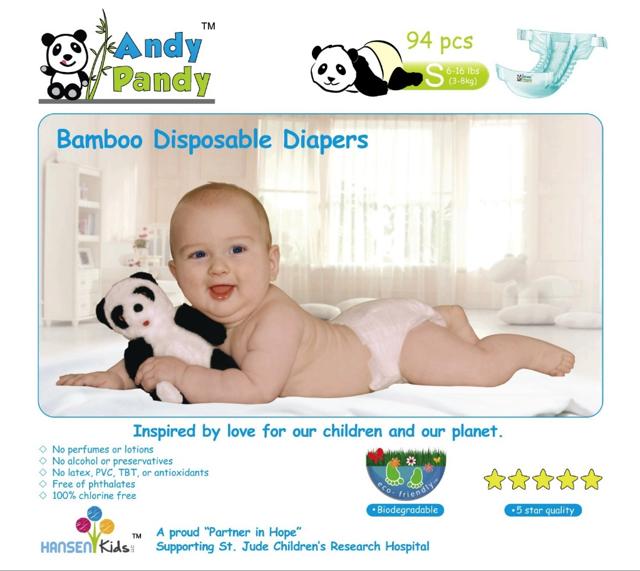 The company is very small, relatively new, family-owned, and sells primarily on Amazon, where it has fantastic overall reviews. While Andy Pandy is not going to move the needle in an exceptional manner, it again provides PG an established brand that it can place on shelves, market, and help to increase sales in an area it has a gap. It also then opens PG into the green/environmentally friendly diaper market that is likely to continue to expand.
Fill the gap, but don't create new ones
While PG continues to divest brands, it may not even approach the idea of adding new products. That is fine, but management also likely knows it is not going to be able to shrink itself to growth in the long run. The company will need to fill some of its current product gaps, most notably in the green category, to regain and increase market share. But if PG does look to make any acquisitions, it should consider smart acquisitions, such as those above, and avoid buying something in a whole new product line... most investors know how that strategy has boded thus far.
As always, best of luck to all. PG remains in my portfolio as a "hold," and I am willing to buy more under $70, as it would be back around my dollar cost average price - as long as the stock does not appear to be crumbling at that price. Otherwise I am content to stand by, collect my dividends, and watch the show.
Disclosure: I am/we are long PG, CL, KMB, SJM.
I wrote this article myself, and it expresses my own opinions. I am not receiving compensation for it (other than from Seeking Alpha). I have no business relationship with any company whose stock is mentioned in this article.