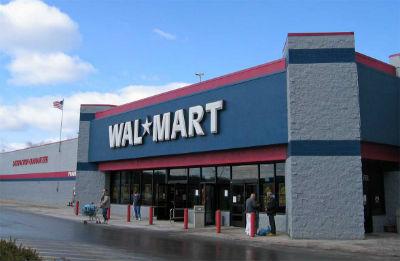 Wal-Mart Stores, Inc. (NYSE:WMT) has recently expanded the online grocery pickup services to eight additional markets as mentioned in the company's blog. It is also doubling the store locations where pickup facility is available in Dallas, Houston and Atlanta. This program allows the customers to select the products online and choose a pickup time. They can then park their cars on the pickup slot at the given time and a "personal shopper" from Wal-Mart loads the groceries in the customer's car.
This program was started by Wal-Mart to take advantage of the fact that more than 70% of Americans live within 5 miles of a Wal-Mart store. It wants to use this leverage to provide customers an option to save time while doing their weekly grocery shopping. It has been touted as a very successful program getting rave reviews from customers, especially mothers with little kids, as it eliminates the need to move around a huge store with a toddler.
Wal-Mart is looking to expand the program to 200 stores and increase the footprint to 30 cities by the end of the year. It allows customers to shop from 30,000 to 40,000 items within the grocery department of the store.
This program has a basic flaw as it allows customers to make their weekly grocery purchases at zero markup or other additional fees and at the same time provides high degree of personalized service. Picking the order, packing it, billing and delivery to pickup slots and into customers' cars is a very labor intensive process. The grocery segment is operated on wafer-thin margins which leave little room for these services. This can cause further erosion of profits for the company.
Another issue with this program is that the grocery segment is generally run as a magnet to attract customers into the store. Once they are in the store, an average customer ends up purchasing other higher margin items leading to a bigger basket and thus increasing the margin of the entire store. If this program gets higher acceptance by the customers, it will reduce the margins as well as sales within a store and the company as a whole.
Although there might be sizable increase in the customer satisfaction ratings, this would be a tricky road for a company facing declining sales.
A bigger drawback of this program is the reason why it was started in the first place. Wal-Mart is facing increasing pressure from online retailers who are looking to expand their footprint in the grocery segment. Wal-Mart makes 55% of its total sales in US from grocery segment. Any significant loss of market share in this segment could be a death knell for the company.
However, the problem is that this program is a tiny step for a behemoth like Wal-Mart. Meanwhile, other online players are taking bigger and more aggressive steps to expand their reach in the grocery segment. Amazon's Prime Pantry program will celebrate its second anniversary soon. As the number of prime members increases, this program will become more important for Amazon and could also help reduce the fulfillment costs when it gains higher popularity.
Amazon Fresh program has also started seeing higher market share as it expands to more cities. Besides Amazon, other smaller players have also created niche market for themselves. Instacart which obtained a valuation of $2 billion in the last funding round is delivering better metrics. In fact, it claims to be "unit economic profitable" in several markets like Chicago, Los Angeles, Seattle and others.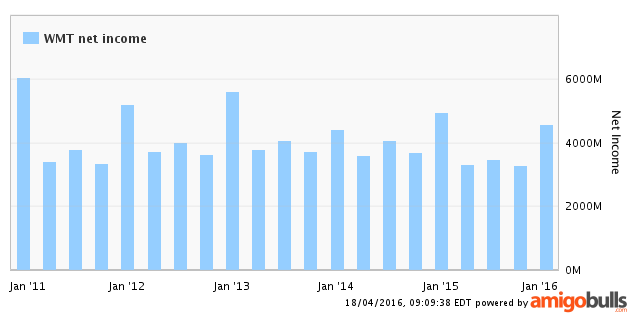 Fig: Wal-Mart has seen a fall in the net income and should face stagnant or falling income in the next couple of quarters as competition from online players increases
This program seems to be one of those things where the management wants to give the impression that it is trying to make progress in the online space. However, many times it is better not to do anything than to take small, insignificant steps to solve a gigantic problem. At least by not doing anything there would be a continuous sense of emergency to tackle the issue which can allow more aggressive decision making. Small, risk-averse programs end up giving false hope which can be detrimental for the long-term market position of a company.
In the end, the firm might have to choose between cost-saving "Aldi approach" or time saving "Amazon approach" to protect its market share in the rapidly evolving retail sector.
Conclusion
Wal-Mart is expanding its online grocery pickup program to newer cities but it is a relatively small step compared to the plans by other competitors. It can also negatively affect the total sales of the company as overall purchase of the customers decreases and the margins are hit as the program requires higher labor input. We should be looking at falling income and sales for the next couple of quarters unless the management can bring out more aggressive strategy for a turnaround.
Disclosure: I/we have no positions in any stocks mentioned, and no plans to initiate any positions within the next 72 hours.
I wrote this article myself, and it expresses my own opinions. I am not receiving compensation for it (other than from Seeking Alpha). I have no business relationship with any company whose stock is mentioned in this article.