Early this past week, gold did a head-fake to the upside, then ran downhill until Friday. To the gold-bugs, this must have felt like their love interest was teasing them; making them think that it was finally going all the way into a bull market, only to turn around and walk away.
The unusual synchronized movement of gold and the dollar continued this week (pink area on the chart) which we interpret as serious under-lying weakness in gold; if gold can't sustain a rally during dollar weakness, then what hope does it have if the dollar strengthens?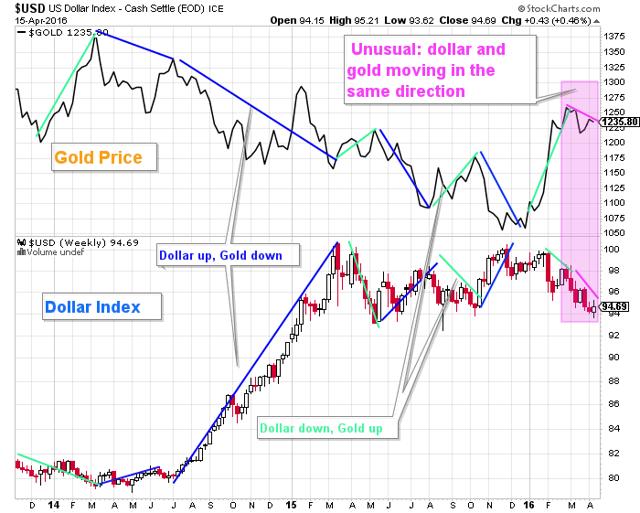 The dollar has been in a trading range between 100.0 and 93.0 for the past year, and since it is near the lower part of its range, the probability is that it will head back up toward the upper boundary. Gold is unlikely to respond favorably to that.
Even though the FED will not raise rates as rapidly as they were predicting at the end of last year (four times), the CME FED watch tool calculates a 50% chance of at least one hike, and a 12% chance of two hikes by the end of the year. The odds of the FED cutting rates this year are zero which is supportive to the dollar and negative to gold.
Since rates are likely to rise later this year, albeit slowly, the 30-year bond should trend downward, and as the blue lines on the chart below illustrate, gold tends to move in the same direction as the 30-year bond.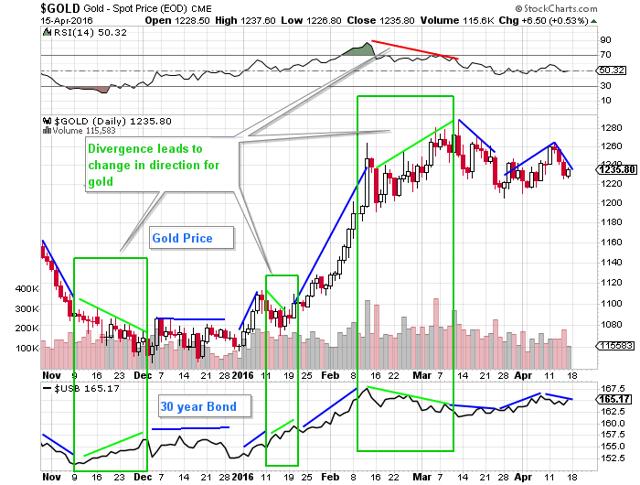 The high short interest of the commercial gold futures traders spiked even higher this week.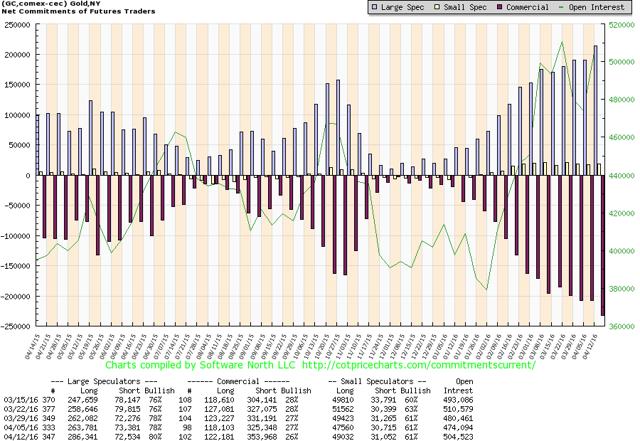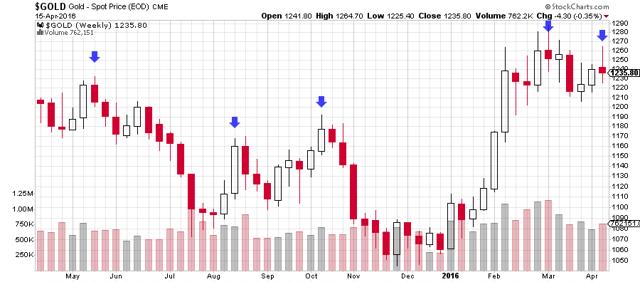 Futures trading is a zero-sum game which means that when one side of the contract gains, the other side loses. There is a huge amount of money on the table at the moment, and one side is going to lose big-time.
The historical record shows that the commercial traders are correct most of the time. If they are wrong this time, there will be many "firsts" involved. Not the least of which would be the magnitude of the losses (although they must be hedged with options). Odds are they are not going to be wrong.
We wish our subscribers a profitable week ahead, and remind you to monitor your email for Trade Alerts.
Disclosure: I am/we are long GLL.
I wrote this article myself, and it expresses my own opinions. I am not receiving compensation for it. I have no business relationship with any company whose stock is mentioned in this article.