Cineplex (OTCPK:CPXGF) is a premier movie cinema operator in Canada with over 161 theaters. 2015 was the company's best year in history, hitting all cylinders across segments. The company was trading at extreme premium in anticipation for the "Star Wars" over the past two years. Cineplex, sure, did not disappoint as adjusted EBITDA was up by 36% year over year in the fourth quarter. With "Star Wars" behind us, investors' enthusiasm did not fade and the stock reached another all-time high at $50+. This presents a great opportunity for a short play.
Before I jump to my short thesis, I'd like to provide some perspectives from the long side of the trade
- The Management is great at what they are doing. Royalty program SCENE card introduction and infrastructure upgrades were great steps taken by the management to increase foot traffic and revenue per patron
- Canadian market lacks consumer staple stocks and Cineplex is a rarity
- Cineplex's 3% dividend yield looks great in this low interest environments
I agree with all these points. The basis of my short thesis is that investors' expectation for this company now has departed from reality. Upcoming Q1 results may lead to a peaking point for this stock. However, I do not think things will go so smoothly afterwards.
Cineplex is not a growth stock but trades at super growth stock premium
Cineplex stock has traded at a very high premium in the past several years due to the fanfare of super hero movies. The announcement of new "Star Wars" pushed the stock to a new high. However, movie theater business has not changed as much as investors' enthusiasm implied. The business is growing at a decent steady pace which a good theater operator is supposed to do. Cineplex is no different. Below is the operating performance of Cineplex in the past 10 years.

As we can see, Cineplex has been growing at an average rate of less than 10%. On the other hand, the stock is trading at 30x 2015 earnings multiples. In the current market, 30x multiple typically offers at least 25% growth in the bottom line. So either the stock is overvalued or Cineplex truly is a super growth company. I believe it is the former.
2015 was an odd year
Longs may point to the 2015 figure of 25% EBITDA growth and argue that Cineplex's growth is only getting started. I disagree with that view. I believe 2015 significantly biased to the upside due to the fantastic slate of movies. Below is the list of top movies from each of the past five years and revenue generated from them.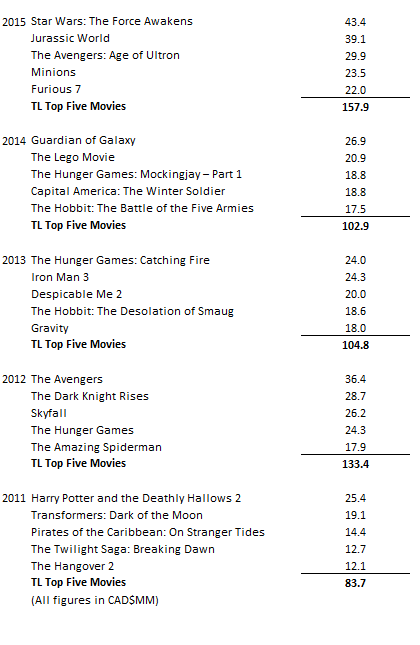 "Star Wars," "Jurassic World" and "The Avengers: Age of Ultron" generated $43 million, $39 million and $30 million in revenue, respectively, in 2015. All of these are highs that we have seen since the Avengers in 2012. Further, we can see from the chart that the revenue from the top 5 movies in 2015 was almost 60% better than in 2014.
Operational Leverage is a double-edged sword
Cineplex's recent success highlights the company's ability to leverage its real estate assets. By using the same amount of fixed costs, Cineplex was able to increase its profits at far greater degree even with modest increase in revenue. In 2015, the company increased its EBITDA by 25% with only 11% increase in revenue. However, the same leverage has similar negative impacts on its way down. In addition to film revenue, Food profits and its growing Media profits all trend together. With less film goers due to an unappealing movie lineup, Cineplex's segment results will suffer in unison in my opinion.
Timeline for the trade
Q1 results will be stellar due to the continued contribution from Star Wars. I am forecasting at least 20% growth in EBITDA in the quarter. The results may add more fuel to Cineplex's stock price. Things will get interesting in Q2 and Q3. There will be a solid lineup of superhero movies this year such as "Batman Vs. Superman," "Capital America: Civil War," "X-Men: Apocalypse" and "Star Trek 3." These movies are likely to put up a good fight against names like "The Avengers: Age of Ultron," "Jurassic World" and "Furious Seven" from last year. I will be watching the Q2 and Q3 numbers very closely.
I think Q42016 is not likely to match last year's numbers and that is when I will most likely put on my short trade. In Q4, there will only be "Fantastic Beasts" and "Rogue One: A Star Wars Story." I do not believe the new "Star Wars" will have the same success as the one from last year. I personally have watched the first "Star Wars" over the holidays. I was not impressed and do not think that I will go back to see the second one. 2017 will be a considerable weaker year in terms of movie lineup, which features "Transformers 5," "Guardian of Galaxy 2," "Thor," "Justice League" and a new episode of "Star Wars."
Recommendation
In the past year, Cineplex was a very difficult short because of the "Star Wars" factor. Now that tailwind for the longs becomes a headwind for them to overcome. Q42015 figures were so red hot that they would be hard to repeat in 2016. I would be surprised to see any growth in Q42016 numbers. I may go short any time after Q1, depending on upcoming operating results and stock price actions.
Disclosure: I/we have no positions in any stocks mentioned, and no plans to initiate any positions within the next 72 hours.
I wrote this article myself, and it expresses my own opinions. I am not receiving compensation for it (other than from Seeking Alpha). I have no business relationship with any company whose stock is mentioned in this article.