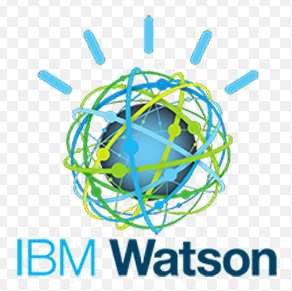 IBM (NYSE:IBM) is a stock that I've been bearish on for a long time. The company is an old world tech dinosaur that was long ago left in the dust by more nimble players that are now eating its proverbial lunch quarter after quarter. IBM's complete lack of any sort of coherent strategy has been at the forefront of my bearishness as I've detailed before and given this, I've thought for a long time that estimates for the company's earnings were too high. Back in January, IBM had just reported another dreadful quarter and I reiterated my bearishness based upon a number of factors. And with estimates continuously coming down and the Q1 report failing to spur buying activity (again), where is IBM headed now?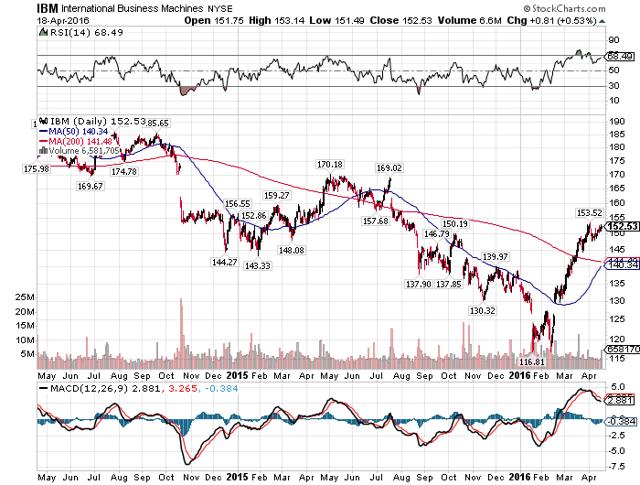 IBM, to its credit, has staged an epic rally from the bottom that was set in January and again in February of this year. The stock had been absolutely pummeled in a straight line from $169 to $116 but after making a double bottom, has bounced nicely. The problem is that this sort of buying isn't sustainable for any stock and in particular, one that has all the fundamental problems that IBM has. The momentum indicators are showing obvious signs of fatigue with the current rally and judging by the reaction in the stock following the report, it seems $153 was the terminus of the rally. We'll see how far it has to go down but the rally seems to be dead and that is important.
IBM's total revenue fell almost 5% during Q1, something that has become business as usual at the tech firm. Something else that is totally normal is for most or all of IBM's reporting segments to report drops in revenue as the weakness we've seen in recent quarters has been broad-based, yet another reason why I'm bearish. IBM revised its reporting structure in Q1 so the names and numbers look different but the results are the same; a weak business with negative revenue growth across a variety of spaces.
You can read the numbers in the press release but what is important to note is that every single one of IBM's reporting segments posted both a decline in revenue and a decline in operating margin. That is an incredible feat if you think about it and it speaks to the utter lack of fundamental strength for IBM. This has been the case for a long time but bulls want to believe sunny days are just ahead; there is zero evidence that sort of thing is going to happen.
Why? As I said before, management doesn't know how to do anything except buy back stock in the hopes that it will boost EPS. This has been IBM's "strategy" for years and look what it has gotten them; a constantly declining business and a share price that is in a pronounced downtrend. When every one of your segments reports lower revenue and lower operating margins, you have serious problems but IBM's response is always the same; continue to lose share in the marketplace but hold your nose and buy back stock. That is why IBM is a perpetual short and that is why it will continue to go lower. This company has no viable turnaround strategy and nothing in Q1 changed that.
IBM does have pockets of strength like its cloud and mobile businesses but these growth engines are still far too small to bring up the rest of the sinking ship. IBM does have some hope for the future if it can wait it out and grow the newer, more successful parts of its business but with the rapidity with which the legacy lines are failing to produce even flat revenue, IBM is running out of time.
IBM's FCF in Q1 was much stronger than last year's number and the company guided for the higher end of its $11B to $12B range for the full year. Despite the fact that IBM's fundamental performance is awful, it does generate an enormous amount of cash and that allows it to pay the ample dividend and buy back stock. At its current valuation it is trading for about 11.7 times this year's estimated FCF - assuming it hits $12B - a number I'd like to see come down either via a lower share price or higher FCF.
Shares are trading at under 11 times this year's earnings estimates right at the $13.50 the company promised and reiterated during Q1. While that's not a ludicrous valuation, it is still too high for a company that is in perpetual decline. In addition, analysts are stubbornly clinging to ~5% EPS growth for next year but I can't understand why. Where is this growth going to come from? IBM is spending heavily to desperately try and create a sustainable business for the long term and as revenue continues to fall, margins are being squeezed on both ends. That's a terrible situation for profit growth and while IBM will buy back some stock in the interim, I don't think it will be enough. We've seen this movie before and it doesn't end well for shareholders; estimates for next year are still too high despite all the evidence we've received that says they should be lowered.
The bottom line is that IBM's relief rally off of the double bottom is just that and nothing more. Bulls will say the 50DMA is poised to take over the 200DMA but that won't matter if IBM moves back down into the $130s off of the weak report. The important thing here is that there are no catalysts for a move higher. With the stock already fully valued, why would investors continue to bid shares up? The dividend? It is nice at 3.5% but nothing that is just a crazy number that will attract lots of buying. The fundamentals certainly won't get the job done as they get worse and worse very quarter. FCF is strong but it will still be weaker than earnings this year and IBM is spending it frantically trying to prop up the share price. With no catalysts on the horizon, IBM's recent rally is over and will continue its longer term downtrend. See you at $130.
Disclosure: I am/we are short IBM.
I wrote this article myself, and it expresses my own opinions. I am not receiving compensation for it (other than from Seeking Alpha). I have no business relationship with any company whose stock is mentioned in this article.