Industrial sector stocks have shown substantial gains over the past five years as many have taken advantage of the market's low borrowing rates. Yet, while returns in the sector have been reaching new highs, not all stocks are showing the same potential for gain in the near term, given the headwinds from a number of market factors and primarily the continued challenges in the energy sector.

While a number of market factors have been weighing on many of these Dow industrial stocks, specifically oil prices and energy sector exposure in general, many of them have managed to generate outstanding five-year returns primarily by taking advantage of the market's low borrowing rates. Dow Jones Industrial Average industrial companies currently rank among the top half of companies in the DJIA by debt to equity ratio and Caterpillar (NYSE:CAT), General Electric (NYSE:GE) and Boeing (NYSE:BA) all currently have debt ratios nearly 1.5 times equity. With a debt to equity ratio of 0.75 and the sector's leading credit rating from Moody's, 3M continues to maintain an advantage over its peers with a superior capital structure, yet additional availability for increased leverage.

While returns have been mounting and debt to equity ratios have been climbing, investors should be cautious because not all of the industrial stocks in the Dow 30 are positioned to continue the same previous momentum.

As returns for these industrial stocks have been rising, it appears the outlook for 3M (NYSE:MMM) shows the greatest continued earnings momentum for investors. At 18.52, its forward price to earnings is pricing in realistic stable growth in comparison to its peers which have greater strategic challenges, broader energy sector headwinds and more concentrated revenue risks.
For investors seeking industrial sector exposure, 3M is a clear leader for your portfolio right now. While GE is undergoing a major reorganization and Caterpillar is significantly reducing costs and restructuring in an effort to maintain profits with high exposure to energy sector companies, 3M's business strategy remains consistent and on target for continued steady growth.
The company has one of the most solid brand portfolios in the industry and despite global macroeconomic challenges and a downward trend in corporate profits, it has managed to primarily maintain revenue and earnings growth with minimal losses. This has been primarily attributed to 3M's diverse product mix with minimal exposure to the energy sector.
Recent Results
In the fourth quarter of 2015, the company reported revenue of $7.3 billion with adjusted earnings per share of $1.80 and GAAP earnings per share of $1.66. Revenue and earnings for the quarter were slightly lower; however, for the year, revenue and earnings remained flat. In 2015, 3M generated revenue of $30.3 billion with GAAP earnings per share of $7.58. Revenue in 2015 was down 4.9%; however, earnings per share gained 1.2%.
3M's diverse product portfolio and operational efficiencies are two key factors that investors can rely on from 3M through all types of market cycles.

For the year, the firm's diversification and product positioning in an improving consumer market helped the company considerably as it posted superior earnings growth in comparison to its Dow Jones Industrial Average peers.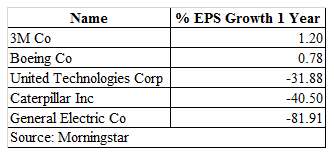 According to Morningstar data, 3M also shows the best five-year expected EPS growth behind only GE which has numerous hurdles to overcome in the near term as is reorganizes and streamlines its business.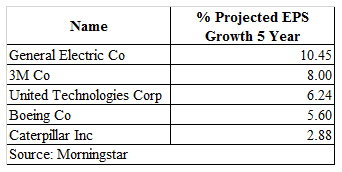 Five-Year Growth Plan
These strong expected results are further supported by a solid five-year growth plan for the firm which was recently presented at the company's 2016 investor day on March 29.
In management's investor day presentation, it reported that over the next five years, it plans to grow earnings per share by 8% to 11%, generate 2% to 5% organic local currency sales growth, return 20% on invested capital and achieve 100% free cash flow conversion.
The firm's 2016 outlook is in line with its long-term goals. On March 29, 3M further confirmed its 2016 guidance, which expects EPS of $8.10 to $8.45 with local currency organic sales growth of 1% to 3% and free cash flow conversion of 95% to 105%.
Key initiatives driving the one-year and five-year growth include continued diligence in cost structures and operational efficiency along with further innovative product growth and expansion. 3M will continue to innovate and provide superior branded products to customers across its entire portfolio which includes 55,000 products for consumers and businesses. Innovation will primarily be led by the integration of three newly-acquired companies in 2015. During the year, 3M acquired Ivera Medical Corporation, Capital Safety and Separations Media. These acquisitions add to the company's business growth in health care, safety equipment and industrial filtration systems.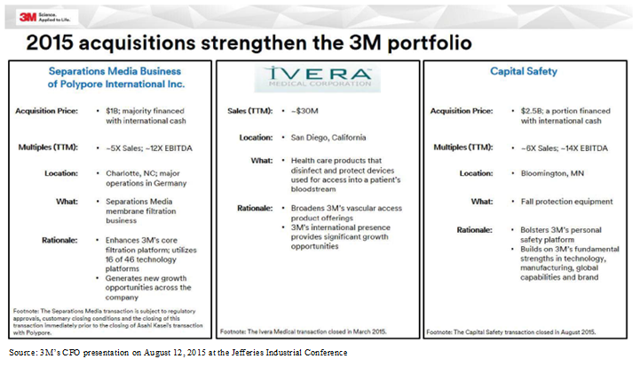 Buying Opportunity
For investors, given the strong outlook and current positioning, now is a good time to buy 3M. On April 26, it will report first quarter earnings which are projected to beat estimates.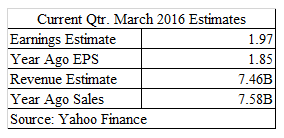 The positive first quarter results should help push the stock price towards its higher near-term target. Assuming the high end of the company's expected growth rates and the company's price to earnings of 18.52, the stock price should increase to approximately $195 by the end of 2018, giving it upside potential in the near term of 15%.
Given current long-term assumptions, discounted cash flow measures also further support the stock's growth with the stock price estimated at a value of $207.01.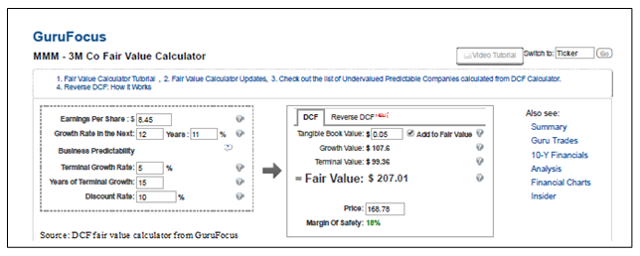 The firm's consistent dividend with a trailing twelve-month yield of 2.48% and future expected dividend yield of 2.63% also add extra incentive for investors, making 3M a leading investment overall for investors interested in industrial sector portfolio exposure for the long term.
Disclosure: I/we have no positions in any stocks mentioned, and no plans to initiate any positions within the next 72 hours.
I wrote this article myself, and it expresses my own opinions. I am not receiving compensation for it (other than from Seeking Alpha). I have no business relationship with any company whose stock is mentioned in this article.