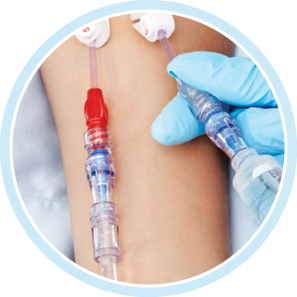 The Business
ICU Medical, Inc. (NASDAQ:ICUI) is a $1.6 billion, global, healthcare company, headquartered in San Clemente, California, that develops, manufactures, and sells medical devices used in infusion therapy, oncology, and critical care applications. Its products are used in hospitals and alternative medical care sites.
The company was started in 1984, when Doctor George Lopez conceived and invented a locking IV device named the "ClickLock". The company went public in 1992. Since its founding it has continued to develop and acquire numerous additional products, including the "Clave" family of needlefree vascular access devices, and the "Neutron Catheter Patency Device". It has expanded globaly with sales of its products in more than sixty countries and currently has administrative offices in Slovakia, Italy, Netherlands, Australia and Germany, and production facilities in the United States and Mexico. At its 2015 fourth quarter conference call, management stated that it was closing its Slovakia production facility, for the purpose of using excess capacity in its Mexico facility.
Management
Dr. Lopez (the founder of the company), was president, CEO, and chairman of the board of directors of the company from its beginning until October 31, 2013, when he resigned as CEO and president, for health reasons. Steven Riggs (a long-time ICUI employee), was appointed acting CEO. Dr. Lopez continued as chairman of the board of directors, and as an employee in the Research and Development Department.
On February 12, 2014, Vivek Jain was appointed CEO and chairman of the board of directors of the company. Steven Riggs returned to his former duties as vice president of operations. Prior to his appointment, Jain had been president of the Procedural Solutions Division at CareFusion Corporation (NYSE:CFN). Jain had also previously worked at Cardinal Health, Inc. (NYSE:CAH), and JPMorgan Chase & Co. (NYSE:JPM). Dr. Lopez has remained as a director of the company.
According to the 2014 Proxy Statement of ICUI, Dr. Lopez owns 12.5% of the company's outstanding shares of stock, which includes family and charitable trusts and a limited partnership to which he disclaimed beneficiary ownership rights. 92% of the outstanding shares of stock are held by institutions. I assume that the trusts and limited partnership of Dr. Lopez are included in this 92%.
Historical Performance of the Company
From 1997 through 2011, ICUI showed a steady trend of growth in both its revenue and earnings. According to F.A.S.T. Graphs, its earnings per share went from $0.48 in 1997 to $3.15 in 2011. During that period it had only two years of negative growth. In 2004 it earnings had negative growth of 78% and then immediately bounced back in 2005 with a gain of 309%. In 2007 it had negative growth of 8% and then bounced back in 2008 to a gain of 11%.
In 2012 ICUI started a three-year decline in earnings growth, followed by a two-year decline in revenue growth and operating profits. Below are the relevant metrics for that period.
ICUI REVENUE AND EARNINGS METRICS

| | | | | | |
| --- | --- | --- | --- | --- | --- |
| Values are in Millions, except for per share data. | 2014 | 2013 | 2012 | 2011 | 2010 |
| TOTAL REVENUE | 309 | 314 | 317 | 302 | 283 |
| COST OF REVENUE | 158 | 159 | 160 | 160 | 154 |
| GROSS PROFIT | 151 | 155 | 157 | 142 | 129 |
| | | | | | |
| OPERATING PROFIT | 39 | 52 | 61 | 65 | 48 |
| % of Gross Revenue | 13% | 17% | 19% | 22% | 17% |
| | | | | | |
| EARNINGS PER SHARE | 1.68 | 2.65 | 2.80 | 3.15 | 2.16 |
| | | | | | |
| OPERATING CASH FLOW | 61 | 66 | 66 | 64 | 33 |
| | | | | | |
| AVERAGE SHARE PRICE | 70.75 | 69.00 | 52.91 | 40.68 | 34.87 |
| | | | | | |
| AVERAGE P/E RATIO | 42.11 | 26.04 | 18.90 | 12.91 | 16.41 |
In the summer of 2013, there was a rumor that the company was looking for a buyer. On August 2, 2013, Vita Reed stated (in an article in the Orange County Business Journal), that ICUI was having discussions with J. P. Morgan Chase & Co., to sell itself for up to $1 billion. The article also indicated that GTCR LLC, a private equity firm, was in talks with ICUI to purchase it. As a result of these rumors ICUI's share price went from a low of $53.00 to a high of $85.00 in July 2013. When no buyer came forward the stock began dropping, and on October 31, 2013 Dr. Lopez resigned from his CEO position, for health reasons. Steven Riggs became acting CEO until Vivek Jain was appointed CEO, president, and chairman of the board of directors on February 12, 2014.
When Dr. Lopez resigned on October 31, 2013, the share price of the Company was $61.80. When Vivek Jain came on board the share price was at $62.60. As shown in the chart above, ICUI's decline continued in 2014. However, a major turnaround has occurred in 2015. Total revenue increased 10.7% to $360 million, and earnings per share increased 62.5% to $2.73. Operating cash flow was about the only metric that was down. It decreased 9.8% to $56 million, and can be explained by the purchase of Excelsior Medical Association for $57 million from RoundTable Healthcare Partners (a private equity partnership). As part of the agreement, ICUI agreed to sell to Medline Industries, Inc., Excelsior's "SwabFlush" product and its saline and heparin flush syringes for $27 million. The net result, after the simultaneous transaction, was a $32.5 million purchase price that ICUI paid with cash reserves. ICUI also entered into an exclusive supply agreement to serve Medline on an OEM basis as supplier for the "SwabFlush" business. The transaction closed in the fourth quarter of 2015.
Future Plans For ICUI
In ICUI's fourth quarter 2015 earnings conference call, Vivek Jain gave some guidance on his strategic plans for the company going forward. The major strategies are as follows:
1) The company will gain growth through acquisitions.
Growth by acquisitions is a major change from the way the company has operated in the past. The business was started by Doctor Lopez after he invented and developed a locking I.V. device, and since then most of its innovation and development of products have been internal. The company had a very conservative philosophy, and always maintained a strong balance sheet with little or no debt.
Under CEO Jain the Company made its first acquisition in 2015, with the purchase of Excelsior Medical Corporation from Roundtable Healthcare Partners (a private equity firm). Excelsior is a manufacturer of healthcare devices used to disinfect and protect access to a patient's bloodstream. The transaction was a bit complex, but in summary the contract provided that upon purchase of Excelsior, ICUI would simultaneously sell to Medline Industries, Inc., Excelsior's "SwabFlush" product and also its saline and heparin flush syringes, thus leaving ICUI with Excelsior's "SwabCap" product that complements ICUI's family of needlefree connectors. The net cost of this purchase and sale transaction to ICUI was $32.5 million, which ICUI paid for out of its cash reserves. In addition ICUI entered into a long-term exclusive OEM agreement with Medline, whereby ICUI will be a supplier and innovation partner for Medline's "SwabFlush" business, so it appears that Excelsior gained in two respects. It gained a complementary product to its existing products, and it also gained a large OEM customer, all for only $32.5 million.
In the fourth quarter conference call, Jain indicated that the integration of Excelsior has gone as planned, and although the amount it contributed to the fourth quarter revenue and profits was minimal, he anticipates the acquisition will continue to grow and be profitable in the future. When Excelsior is fully integrated into the company Jain expect a return of 10% on the company's invested capital.
Jain stated that he plans to make acquisitions similar in size and type to the Excelsior purchase every 18 months. In my opinion this sounds like a good plan, especially if it can be done without adding any debt. ICUI does not pay dividends.
2) The company plans to grow its global footprint.
To further expand its growth in foreign markets, the company is entering into distributor contracts with large international companies. It signed a multiyear distribution contract with Terumo Corp (TRUMF) for its Asian business, and the company has also entered into a multiyear contract with B. Braun Melsungen, AG to sell its new "SwabCap" product in selected countries. B. Braun Melsungen, AG is a large German Company owned by the Braun family.
3) ICUI plans to diversify its OEM business.
ICUI for a long time has been very dependent on Hospira, Inc. (NYSE:HSP) for its OEM business. HSP is a provider of specialty injectable pharmaceuticals and infusion technologies. As a reference point, in 2012 HSP accounted for 42% of ICUI's worldwide revenues. Under the best of circumstances, such a large percentage of revenue from a single customer would pose a significant risk. The HSP risk was increased by the fact that HSP had a number of problems with the FDA, including contamination issues at its Rocky Mount, NC plant.
On September 3, 2015, HSP was purchased by Pfizer Inc (NYSE:PFE). One would hope that its regulatory issues would subside somewhat, now that it is part of PFE, but as recently as January 14, 2016, HSP was give a notice of a marketing violation by the FDA, and in August 2015 the FDA warned hospitals about a cybersecurity problem with HSP's fusion pump. It therefore appears that HSP (hereinafter sometimes referred to as PFE), continues to have at least some issues with the FDA in this highly regulated field.
The purchase of HSP by PFE, also poses some uncertainty with regard to future OEM revenues of ICUI. Jain has indicated that he intends to continue the contract with PFE through its termination date in 2018 as long as PFE satisfactorily continues to fulfill its obligations. In 2015, revenue from HSP increase $12 million, but Jain expects a decline in revenue from PFE of $10 million in 2016. In 2015 and 2014, the revenue from HSP was 36% of ICUI's total. In 2013 it was 39% and in 2012 it was 42%. Jain expects it to be 20% by 2018. One of the results of the company's purchase of Excelsior Medical Association was a OEM contract with Medline which furthered its efforts to diversify its OEM clients. Whether the PFE's purchase of HSP turns out to be a plus or a minus is still up it the air, but Jain's efforts to reduce its reliance on PFE is a positive for the company.
Valuation
I have calculated a fair value price for ICUI of $103.15. I used a present value model of total owners' earnings (earnings plus depreciation, minus capital expenditures), over a ten-year period. The total ten-year earnings (using a 19% average growth rate and 2015 owners earnings of $3.22 per share), came to $79.74. I then added the current share price of $105.00 to get a total of $184.74. The share price is added to the total earnings for the reason that without it there would be an assumption that the company goes out-of-business and has no value at the end of ten years. I believe such an assumption is unreasonable. I look at the share price as I would the principal of a loan that will be paid back when the term of the loan ends. I then computed the present value of $184.74 using a 6% discount rate (ICUI's WACC rate is 6.04%). The result of the calculation was a fair value price of $103.15 which is slightly below the price it is selling at today. I would be a buyer of the stock at $82.52 (a 20% discount to its current fair value).
There are several reasons why I feel a 20% discount to its current fair value is appropriate. First and foremost, I want to buy companies at a discount, not at a premium or even fair value. Second, my discount model provides for a 19% growth rate. This rate comes from F.A.S.T. Graphs' estimate for future EPS growth (based on S&P's IQ analysts estimates). I use this growth rate to standardize my fair value model. However, 19% earnings growth seems rather high for this company, and may not be attainable. The company's prior ten-year growth rate is approximately 11%. Also the company's P/E ratio is currently 38.62 (forward P/E 23.89). I calculated its average P/E over the previous five-years at 27.46. Its current price appears to already take into account a maximum amount of growth for 2016.
Conclusion
Although, Vivek Jain has done a good job in turning ICUI around since he took over in 2014, the increase in the company's share price fully reflects its fair value. ICUI's share price has recently been very volatile, as shown by the graph below.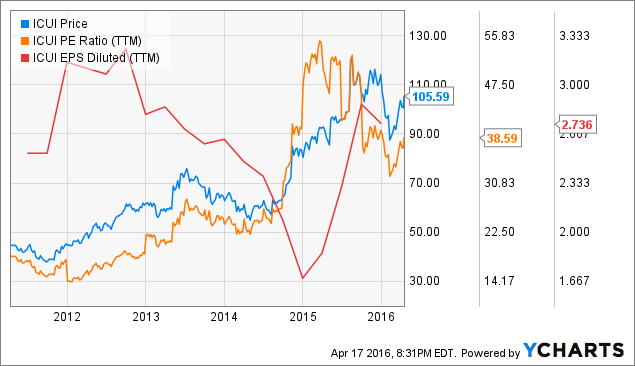 This indicates to me that the jury is still out on how successful the turnaround will be and whether Jain can execute on his future plans for the company. So far I am in agreement with what he has done and with his plans, but I do think there are certain risks that could derail them, especial the new relationship with PFE. Although Jain downplayed (in his fourth quarter conference call), the estimate that revenue from PFE would be down $10 million in 2016, I will feel more comfortable with the future growth of ICUI after the relationship with PFE has had time to develop. Likewise, the purchase of Excelsior (that at this time appears to be going well). causes some further uncertainies. Since purchasing companies for growth is new to ICUI, I want to see how well Excelsior is integrated into ICUI, and whether it produces the results that management anticipates.
Because of these uncertainties as well as the share price being fully valued, I would not be a buyer of ICUI at its current price of $105.00. I believe a good entry point to purchase this stock is $83.00.
Disclosure: I/we have no positions in any stocks mentioned, and no plans to initiate any positions within the next 72 hours.
I wrote this article myself, and it expresses my own opinions. I am not receiving compensation for it (other than from Seeking Alpha). I have no business relationship with any company whose stock is mentioned in this article.