In this series on the best mechanical value strategies, we looked at the performance of the P/E ratio and its alternatives, the Piotroski F Score, the Magic Formula, net-nets, and the P/B ratio.
In today's article, we are going to crown a winning strategy. We'll look first at results within the broader market, and then at performance specifically within the S&P 500.
So without further ado, the winner is...
Crowning the Winning Value Strategy
We construct a portfolio of the 100 best Russell 3000 companies according to each strategy. The backtests begin on Jan 1, 2000 and the portfolios are rebalanced annually. Here are the results:
As a reference point, during this 16+ year period the equal-weighted Russell 3000 had an annualized return of around 8.5%.
A couple of notes on specific entries in this table. First, low short interest would be better categorized as "market sentiment" rather than as a value strategy. I include it for comparison, however, as it's a mechanical strategy which performs well.
Second, I stated above that the portfolios select companies from the Russell 3000. In the case of net-nets (companies trading at 67% or less of their net current asset value), this is not true. To have a sufficient number of qualifying companies, the minimum market cap chosen was $10M. So the strong results of this strategy should be considered with that in mind.
With all that said, the clear winner is: Low EV/EBIT.
The Winning Value Strategy for Large Caps
We repeat these backtests with portfolios now constructed from the 50 best S&P 500 companies according to each strategy.
Value Strategy Performance in Large Caps
Strategy

Annualized Return

Since 2000

$1000 Becomes...
Net-Net
N/A
N/A
Price to Book (P/B)
6.8%
$2920
Price to Tangible Book
7.64%
$3320
Piotroski F Score
8.91%
$4010
Price to Earnings (P/E)
9.8%
$4610
Share Buybacks
11.2%
$5590
Low Short Interest
12.0%
$6280
Magic Formula
12.3%
$6610
EV/EBIT
12.8%
$7100
During this period, the equal-weighted S&P 500 had an annualized return of around 6.5%.
The result is the same: Low EV/EBIT is the highest-returning strategy (among the ones considered) since 2000.
The second best-performing strategy, net-net, is no longer applicable within the large cap space as large US companies rarely trade at a significant discount to NCAV.
The Magic Formula and low short interest strategies are consistently strong performers.
The EV/EBIT Strategy
It is reasonable that the best value strategy would be buying companies that (in some measure) earn a lot relative to what they cost. Unlike the standard P/E ratio, the enterprise multiples include debt, allowing for accurate comparison across different capital structures.
Here are the backtest results of the other popular enterprise multiple, EV/EBITDA: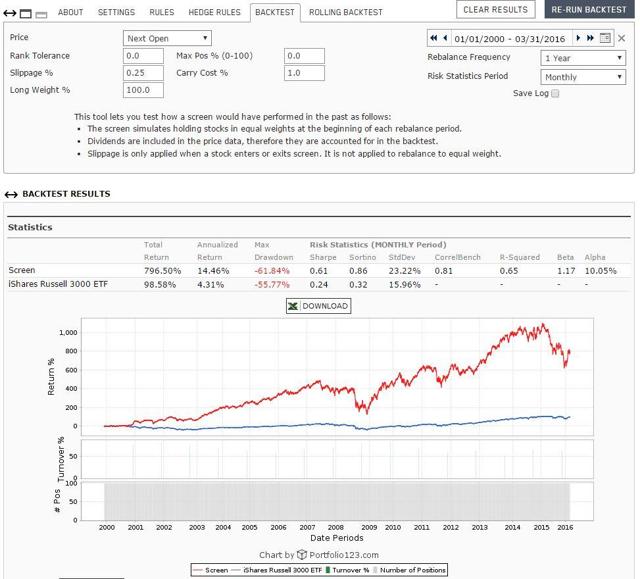 The EV/EBITDA strategy is clearly a strong performer, beating most other mechanical value strategies. But this 14.5% annualized return is improved by switching the denominator to EBIT: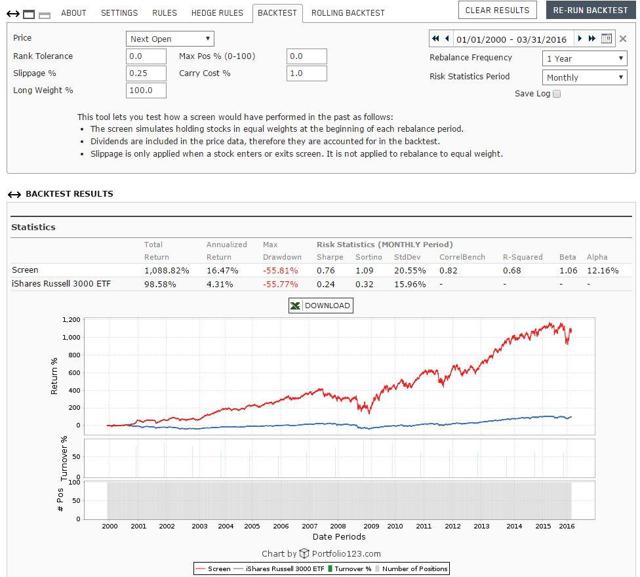 (Credit to Portfolio123 for the backtest and screen results.)
Note that we use EBIT(DA) for the trailing twelve month period and require that it be positive.
The EV/EBIT strategy has been the superior one since 2000 with its 16.5% annualized return. Depreciation serves as a useful proxy for maintenance capex.
Our result agrees with the longer-ranging study from Quantitative Value which also shows EV/EBIT to be the best-performing price ratio.
Many of the companies currently appearing on the low EV/EBIT screen are financial and bank stocks, such as Prudential (NYSE:PRU) and Comerica (NYSE:CMA), both with an EV/EBIT of under 5. (For reference, the median EV/EBIT for S&P 500 companies is approximately 16.)
There are plenty of other mechanical value strategies that one could test, including hybrids such as low enterprise multiple companies that have recently bought back shares and have low short interest. Strategies like this may show better results in certain market conditions or over the full period. Simpler strategies lessen the risk of curve-fitting, however.
Conclusion
The strongest mechanical value strategy since 2000 has been the EV/EBIT enterprise multiple. It has a 12.8% annualized return within S&P 500 companies, and a 16.5% annualized return within the Russell 3000. It also performs better than the EV/EBITDA enterprise multiple.
Other high-performing strategies are Greenblatt's Magic Formula, low short interest, and net-nets (for those willing to invest in small caps with less liquidity).
When looking at results from a table, it is easy to visualize gaining a consistent 10% or 15% per year. In reality of course, even a 16% annualized return over a longer period goes through significant drawdowns.
The last couple of years have been difficult ones for many value investors. Two questions we might ask are:
How well have these mechanical value strategies held up recently? (And at the risk of providing a spoiler to this question...)
What is the reason for this recent underperformance of value?
My next article will attempt to answer both of these questions.
Disclosure: I/we have no positions in any stocks mentioned, and no plans to initiate any positions within the next 72 hours.
I wrote this article myself, and it expresses my own opinions. I am not receiving compensation for it (other than from Seeking Alpha). I have no business relationship with any company whose stock is mentioned in this article.