Originally submitted on April 17, 2016
Since 1901, U.S. Steel Corporation (NYSE: X) has evolved its operations into three major segments: Flat-rolled steel - for use in automotive, consumer, industrial service, and mining markets; U.S. Steel Europe - for construction, container, appliance, oil, petrochemical, and transportation; finally, the Tubular segment goes to oil, gas, and petrochemical markets.
Recent Upside in The Steel Industry - Demand or Luck?
So far this year, U.S. Steel Corp. stock is up 200% from the February low. That's considered pretty good when a company is, you know, actually making money. U.S. Steel Corp. is not, so what gives?
I believe the recent upside is luck.
First, on March 1, 2016, the U.S. steel industry won a significant trade battle case against foreign, mostly Chinese, steel dumping activity and won tariffs of up to 265% on flat-rolled steel.
You can see the celebration in the stock price of all steel-related stocks since March 1, 2016.
Second, the fact that improving steel prices have dove-tailed into this mix of data points is significant but arguably may not be sustainable, in my opinion, due to overcapacity.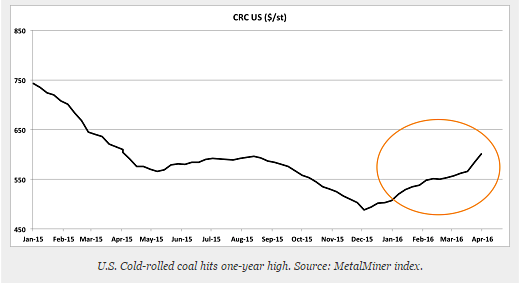 That was a huge move in U.S. Steel Corp.'s stock price, and it had to do with the fact that the tariff news helped them disproportionately over other steel manufacturers with newer updated technology. U.S. Steel Corp. still runs legacy blast-furnace technology, thus tariffs and rising price helps them more.
All Steel Makers Are Not Equal
U.S. Steel Corp. has a debt-heavy balance sheet and uses older, more expensive, blast-furnace technology. As a result, the pricing downturn in steel had a disproportionate effect on its performance results.
click to enlarge)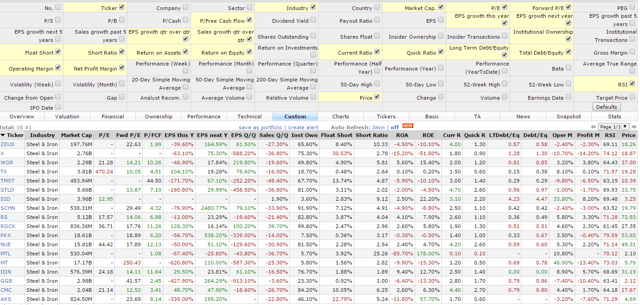 (Incidentally, if you want quick explanations and links on the headings shown above click here for instant education.)
A negative P/E doesn't help to determine value. The company has high debt management risk; disappointing return on equity; and weak operating cash flow. Meanwhile, gross profit margin for the fourth quarter of the fiscal-year 2015 has significantly decreased for the same period a year ago. Sales and net income fell significantly. Currently, the Quick Ratio is 0.90 showing a lack of ability to cover short-term cash needs. The already weakened liquidity situation decreased from the same period a year ago and could indicate deteriorating cash flow.
Stockholders' equity ("net worth") has significantly decreased by 35.87% from the same quarter in 2015. Liquidity measurements show that the company is in a possibly tenuous position in which financial difficulties could develop if the industry stays moribund.

(Source: biz.yahoo.com)
U.S. Steel Corp. trades at a discount in too many areas regarding alternatives within the industry. The company lags woefully behind in most measures.
Even after a decline in short interest, from 30% to 25%, during the month of March, the fact remains that 25% of the stock has been sold short and still outstanding.
Why Next Week's OECD Meeting Won't Help U.S. Steel Corp.
The Organisation for Economic Co-operation and Development (OECD) meets Monday, April 18, 2016. Governments participating in the OECD Steel Committee know that excess capacity is the main challenges facing the global steel sector today. Demand is slow and threatening to slow down even more and yet production continues, even increasing.
You can make comparisons to the oil market's recent experience of a glut in oil with increasing production.
How serious is overcapacity? The Economist magazine highlighted an article on steel production relative to Britain but succinctly explaining the problem in general, saying:
…China, where steel output has ballooned… has produced more steel in two years than Britain since 1900, according to the International Steel Statistics Bureau, and is indeed awash with excess capacity. But this is part of a phenomenon that extends across the developing world. The OECD, a club mostly of rich countries, reckons that in the four years to 2017 steel making capacity will have grown by 50% in the Middle East, 20% in Africa and 10% in Latin America.

Meanwhile, the China-led slowdown in developing economies and low oil prices, which have hit the use of steel in rigs and pipelines, mean that demand is severely lagging supply."
So lagging and slowing global demand brought the industry tariff relief, but what will bring increased demand for steel in the future?
The marketplace is awash in steel and oil.
The OECD cannot create global demand per se.
Furthermore, from the World Steel Association news release of April 13, 2016, comes:
The World Steel Association (worldsteel) today released its Short Range Outlook (SRO) for 2016 and 2017. worldsteel forecasts that global steel demand will decrease by -0.8% to 1,488 Mt in 2016 following a contraction of -3.0% in 2015. In 2017, it is forecast that world steel demand will return to growth of 0.4% and will reach 1,494 Mt."
Although the reaction to the meeting's outcome may or may not be as great as the early March 2016 reaction, I do expect a reaction next week that will separate the well-managed steel manufacturers from the weak, read U.S. Steel Corp.
To me, this would be confirmed if U.S. Steel Corp. was unable to break above the Aug. 10, 2015, high of $21.48.
U.S. Steel Corp. Is A Short And The Charts Agree
Technical analysis of price action, in my opinion, suggests that any advance brought on by positive developments from next week's (OECD) meeting could push U.S. Steel Corp. to the Aug. 10, 2015 close of $21.39. It would also suggest a reversal from that point as I believe sellers will use any advance to sell into strength considering the fundamentals of U.S. Steel Corp. vs. industry headwinds and better alternatives within the industry.
In the end, the great equalizer, U.S. Steel Corp.'s earnings report, is due April 26, 2016. The earnings date will become crucial if the stock fails to move decisively in one direction or the other after this week's OECD meeting.
A Fibonacci retracement can bring a reversal to the $14 range which would be a 50% retracement of the February-March advance.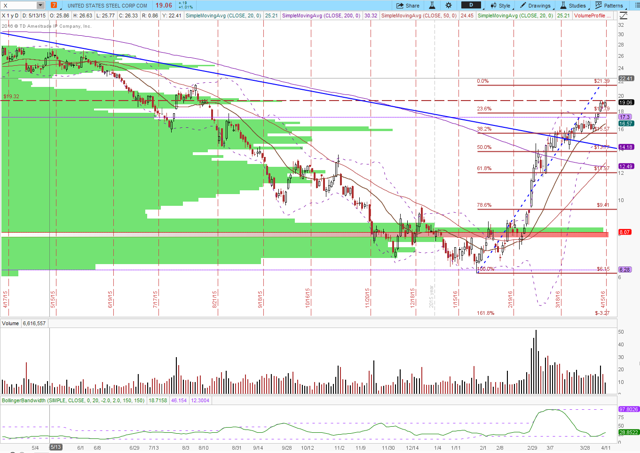 Now, having pointed out the ugly fundamentals of U.S. Steel Corp., I have to say that had I not known of the fundamentals and relied solely on price action, I'd be thinking bullish, or I'd be looking to go long on a modest pullback.
But I am aware, and I believe the market still only rewards earnings growth from a company's core business. To me, that leaves U.S. Steel Corp. on the short side.
Disclosure: I/we have no positions in any stocks mentioned, and no plans to initiate any positions within the next 72 hours.
I wrote this article myself, and it expresses my own opinions. I am not receiving compensation for it (other than from Seeking Alpha). I have no business relationship with any company whose stock is mentioned in this article.