Given the imminent collapse of SunEdison (NYSE: SUNE), it would appear that bears will soon win the fight. However, much of the debate has centered on management's past decisions, few have talked about the real culprit behind the collapse. I am not defending the management in any way, but I think it is important to correctly identify the main contributing factor and to learn the lesson correctly.
I'm going to briefly go over the prelude to the bloodbath. SunEdison's strategy took a drastic turn in 2014. The company signed up for the newest trend in finance by forming yieldcos (TerraForm Power (NASDAQ: TERP) and TerraForm Global (NASDAQ: GLBL)). In addition, the management aggressively expanded the company through leverage (e.g. First Wind, the failed attempt of Vivint Solar). The series of transactions caused debt to balloon from $3.6 billion in 2013 to $11.7 billion as of Q3 2015 on a consolidated basis.
Easy Money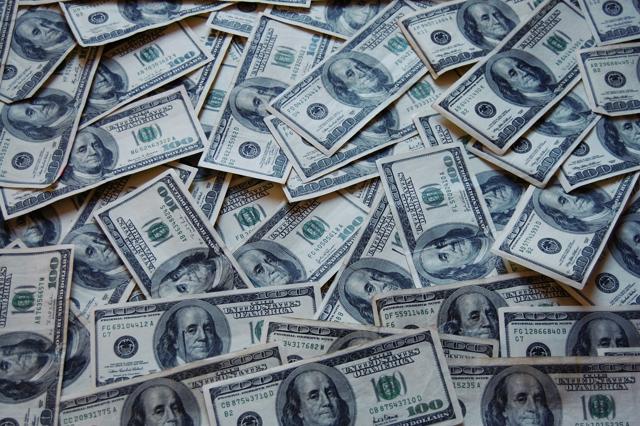 Source: wikipedia.org
I am all for the intelligent use of debt. An optimal capital structure is critical for building shareholder value. Believe it or not, the management in fact had (almost) everything figured out. While the ballooning debt was scary, much of it would have been transferred to the yieldcos eventually (i.e. becoming non-recourse to SUNE) in the form of equity or debt. As of Q3 2015, $3.8 billion sits on the balance sheet of TERP and GLBL, this compares to $2.1 billion as of FYE 2014.
On paper, this arrangement looked brilliant. SunEdison essentially gets "free money" in a sense, because under normal circumstances, the ultimate capital outlay will be minimal. The company can essentially raise debt to buy projects, sell the project to yieldcos to repay the debt, then sit back and enjoy the cash flow that it receives through incentive distribution agreements. This is the single biggest reason behind the yieldco structure. Not only will debt be disassociated from the parent , there is essentially no cap on growth. When your initial outlay is nil, you can grow as much as you want. According to this Wall Street Journal article, CEO Mr. Chatila talked about "launching a whole fleet of yieldcos." By unloading projects to yieldcos which are supposed to have a lower cost of capital (much like REITs and MLPs due to their focus on yield), SunEdison was essentially conducting a complex arbitrage scheme.
The Biggest Contributor To The Downfall
Given the circumstances at the time (a still rosy market outlook), the yieldco structure looked lucrative. This is what led to the rapid appreciation in the stock. Pay almost nothing to get free cash, who doesn't like that?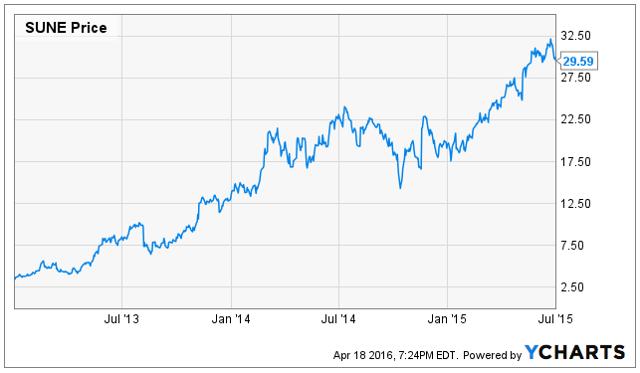 We all know what happened after. Shares are currently trading at 34 cents and the company is on the verge of bankruptcy. But I believe that the management is not entirely the one at fault here.
As mentioned earlier, under normal circumstances, the yieldco structure is quite profitable. However, the market is not always going to be normal, and when investor sentiment shifts the wrong way, things will quickly snowball out of control. It was not management that dealt the fatal blow. No, it was the market. The complex scheme that the management executed was a double-edged sword, and it was the unpredictable investor sentiment that made it swing the wrong way.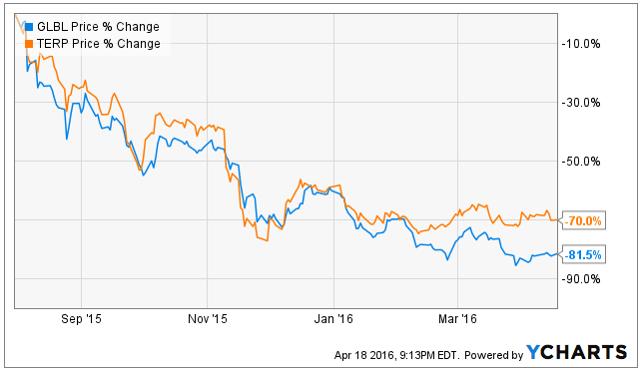 Both yieldcos (TERP and GLBL) have declined precipitously since their IPOs and are now trading at extremely high yields (15% for TERP and 42% for GLBL). What does this mean? The complex arbitrage schemes no longer works. SunEdison can no longer unload debt to the yieldcos when the market has clearly lost confidence in both stocks (strangely sometimes it the best time to invest when yields are high). This is what led to the present situation as we know it. SunEdison has a pile of debt on its balance sheet that it can't pay off because the market has closed the door on its yieldcos, which were instrumental for cash generation. It is now evident that it is really the market sentiment that exacerbated the unintended consequences stemming from arguably reasonable decisions by the management.
What You Should Do Now
I believe that most investors would do well to stay away from SunEdison. Creditors have begun pillaging the company already (e.g. the L+10% second lien loans), making a favorable restructuring outcome difficult. It is perhaps better to look at TERP and GLBL, as their operations have not yet been affected. However, because SunEdison is the controlling shareholder for both TERP and GLBL, both companies are subject to significant event risk. In the case of SunEdison's bankruptcy (which seems inevitable), there are potential conflict of interests as to how the assets will be handled in the court. All in all, I believe that SunEdison is dangerous waters for anyone looking to invest in a safe company. Investors will sleep much better at night with their money somewhere else.
Note: I spend a great deal of time researching every company in the V20 Portfolio (+40% in 2015). If you are looking for some ideas that could complement your own portfolio, you can click the "Follow" button and be updated with my latest insights. Premium subscribers will get full access to the V20 Portfolio.
Disclosure: I/we have no positions in any stocks mentioned, and no plans to initiate any positions within the next 72 hours.
I wrote this article myself, and it expresses my own opinions. I am not receiving compensation for it (other than from Seeking Alpha). I have no business relationship with any company whose stock is mentioned in this article.
Editor's Note: This article covers one or more stocks trading at less than $1 per share and/or with less than a $100 million market cap. Please be aware of the risks associated with these stocks.