The investing climate in 2016 is one that can best be described as extremely pessimistic. The elephant in the room are concerns of global deflation, exemplified by a record low interest rate environment, low commodity prices, and weak global growth. In this type of environment, traditional valuation techniques have been eschewed in favor of market participants piling into overvalued sectors such as consumer staples and utilities, as perceived safe havens. Meanwhile, politicians still use the big banks as punching bags and many market participants view the banking sector as being uninvestable. It is my belief that this consensus opinion is likely to be wrong with very negative consequences for most market participants. Paying 20-25% premiums to historical valuations, for favored but undeniably slow-growth sectors, is not a "safe" strategy; while investing in the most important financial institutions in the world, at a massive discount to a conservative estimate of runoff value, is far from risky. Citigroup (NYSE:C) offers an absolutely incredible opportunity for substantial capital appreciation, fast and sustainable dividend growth, and operating leverage for when rates finally do begin to increase.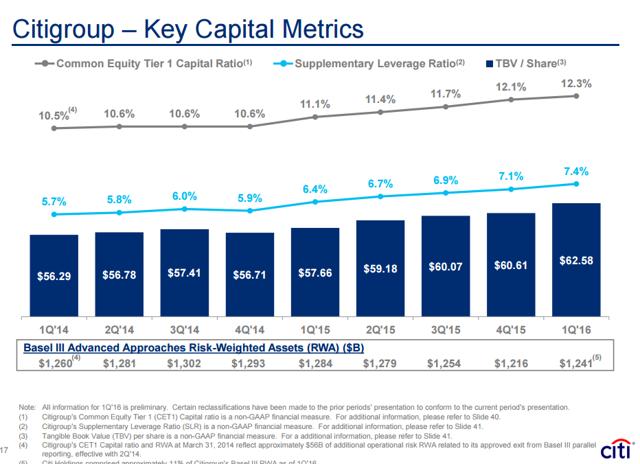 Source: Citigroup 1 st quarter 2016 Investor Presentation
Citigroup has come a long way under the leadership of CEO Michael Corbat. While others cannot get past the fact that the company nearly failed in 2008, I see a simplified global bank with strong competitive advantages. At its core is the Institutional Client Group (ICG) and the Global Consumer Bank (GCB). The ICG serves multinational corporations, hedge funds, etc., across the globe with their financing needs. Citi is the go-to company for areas such as trade finance, and its presence in so many countries allows it to win business from multinationals looking for a local and global presence. The GCB is focused on more traditional banking in many of the most influential, affluent, and fastest growing cities in the world. Citigroup has made impressive strides in terms of reducing its unwanted legacy assets, which were mostly held in Citi Holdings. It has sold a variety of businesses across the globe that didn't fit into its core business activities. Many of the businesses, such as OneMain Financial, carried increased credit risks, making Citigroup more prone to take larger losses when the credit cycle degenerates. Over the last three years, Citigroup has exited or is in the process of exiting from 19 consumer markets. Just in February, the company announced that it would be selling its consumer businesses in Brazil, Argentina and Columbia to focus exclusively on growing the institutional business in South America.
The core businesses at the ICG and GCB carry much higher credit quality. Even when you look at energy exposure, I believe Citigroup stands out in that such a high percentage of its loans are to investment grade companies, largely due to the fact that many of its major customers are local subsidiaries to high quality multinationals. Citigroup also has a very strong Private Bank that generates solid returns with attractive growth prospects. Citigroup's underlying core loan growth has been somewhat overshadowed by the reduction of assets at Citi Holdings. Citi Holdings' assets declined by another 10% in the quarter and are down 44% from one year ago, accounting for just 4% of assets at this point. Like the other big banks, Citigroup has also faced tens of billions of dollars of legal and repositioning costs, which have masked the underlying earnings power of the enterprise.
A very underappreciated element of an investment in Citigroup is the fact that this is a company that should be able to return a very large percentage of earnings to shareholders over the next several years, as it already meets the new regulatory capital requirements and is accelerating its capital build with each quarter. Citigroup ended the 1st quarter with a CET1 Capital Ratio of 12.3% and a Supplementary Leverage Ratio (SLR) of 7.4%, which gives it one of the better capital positions in the industry. The bank generated $6 billion in regulatory capital and utilized approximately $1.6 billion in DTA in the 1 st quarter. Tangible book value per share increased to $62.58. In the 1st quarter, Citigroup was able to repurchase 31 million common shares, bringing the net reduction of outstanding shares to just under 100 million over the last 4 quarters. With the stock trading at such depressed levels, there is no better way to increase shareholder value than by buying back stock aggressively. Unfortunately, with the CCAR process, this has become a very bureaucratic endeavor, but I believe as it becomes more clear that Citigroup is about to embark on a very significant capital return plan, the stock will likely appreciate in anticipation.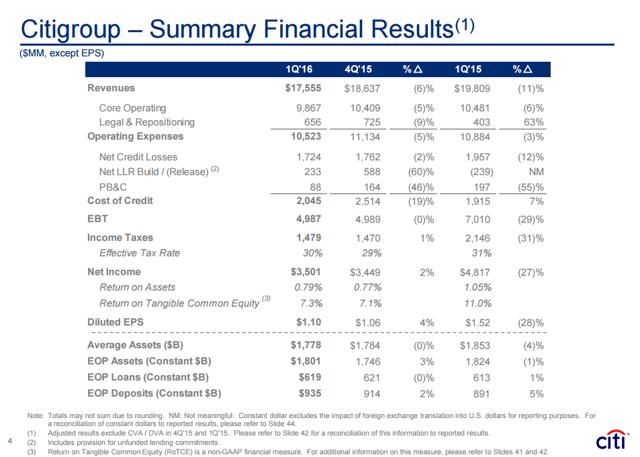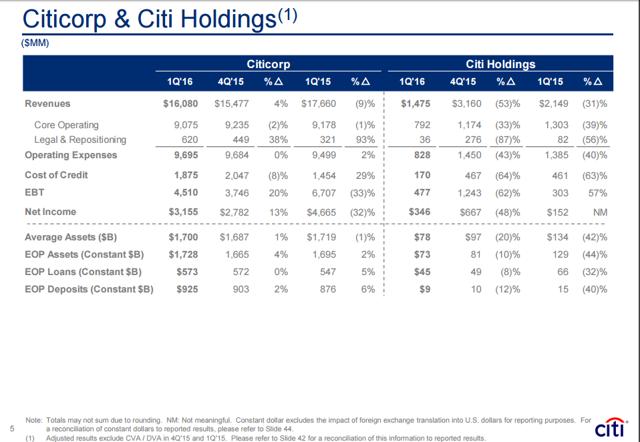 On April 15th, Citigroup reported 1st quarter earnings that were significantly better than analysts had predicted. Net income was $3.5 billion, or $1.10 per share, in a quarter where capital markets were as difficult as any period since 2008-2009. Revenues of $17.6 billion were down 11% from last year, largely due to the difficult conditions in investment banking and the wind down of Citi Holdings. Expenses decreased 3% YoY, driven by the wind down of Citi Holdings, lower legal expenses and the benefit from FX translation. These expense decreases were partially offset by significant repositioning costs and ongoing investments in the franchise. Net credit losses continue to improve driven by strength in the consumer, but there was a loan loss reserve build instead of a release, largely due to energy exposure. In constant dollars, Citigroup end of period loans grew 1% YoY to $619 billion, as 5% growth in Citicorp was partially offset by the reduction in assets at Citi Holdings. Deposits grew a very healthy 5% to $935 billion, giving Citi plenty of ammo for when rates really do begin to rise. Citicorp expenses increased 2%, which I don't expect to continue due to those repositioning charges. Cost of credit grew 29% YoY, almost entirely due to the energy sector. While energy has gotten so much attention, it is important to note that low energy prices benefit many consumers and businesses. A bank the scale of Citi should have areas of its loan portfolio that are under pressure from time to time, but it has the pretax earnings power and diversification to still remain solidly profitable, even during times of significant stress.
In the ICG, total credit costs of $390 million were down from the 4th quarter but up significantly from the 1st quarter of last year. The company built roughly $260 million of additional reserves and recognized losses of roughly $150 million in the energy sector. The reserve builds were concentrated in the E&P and services and drilling segments driven by ratings migration due to sustained low oil prices as well as the impact of regulatory guidance. At quarter end, total energy exposure in ICG was $57 billion of which approximately $22 billion was funded. The funded reserve ratio was 4.2%, including a funded reserve ratio of over 10% on the non-investment grade portion. Keep in mind that this is almost all secured debt. There is a tiny $85 million of second lien exposure in the corporate portfolio with reserves against roughly a third of this amount. Citigroup believes that if oil prices were in the range of around $30 per barrel for the rest of 2016, the full-year ICG cost of credit would be roughly $1.4 billion. Two-thirds of this increase would be due to regulatory guidance, so it is very possible that at that point Citi would be overly-reserved. In both the commercial and corporate portfolios, Citigroup's total exposure to reserve-based lending in North America is roughly $4 billion, of which $2 billion is funded and the company has a 9% funded reserve ratio against these loans. There will be defaults, but severities will be much more limited than most market participants are expecting, and when you factor in current reserves the risk moving forward from energy is just not something that keeps me up at night.
Fears about net interest margins appear to have been way overblown. Citigroup maintained a 292 basis point NIM, consistent with the 4th quarter despite the sale of OneMain. The company reduces net interest costs through liability management, namely refinancing of expensive debt at cheaper rates. Importantly, the company believes that the Costco (NASDAQ:COST) portfolio acquisition should boost NIM to roughly 295 basis points in the second half of the year. Citigroup is investing heavily in its credit cards business, particularly in the United States with its acquisition of the Costco portfolio and its partnership with the retailer and Visa (NYSE:V). While competitive, credit cards are a business that can earn sizeable returns on equity through an economic cycle. Obviously, there are risks associated with it, as credit decisions are absolutely critical. The Costco deal really seems to fit to the core of the Citigroup franchise as it involves semi-affluent to affluent consumers that can hopefully engage with Citigroup in many more ways, with the Costco card serving as an introduction or an extension of an existing relationship. These investments might hurt short-term results, but are critical for Citigroup to improve its business model to deal with this changed regulatory world. There is a big difference between a Costco portfolio of credit cards and the OneMain subprime franchise. While the deal was expensive and costs are going to be high, Citigroup likely was able to bid more than American Express (NYSE:AXP) due to its large deferred tax assets. There are a myriad of benefits to the deal, and I believe it will be one of the more significant moves made by the Corbat regime.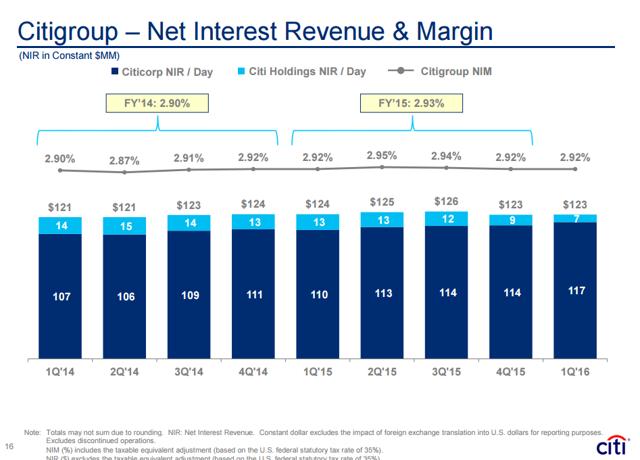 At a recent price of $45.11 and with 2.943 billion shares outstanding, Citigroup has a market capitalization of roughly $133 billion. That is a truly silly price for a company that earned $17 billion last year, despite the fact the company is only revving at about 60% of where it will be in a better environment. Each quarter, the company is cutting core costs and the risks of litigation pertaining to the Financial Crisis have been dramatically diminished. Higher interest rates will come at some point providing a major tailwind to earnings, but they aren't needed for Citi to head much higher. While capital markets were weak in the 1st quarter, much of this business will still get done at some point during the year, as companies regularly have a need to issue debt and equity etc. While the bureaucratic CCAR process makes capital returns a more rigorous and difficult to achieve endeavor, the reality is that Citigroup is going to be returning the majority of its earnings to shareholders over the next 5 years. This will lead to huge growth in book value (assuming buybacks are done at a discount), earnings per share and the dividend. At some point, Citi will be a stock that retirees are clamoring to buy hand over fist due to its much safer balance sheet, low valuation and higher dividend yield. Those that get in before will be richly rewarded.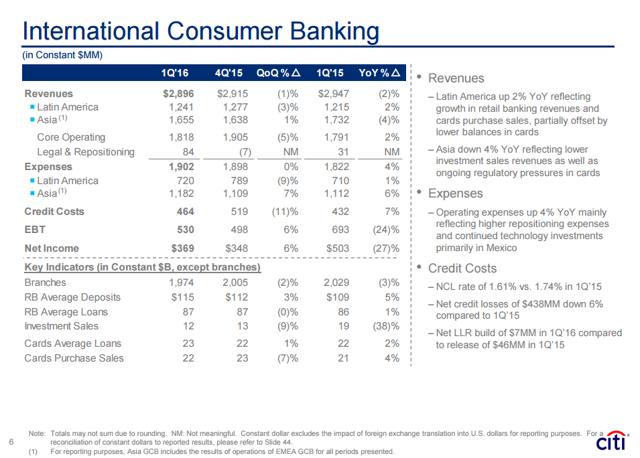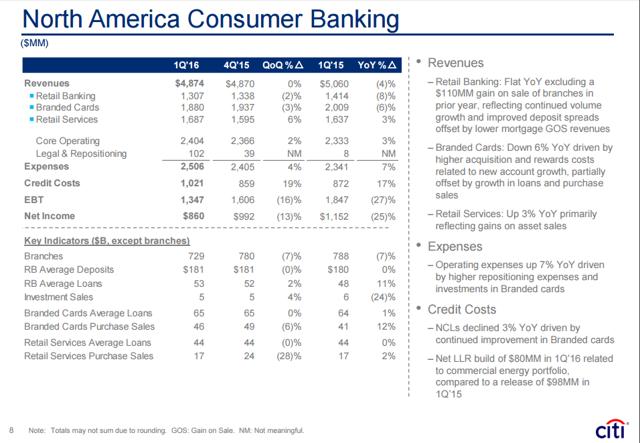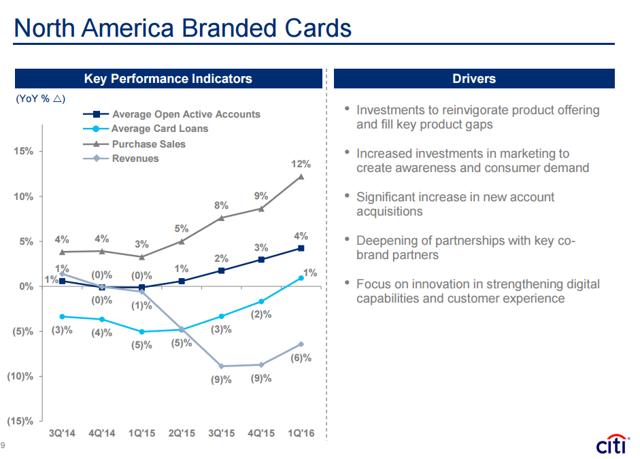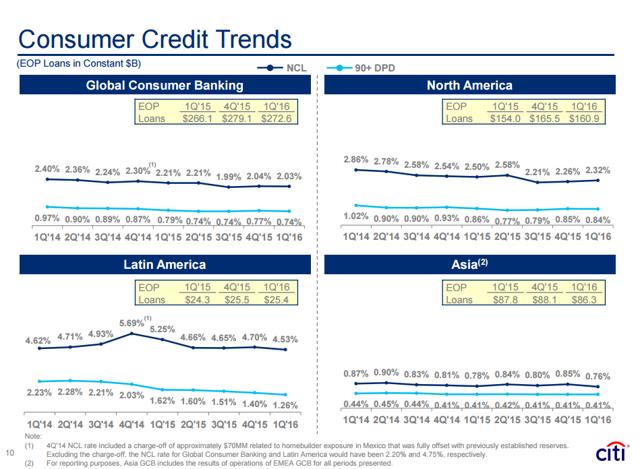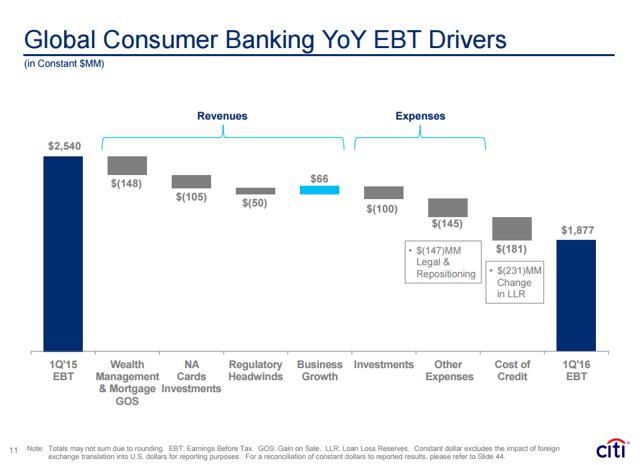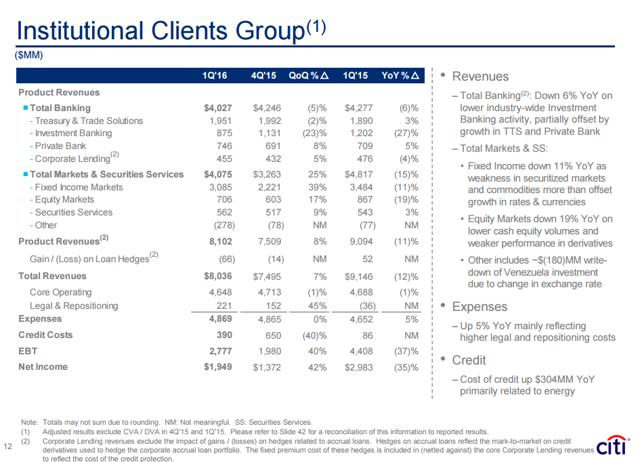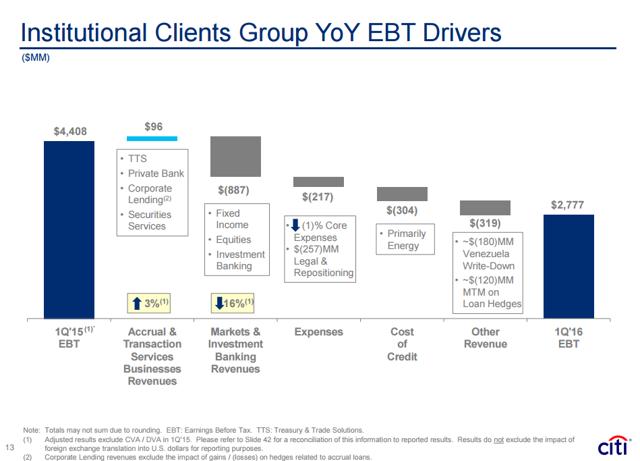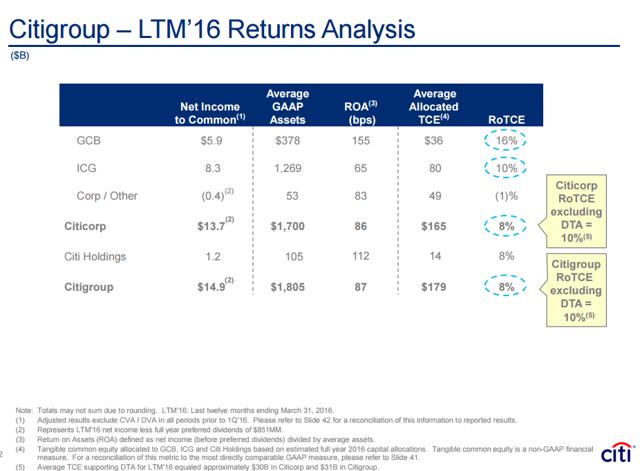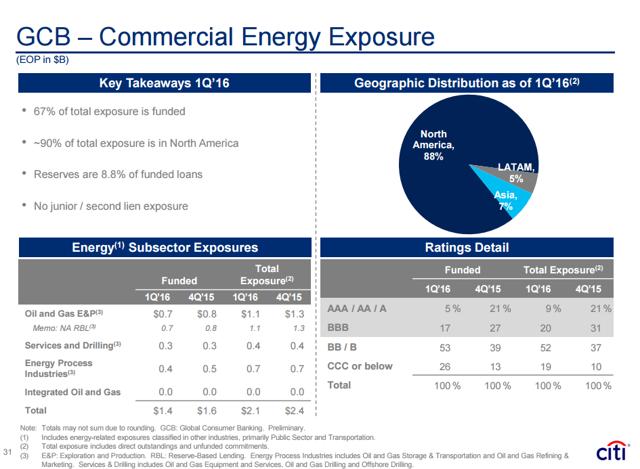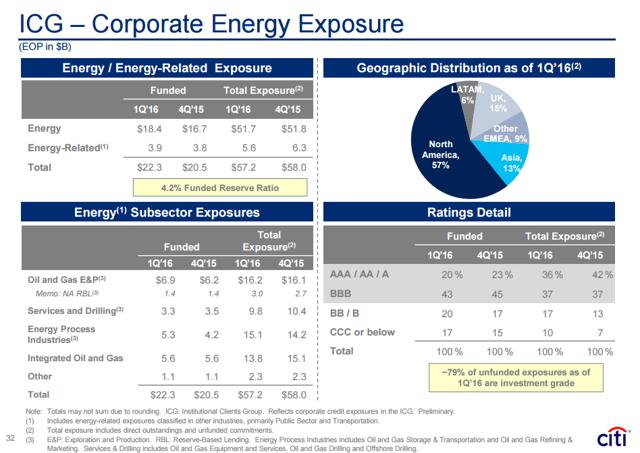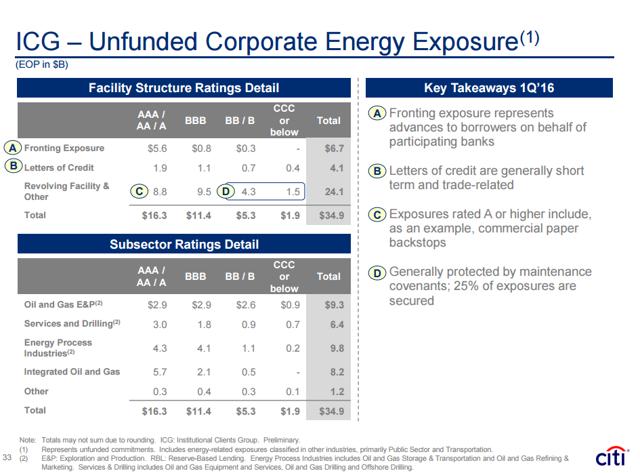 Disclosure: I am/we are long C.
I wrote this article myself, and it expresses my own opinions. I am not receiving compensation for it (other than from Seeking Alpha). I have no business relationship with any company whose stock is mentioned in this article.