Williams Cos. (NYSE:WMB) shareholders just got another dose of merger torture.
The stock tumbled 13% in 15 minutes on Monday after its merger partner Energy Transfer (NYSE:ETE) announced what appears to be its latest gambit to get out of the deal--its lawyers may not be able to deliver a 721 Opinion that the securities transfers involved would not be a taxable event. The opinion is required for the deal to close.
Williams, which is already in court with Energy Transfer over another merger issue, said it disagreed with the interpretation. Its stock recovered by the close but still was down 5% for the day.
ETE shares surged on hopes the merger would be canceled. The chart shows the symmetry of the reactions.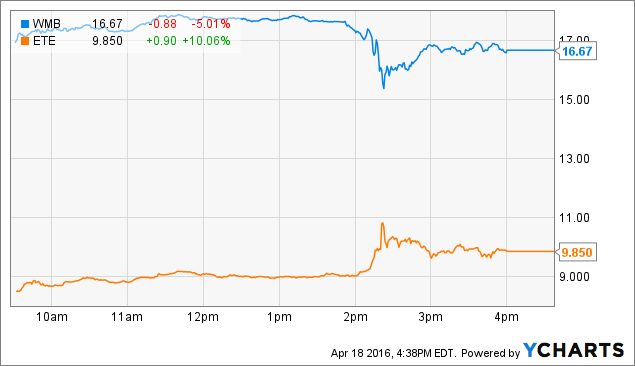 The companies announced their merger September 28 as a stock plus cash deal. If all Williams' stockholders elect to receive all cash or all stock, then each share of Williams common stock would receive $8.00 in cash and 1.5274 ETC common shares.
The value of that deal for WMB shareholders is shown in the fourth column of the chart below. The last column shows how the spread has risen over the last month, now standing above 27%.
Date
WMB
ETE
WMB merger value
Spread
3/22/2016
17.63
7.67
19.72
0.106
3/23/2016
16.26
7.15
18.92
0.141
3/24/2016
15.35
7
18.69
0.179
3/28/2016
15.14
6.68
18.21
0.168
3/29/2016
15.7
6.82
18.42
0.148
3/30/3016
15.66
6.84
18.45
0.151
3/31/2016
16.07
7.13
18.89
0.149
4/1/2016
15.52
6.88
18.51
0.162
4/4/2016
15.21
6.55
18.01
0.155
4/5/2016
14.81
6.45
17.85
0.171
4/6/2016
15.49
6.94
18.6
0.167
4/7/2016
15.71
7.07
18.8
0.164
4/8/2016
16.24
8.05
20.3
0.2
4/11/2016
17.06
8.54
21.05
0.189
4/12/2016
17.66
8.75
21.37
0.174
4/13/2016
18.35
9.36
22.3
0.177
4/14/2016
17.77
9.35
22.28
0.203
4/15/2016
17.55
8.95
21.67
0.19
4/18/2016
16.68
9.85
23.05
0.276
Based on closing prices September 28, the initial spread was 6%. In other words, WMB stock was worth 6% less than it would be if the merger closed and ETE (the current version of the future ETC) stayed level, you would get a 6% gain on closing.
Merger arbitrageurs betting on completion of the deal could lock in a profit by shorting 1.5 shares of ETE for every share of WMB they owned. And they did. We know this because short interest in ETE jumped from 21 million shares on September 30 to 37 million a month later, while short interest in WMB declined. Since then, ETE short interest has continued to climb and stood at 79 million on March 31, the latest figure available.
Of course, ETE didn't stay level. The market didn't like the deal, oil prices tumbled, energy ETFs that held both stocks were forced to sell to meet redemptions. ETE and WMB went down in lockstep. On February 8, ETE bottomed at $4.05, meaning the $8 cash kicker it would pay WMB would have been worth more than the stock component--and difficult to finance. The spread climbed to 21% as the market doubted the deal would ever be completed.
But oil prices recovered somewhat, both stocks bounced back, and the spread fell again, to 10.5% on March 22.
Energy Transfer threw a grenade on March 23, announcing a huge reduction in projected cost savings from the merger and saying operations would be consolidated in Dallas, drastically reducing staff in Williams' home base of Tulsa. The only reason to make that statement at this time would be to get Oklahoma to put pressure on Williams' board to back out. Oklahoma Governor Mary Fallin is doing just that, visiting Williams' board in New York City and hinting that tax breaks could be in the offing if Williams stays.
When asked by the World if any sort of incentives or economic development tools would be offered to keep Williams in Tulsa, Fallin said, "I think going there personally with some of our top business leaders, mayor and governor coming to the chairman of the board of Williams Cos. and saying, 'Don't leave. We want you here. What can we do to help?' "
The spread rose to 17.8% by March 24. No longer did the deal look likely, and when mergers collapse, the classic reaction is for the stock of the company that is getting acquired to fall.
Williams took the next step April 6, suing ETE and CEO Kelsey Warren over a private offering of convertible stock that would dilute WMB shareholders' stake in the merged enterprise. Half of the stock would go to Warren himself. (No matter what the legality, the appearance is of a CEO who can't keep his greed in check.)
We can infer the spread rose Monday because merger arbitrageurs rapidly unwound their positions. But we won't know for sure until May 10, when the short interest report for trades settled before April 29 comes out.
Even if the merger doesn't go through--and there could be months of litigation ahead--analysts have argued Williams is fundamentally undervalued.
There could be a big gain ahead in WMB even without a merger--but the positive reaction may have to wait until the arbitrage is fully unwound. In the meantime, some days, like Monday, shareholders may feel like we're getting our fingernails pulled out.
Disclosure: I am/we are long WMB.
I wrote this article myself, and it expresses my own opinions. I am not receiving compensation for it (other than from Seeking Alpha). I have no business relationship with any company whose stock is mentioned in this article.