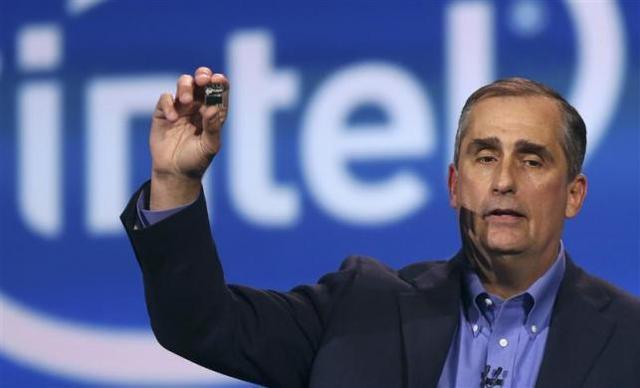 Intel CEO Brian Krzanich. Source: ibtimes.com
Intel (NASDAQ:INTC) reports quarterly earnings after-hours on Tuesday. Analysts expect the company to report revenue of $13.86 billion and eps of $0.48. The revenue estimate implies a 7% decline versus results for the quarter-ended December 26, 2015. Investors should focus on the following key items:
How Bad Will PC Decline Weigh This Quarter?
Intel remains the leader in sales of semiconductors for personal computers. It has tried to diversify its revenue stream by selling chips for mobile devices but its mobile ambitions have been a loss leader. The mobile losses were so bad that Intel had to mask them by folding the mobile communications unit within the Client Computing Group ("CCG").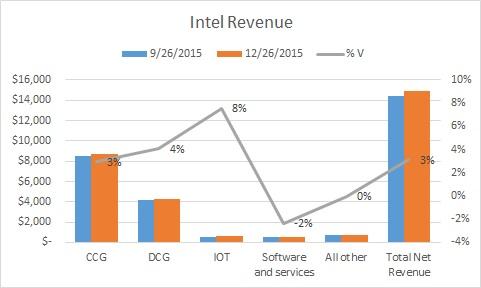 Last quarter revenue from the CCG was up 3% while total revenue also grew 3%. Gross margin ticked up to 64% from 63% in the quarter-ended September 26, 2015; however, it still did not match the 65% margin in the year earlier period.
Gross margin will be in focus again this quarter, but so will the diminution in PC sales. According to Gartner PC shipments fell 9.6% for the first quarter of 2016. This followed an 8.3% decline in Q4 2015. Intel's PC sales are embedded in CCG (59% of revenue). Given CCG's large share of revenue, stagnant growth will weigh on Intel regardless of how the other segments grow. Market chatter suggests Intel is preparing for significant layoffs. My guess is that the layoffs could come within CCG due to [i] the dismal outlook for the mobile division or [ii] headwinds from struggling PC sales.
Outlook For Data Center Growth Could Drive Sentiment
INTC bulls once hoped that revenue growth from the Data Center Group ("DCG") (29% of revenue) and IOT (4% of revenue) would more than offset weakness in CCG. Those hopes were a dashed last quarter when DCG revenue only grew 4% Q/Q and 5% Y/Y. If enterprise demand was hurt by macroeconomic last quarter, it likely won't get much better going forward. The global economy is in shambles and the efforts of central bankers have not been much help.
Contributions from Intel's $17 billion acquisition of Altera should help this quarter. Strategically, Altera's programmable logic semiconductors are expected to contribute to both the DCG and IoT segments. However, longs should focus on the outlook for DCG. Intel has over 95% market share in chips for the data center. It is absolute folly to think that Intel could take share from Qualcomm (NASDAQ:QCOM) for chips for mobile devices and Qualcomm would not hit back in the data center. According to Forbes, Google (GOOG, GOOGL) -- a major data center client -- could be cozying up to Qualcomm:
Bloomberg was first to report that Google is poised to endorse Qualcomm's server chip efforts last week, but no official partnership between the two companies is set to be announced this week, sources told FORBES. Still, the planned video does show that Google is interested in a player like Qualcomm succeeding. Bloomberg also reported that the companies are already working together on a server chip and that Google will use the Qualcomm processors only if it meets certain performance benchmarks.
Just as Intel has provided Apple (NASDAQ:AAPL) an alternative to Qualcomm for certain chips inside the iPhone, Qualcomm could provide Google and other cloud providers an alternative to Intel. It could result in a loss of business for Intel or drive down prices. Either scenario does not bode well for Intel's crown jewel. The outlook from management on competition and future growth in DCG could drive sentiment for INTC. Intel appears vulnerable.
Disclosure: I/we have no positions in any stocks mentioned, and no plans to initiate any positions within the next 72 hours.
I wrote this article myself, and it expresses my own opinions. I am not receiving compensation for it. I have no business relationship with any company whose stock is mentioned in this article.