For a long time, Yelp (NYSE:YELP) has struggled to gain traction in international markets as Alphabet (NASDAQ:GOOG)(NASDAQ:GOOGL) utilizes search and the mobile operating system to steer users toward Google reviews. The latest news continues to suggest the EU squeezing Google to open up their networks.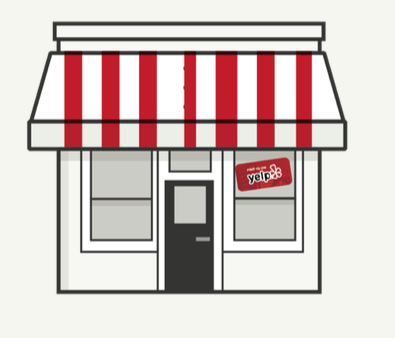 Yelp has rallied to $21 after dipping below $15 in February. The stock still trades far below where Yelp started the year. Is it possible that any EU sanctions on Google are only a catalyst and not a requirement for the consumer reviews company to thrive?
EU Sanctions
According to The Wall Street Journal, the EU competition chief is set to charge Google over deals where the Internet search and mobile operating system leader steers users toward their own apps. Apparently, the company requires Android smartphone and tablet makers to pre-install a group of 11 apps that includes search.
The news is a good sign that the EU plans to keep Google in check and allow alternatives into the market, but this item focuses more on the mobile platform and not the Internet search case started roughly the same time last year. The antitrust chief though did address the prime issue impacting Yelp. Ms. Vestager made the following statement regarding online shopping results:
That's one reason to be so concerned that Google seems to favor its own comparison shopping service in search results.
Unfortunately, a large monetary fine and future changes to practices won't help Yelp in the short term, if ever. The best option remains getting consumers to download the mobile app to directly bypass Google. Besides, Yelp data shows that app users are approximately 10x more active anyway.
International Impact
The impact has been large over the last couple of years and is most visible in the International Unique Visitors (IUVs) totals that have stalled since Q114. Google has effectively limited the growth of users by reducing the visibility of search results for Yelp. The consumer review company reported that IUVs dropped to 29.9 million users in Q415, down from 31.1 million visitors almost two years prior.
The number is even more concerning considering Yelp has added the following countries during that time period:
3/13/14 - Mexico
4/8/14 - Japan
5/7/14 - Argentina
8/14/14 - Chile
9/24/14 - Hong Kong
3/25/15 - Taiwan
5/6/15 - Malaysia
6/24/15 - Philippines
During the last two years, the amount of IUVs per country has declined from 1.3 million to now less than 1.0 million. All the while, the markets should be maturing as Yelp hasn't opened new locations in the last two quarters of 2015.
While the visitors aren't growing, the number of international reviews continues to surge. Yelp ended 2015 with 10.1 million cumulative reviews for locations outside the U.S., up from only 6.2 million when the user base stalled. As the review totals grow, the company can start monetizing these International locations similar to the U.S. that had a roughly five-year head start.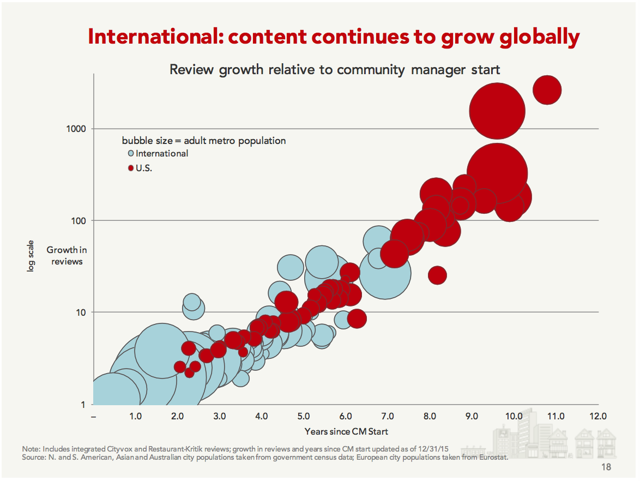 Source: Yelp Q415 presentation
A big catalyst remains growing the international revenue bucket that stalled at roughly $3.0 per quarter recently. Remember domestic local revenue is already at $115.9 million. The Philadelphia case study provides an example of how revenues take time to build momentum. For 2015 alone, this U.S. market equaled roughly 50% of the total International revenue for over 30 countries.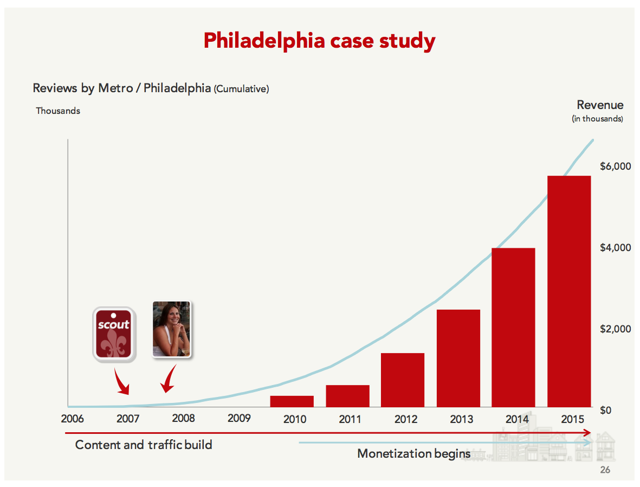 Source: Yelp Q415 presentation
Takeaway
The EU isn't likely to provide any help for Yelp, but the competition commission could always make a move that provides a catalyst. The key takeaway, though, is that the U.S. business alone is worth the current enterprise value of around $1.2 billion, as total revenue is set to reach revenues of $700 million this year. The international market remains a big catalyst for the stock, assuming Yelp can gain user and revenues traction despite high engagement from existing users.
The stock faces many headwinds, but Yelp has several catalysts for growth, including the mobile app and more visibility in international search results if the EU acts.
Disclosure: I am/we are long YELP. I wrote this article myself, and it expresses my own opinions. I am not receiving compensation for it (other than from Seeking Alpha). I have no business relationship with any company whose stock is mentioned in this article.
Additional disclosure: The information contained herein is for informational purposes only. Nothing in this article should be taken as a solicitation to purchase or sell securities. Before buying or selling any stock you should do your own research and reach your own conclusion or consult a financial advisor. Investing includes risks, including loss of principal.