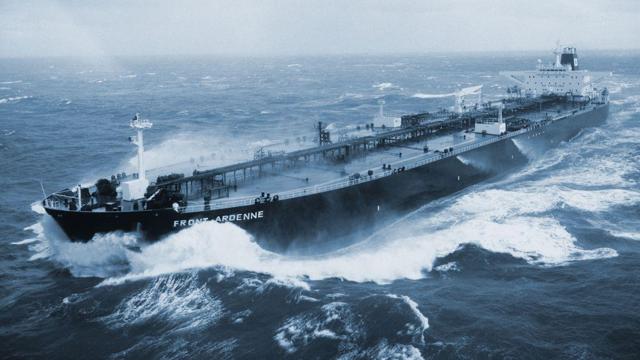 Frontline (NYSE:FRO) is one of the world's largest international transporters of crude oil. After the Doha meeting failed to freeze crude production Saudi Arabia, Iraq, and others will likely continue to produce huge quantities of the black stuff.
So, most likely, petroleum prices will stay low and global crude demand will continue to go up. And Frontline, along with other crude carriers, will profit by taking the stuff off site, either storing it in its huge ships or transporting it to the big global markets in the US, China, Japan, the EU and elsewhere.
Frontline owns and operates a fleet of 88 vessels, including VLCC (Very Large Crude Carriers), Suezmax (largest ship size capable of transiting the Suez Canal), LR2 (large long range clean petroleum product) tankers, and MR (medium range) tankers. Frontline is captained by John Fredriksen, the legendary Norwegian shipping magnate.
The company, however, has not had smooth sailing as of late. It recently went through severe financial storms and came close to bankruptcy last year. Perhaps it's no coincidence that the website has a large photo (see above) of one of its tankers resolutely plowing through tumultuous seas. Just looking at the site makes you want to reach for the Dramamine.
Restructuring, Mergers, and A Reverse Stock Split
Frontline nearly sank in 2015 but Fredriksen devised a way to keep the company afloat. Changes included an amended charter schedule with Ship Finance International Limited (NYSE:SFL) and a large increase in the fleet size through a merger with Frontline 2012 in November of last year. Then finally, there was a reverse 5-1 stock split in February of this year. (Reverse splits usually are bearish for the stock's price).
The restructuring was dilutive to stockholders and then the reverse split cratered the price even more. It all left an understandably salty and bitter taste in investors mouths.
Rolling In Money
But now, after the storm, Frontline is flush with cash. The price was $7.85 at market close on April 19 but Yahoo Finance shows $5.74 in cash backing each share. So after backing the cash out the real adjusted share cost is just $2.11 -- that's a big piece of a those crude carriers for a little above $2 a share.
Now, if these tankers were just sitting around idle that might not be a good thing but, as noted above, tanker demand is currently high and the carriers have recently fetched rates at multi-week highs. (It should be noted, though: rates are extremely volatile and can change drastically -- even on a weekly basis.)
At this point though, it looks like the good times will continue to roll. Oil shale production in the U.S. is falling (meaning more US imports) and crude imports are surging in China -- the first quarter of 2016 saw imports rose by 13.4% on year-over-year basis. Higher crude imports mean higher tanker demand, and higher tanker demand leads to higher tanker rates.
Fantastic Dividend, Positive Company Outlook
Frontline had no dividend from 2011 till December of last year when they paid a $0.25 quarterly dividend, then in March they paid $0.35/share. At today's price a $0.35 quarterly dividend gives a 18% yield while $0.50 means a 25% yield. Fellow Seeking Alpha author J Mintzmyer writes that the dividend may reach $0.50/share by Q4-2016.
Analysts also are currently positive on Frontline; there are 4 recent upgrades with no downgrades. The mean price target is $11.63 per share, approximately 50% above current levels.
There Will Always Be Storms in this sector, both financial and weather related
Keep in mind that equities in this volatile sector are not widow-and-orphan stocks -- fortunes can be made (or lost) almost overnight. But for those who understand the risks, now may be a good time to look at Frontline.
The world still runs on oil (70% transportation, 25% industrial) and companies such as Frontline provide the absolutely essential (and only) way of moving the product from where it's pumped to markets around the world.
Currently crude prices are low and demand is growing. Will this change? Of course it will -- everything changes over time -- but for the near term things look good for Frontline and the other crude carriers. If demand drops or a tanker surplus materializes Frontline will be negatively impacted. Those storms, however, are not yet on the horizon.
Disclaimer: This article is informational only and not intended to be investment advice. Please do your own due diligence and consult with a financial planner before investing.
Disclosure: I am/we are long FRO.
I wrote this article myself, and it expresses my own opinions. I am not receiving compensation for it (other than from Seeking Alpha). I have no business relationship with any company whose stock is mentioned in this article.